Thinkbox Develops New Tools for VFX Producers and Artists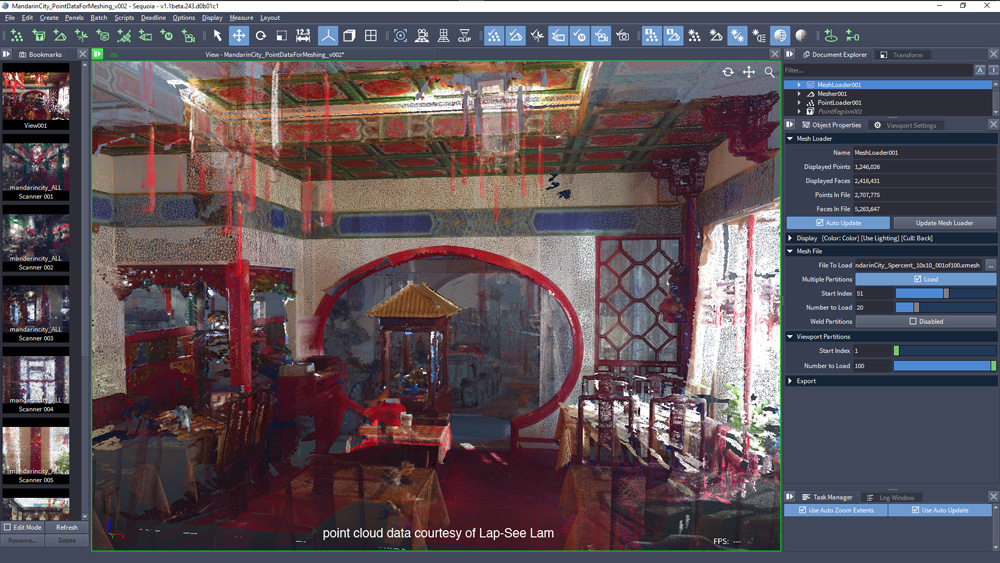 Sequoia 1.1 is a new version of Thinkbox's standalone point cloud meshing application. Recent developments have nearly doubled the software's previous performance speed. Native Linux support is also new, plus new workflows capable of maintaining georeferenced data precision, and a simpler process for exporting textured mesh data to 3D applications and game engines.
Sequoia creates geometry from point cloud data acquired from laser scanners, photogrammetry and other sources. Compatible with Windows, macOS and now Linux, it handles large data sets exceeding system memory, and remains interactive throughout. Native integration with Thinkbox's Deadline render manager distributes point cloud and mesh processing across multiple compute nodes.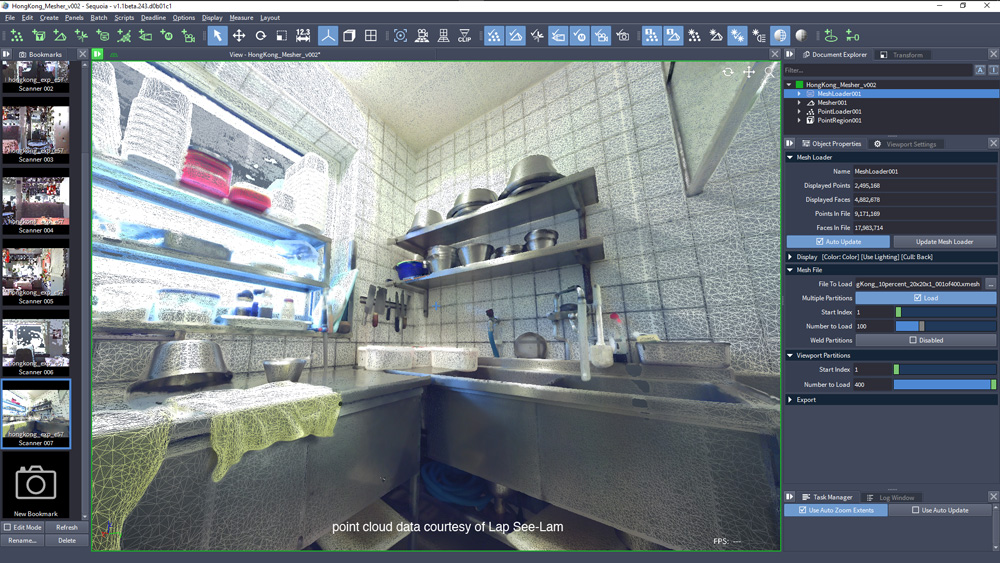 Other new functions include baking high-resolution point colours to texture maps, support for new point cloud file formats, including Zoller + Fröhlich and Riegl, new mesh file formats including Autodesk .FBX, U3D and 3D PDF, and new image file formats .CIN, .DPX, .HDR and .SGI. Scripts for importing meshes and textures into Autodesk 3ds Max and Maya are also part of the software.
The founder of Thinkbox Software Chris Bond noted that one of the more interesting applications they are beginning to see from users is bringing real world assets into real-time environments for VR experiences. "We've made this process faster with support for the FBX file format and a very simple texture baking workflow," he said.
Vero - VFX Budgeting & Cost Management
Thinkbox Software has been working with experienced VFX Producer Joyce Cox on a new cloud-based application called Vero as a way to simplify VFX budgeting and cost management. After working on many large projects ranging from 'Avatar' to 'The Great Gatsby' and 'The Jungle Book', Joyce has developed a particular bidding philosophy and methodology, which has now been packaged into Vero's interface. The software includes tools to help estimate and track VFX budgets from script breakdown to shot delivery.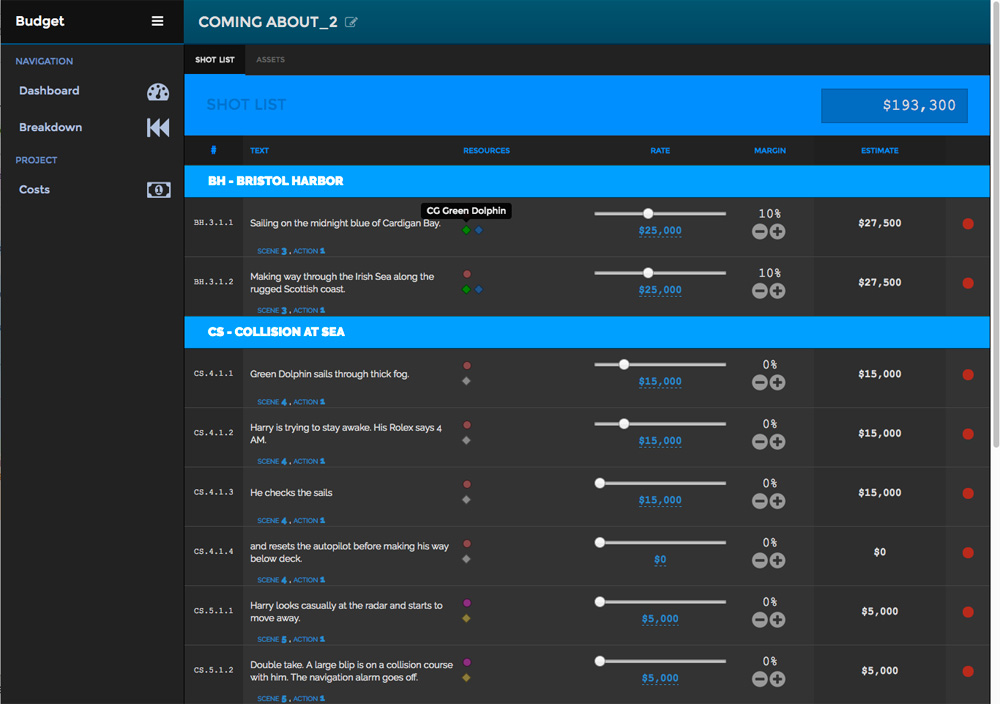 Joyce has found that although VFX may be one of the largest chunks of a film's budget, current methods for predicting and tracking the costs of VFX shots vary widely across the industry. Vero standardizes and shortens the process, which can become overly complicated as pricing fluctuates with scene changes, to project and manage the bottom line throughout production.
Once logged in, Vero can monitor both the finer details and wider activities of a project, which are broken into four stages, accessible via the interface. The first, Script Breakdown, allows users to import a screenplay file, which the app automatically breaks down into scenes and actions. Scenes can then be manually grouped into sequences, and VFX shots can be added to actions manually or automatically, based on action descriptions.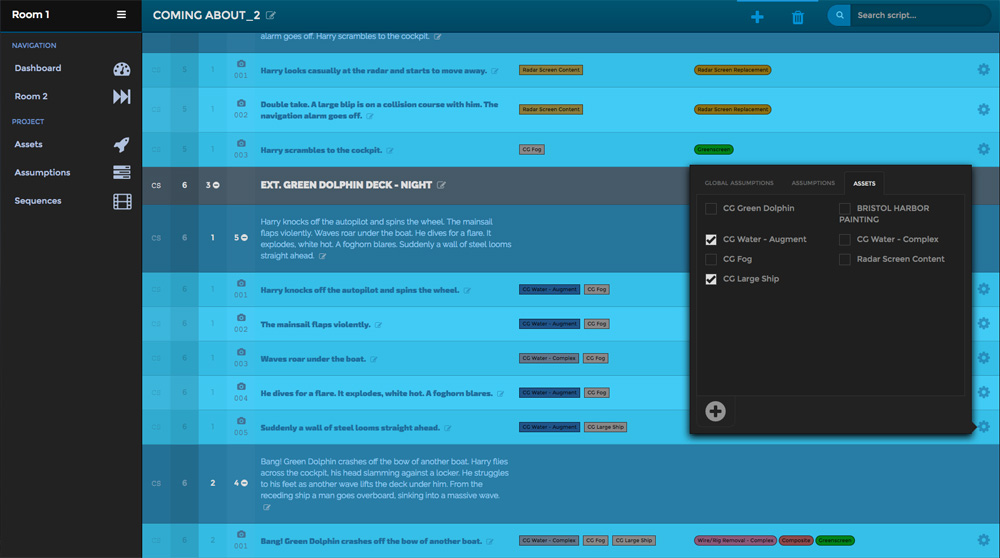 Budget Room is used to manually rate VFX shots based on the level of complexity to help a producer estimate generic shot costs more accurately and begin to lay out the needs of the VFX production crew and equipment. Users then have Market Place to create custom bid packages for sharing with interested VFX vendors. They can receive and compare preliminary and secondary bids, evaluate designation scenarios, narrow list of potential vendors and apply costs to a VFX budget.
Contract Room acts as a central hub where bids are awarded and accepted, changes to scope are managed and communicated to vendors and studios, and contracts are archived. Vero is currently in development, with beta expected to launch later in 2016. Its functionality is designed with VFX producers in mind but Thinkbox is evaluating how it could be extended across the production chain to work for VFX facilities directly. www.thinkboxsoftware.com