Digitalmediaworld.tv is the link between content creators, broadcasters, emerging new platforms of content delivery and the ecosystem of suppliers powering the digital media world. We are an essential communication forum relied upon by digital media professionals for news, reviews, product information, case studies and feature articles.
Digitalmediaworld.tv is the most immediate and effective marketing option to reach the enthusiastic, vibrant and growing community of digital artists and media managers worldwide.Including Digitalmediaworld.tv in your marketing mix will ensure that your company is always in view and only a click away from customers and potential customers.

We post new articles online all day every day from news items and product developments to in-depth articles and case studies that share techniques, strategies and inspiration.
Newsletter
The weekly Digital Media World Newsletter - a digest of all newly added articles with links to the website - is read avidly by our subscribers. It is dynamic and direct way reach to the core of the digital media industry.


Branded EDM
Reach our audience directly through your own branded EDM sent directly to our subscriber base to promote new products or major announcements.
Australian Effects & Animation Festival (AEAF)
AEAF is a celebration of VFX and Animation, Games and Immersive media. AEAF includes the prestigious AEAF Awards, Speaker Program and Technology Showcase. AEAF is always online where hundreds of entries to the Awards are viewed by digital artists worldwide.
AEAF Speaker Program
The Speaker Program is a day of talks from leading digital artists from major studios such as WETA Digital, Animal Logic, DNEG, MPC, Framestore and many others. Top VFX Supervisors, Animation Directors and artists give talks on the latest techniques developed on major projects from around the world on VFX, animation, motion graphics and immersive media inspire and teach AEAF attendees.
AEAF Awards
The AEAF Awards recognise and reward excellence and creativity in 20 categories of competition. Winners of AEAF Awards include premier post production and effects companies, and many of the world's top film studios and visual effects houses.
The AEAF Awards evening is the highlight of the year when the industry comes together in a celebration of the best animation and VFX content created during the year. The leading lights of the industry receive awards, applaud their peers, meet old friends and make new contacts. The Awards night is always eagerly anticipated.

AEAF is highly influential in the purchasing decisions of the industry, showcasing content creators' experiences with new software, hardware and emergi ng technologies and pointing the way to the computing needs of the future. The AEAF 2019 Awards and Speaker Day will take place on 16 August in Sydney.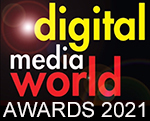 Digital Media World (DMW) Awards
The annual DMW Awards support and promote the rapidly developing content creation and broadcast industries. The Awards are given to software and hardware vendors and service providers who push the boundaries and help create new ways of working and forge new markets for broadcast and all forms of screened content. The Awards are given in December each year. Entry Form
Industry Partners
Partners of AEAF and the Digital Media World Awards are seen as part of the fabric of the industry. They are shown in the best light as supporters and nurturers, encouraging and supporting the industry. Our online promotion of these peak industry events provide another important pathway to reach and be part of the digital media world.
Powerful Combination
The combination of banner advertising on Digitalmediaworld.tv and the weekly newsletter, branded EDMs and partnership with AEAF and DMW Awards is a powerful way to reach and influence our audience.
22 Year History
Digital Media World launched in 1997 when content creators and broadcasters were only beginning to recognise the potential of digital media technology to transform their work and expand their opportunities. We have played a vital role in promoting and growing digital media.

As the industry has expanded, Digital Media World has kept the community informed of innovations, trends and techniques, and been a promotional platform for projects of all kinds. For over 22 years we have helped make exciting new digital media technologies available to a wide group of digital artists, filmmakers, broadcasters and content creators.
Tailored Solution
All of our industry p artners have unique marketing needs and messages to send. We will tailor a package to suit your company's needs and budget through our powerful combination of advertising, EDM messaging and industry partnership.
We also cover major exhibitions around the world each year, including:
NAB - April, Las Vegas
IBC - September, Amsterdam
We offer a range of services for companies that need to communicate with their customers and stakeholders including
Media Relations - Technical Writing - Website Copy Writing - Social Media Integration - Web Development and Design -
Video Production - Event Management
To find out how we can help you please contact This email address is being protected from spambots. You need JavaScript enabled to view it.
Editorial Enquiries
Editor, Adriene Hurst
This email address is being protected from spambots. You need JavaScript enabled to view it.
Advertising and Marketing Enquiries
This email address is being protected from spambots. You need JavaScript enabled to view it.