Adobe CC Updates VR & HDR Editing and Controls Team Projects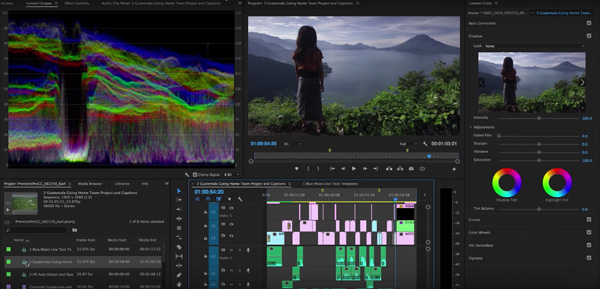 Updates to Adobe Creative Cloud software, to be available before the end of 2016, were announced and on view at IBC 2016 at the RAI in Amsterdam. A schedule of artists including editors, motion designers, visual effects artists and other post production specialists demonstrated how they are using Creative Cloud applications in specific projects, and inside their regular workflows to produce video, audio and photographic content for TV, film and Internet. A contingent of specialists from Adobe offices in Europe and North America were there as well, talking one-to-one during the show to people with questions.
Team Projects is a new service for Creative Cloud that makes it possible to share editorial workflows across production and post facilities without requiring dedicated hardware. It adds functionality such as version control and conflict resolution to Adobe Premiere Pro CC, After Effects CC and Prelude CC. Artists can work simultaneously in shared sequences or compositions within these applications and access version control tools that address project conflicts and make reverting to older project iterations simpler.
Premiere Pro CC
New captioning and subtitling functions in Premiere Pro CC can be used to generate versions for different languages or hearing impaired viewers with closed captions. You can also create open captions – those that are always on – with customized looks to make silent auto-play video previews on Facebook more meaningful to a wider audience.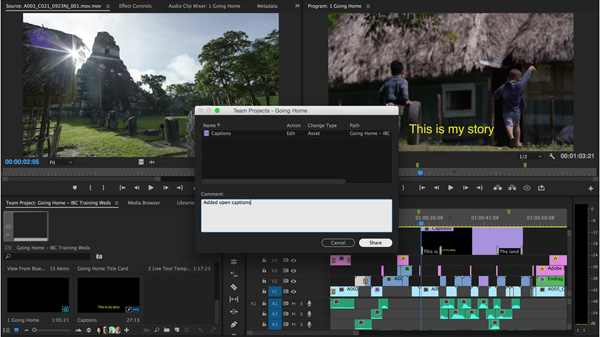 Premiere Pro's colour toolset supports HDR10 metadata workflows, including editing of HDR 10 video and output for new HDR-enabled TVs. Content creators using Premiere can also access colour correction and look development tools.
New auto-aware virtual reality tools detect whether VR media is monoscopic, stereoscopic over/under or stereo left/right and automatically applies preferences setting up the correct viewing environment. You can also choose to hide the VR controls so that your own editing and playback experience is more immersive while you work. When the video is exported and shared, metadata flags may be added that signal VR-capable video players.
Live Text Templates now allow simple manipulation of text layers while syncing missing Typekit fonts – the application finds the missing fonts automatically from an online library and syncs them as required. Also, a new file format allows sharing templates via Creative Cloud folders and importing them without needing an After Effects license.
Sequences generally render faster due to new GPU-accelerated effects and improved support for the Apple Metal engine, which gives low-overhead access to the GPU. This helps take advantage of the graphics and compute potential of applications.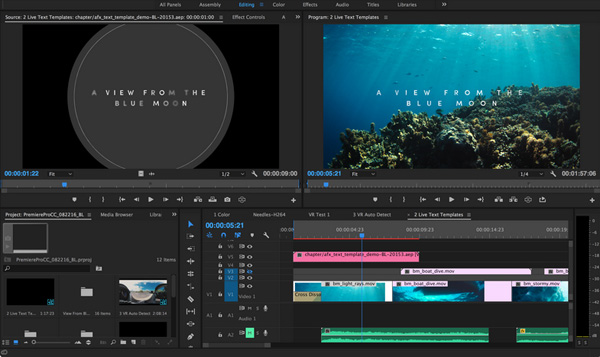 Using a new Global FX Mute button in the Program Monitor to toggle on / off all video effects in a sequence, users can improve playback or view clips with no effects applied. Other changes to Premiere are greater file format support and new audio effects.
New visual keyboard shortcut mapping makes it easy to locate, adjust and customize shortcuts. Improvements have also been made to Dynamic Link between Premiere Pro and After Effects, with which you can make an edit in Premiere Pro, then go into After Effects, composite the re-timing effects and have them show up in Premiere without rendering.
After Effects CC
A new 3D render engine, CineRender, MAXON Cinema 4D's rendering system, is available in After Effects CC because of the close integration with Cinema 4D that Adobe and MAXON have developed. Cinema 4D Lite 3D software is installed at the same time as After Effects, allowing you to use After Effects and Cinema 4D together to create, import and edit .c4d files, and work with complex 3D elements, scenes and animations.
CineRender results in high performance, without relying on GPU acceleration, for computers ranging from full workstations to ordinary laptops. You can use CineRender to natively create and render elements including extruded text and shape layers inside After Effects, and control some aspects of rendering, camera and scene content on a per-layer basis.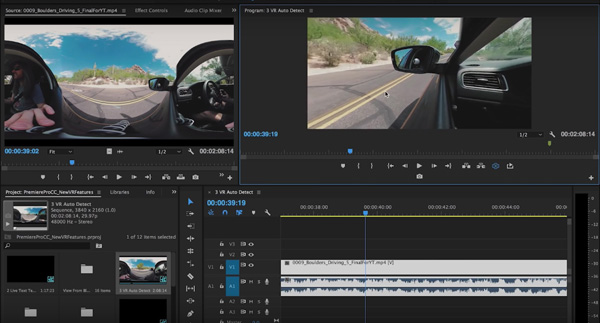 A 360-degree preset gives better viewing of monoscopic equirectangular video. These videos are of the kind that is filmed with a single camera per field of view, and stitched together to form a single equirectangular video. They are used frequently, because they bring fewer technical challenges than stereo content and are the easiest and cheapest to produce. However because they can be difficult for editors to manage due to their odd shape, this new preset shows only one end of the captured scene at a time for ease of use.
Changes in performance and workflow include the video-previewing architecture in After Effects, which now allows you to play raw footage in real time instead of having to cache before previewing footage. Also new is the ability to keep track of multiple outputs of the same file over the life of a project by adding date and time tokens to your file name output template.
Interactive performance optimisations and new GPU-accelerated effects help to alleviate compositing bottlenecks. Marker and scripting improvements help users fine-tune compositing details. Automatic finding and syncing of missing Typekit fonts applies to After Effects as well as Premiere. Time remapping - re-timing of video to fit a requested time window - has been optimised by combining it with Dynamic Link to improve the workflow. www.adobe.com