Boris FX Updates Keying, Tracking and 360 Video Optimization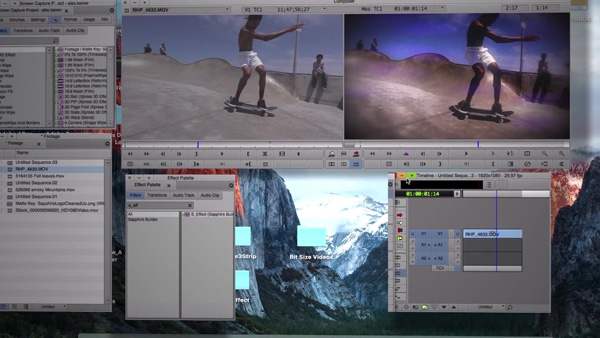 At NAB 2017, Boris FX will show major new versions of the plugin packages Continuum and Sapphire, and the new Mocha VR tools. The main updates are to keying, motion tracking and 360 video optimization. Sapphire 11 will be updated to include integrated Mocha tracking and masking tools for creative effects isolation, and Primatte chroma keying will also be added to all Boris FX products. Also, development has continued in the 360/VR workflows that Mocha VR can support.
Boris FX has licensed Primatte, the chroma keying system developed by the Photron film and video equipment and photo-instrumentation company. Primatte's keying algorithm is the basis of many green and blue screen compositing tools and will be available to Avid, Apple, Adobe and OFX hosts. Under the licensing agreement, all Boris FX products can take advantage of Primatte.
The set of tools in Sapphire 11 can now be purchased as nine individual Sapphire Units, which break down the most used filters into categories. Furthermore, Sapphire 11 will integrate Mocha's tracking and masking tools directly into all of its filters and effects. Particularly for the lighting and glows, this integration is expected to extend the software's applications.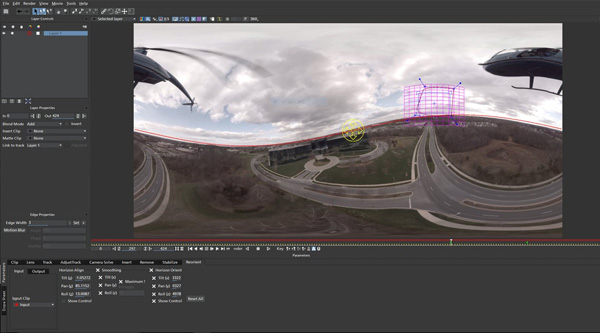 Mocha VR is a new product developed for visual effects artists working on 360 content. It adds native tracking, masking, object removal and horizon stabilization tools, optimized for 360 video, to host applications such as Adobe Premiere Pro CC, Adobe After Effects CC, Avid Media Composer, The Foundry's NUKE and Blackmagic Design Fusion. Because Imagineer's planar tracking now supports equirectangular footage, it will work simultaneously in rectilinear and lat/long views.
The editor or artist can track, roto, create effects and insert graphics without making allowances for equirectangular seams or distorted pixels. For example, the X-Spline tools for shape creation and masking avoid taking time for keyframing, and the roto-masks can be rendered back to the host or exported to editing and compositing systems. The
Remove Module now works on 360° video by analyzing temporal frames, and can remove unwanted elements like rigs and shadows automatically.
When adding elements such as titles, graphics, patches and non-360 enabled filters, Mocha VR's lens correction converts between lat/long and rectilinear and to control nausea-inducing characteristics, its new Reorient Module tracks and smooths or stabilizes shaky, handheld and drone footage. Mocha VR is available as a plug-in or as standalone application for OS X, Windows and Linux operating systems.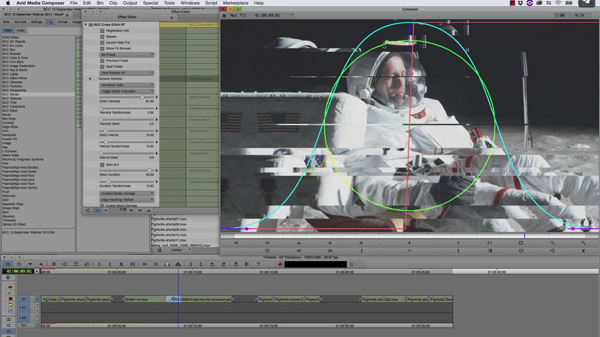 Continuum 11, Boris' original set of plugins for VFX, motion graphics and finishing, now has some new tools - including Primatte's chromakeyer as mentioned. New Title Studio functions include a real-time 3D particle engine and a better UI for motion graphics and title design. Also a new 360/VR Unit based on Mocha VR includes the Reorient Module, 360 optimized blurs and sharpening, and an Insert 2D 360 filter.
The Boris FX Suite is a new bundle product that makes the Sapphire, Continuum and Mocha Pro plug-in packages available together on one license at a lower cost than buying each one separately. The Boris FX Suite will be available as a permanent license or as an annual subscription for Adobe, Apple, Avid, Autodesk, Blackmagic Design and other host applications.
A guest demo artist line-up for Boris FX is coming to NAB 2017 [24-27 April, Las Vegas Convention Centre] and includes John Dickinson from Motion Works; Yoram Tal, online editor for 'Dancing with the Stars'; freelance editor Mae Manning; certified instructor Nick Harauz for Apple, Adobe and Avid; Evan Fellars at Black Math and Culley Bunker from Skulley Effects.
www.borisfx.com