Katana 3.0 Shines a New Light with 3Delight Render Plug-in
When Katana 3.0 is released later in 2017, rendering software 3Delight will be available as a free plug-in for outputting interactive renders. The collaboration is based on Katana's recognized value as a look development tool and problem-solver for lighting. Foundry and Illumination Research, the developer of 3Delight, will continue working together into the future on other visual effects workflows.

3Delight is not new software. Development on it began in 1999 and since then it has been in use at major VFX studios on well-known feature films ranging from the Terminator and Harry Potter films to Superman and the X-Men. Its product line includes 3Delight Studio Pro plus versions for Maya, 3ds Max and now Katana.
Its current iteration is powered by a new development called the Nodal Scene Interface or NSI, a nodal, hierarchical API that supports interactive live rendering. Consequently, 3Delight is expected to refine look development and lighting tasks in ways that improve the artist's experience. Katana and 3Delight's approach to lighting is geometry-based, which means that lighting can be handled with straightforward, physical techniques.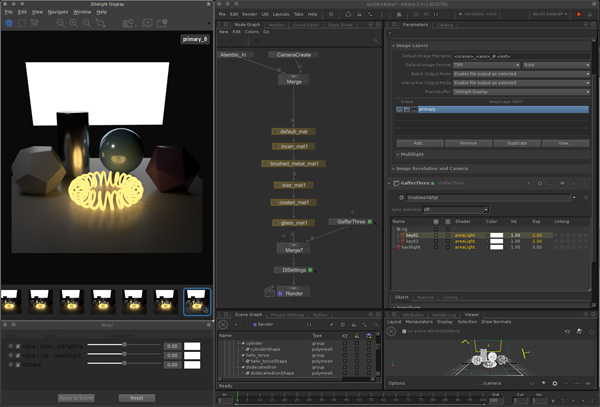 For example, artists can use 3Delight's light mixer workflow to render final quality images and adjust lighting interactively, while the edits are fed back directly to lights or groups of lights in Katana's GafferThree lighting tools. Its OSL-based shading engine is compatible with Katana and Maya, so that look development files can be transferred directly between the two applications.
Overall, other important aspects of 3delight for Katana users are its ability to make heavy use of fur and hair effects and displacements, without the typical impact on performance and, for Maya users, material nodes that are compatible with the Maya version of the plug-in.
The rendering engine uses very few technical controls. Materials in KATANA can be expressed using a network of OSL nodes. 3Delight's physically plausible materials such as metal, hair, glass and so on and a set of utility nodes are included, and its existing displacements, motion blur, edge anti-aliasing and depth of field are retained. The completely updated area light sampling and HDR sampling algorithms produce smooth images with very few samples. For efficient network utilization, network caching is performed automatically through scene dependency localization.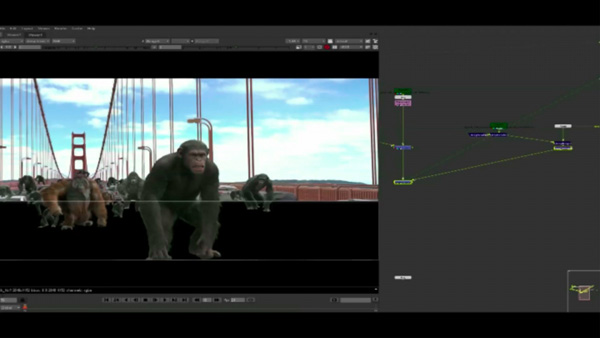 John Carey, vice president of production and technology at Toonbox Entertainment, commented, "All of Toonbox Entertainment's projects have been rendered with 3Delight and we have used both proprietary and third-party tools for look development and lighting. However, the developments at the Foundry, including the high level of integration between Katana and 3Delight, have enabled us to apply further flexibility and power to the software, which we hope to use on future projects. We believe it will make it possible to do better work faster, while consuming fewer resources - a compelling combination."

3Delight will be available as a free plug-in for Katana 3.0, at no additional cost for new or existing users for interactive renders. Katana 3.0 with 3Delight is being shown at SIGGRAPH 2017 as part of a public beta. Combined Katana/3Delight render licenses for production rendering will be available for purchase, with pricing to be announced at a later date. www.foundry.com