Adobe Pushes UI/UX Design Ahead with Free Software, Funding, Updates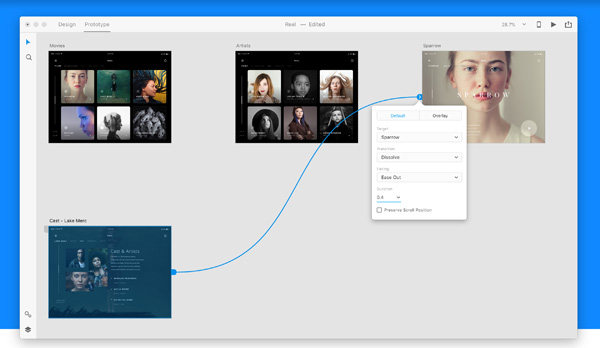 Prototype wiring with XD CC.
Based on the XD CC user experience design package, Adobe is taking the support Creative Cloud makes available to UX designers in new directions. Adobe says that their focus on UI/UX design stems from the idea that, although earlier on, interfaces were often added to a product as a quick, last step before shipping it out to market, UIs and digital experiences are now used to connect people to more services and products that regularly affect their work and everyday life.
For that reason, UIs and UXs have become more central to a product's success, and need to evolve. Because an effective UI is now a way for companies to make their products stand out, such companies also need access to interface and experience designers.
Free Adobe XD CC Starter Package
To encourage new UX designers to adopt Adobe's software, the company has put together a free Starter package combining access to Adobe XD with various mobile apps for iOS and Android, and with services that designers can use to share their user experiences with colleagues during prototype stages. It includes Typekit and integration with Creative Cloud Libraries, so that users can share and manage assets across devices.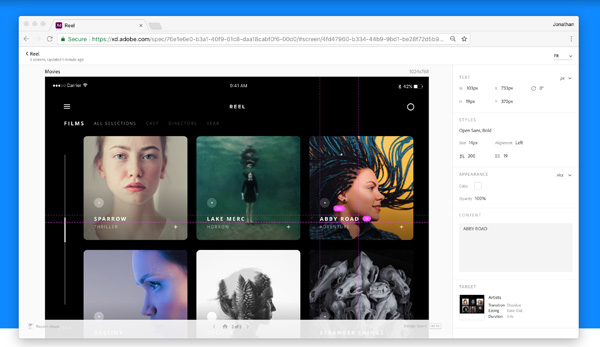 Design Specs
UI/UX Design Investment Fund
Adobe has also announced a $10 million design investment fund to support experience design developers, distributed in the form of grants and equity investments. The fund intends to support design and development innovation across the experience design community, in varied applications, and promote the use of Adobe XD as a platform supporting tooling plug-ins and integrations with third-party tools and services. This fund will allow developers and designers to take advantage of Adobe XD and integrate with the Creative Cloud workflows that professional artists and brands around the world are currently using.
Updating Adobe XD CC
At the same time, the XD CC software itself has gained workflow and functionality updates that increase its options as an experience design platform where users can carry out both design and prototyping, with adequate performance.
Recent updates include support for opening Sketch and Photoshop CC documents in Adobe XD, the ability to publish and share Design Specs with password protection, now in beta, and integration with third-party tools such as Dropbox, Zeplin, Avocode and Sympli. These last integrations are fairly basic at this time – users start designs in XD, then bring them into external tools to ease hand-offs to other artists, or create complex animations – but development on them will continue.
Password protection for Design Specs sharing.
The Sketch and Photoshop CC integrations, initiated earlier in the year, include improvements to importing and opening Sketch and Photoshop CC files more quickly and directly in Adobe XD. With this come several conversion fidelity improvements when importing Sketch files. You can start using XD's tools on Sketch files straightaway, such as Adobe's colour and colour swatch handling and linking artboards with XD's wiring system, carrying on uninterrupted from the colours and wiring done in Sketch. Effects are preserved also, in a flattened format.
Users can set up password protection for Design Specs to restrict access to specifications applied to projects. The user inputs a password in the Share popup window before passing the links out, to ensure the security of proprietary designs. This update is about sharing prototypes with other developers, which involves publishing your project as a series of artboards, usually wired together with graphical connectors to indicate a particular flow - or order of appearance - that users are going to experience as they use the app.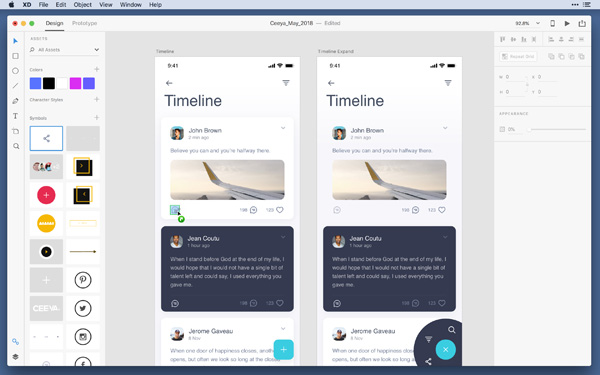 Universal symbol swapping.
The artboards represent each of the screens that you are designing for your mobile app's or website's user flows. A single Adobe XD file will normally contain a number of artboards. You can define the artboards for the mobile, tablet and desktop versions of a web experience, all within a single file. Or, you can focus on a single platform in a file, and design the screens and wires of the user flow just for that version.
As viewers zoom into and explore each artboard they see the specifications for colours, fonts, positioning, opacity, transition settings and so on. You can use this Design Specs area of XD as a place to create different versions of the project as instances to share with people, using either the same password or a different one.
To save time and steps, XD CC has two 'universal update' improvements as well. A drag-and-drop option to swap symbols only requires dragging a symbol from the assets panel and dropping it over another symbol to an artboard to update all copies of that symbol across your artboards. Similarly, you may copy an element and then select several artboards, thereby pasting that element to each of those artboards.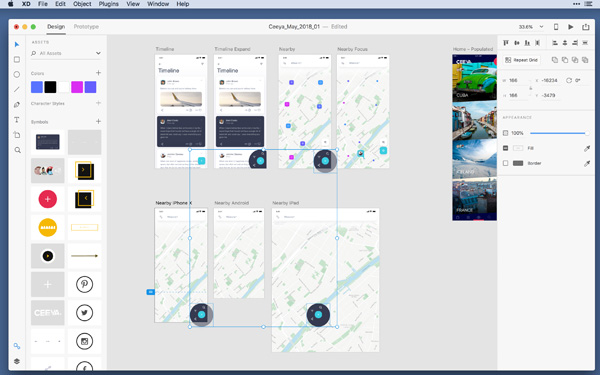 Paste elements to multiple artboards.
The Starter plan for Adobe XD is free and available now. Users in an active trial of Adobe XD will need to update their version of the platform from the Creative Cloud desktop app or from xd.adobe.com to activate it.
The paid-for Adobe XD Single App plan gives Creative Cloud members unlimited shared prototypes and design specs. Additional details on plan options and pricing for each tier are available here on Adobe's website. www.adobe.com