Adobe CC 2018 Crosses Devices, Gets Smarter and More Immersive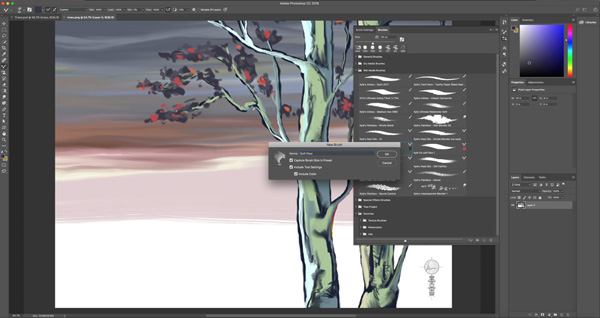 Adobe Creative Cloud applications have undergone major updates affecting tools for editors, designers, motionographers, 2D/3D graphic artists and animators, publishers and many others working in video, visual content creation and production. The most notable are the new capabilities and changes to Photoshop, XD and Premiere Rush CC, and many updates make use of intelligence from Adobe's Sensei AI engine. The update announcements were made this week at the Adobe MAX conference in Los Angeles.
Premiere Rush is a cross-device video editing application, purpose-built for creating and sharing online content, especially through social media. Producers can use it to work on projects on either desktop or mobile devices, or both - projects and edits are automatically synchronised to the cloud, and the user experience is consistent across phones, tablets and desktop devices.
Premiere Rush CC - Create and Share Online Videos from Anywhere
In one piece of software, Premiere Rush packages together tools from Premiere Pro, After Effects and Audition for content capture, editing, colour, audio and motion graphics. It also automatically optimises all content for the different social media platforms that you choose to publish to, including YouTube, Facebook, Instagram and Behance, and applies sharing presets so that you can publish directly, in one step.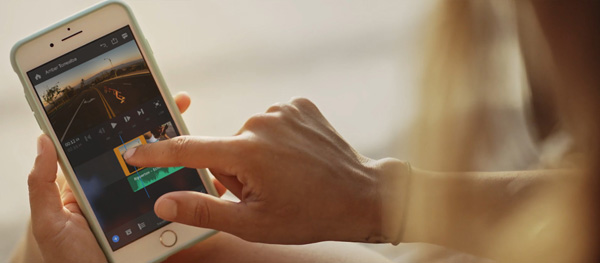 Users can customise and set up their own motion graphics templates and colours. You can also impose rules for auto-ducking, which automatically lowers content audio to accommodate voice-overs, using the Adobe Sensei AI engine.
Premiere Rush CC is available now. In 2019 Android support will also be available, users will be able to control the speed of videos, and automated versioning of content for different social media platforms will continue to improve.
Photoshop – On iPad, AR-ready, 3D Renders
Photoshop, one of Creative Cloud's core applications, has several big changes and updates. Photoshop CC on the iPad is the newest development, bringing all of Photoshops tools to mobile devices with the user experience, power and precision needed for image compositing. While users can use the mobile version of Photoshop on its own or as a partner to Photoshop on the desktop, it is possible to do real work right on the iPad. Furthermore, anything done on the iPad is synced to the desktop, so you can use the best device for specific tasks without exporting, importing or converting to different formats.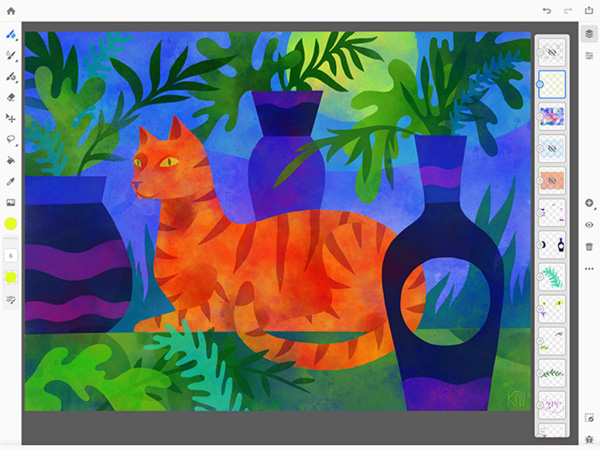 Photoshop on iPad also shares the same code base as its desktop counterpart. Adobe will release a smaller set of tools on the iPad first to allow timely shipment of the 1.0 version, and gradually add the rest over time. 1.0 will have a toolbar with the core tools, layer system and selections, masking, filters, adjustments and so on, but the user experience will be adapted for a modern touch device using the tactile pencil-and-touch environment to work directly on the canvas and speed up workflows.
With the new Photoshop Frame Tool you can create a placeholder as a frame for an image or mask images by placing them into frames. The tool will auto-scale the image to fit the frame's shape. You can also create a text layer, convert it to a frame and add the image. Images may come from Adobe Stock or Libraries, or via drag-and-drop from almost any source. Content placed in frames is always placed as Smart Objects so that it can be scaled non-destructively.
The Content-Aware Fill tool has been upgraded with the addition of Sensei AI, which turns the new, dedicated Content-Aware Fill workspace into an interactive editing environment. Users can now choose which source pixels to use, and rotate, scale and mirror the source pixels. You also see a live full-resolution preview of the changes displayed with an option to save the result to a new layer.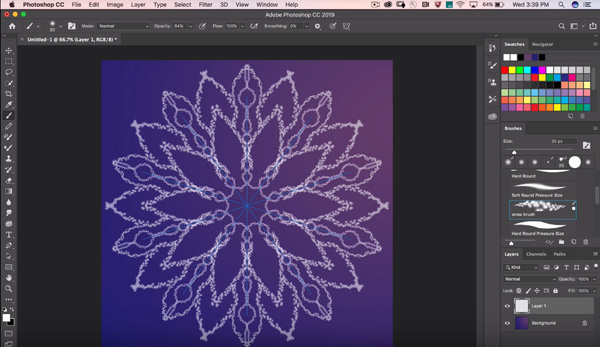 In the dedicated tools panel, users modify the sampling area and selection of the fill area, and specify sampling options, fill settings and output settings to get the desired fill result in the image. As changes are made, the Preview panel displays a live full-resolution preview of the output.
By scrolling over different blend mode options, Photoshop displays a live preview of blend mode options in the Layers panel and the Layer Style dialogue on the canvas, making it possible to preview how they look on the image.
The Symmetry Tool adds Symmetry Painting to Photoshop. Users can create mirrored brush strokes along a symmetry axis, arranging their brush strokes in a perfectly symmetrical pattern while using the Paint Brush, Mixer Brush, Pencil or Eraser tools. Several types of symmetry are available - vertical, horizontal, dual axis, diagonal, wavy, circle, spiral, parallel lines, radial and mandala. As you paint, the strokes are reflected live across the line of symmetry.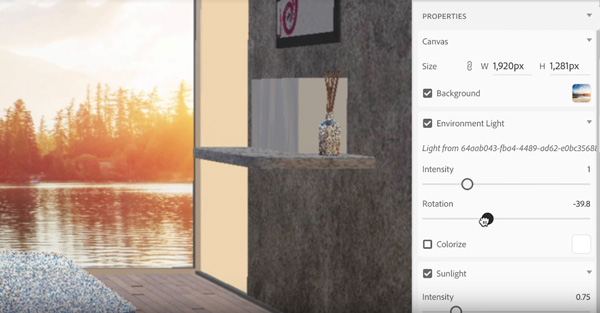 Dimension 1.0 was launched in 2017 as a new tool for graphic designers who use 2D software, and want to incorporate 3D into their workflows. Dimension's user experience is therefore aligned with a 2D workflow and closely integrated with other Creative Cloud 2D design tools, especially Illustrator and Photoshop. So far, teams in large enterprises down to individual designers have used Dimension for applications from product mockups to brand visualisation, and they find that access to simple to use 3D speeds up workflows considerably.
The new Dimension 2.0 release improves creative control over materials with the development of a layer-based graphics and materials system that increases the potential to use various effects, such as foil treatments, multiple logos and patterns, and so on. The Dimension 2D canvas area has been updated with familiar 2D zooming, panning and resizing controls. Using print controls lets you configure the size of the canvas based on physical units and print resolution settings.
Dimension 2.0 has a new native rendering engine, so that users have an option to use the Dimension renderer for faster interaction and render preview times. A multiple render setup is another new option. You can now save camera bookmarks in render mode, select the saved views you want to render and set up all of them at once.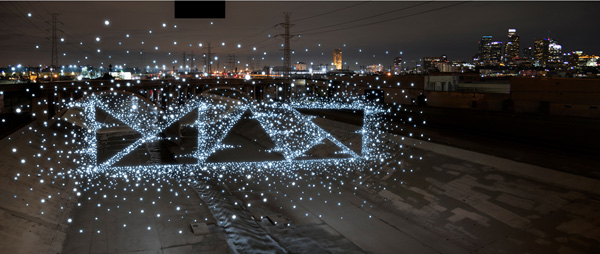 New functionality coming soon is Publishing to share online – as well as 2D image renders and layered Photoshop file exports, Dimension now supports publishing for online sharing and commenting. You can publish a Dimension scene, and then generate a unique URL allowing colleagues, clients or friends to interact with the scene in a 3D web-based viewer. The integration with Illustrator and Photoshop, and support for Autodesk FBX, STL and Sketchup file 3D model formats, have all been updated to allow designers to work with files created in SketchUp and other 3D modelling softwares.
Project Gemini, still only at the preview stage, is an upcoming applicatiion devoted specifically to drawing and painting, and builds on on Photoshop's brush engine. It combines Photoshop brushes, precise and scalable vector brushes and a new category of live oil and watercolour brushes that mimic natural media like oil paint and watercolours. Layers, selections and masks support various non-destructive drawing and editing workflows and pass files between the two applications.
Project Aero is in development as a consistent immersive design platform with both authoring and delivery tools that would help artists work on augmented reality projects.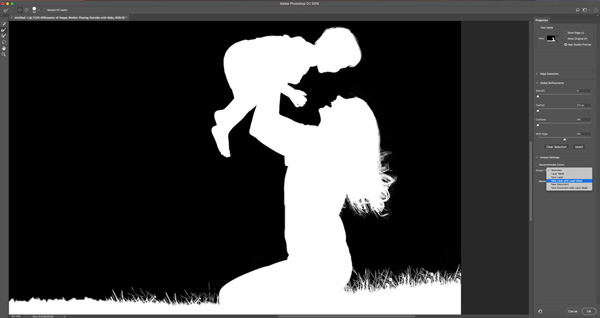 To help overcome the need for new skills in using new developer tools, programming languages and runtimes, Adobe has taken some of their creative tools from Photoshop CC and Dimension CC and made them AR ready. In other words, Aero allows creators to build animation and responsiveness into AR designs without having to learn how to code. There are also new immersive design tools for desktop and mobile devices, enabling creators to author experiences with drag-and-drop design clues to the physical world.
A set of intelligent, cloud-based AR services are in development that will take content from Adobe's creative tools and publish it directly to the real world. Through Adobe Sensei machine learning, Aero has an understanding of the physical world through concepts such as lighting, textures, motion and spatial awareness. Aero understands the best way to light a scene in order to integrate it into the real world, as well as how best to optimise the AR experience for a target device in order to load content without delay.
Adobe believes that an integrated approach to tools, cloud services and the associated ecosystem is critical to address the potential of AR. Consequently, as announced earlier in the year, the company is partnering with Apple and Pixar to standardise the file formats and interaction models to deliver a smooth AR experience.
Adobe XD CC – Voice, Integrations, Animation
Major new capabilities have been developed for XD CC user interface protoyping software, in particular voice prototyping, new animation support and third-party plug-ins.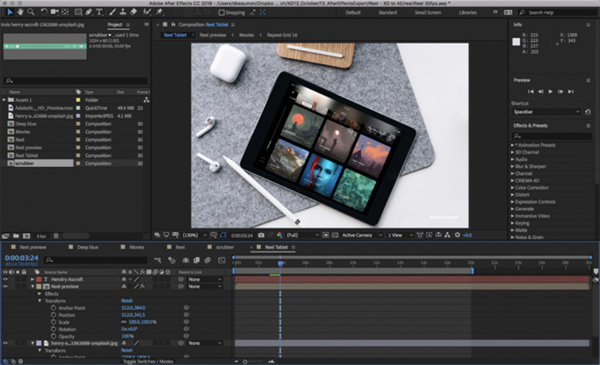 Voice experiences are becoming more common and in demand - on phones, in cars and at kiosks around the world. Therefore it is important to bring voice prototyping capabilities to designers, without the need to understand the complexities of each platform. By introducing voice triggers and speech playback in Adobe XD, users have access to screen and voice prototyping tools inside one application.
Creating a voice trigger is similar to defining a click or tap in prototype mode now, allowing you to start an interaction when a user says a specific word or phrase. Speech playback gives designers access to a text-to-speech engine, which means being able to design for voice assistants and smart speakers.
Third-party plug-ins will soon be available for XD, with the intention of keeping XD an open platform that allows developers to integrate and extend the platform in different ways over time. New UI kits and application integrations will also allow users to customise XD. The initial list of plug-ins will help users automate tasks, integrate with other tools and incorporate data into designs. This also includes integrations with collaboration and productivity apps including Slack, JIRA, and Microsoft Teams.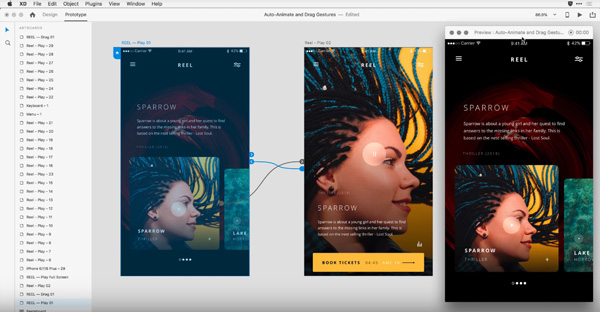 Voice triggers notwithstanding, Adobe believes that Auto-Animate, which creates an animated transition between artboards, is the most significant prototyping update since XD was released. Immersive animated transitions involve duplicating an artboard, modifying object properties like size, position or rotation and applying an Auto-Animate action. The result is eye-catching effects and transitions that help quickly communicate how the end user experience should feel.
Drag Gestures in XD then allow you to simulate the drag experience of touch-enabled devices in both the left-to-right and top-to-bottom directions. You can now smoothly drag between artboards and simulate experiences like image carousels on a track pad by pressing and dragging in the direction of the animation.
Linked symbols make it easier to stay on top of changes to symbols that are frequently used or appear in a number of documents. Because those symbols can remain linked now, changing the source document, as a single source of truth, means you can accept the same changes in all documents where the symbol appears. members of design teams will receive update notifications every time a change to a shared symbol has been made, and the sticker sheets and style guides the team is using are always up to date.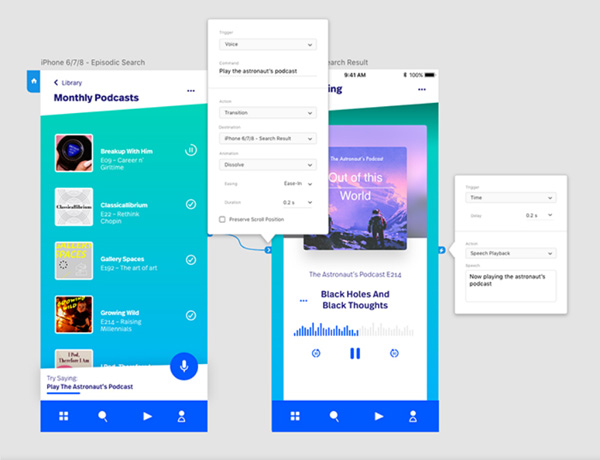 After introducing native support for opening Photoshop documents in XD earlier in the year, this Adobe MAX release makes it possible to open Illustrator .ai documents while preserving all layers, artboards and symbols, and edit Illustrator artwork directly in XD.
For example, you can bring across high-fidelity vector artwork created in Illustrator for use in an XD design, or go directly from Illustrator designs to creating shareable interactive prototypes in XD. Many designers want to use Adobe XD with artwork they've already built in Illustrator. Previously, copying and pasting Illustrator designs into XD prevented editing them further, but now the two programs work together.
When you need to create complex animations aand motion content that require motion playback, you can now export XD designs to After Effects. The process preserves and brings across layers, vectors and artwork from XD into After Effects, in editable form with equal visual fidelity. XD designers will also be able to use all of After Effects' plug-ins for exporting motion to code and specifications. www.adobe.com