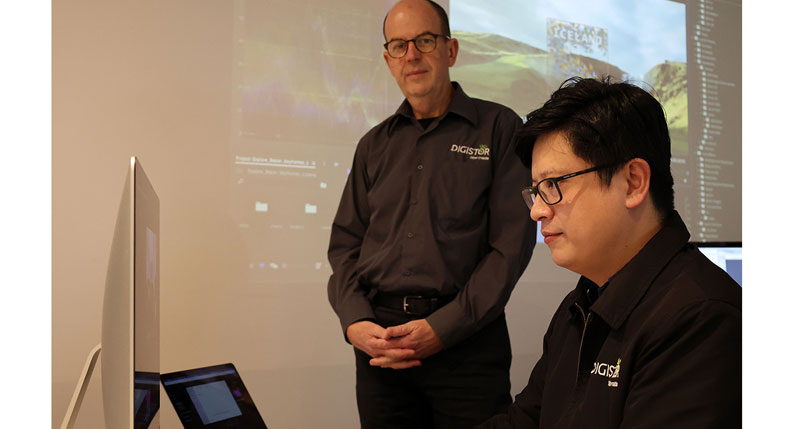 Digistor Marketing Manager, Mark Richards (L) and Technical Support Engineer, Edward Shen (R)
Digistor, a specialist digital media systems and services company, is now an approved provider on the Autodesk Services Marketplace, making it easier for industry professionals to engage the company for convenient, custom services for Autodesk software.
Providers on Autodesk Services Marketplace must demonstrate specialised industry and software expertise, including consulting, software development and customisation, software management and training.
With an initial Autodesk Media & Entertainment Specialisation, Digistor has supplied systems, products and technical services for content production and post-production to television stations, broadcasters, post-houses, game developers and media companies. Digistor has now expanded its specialisation to become an Autodesk Architecture, Engineering and Construction (AEC) Specialist, extending its services and products offering to support the broad visualisation marketplace.
In addition to supplying all hardware and software requirements, Digistor's consulting and professional services include needs assessment, pipeline development, implementation and workflow optimisation. They also carry out software management services such as license optimisation and deployment. With comprehensive training and service agreements, Digistor ensures that customers' staff get the most out of their systems and stay productive.
"We're proud to be recognised by Autodesk and included in the Autodesk Services Marketplace," said Digistor Marketing Manager, Mark Richards. "This will help bring Digistor's technical expertise to the thousands of Autodesk customers across the region."
Autodesk, a global software provider contributing to how the world is designed and made, created the Services Marketplace so customers can easily find and hire top quality professionals to help them achieve successful business outcomes with Autodesk software.
As an Autodesk Services Marketplace provider, Digistor can assist organisations to create and manage content when utilising Autodesk products in their pipeline. Whether working in broadcast, post-production, architecture, games, visualisation, engineering or other fields where Autodesk products are used, Digistor technical services can be the glue that binds technology with a productive and creative workforce. They've assisted numerous organisations with their journey to the cloud, implementing hybrid cloud/on-premise collaborative production, storage and rendering systems.
"We are happy to welcome Digistor to Autodesk Services Marketplace. The company's long-standing history with Autodesk serves them well in this environment and opportunity," said Rachel Rosenkrantz, Senior Manager at Autodesk. www.digistor.com.au