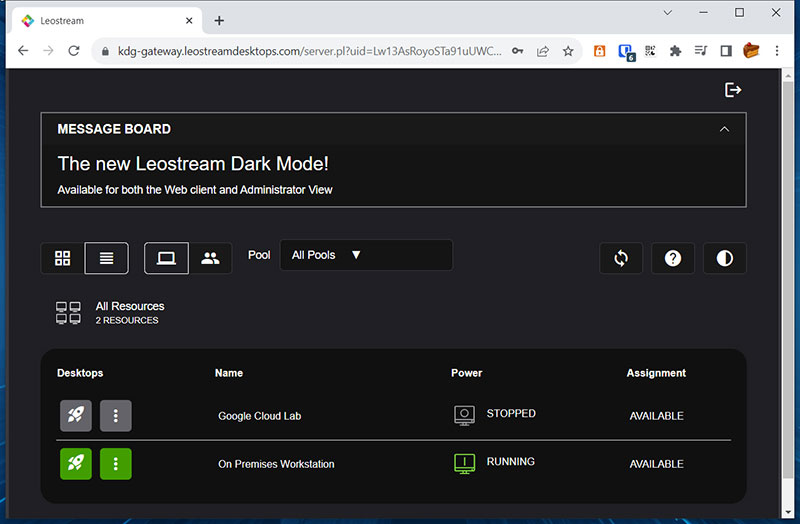 Leostream Remote Desktop Access Platform is now available in an updated version with new features that help enterprises to set up, configure, provision and manage virtual desktops. Built for flexibility and customisation, version 2023.2 adds capabilities that improve the administrator's control over provisioning virtual machines (VMs), either in the cloud or in on-premises virtualisation platforms.
For Administrators
Administrators can schedule actions to perform on newly provisioned VMs such as taking snapshots, joining a machine to a domain, or powering down a VM. This feature makes it possible, for instance, to delay a snapshot and run initialization scripts on already provisioned VMs, to make sure the snapshot has the correct final state. It can also be used to shut down new machines provisioned in cloud environments, to avoid incurring unnecessary compute costs.

AWS users can now provision VMs using launch templates. Currently, Leostream takes care of VM provisioning using AMIs, and with this new option, organisations can completely customise their new VMs to more closely match their needs.

VergeIO users also gain options for customising newly provisioned VMs, including entering a payload specification when provisioning from VergeIO's 'recipes', which automate allocation, hosting and configuration tasks. Verge.io is hyperconverged virtualisation software that can use existing resources to create secure private clouds. Verge.io virtualises the components needed to run Windows and Linux workloads, and virtualises compute, network, storage and GPUs from bare metal (cloud-based) servers, which allows an organisation to use those resources to create datacentres.
Leostream 2023.2 now includes the ability to send alerts as Webhooks – a simple kind of API used for communication between two applications – for example to Slack, to simplify administration. IT staff can receive notifications when events occur, for example, if a user has not been offered their primary desktop, to enable faster response.
For End Users
For the end user, Leostream's web client has been modernised with a new layout and new features such as dark mode, which helps prolong battery life and assists visually impaired or light-sensitive users. Administrators can view the Connection Broker web interface in dark mode as well.

A further 2023.2 update is that, under the hood, Connection Broker now runs on Security Enhanced Linux (SELinux) to create more secure environments, and has full UTF-8 support for global character sets. Connection Broker is Leostream's vendor-neutral software layer that controls remote access to all of an organisation's resources.
By allowing interaction between the user and the resource, and managing IT resources within a single-pane-of-glass interface, its UI gives real-time dashboard access to view usage and environment details. Users can access their desktops and applications on-demand from any location with an internet connection, and meanwhile the Connection Broker handles all the desktop provisioning, user role assignments – even scheduled power on/off times. leostream.com