Userful Synchs Interactive Content up to 6K for Video Wall Networks
Userful Corporation, specializing in centralized computer display controller software, has recently released version 8.5 of their multiple-source video wall controller. This update allows a single, standard Core i7 PC running Userful software to support video walls of as many as 60 display screens with up to 6K resolution source content, in real time over a standard Ethernet network.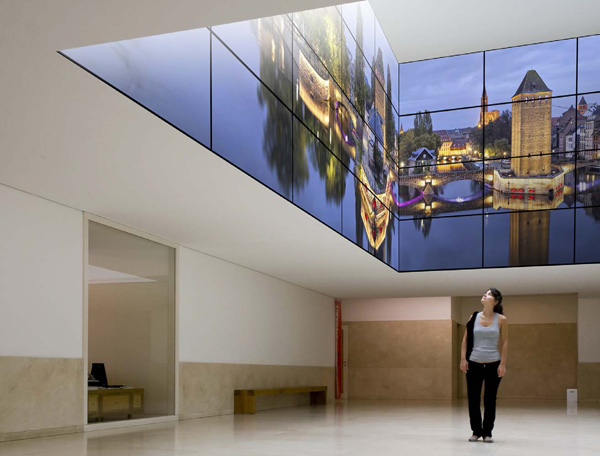 No proprietary hardware is used - Userful's scalability, performance and flexibility comes from its approach to network video delivery. The software splits, crops, rotates and scales the content as appropriate at the server level. Furthermore, since the splitting of the video stream happens in real-time, a Userful video wall is able to utilize the network to deliver 4K content using a standard PC, and content up to 6K on a high-end PC.
On the Network
This is accomplished by sending each display only its corresponding portion of the content stream, using network bandwidth more efficiently, and means the system works as well for real-time applications as for programmed displays. For creative applications or to support changing demands, users can change the video wall content on the fly instead of preparing everything in advance.
Also, a new mirroring function supports precise synchronization of the same content across 50 or more network-connected displays and video walls. You can capture or render a single source once, an identical, perfectly synchronized 30fps video stream, and distribute over an IP network of individual zero-clients. This technique saves substantial levels of CPU, bandwidth and other costs by copying the single source to multiple displays.
The Userful application's scalable performance owes mainly to its ability to access and use the compute power of add-on GPUs. With version 8.5, it supports certain NVIDIA cards, increasing the power of a standard high-end gaming class PC enough to support a video wall of up to 40 screens and up to 60 screens with a PC with higher processing power.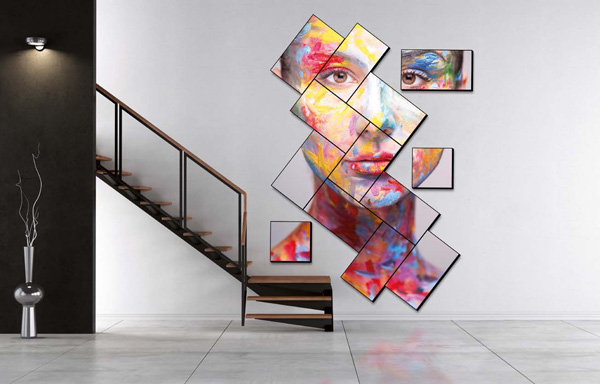 The software's use of a PC as a video wall controller and server supports video walls, and networked screens generally, makes it possible to configure the full video wall system centrally and manage it through a web browser. It can also perform screen rotation of content for screens set at unusual angles and artistic, non-standard layouts.
Video Sources
From the one PC, the software supports interactive walls that output content from native desktops or a full screen web browser to the screen or screens. Due to the new embedded hypervisor in version 8.5, you can also put desktops of different operating systems on the video wall by using the virtual machine function, which uploads a virtual desktop and allows you to access it. For example you might have three desktops all running from that one PC on different zones within the video wall – one with Windows 7, an Android desktop and another with Windows 8. It also supports HDMI capture, streaming live content in via HDMI cameras, webcast or broadcast TV.
Regardless of source content, the Userful Network Video Wall not only stretches an image across a larger canvas but also upscales it, especially in v8.5, improving visual image quality on heavily scaled walls. The software update makes it possible to automate failover for live video walls, so that two PCs automatically back each other up. If the primary PC fails, the second one takes over without intervention.
Centralized vs Distributed CPU and GPU Processing
Using CPU and GPU power to synchronize displays in a video wall network and ensure the image quality, can be approached from two different angles. Conventional techniques push resources to the computing power of a CPU at each display in order to allow enough processing power to support content demands while achieving synchronization. But generally, building the system this way requires a major investment and high set up costs. Due to the complexity of operating through a number of CPUs, the systems are also costlier to maintain, even when deploying 1080p content.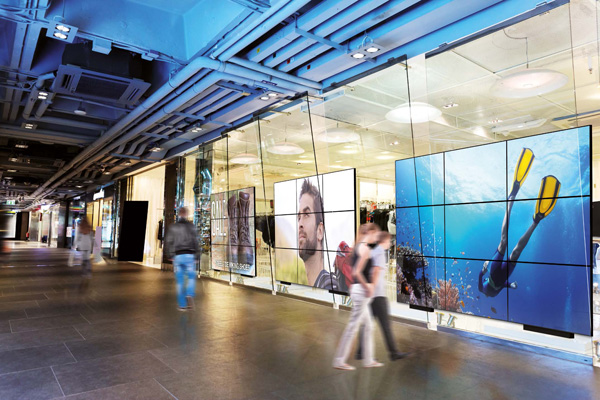 Userful feels that centralizing the video processing onto one server or PC is a more efficient approach to delivery. The applications have total access to both the CPU and GPU of just one PC or server, which is cheaper up front and simpler to maintain, and performance is more scalable. It also allows video walls to display larger content.
Until Userful, systems that used just one CPU have required either a high-end, multi-headed video card or an expensive splitter, and none of the centralized systems could support network delivery. Most of the savings from not having to put a CPU at each display were spent on top quality multi-headed video cards and splitters, still without achieving a network or being able to run standard network-based hardware.
Zero-Client Player
In a Userful network, the software accesses the full power of both the host CPU and GPU to render the video wall canvas and process, compress and send the individual cropped portions of the canvas over the Ethernet network. However, instead of a PC, the stream is directed to a standard zero-client player at each display that behaves essentially like a network-connected, addressable video card. The players, an integral component of the Userful system, receive the compressed video portion and output it directly to the attached display via HDMi or VGA.
The network zero client devices, such as those manufactured by ViewSonic, Acer, ThinGlobal and others, are little more than a video card with no encoding or decoding done at the device level – it has no built-in processor, storage, memory or native OS. The server sends pixels out across the LAN using standard TCP/IP protocols, keeping all processing and rendering on the server itself to lower costs, and supports standardized hardware and network delivery of 4K/UHD video.
What Content?
Userful software supports most types of content that a customer would want to put on a video wall - managed, real-time or interactive content - and maintains the source resolutions in video, Flash, HTML5, 3D and 3D games in the outputs to the screen.
Managed content encompasses content supplied both through an integrated CMS or as a playlist of content uploaded directly into the PC. Userful will support several different content management systems [CMS] integrated into the same host PC. Interactive content could be either a full screen browser or a full, native desktop, which can be controlled with a wireless keyboard and mouse.
Real-time content includes HDMI capture and real-time streaming of online content including support for RTSP protocol, controlling streaming media sessions. Capture cards allow a real-time video stream from a local video camera, live TV and almost any other external content to be displayed on the video wall. Various kinds of HDMI capture cards are supported, including both 4K and quad headed 1080p, and multiple cards in the same PC.
Real-Time Rooftop
An interesting application of a Userful video wall network was made in 2015 when the DoubleTree Hilton hotel in Victoria, Canada, was renovated. The owners wanted to show off the spectacular views of the inner city's harbour and downtown area that their building affords. They decided to create a video wall behind the reception desk that displayed a live feed from cameras positioned on the roof, capturing the hotel's panoramic views.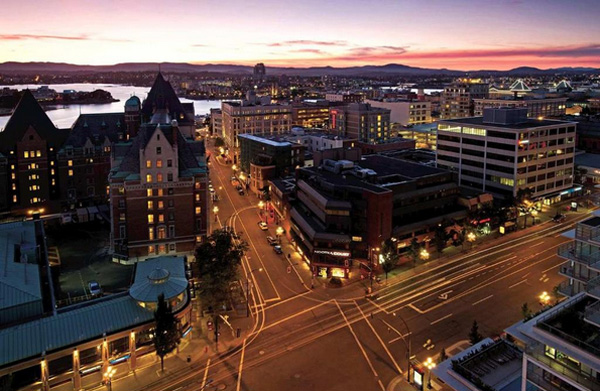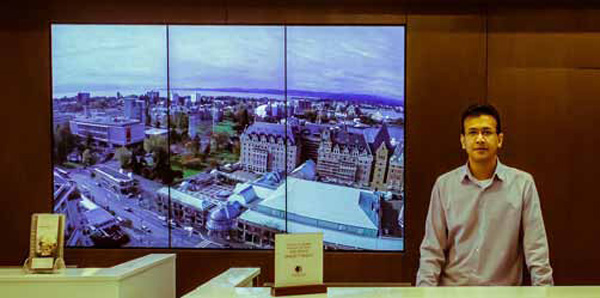 DoubleTree's digital signage company and content management system, ENS, recommended Userful as a cost effective way to deploy video walls. The team installed a 1x3 wall with 55 inch display panels in portrait mode powered from a single Intel Core i5 PC. Userful's ability to support 4K and larger content was one of the attractions, as it allowed the DoubleTree to stream video in real-time from a 4K camera on the roof.
The hotel guests like watching a live video stream from the building they're staying in, and meanwhile the hotel's wall can also be used to display other video content when needed. All inputs are managed using a web browser with a drag-and-drop interface. Once the video wall was on site, the hotel recognized its potential uses and started exploring other options, including switching from the live video stream from the roof to recorded tourism videos, which are more effective and easier to update than print brochures.
Future Upgrades
As mentioned, scalability of performance comes through the GPU. Systems using a certified GPU - Intel 4th Gen or later - will get a significant boost in performance because the video wall will take advantage of both the GPU and CPU hardware, and the latest processor optimizations when rendering content. The video card heads are not used, only the GPU cycles.
Regarding extra video cards added to increase performance - with version 8.5, Userful supports some of the NVIDIA cards with the CUDA chipset, increasing the power of a standard Core i7 PC enough to support a video wall of up to 40 screens – or up to 60 with a PC with higher processing power. For more than 25 screens, the LAN switch needs 10GB network cards and 10GB uplink ports. Using an extra video card also improves display synchronization on smaller deployments that use 4K content.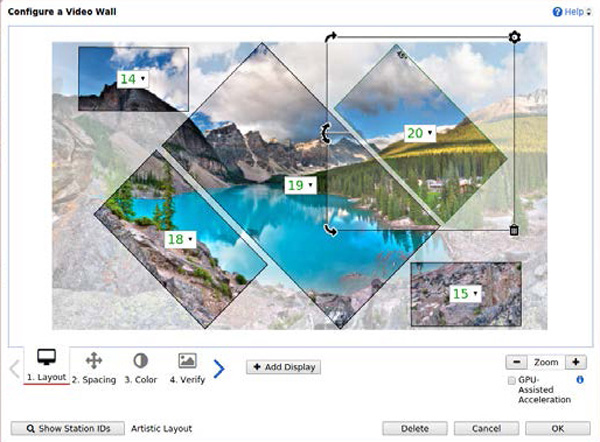 This approach makes upgrading in the future relatively easy. As Intel's GPUs continue to increase their performance and output, the Userful architecture will also scale to video wall resolutions beyond 4K and 6K. Even video walls deployed today will be able to support the higher resolution GPUs by replacing the PC or adding extra video cards. The rest of the infrastructure - screens and clients - can remain as they are.
Layout and Design
Userful includes a video wall layout designer in the Userful Control Centre software. After mounting the displays and following a calibration process, it can be used to line up display outputs very precisely, using the keyboard arrows with an alignment grid output to the displays.
The designer also supports pre-set zones within the video wall, which you use to display simultaneous content streams on specified displays within the video wall and change on the fly as needed. Zones can be a single display panel or a group of them. The customer can set up as many zones as required and switch between them.
Colour calibration for each display is important, carried out in the same control software, especially for combining different display types and replacing displays. Because it uses a standard PC, Userful can support literally any display, not just screens for signage or making up a wall but also touch screens and desktops. userful.com/videowall