Autodesk Finishing & 3D Animation Tools Shift Gears for 2017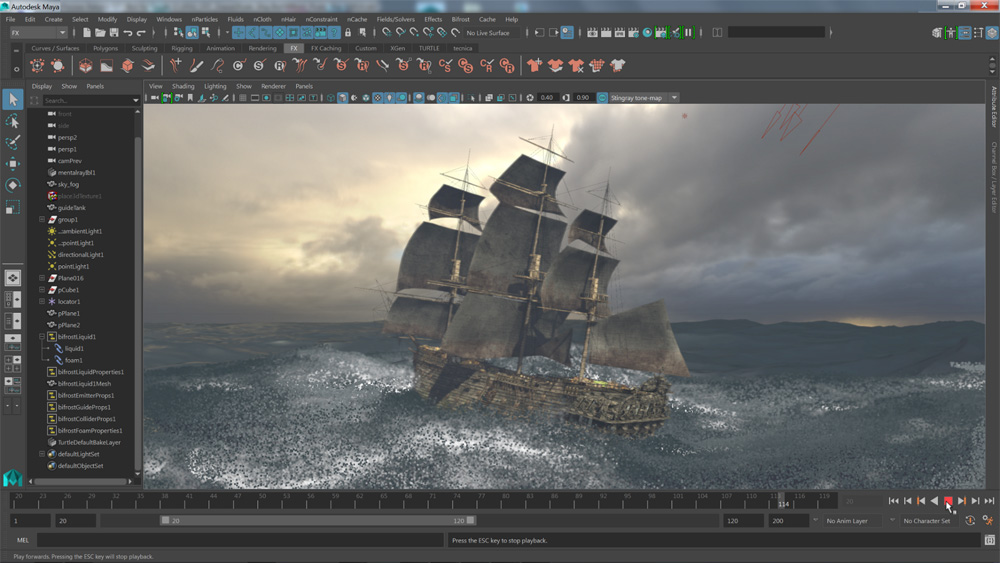 Autodesk has been making significant changes, both to its sales and licensing and to its software. Recently, Digital Media World talked to two of the company's specialists, Marc Hamaker and Colin Cupp, who told us about the recent updates bringing Flame, 3ds Max and Maya up to speed.
Most recently, the company announced its new industry collections, which re-organise the way customers buy Autodesk applications, and add cloud services and different licensing options. In April 2016, some major updates were released for its main Media & Entertainment packages for VFX, post and 3D animation – Flame, Maya and 3ds Max - many of which affect interactivity, the way the applications work together and, therefore, workflows and pipelines. They also affect tools for tasks ranging from look development, to animation and FX, to rendering.
The M&E industry collection puts Maya and 3ds Max into a bundle with Mudbox and MotionBuilder, and gives access to the Character Generator, ReCap 360 Pro and rendering in A360 as cloud services. The Flame products are still licensed separately. Under the hood, Flame software and 3ds Max were upgraded to 2017 versions and Maya, still in the 2016 version, received a substantial Extension 2.
FLAME 2017 – Stingray, Look Development, Colour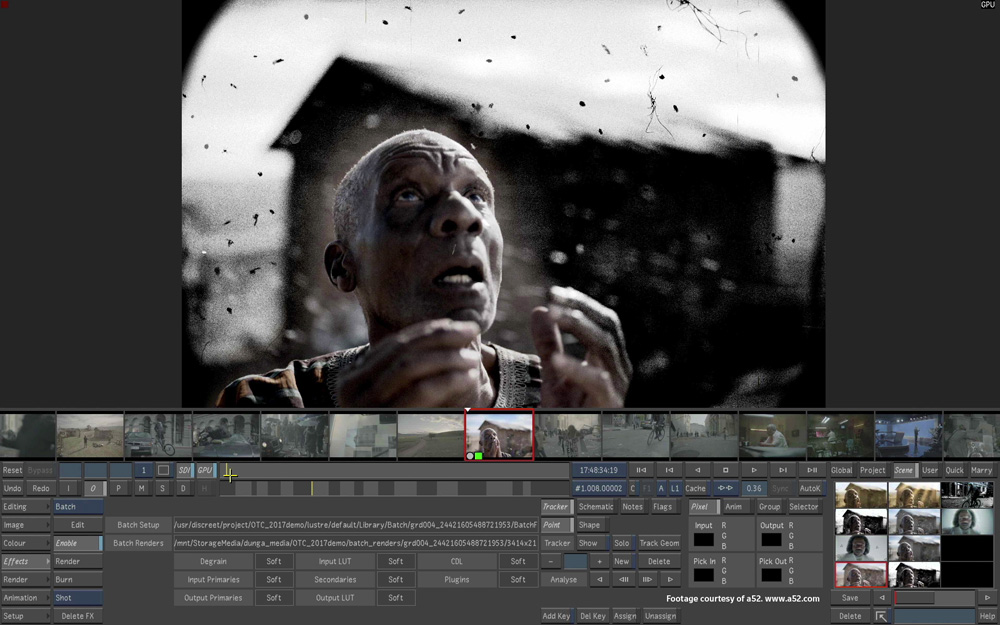 The Flame 2017 lineup of finishing applications has new tools and workflows that make look development faster and more interactive, and connect the colour grading environment more closely with VFX.
Action, Flame's 3D scene environment, is updated with new scene-based Matchbox Camera FX that add physical and creative in-camera digital FX processing and look development tools for 3D composites. Because these tools are based on algorithms from Autodesk's Stingray game engine, they are highly interactive. Ambient occlusion, realistic reflections and depth of field can be used without slowing interactivity. Other interactive effects added to Action through this update are 3D and 2D motion vector support and output, Stingray's screen space reflection, customizable lens flare presets available as nodes in Batch or the timeline, and invisible shadow casting up to 8K.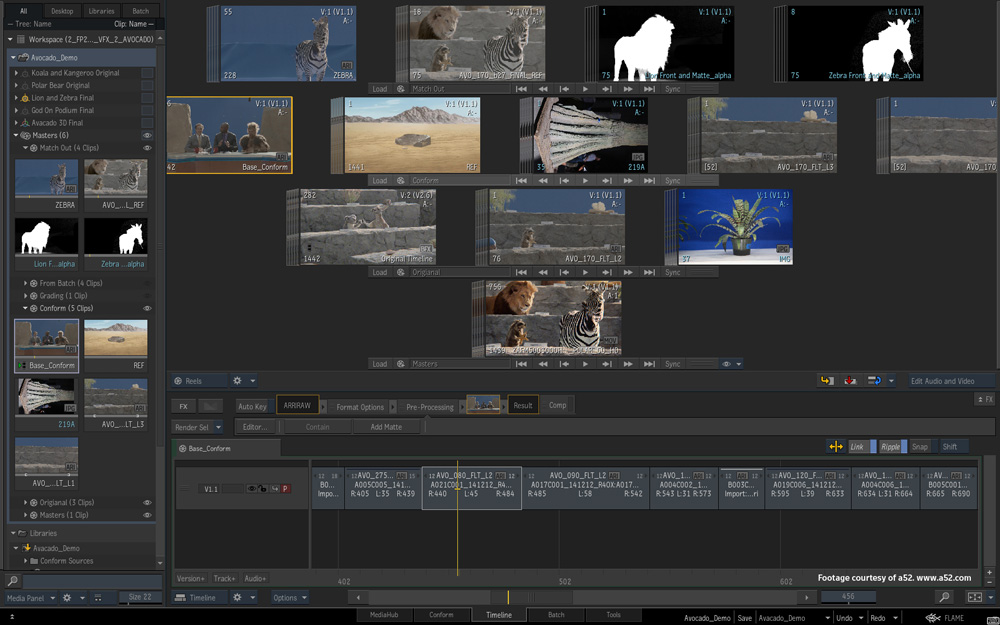 Autodesk's director of industry marketing for media & entertainment Marc Hamaker told Digital Media World, "What's different is the speed with which Stingray can create true physical effects inside of Flame's compositing environment. Traditionally, these kinds of effects are computationally very heavy so that interactivity hasn't been an option. But now, artists can work with depth of field, motion blur, reflections and light blooming with the level of control and interactivity they normally have in Flame.
"Putting Stingray inside Flame means FX are applied a lot closer to real-time than if they were rendered on the GPU, and artists can iterate a lot more effectively. Furthermore, there is no drop in quality using this workflow. The live preview displays a true WYSIWYG experience at HD or UHD/4K resolutions even when combining live action footage, rendered elements and 3D geometry into complex composites. You're able to work with and see a preview of the final production-ready image right in front of you. Artists have told us that small delays as they work are a small trade-off compared to the hours it could take to render effects like this using traditional pipeline rendering systems."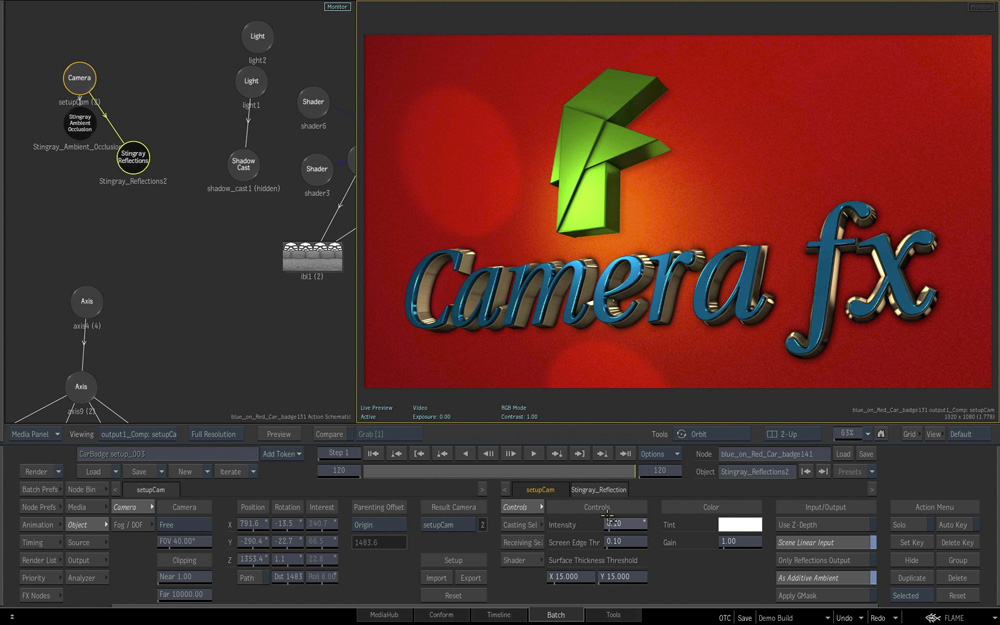 A new connected colour workflow in Flame strengthens its integration between VFX and colour grading. Up until now, artists used the Flame finishing tools to move timelines non-destructively between 3D VFX and Lustre real-time colour grading, to either grade visual effects or add VFX finishing to grading, but without repositions baked, temporarily removing time warps and other effects.
"Now, the new connected colour workflow – as the name suggests – maintains a connection between Flame and Lustre that keeps grade and effects metadata 'live' when working between these tools," Marc said. "This means a colourist could move a shot to Flame and use all of Flame's VFX tools while still seeing the result of that work in context of their grade.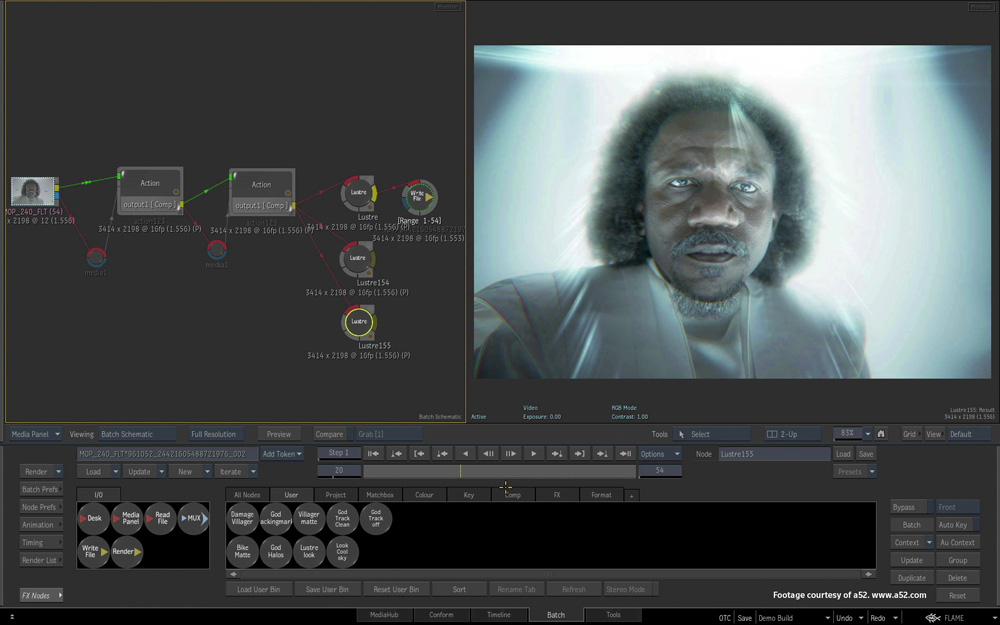 "Once back in Lustre, any changes or tweaks to VFX can be updated and rendered live into the Lustre grade automatically, so you don't need to manually swap and replace a result from VFX. This extends the VFX and grading workflow with more in-context viewing, reducing the confusion that can arise when working between unconnected software and saving the time it takes to get better results.
Other changes to colour in Flame, Flare and Flame Assist improve colour management by making it possible to quickly standardize how the colourspace of a source is identified and processed. This includes support for the ACES 16-bit format, making it easier to mix footage from digital cinema cameras, film scans and video.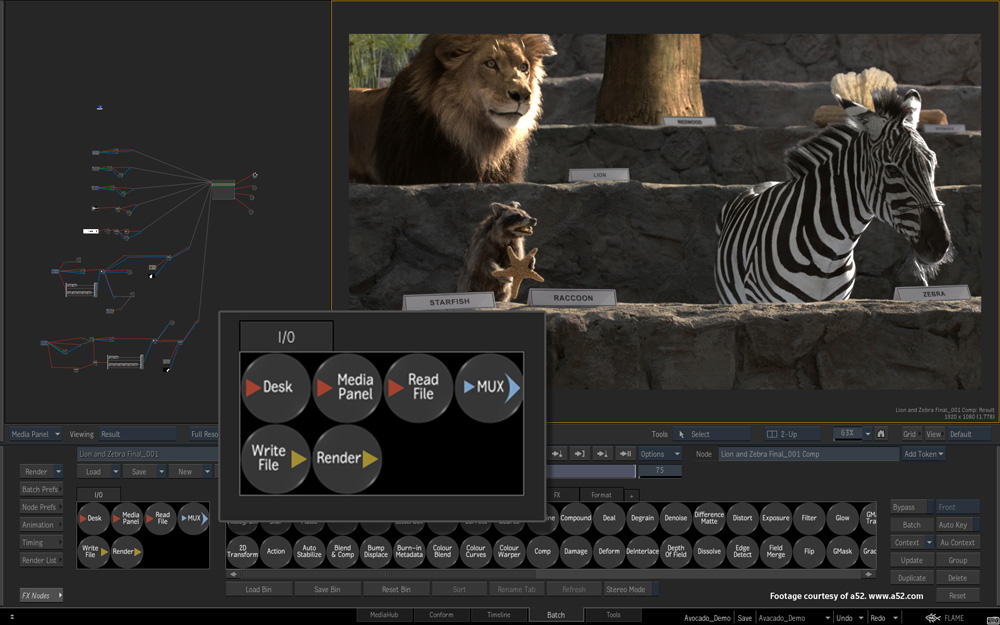 The colour-processing engine in Flame uses the Academy /ASC colour transform format and is optimised to supply the colour transforms used to convert between the ACES reference colour space and other input and output devices. In this way, the representation of floating-point linear colour spaces across editing, 3D VFX and grading is also more accurate and consistent, and includes support for REC 2020, the video standard for Ultra HD.
MAYA 2016 EXTENSION 2 – Motion Graphics, Character Animation
Autodesk Maya hasn't been upgraded to a 2017 version yet - instead, extension 2 to Maya 2016 has been released adding new 3D motion graphics functionality, a new rendering workflow and tools for creating and animating characters more rapidly.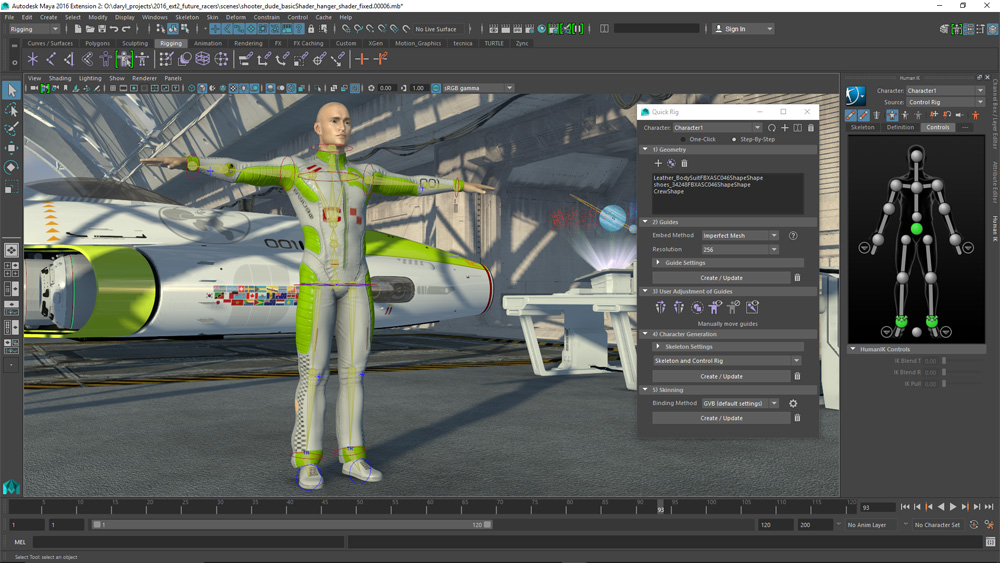 The new motion graphics tools for text, animation, instancing and effects operate under a procedural, node-based 3D design workflow and are completely integrated into Maya. It includes a set of nodes that you can combine in to create custom animations.
Colin Cupp from Product Marketing at Autodesk said that motion graphics is an area of 3D that Autodesk has been developing in Maya over the last couple of releases. This aims for tools that would support animation and FX users of Maya as well as 3D motion graphic artists looking for one package combining 3D motion graphics tools with a robust, general 3D toolset. "Last year, we added a new 3D text tool and scalable vector graphics (SVG) importer. This year's integration of procedural motion graphics tools into Maya has created a much more complete set of 3D design tools," he said.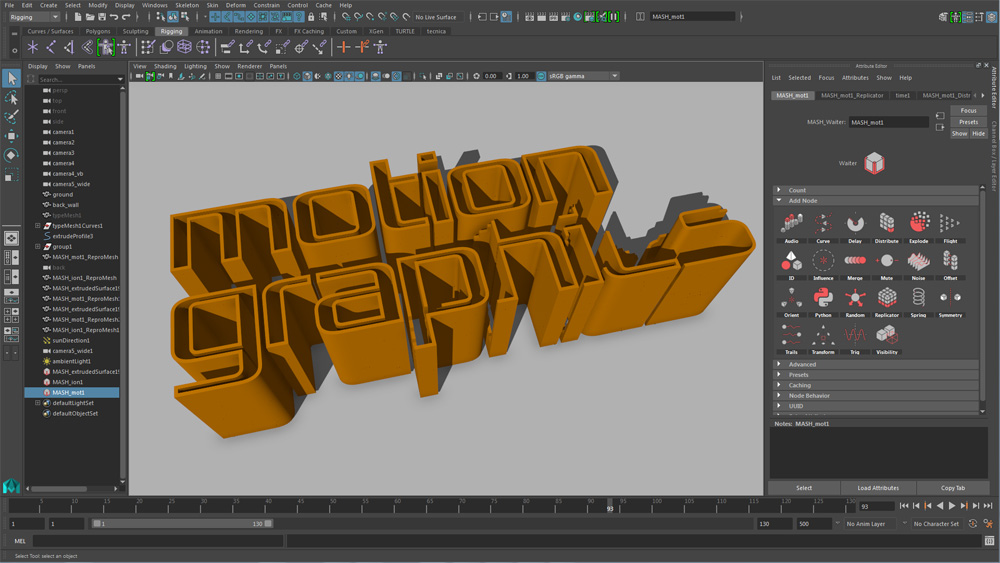 "The procedural, node-based nature of the new workflow, based on the MASH procedural animation tools, makes it possible to instance and combine nodes to create custom animations. The tools are suited to complex motion graphics, UI design, environment modeling, animation and effects.
"MASH will only be available as part of Maya now and, in fact, Maya 2016 extension 2 tools are already an enhanced version of the MASH MAINFRAME plug-in that was available previously. It has new nodes and deeper Maya integration. Furthermore, the creators of the MASH plugin continue to be actively involved in its development and use Maya in their own work. Their Vimeo channel has new tutorials focussing on Maya's new motion graphics tools."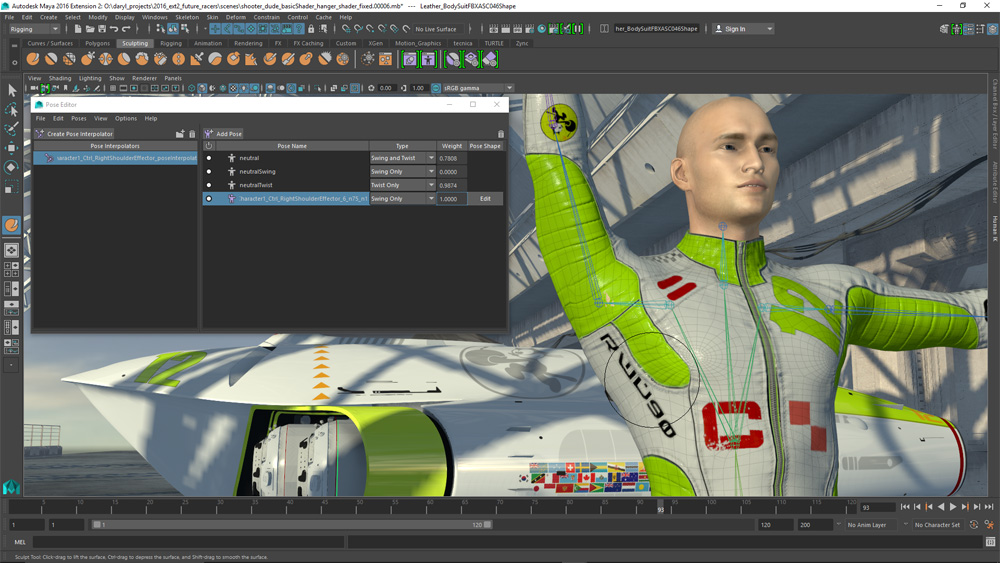 Maya's character creation workflows encompass some major changes, including a new quick rig tool and shape authoring enhancements built for speed. Other updates improve symmetry and poly modelling, UV editing, animation performance, the bifrost workflow and XGen hair cards.
Colin mentioned that the new quick rig tool is part of an effort to increase Maya's overall ease of use – similar to the expansion of the motion graphics tools – especially for the broader range of users that tend to be more generalists than specialists. He said, "Many Maya users do not work in large studios and do not typically have the resources to create custom Maya tools. While Maya's extensibility is very important, making functionality accessible is also a priority and this is one of Maya's advantages across a broad user base.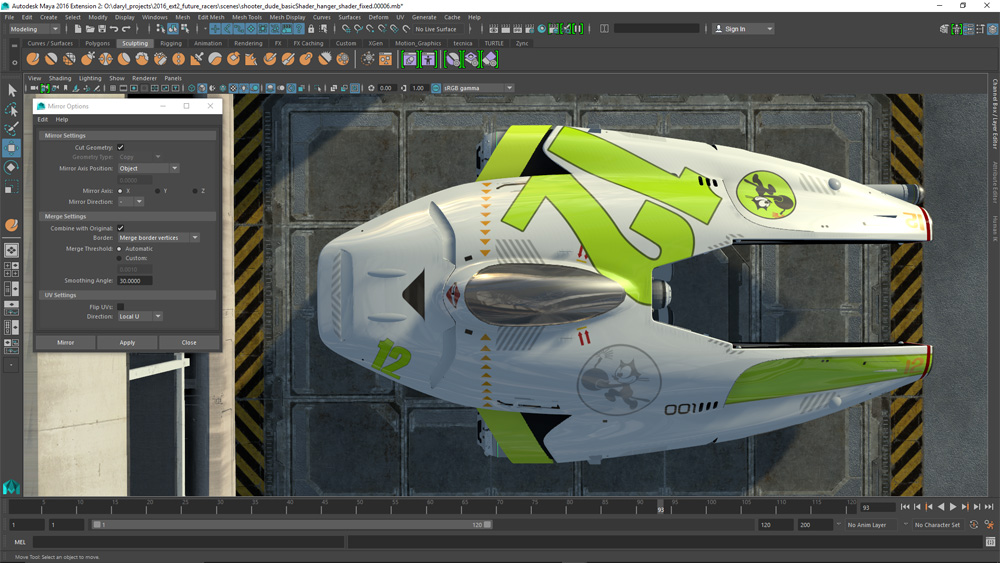 "Related to the rigging update are, for example, parallel evaluation which now supports nucleus dynamics, and the GPU-accelerated deformation system, now switched on by default. A new pose space deformation workflow, new shape editor and the updated blendshape deformer add precision. Artists can now sculpt directly on a posed character, while their corrections and refinements are automatically weighted by a pose interpolator, and a simple pose editor.
Games artists can now groom hair in XGen, using its procedural, art directable nature, and generate game-ready hair cards. Artists can also now add rigging and convert their assets to use in real-time use or in physics simulations. High viscosity for fluids in Bifrost supports the simulation of more viscous fluids such as toothpaste, shampoo, honey or lava. The new deep adaptive solver for Bifrost liquids [see image at the top of this article] can run a single simulation with high surface detail and low detail below – using fewer particles, voxels and less RAM, but give the same results as a non-adaptive, dense solve.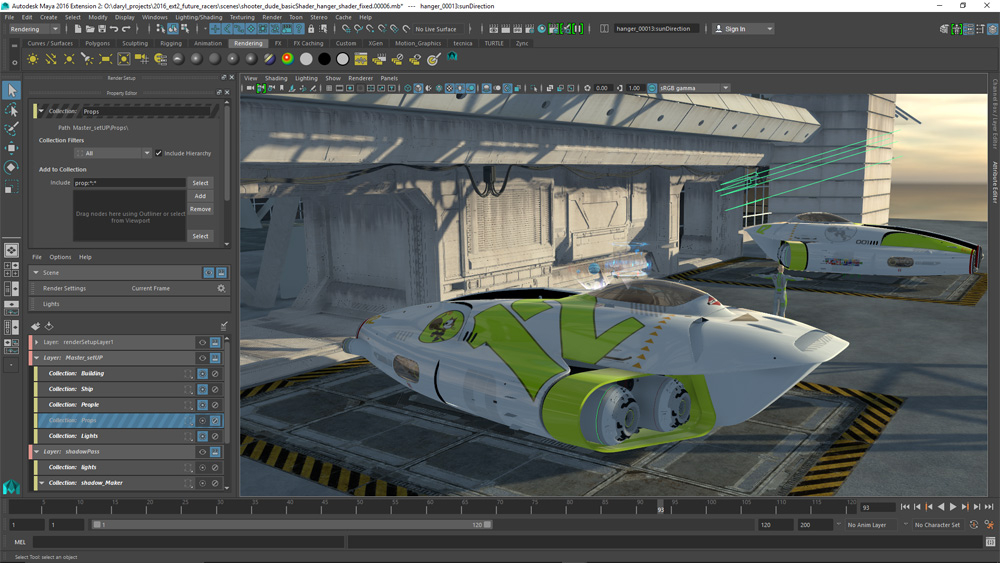 The upgraded UV editing in Maya 2016 extension 2 extends to a new brush-based symmetrize UV tool for mirroring UVs, multi-object support for unfold, and changes to the layout tool supporting the layout of hundreds of shells. The auto-seam tool now creates an instant selection with a one click to help place new UV texture seams faster.
Updated render management makes segmenting scenes into render layers easier and faster, for more control. For complex scenes, Render Setup management now adds shot-based overrides to scenes that work with a preferred renderer, and supports the use of templates for shot setup.
3DS MAX 2017 - UI, Python Scripting, ART Rendering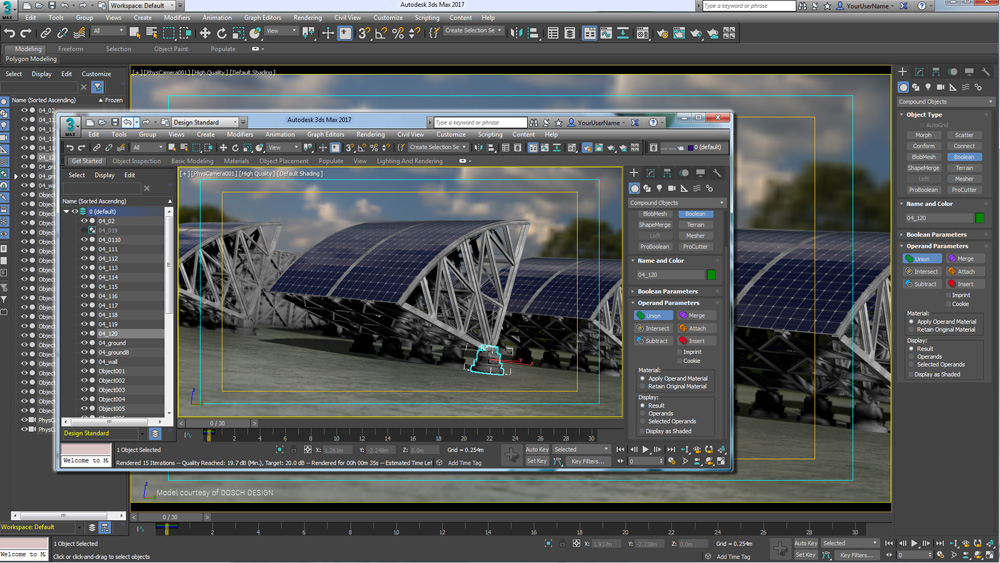 As well as modelling, animation and rendering updates, 3ds Max 2017 has a new user interface. The UI supports high DPI displays and correctly applies Windows display scaling for more types of monitors and laptops, and the Qt-based skin follows the new visual style guide with modern, multi-scale icons.
The extended Python/.NET toolset in this update, integrated as an alternative script language, allows tighter integration with several pipeline tools. Python developers can create third-party plug-ins, and make new pipeline tools that are more varied and accessible.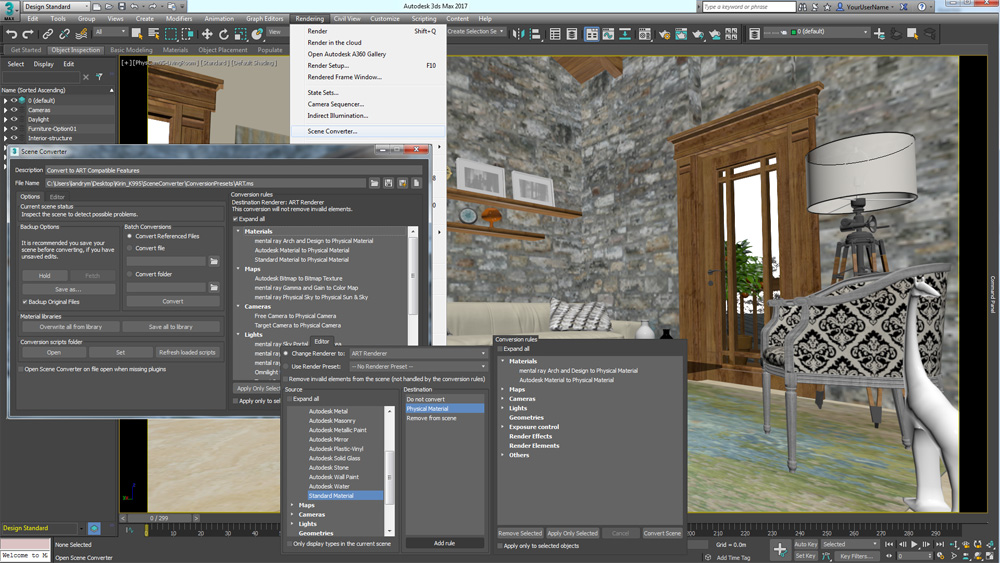 Because more choices for rendering are available now, the scene converter can be extended to move scenes consistently from one renderer to another, or to real-time engines, through the use of new presets for lights, materials and other looks. The existing conversion scripts may be fine-tuned with a UI to create custom source-to-target batch conversion rules.
ART, the Autodesk Raytracer render engine, is a new CPU-only, physically-based renderer that suits interactive rendering via ActiveShade and rendering for design visualization. It produces images progressively, so that you can see quick, if noisy at first, results from the entire image instead of waiting for tiles to render a portion at a time. You can also render with ART on a network via Backburner without extra licenses.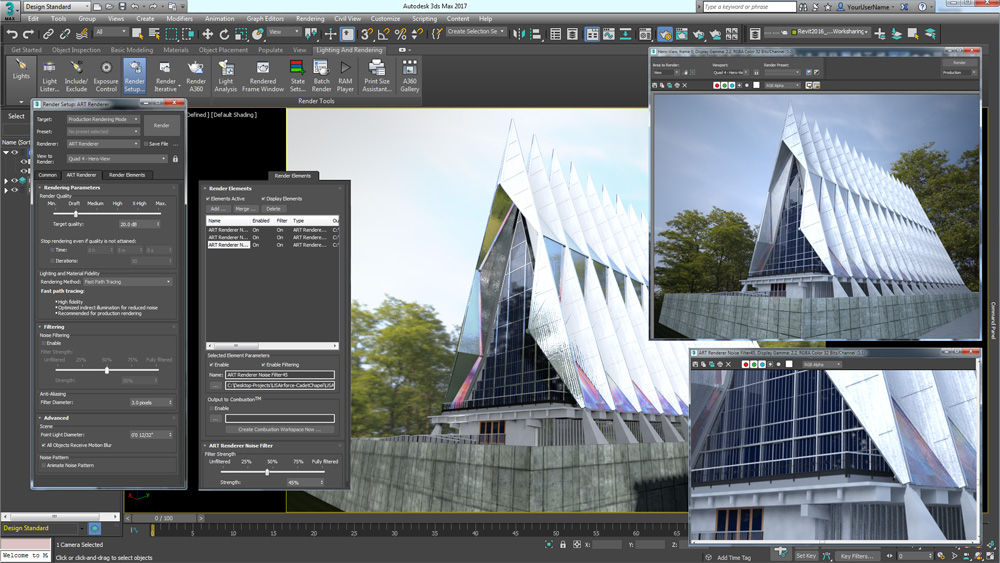 Video-card agnostic and able to make good use of image-based lighting, ART simplifies the way it functions by simulating the physical world. The principle setting is a Quality control - the image starts out noisy and as it progressively refines over time, ART calculates the noise level and will stop when it reaches the desired Quality value. Using this setting may involve guessing how many iterations an image will need to reach a quality level.
The ART render is at its quickest and most useful for scenes lit with image-based lighting, IBL - including scenes lit with Autodesk's new Physical Sky Environment. Examples are outdoor scenes and product renders of images shot under HDR studio lighting. Particularly for HDR-lit scenes, effort has been put into making ART very interactive in the ActiveShade render mode. An Advanced Path Tracing option exists to manage complex interior scenes with indirect illumination as well.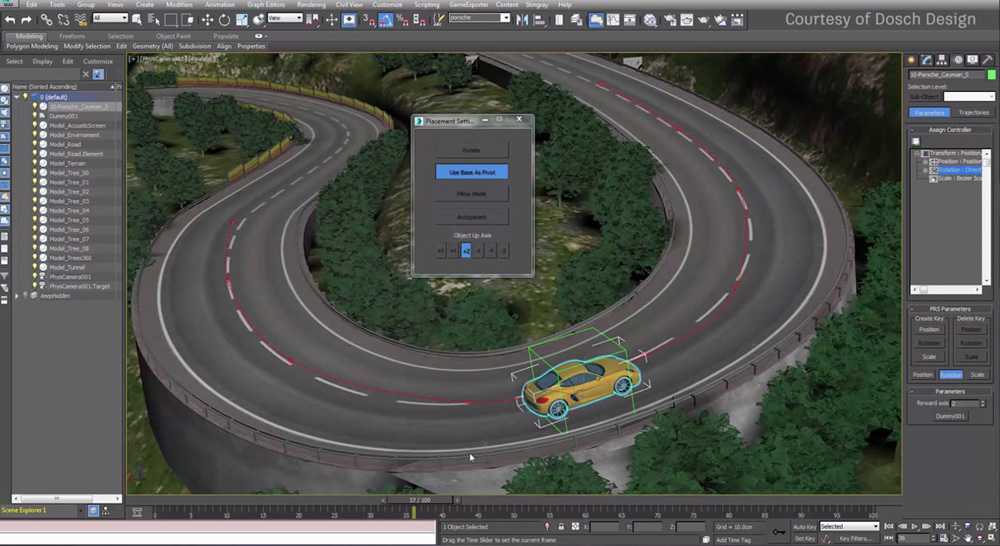 The 3ds Max asset library, available free on the Autodesk Exchange App Store, gives visual access to model libraries and 3D content on your local computer and network in a single view. You can search assets and drag and drop them into a scene in the viewport as environment, backgrounds or onto objects as material diffuse maps. The user decides how each one works using Xref, merge or replace. Local or network folders are used to index asset locations for searching, and file format Filters to display requested types of files.
Other, specific changes are double precision Booleans for fast form hard surfaces, UV mapping enhancements for speed and simpler, more predictable editing, and better control for artists using the object tool. www.autodesk.com