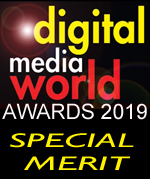 Ncam Mk2 Camera Bar
CATEGORY: Production - Cameras
NcamTechnologies
With the importance of visual effects work growing across the film and television industries, products that enable productions to maximise their resources and workflow efficiencies in the VFX pipeline are becoming increasingly important in turn. The old, siloed model of pre-visualisation, production, and post production is being slowly replaced by new technologies that simply enable visualisation at all points of the process, allowing greater artistic freedom at lower production costs than ever before.
Ncam has been an integral part of that movement. By attaching a specially-designed sensors to a camera, productions can extract invaluable key metadata from on set for the post production teams. And, more than that, its real-time camera tracking is capable of providing live visualization of environments, set extensions and CGI elements directly in-camera whilst shooting.
With the launch of the Ncam Mk2 camera bar earlier this year, the company has taken the technology to new heights.
Ncam partnered with the Intel® RealSense™ group to create the completely redesigned camera bar. The Intel RealSense technology was adapted and integrated by Ncam to meet the requirements of the media and entertainment industry, and enabled it to reduce the size and weight of the Mk2 by a massive five times compared to its predecessor. The Mk2 camera bar weighs just over 330g with dimensions of 160mm X 40mm X 40mm. This weight and size reduction makes it much easier to use with handheld and stabilised rigs, which gives directors and camera operators more options for shooting. It also provides easier and better balanced rigging. In addition, the Mk2 features more flexible mounting options with industry standard fixture points. The ruggedised casing is designed to be 'set proof', to protect the optical elements and ensure the bar can withstand the daily grind of production. The robust nature of the Mk2 also makes it more accurate, since everything is calibrated in manufacturing, meaning that users don't have to re-calibrate on set.
Its ease of use extends to the hardware profile of the rest of the Ncam solution too, the latest Ncam Reality software running on standard HP workstations and providing the industry with trusted processing power coupled with easily accessible global support. This powerful mix of Ncam's software and industry knowledge, Intel RealSense technology and HP's trusted workstations combine to make the Mk2 an incredibly accurate, robust, and flexible camera tracking product that is set to continue the company's work of transforming the VFX workflow.