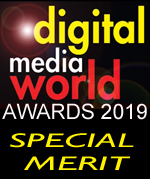 Quantum F-Series
CATEGORY: Post Production - Storage
Quantum
The Quantum F-Series is a high-performance, highly available and reliable storage array designed for studio editing, rendering and other performance-intensive workloads for large unstructured data sets. Unlike other NVMe storage arrays, the F-Series was designed specifically for video and video-like data sets and provides enough performance in a single 2U chassis to reliably edit 8K 60fps content in real time without dropping frames.

The F-Series enables customers to complete high-end VFX and render work in minutes (rather than hours), edit and finish Ultra HD content in real time, and achieve industry-leading throughput over fibre channel or Ethernet with RDMA, all at the lowest cost per gigabyte per second.

Incorporating RDMA (remote direct memory access), the F-Series provides direct access between workstations and NVMe storage devices. Combined with the Quantum Cloud Storage Platform and StorNext, the F-Series delivers end-to-end storage capabilities for post-production houses, broadcasters and other rich media environments.

The NVMe has been designed from the ground up specifically for flash-based storage. With NVMe, each CPU core communicates directly with storage using the high-speed PCIe bus instead of the slower SATA or SAS interface. Using PCIe, flash-based drives perform on par with memory instead of traditional HDDs. NVMe achieves that performance in part by supporting many more commands per queue than SATA or SAS protocols.

For users moving to IP-based workflows and infrastructures, the combination of these technologies will enable them to futureproof their infrastructure and accelerate their workflows in the process. The F-Series is NVMeoF ready so that as more applications start to leverage the NVMeoF protocol, the F-Series can take advantage of those future enhancements.