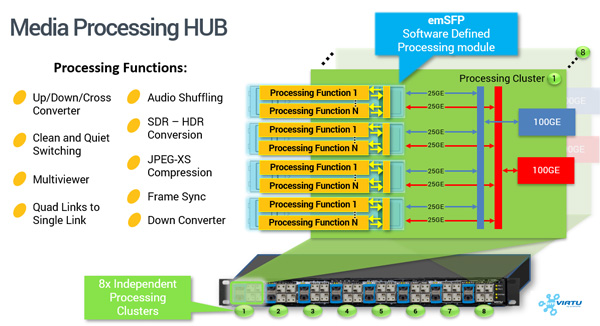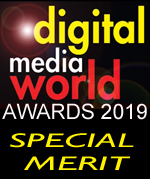 Embrionix emVIRTU
CATEGORY: Production - Video Processing
Embrionix
When transitioning to IP, broadcasters, media production and military/mission-critical environments and others must adapt a range of signal types, formats, frame rates, timing and resolutions to their workflow – this adaptation can present very real cost, time and space challenges, driving up CAPEX and OPEX considerably.

To address these challenges, the Embrionix emVIRTU All-IP Core Infrastructure and Media Processing Platform is designed to provide an extremely high-density 1RU hub packed with virtualized IP signal processing services. Users are free to build up their processing power modularly as their needs grow and change, seamlessly adding or interchanging virtualized processing functionalities including frame synchronizer, down converter, up/down/cross converter, multiviewers, quad links to single-link UHD, SDR-to-HDR converters and color processors.

Designed to drastically reduce energy costs and space requirements the emVIRTU comprises sixteen (16 x) 100GE aggregation links that connect directly to an IP core switch. And, with passive connections between the IP-to-IP processors and aggregation ports, there is virtually no point of failure. The platform is designed so that control, synchronization and data use the same interface, greatly minimizing the use of cabling. Aggregation bandwidth reaching up to 1600Gb/s allows for high-resolution UHD, HD, 3G content to be efficiently produced without constraints.

The emVIRTU leverages Embrionix' expertise in developing miniaturized IP conversion/processing solutions and is designed to host:
up to 64 x UHD IP advanced processing services
or up to
256 x HD IP advanced processing services.
2019 Winner:
IABM BaM Award
NAB Best Product Award