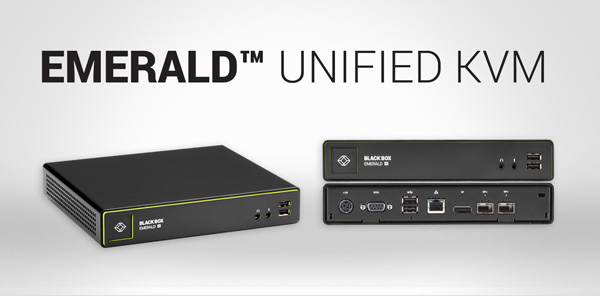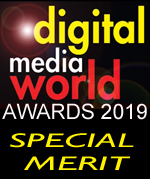 Emerald Unified KVM
CATEGORY: IP Broadcast Solutions - Distribution
Black Box
The Emerald® Unified KVM platform developed by Black Box in Ireland, is the first-ever converged KVM solution for distributing high-quality video, audio and peripheral signals throughout expanding hybrid environments that include both existing and dedicated IP networks, mixed resolutions up to and beyond UHD/4K, and any number and combination of physical and virtual desktops and servers. This innovative mix of industry-first capabilities is tremendously valuable in making a smooth, cost-effective transition from SDI-based signal distribution to all-IP operations for customers in the broadcast, medical, industrial, defense, public safety and air traffic management markets.

Emerald makes it easier for enterprises of all sizes to take advantage of IP's scalability and to realize cost savings through the use of low-cost commodity hardware. Emerald is also the first KVM solution to provide full support for virtualized environments, enabling connectivity for any combination of physical and virtual servers within a single KVM network and giving operators a smooth and easy migration path to virtualization.

The Emerald Remote App is a license-enabled KVM application that allows remote computer access through Emerald SE transmitters and the use of virtual machines from any Windows® 10 device in full HD resolution. Through the Remote App, multiple connections can be launched simultaneously, which makes remote monitoring of connected devices even more flexible. Simply add a license for one, five, 10 or 20 connections to your Boxilla® KVM Manager.

The Emerald KVM platform supports HD (DVI) and 4K (DisplayPort 1.2) video at 60 Hz and 10-bit color depth over standard IP network switches and connections, enabling pixel-perfect image transmission with mathematically lossless compression.
To ensure reliability and avoid costly network downtime, the KVM network can be configured with redundant paths and server endpoints for failsafe backup. Emerald was designed with 24/7/365 critical applications in mind, providing for network resilience at every level, all the way up to complete switchover from one control room to a backup control room location.

The Emerald KVM platform enables operators to access and manage an unlimited number of PCs from any location and share resources such as hardware and licenses across a dedicated KVM network, an existing IP network, or even the internet. No matter where users are situated, they enjoy the same experience they would if their keyboard, monitor and mouse were connected directly to the CPU being accessed. Additionally, enterprise-scale KVM networks can be securely and conveniently managed by the award winning Boxilla KVM manager. The platform's true USB emulation allows them to connect external hard drives, Wacom® tablets and virtually any other high-speed USB 2.0 device to the KVM network.

Users can scale up the KVM system simply by adding end points. Likewise, operations still working primarily in HD can add 4K at their own pace and transition individual user groups as the need arises.