Hitomi Broadcast, manufacturer of MatchBox audio video alignment system, designed 'MatchBox Glass' as a free iOS App for near instant lip-sync alignment of mics and cameras.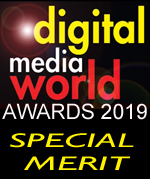 Matchbox Glass
CATEGORY: Production - Monitoring
Hitomi Broadcast
Hitomi Broadcast, manufacturer of MatchBox, the industry's leading audio video alignment technologies, announced 'MatchBox Glass', a free iOS App for near instant lip-sync alignment of mics and cameras, at IBC 2019.

Viacom International Media and Technology Services (MTS) used MatchBox and MatchBox Glass for the 2019 MTV Europe Music Awards in Seville, Spain, in November to sync its 4K/UHD feed from Seville to London, and from there to a global sync to all the other MatchBox analysers around the world.

When a lip sync error occurs on a live broadcast everyone in the chain worries if they are responsible. This can lead to some unfortunate disputes. With Hitomi MatchBox, accurate synchronisation on departure can be demonstrated, as can misalignment on arrival. Evidence based data can mitigate liability. Matchbox Glass instantly measures latency and provides fast, accurate lip-sync and alignment of multiple cameras.

The MatchBox solution to lipsync coherence and line identification requires a Generator (at the source) and an Analyser (at the destination). Generator and receiver are supplied in a 1RU enclosure, which can process either one or two channels. Channels may be a pair of generators, a pair of analysers or one of each (selectable as purchase options). Dual redundant power inlets and dual fans are supplied as standard.

MatchBox Glass enables quick and reliable camera line-up into truck, remote production facility or in newsgathering applications. By simply holding up an iPhone or iPad, running the Glass App in shot allows the analyser to instantly verify camera and mic timing alignment. Glass reduces an otherwise time consuming and error prone process to certainty in seconds.

MatchBox is already used by broadcasters worldwide to ensure the timing of live sports, news and events, but until now has not been able to measure the paths through cameras and mics themselves. By putting a perfectly timed source in view, the analyser can measure exactly what delays have occurred to the pictures and sound. Not only that, you can point two cameras at the same iPhone and measure the latency difference between them. This is especially useful where significant delays through wireless links are involved. MatchBox Glass offers greater convenience and flexibility by being a free, downloadable App for anyone using an iOS-based device. Smarter and more accurate than a clapper board and removing the subjective nature of a tap test.

Viacom International MTS deployed MatchBox's sync toolbox for the red carpet, main award show, backstage and aftershow party feeds. The coverage was televised on 100+ channels worldwide from the FIBES Conference and Exhibition Centre in Seville. Hosted by American singer, songwriter, and actress, Becky G, the show included a special headline performance, filmed by Viacom International the previous night at the MTV World Stage at Plaza de España in Seville, by 'Best Rock' nominee, Green Day.

Viacom International MTS Systems Engineer Matt Okotie said, "Using MatchBox, I can sync signals in under a millisecond to ensure that before we go to air, lip sync is correct. This is crucial for any production, but particularly for a live, globally distributed event, so you have to be absolutely sure you get it right. That's why I leave it to MatchBox. Basically, if MatchBox reads 'zero', you know that lip sync is perfect.

"We send the synced 4K/UHD feed to HQ in London, and then down convert that feed to HD and send both UHD & HD for onward distribution. Our MatchBox analysers at Viacom and other global broadcast locations pick up both signals. That process is straightforward because MatchBox is backwards compatible with all of our existing technology; and as far as stability, it's rock solid."

MatchBox is a favourite of broadcasters worldwide for ensuring the timing of live news, sports, and events. It is a state-of-the-art toolkit that streamlines live broadcast synchronisation and in addition to intuitive identing; provides rapid measurement of lip sync, audio coherence and video timing.

Hitomi Broadcast Director Russell Johnson said, "High profile events have emerged as a specialty for MatchBox. Getting lip sync wrong, perhaps most noticeable in live music, can be disastrous on multiple levels, but by deploying MatchBox sync generators and analysers, the band can play on without consequence."

Johnson added, "We made the MatchBox Glass free because we didn't want to penalise independent operators who can benefit from its accuracy and power. There is a licence requirement, but it's paid for at the receiving end by those who want to acquire the synced content."

In addition to its multiple sync and analysis capabilities, MatchBox is also a 4K test pattern generator, which is critical for many contemporary broadcast operations. Hitomi's extensive experience and knowledge of swiftly establishing and accurately timing a reliable link to base, for all resolutions and delivery platforms, is evident throughout the design of all Hitomi products which are uniquely engineered to make the synchronisation and alignment process as quick and painless as possible.