Titmouse and mocha Pro Make Worlds Collide for 'Son of Zorn'
Titmouse is an animation studio that loves animation, especially 2D projects and cartoons, and handles all angles of production - writing, storyboarding, design and concepting, animation and direction, compositing and editorial. Their work appears on TV and in movies, music videos and commercials, ranging from oddball comedy to more traditional animation, including children's series with thought-provoking stories.
Places to view some of their projects are Adult Swim's 'Venture Bros' and 'China, IL', Dreamworks/Netflix 'Home' and 'Turbo FAST', and Comedy Central's 'Moonbeam City'.
Titmouse's hybrid animation/live action comedy series, 'Son of Zorn', about a Barbarian cartoon character who leaves his war torn home to reconnect with his human son in real-world suburbia, has an unusual, complex production workflow. After the live action shoot to capture the plates, completing a single episode employs skills and artists from almost all of Titmouse's departments and takes about 25 weeks, which includes storyboarding, editorial, animation, compositing and post-production. Titmouse delivers one episode every one to two weeks.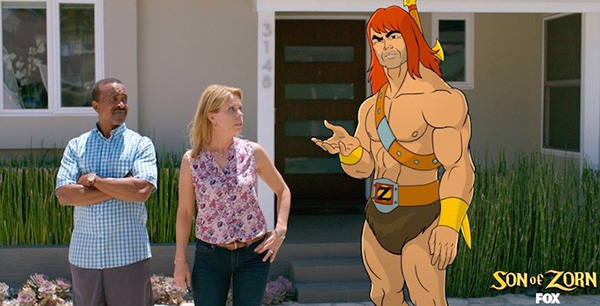 "'Son of Zorn' has a production pipeline that hasn't often been adopted before, particularly in the context of television," said Jennifer Ray, the show's Animation Producer at Titmouse. "The complexity of the character design and live-action interaction, and the use of Animate [formerly Adobe Flash] leaves the door open for a lot of ingenuity, but also a potential for inefficiency, so I'm always looking for ways to protect Titmouse's pipeline and crew and help them be as efficient as possible. This is the first project to integrate mocha Pro as a major part of the compositing pipeline, for example, which helps the compositors save a lot of time."
The humour of Son of Zorn works because the world is believable. "The notion that animated characters have arrived from an animated land is not exactly headline news for this version of Orange County," Jennifer said. "That creates an interesting, albeit, high bar of expectation from an animation/compositing standpoint. We must convince the viewer by integrating Zorn so well into the scene that nothing about it looks overly extraordinary, especially alongside the live action characters he's playing against."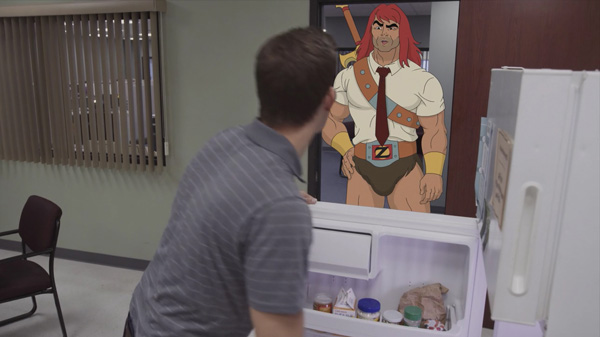 Generally, most of the shots require tracking and rotoscoping. Barry J Kelly, an Animation Director at Titmouse, worked as On-Set Animation Supervisor for 'Son of Zorn'. "We've been using mocha AE for a little over a year, and mocha Pro was introduced into the pipeline in September 2016," he said. "The software has been pretty easy to learn. Overall, we've liked the plug-in option - it's been great to be able to do all of the work within After Effects. mocha can track areas that are blurry or have no tracking markers fairly easily, and is very helpful with handheld shots."
mocha's planar tracking and roto tools are used widely on this project for masking and combining the animation with the plates. "mocha has been particularly useful for saving time, speeding up output when rotoscoping live action actors and hold-out mattes for the animated characters when compositing all the elements for each shot," said Barry.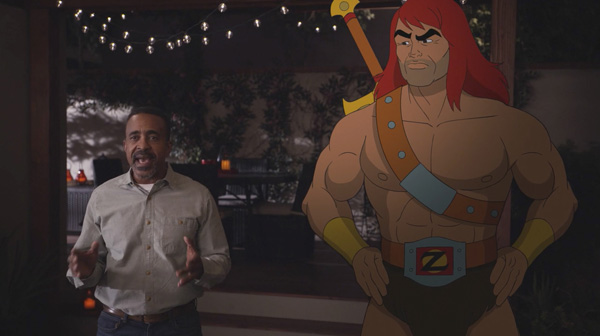 As well as the repetitive, everyday tracking and rotoscoping tasks, Titmouse uses mocha Pro on difficult removal shots. Recently, they used the Remove Module for a shot with a pull-out camera move. The built-in AE camera tracker was unable to clean it. "We put a tracking marker in post to mark the spot where Zorn would be standing, but since the camera move in the shot hadn't been motion captured, we had no clean plates," Barry said. "Instead, we could create three plates by painting the necessary pieces of background in Photoshop, recording a camera track in mocha, and using it to track in the Photoshop elements. The result was invisible and allowed us to place Zorn as required throughout the shot."
Watch Titmouse's new showreel here. The company also just completed their first feature film titled 'Nerdland', released theatrically in the US as a Fathom Event in December 2016, and are creating interactive virtual art cartoons for VR viewing.
www.imagineersystems.com