AEAF Awards Attract Stellar Animation, CG Work and Stories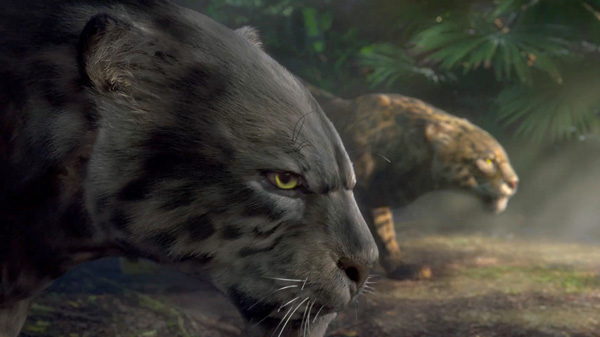 New entries into AEAF Awards are accelerating rapidly with more Commercials and TV Series projects coming from the US, New Zealand, the UK and Australia. Now is a great time to enter your work and get it posted on the Online Festival pages of the aeaf.tv website. Entering is easy - visit the This email address is being protected from spambots. You need JavaScript enabled to view it. page and contact us with any questions.

Passion Pictures' five wildly diverse Commercials Animation entries take you from athletic Brazilian beasts in the jungle preparing for the Rio Olympic Games, to warm Christmas stories. An eye-catching 3-minute, 2D animation about sustainable fashion is both informative and addictive to watch as the graphics morph between ideas. 'Megacity' is a photoreal 3D animation with beautiful lights, camera and a story without dialogue. You can see them all from links on this page.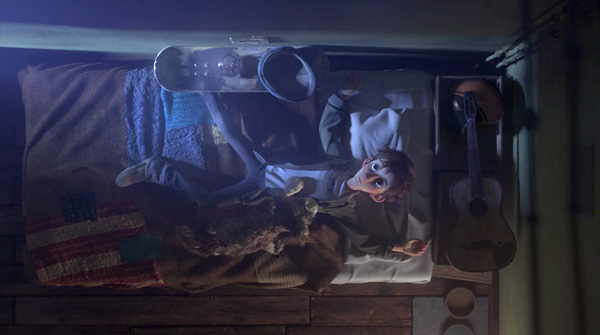 Resin Hunts the Hunters
Resin has submitted their work as the sole visual effects vendor for 'Hunters', a 13 episode series for NBC Universal's SyFy channel launched in the US in 2016. The team produced over 800 visual effects shots for the series, which included producing a number of digital assets, and were responsible for the creative development of several signature effects for the series that visualize the nature of the story's aliens, the Hunters.
Resin designed and developed the visual representation of the sonic weapons the show's aliens use, with explosions and other effects showing the pain they inflict. Other alien device effects include adding photo-realistic needles to the native Hunters DNA extractor. Red Mist was among the series' signature effect. Resin developed several techniques to augment practical smoke and in some cases developed a CG simulation giving the Red Mist a sentient quality as it engulfs characters. Their look for 'Hunter Vision' was created to produce a cellular quality.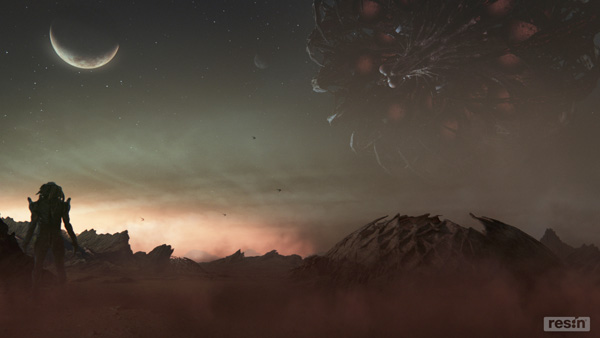 Resin was tasked with augmenting several shots that used practical models and animatronics. For example, VFX work on an alien baby included adding and opening eyes, breathing, heart beats, temple pulses for sonic hearing, and mouth and nose movements.
Resin handled over 100 green screen shots of varying complexity, often dealing with low light plates and screens constructed from multiple sources. Resin created a completely CG prison loosely based on a real prison and then adapted to match its Turkish location. The shot was constructed from only a live action plate of the actor in the window. The end shot pulled out wide to reveal the setting of the prison for the first time in an entirely CG shot.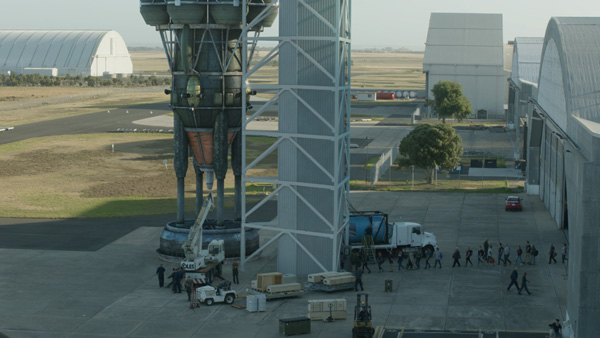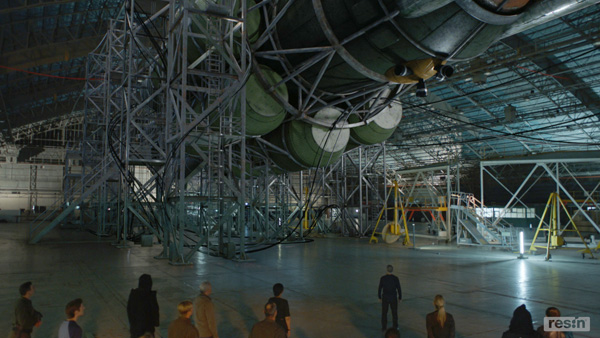 Several shots involved VFX work using a CG rocketship asset and scaffold structure, combined with live action plates containing actors – for example, outside plates as it was being prepared for its launch. Composited shots of the hangar were complex, made from many overlapping passes. Resin also designed motion graphic HUD and graphic overlays for several different applications.
Shots of the Native Hunters were a creative challenge. With only a green screen plate of a Native Hunter in the foreground, a completely CG shot was produced for a flashback sequence set on the Hunter's Homeworld and helping explain how they made their way to earth. The mothership in the low hanging atmosphere and pods streaming from the alien terrains are all CG.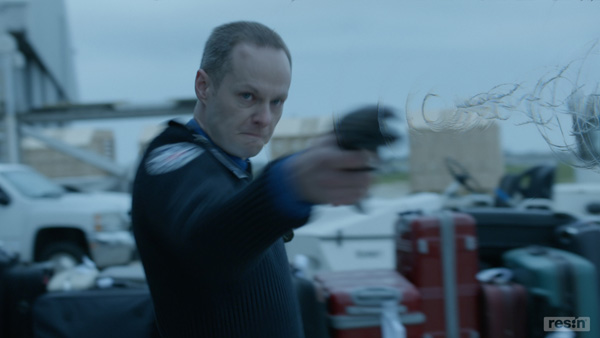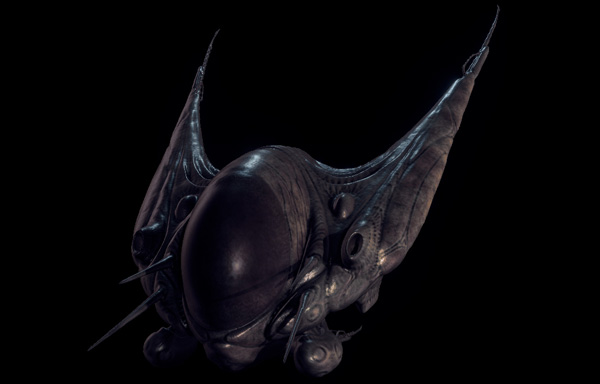 Other completely CG shots, up in the atmosphere, reveal the Mothership undergoing attack as a revolt unfolded, and CG Pods fleeing toward earth. On the show's set, Resin also supervised a shot of a tunnel full of Native Hunters - with only two practical Native Hunter suits to work with. Their final view was built from around 50 different compositing passes.
Grim character effects were required, ranging from blood augmentation to a series of shots in which a head melts, needing composites built from various static passes and CG augmentation. The Hunter's silver blood was created in CG and added to characters with a high frequency vibration and stretching of skin.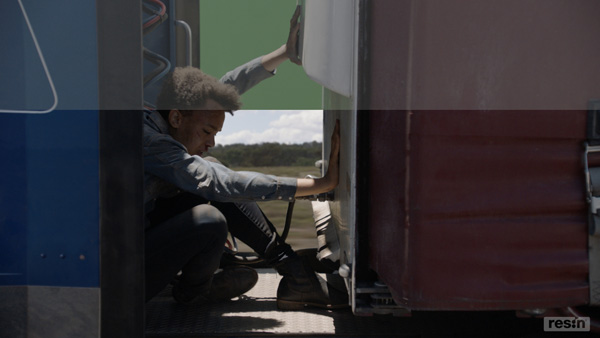 Across the series were many environmental shots for which Resin provided matte painting work to transform the locations. One was based on a crane shot of snowy mountain peaks they received, needing foreground clean up and extension of grasses, additional snow and atmosphere.
Cirkus Plays Pinball
Don't miss Cirkus' almost-stop-motion spot, a great surprise made for a commission from Six Toes and TBWA\Singapore to conjure up the greatest pinball machine on earth for Standard Chartered Bank. Aiming to convey that with SCB's newest credit card, unlimited cashbacks can be enjoyed. The pinball hits and activates varying amounts of cashback on travel, shopping and dining purchases and gathers points before the targets reset and get ready to play again.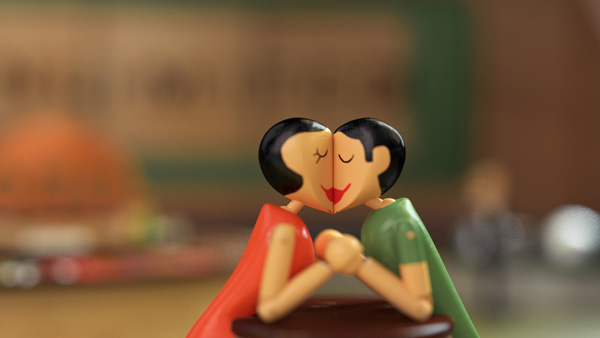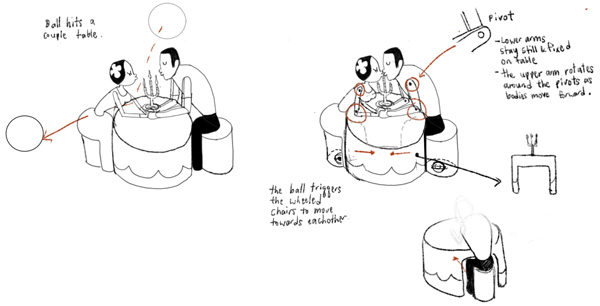 But the key challenge for Cirkus was 'How would a craftsman design and build this gadget?' They were limited by a 4 week production turnaround and so decided to create this contraption in 3D in May with After Effects. Figuring out how to make it not shiny but real, required a lot of attention during look development. From the beginning, the illustration team determined the machine's layout, mechanisms and design. Then, by approaching the project from this point of view, 3D modelling was minimized and, most important, ensured viewers can see the human hand present in this labour of love.
Narrator's 360 Videos Now Online
Please note that you can now view the 360 videos for Narrator's behind-the-scenes content for Warner Bros' app called 'All Access' – announced as a VR/360 entrant in March. Narrator took a GoPro 360° rig onto the set of 'Fantastic Beasts and Where to Find Them', capturing the actors and unscripted material. Their graphics team then designed an immersive virtual reality experience via 360° editing.
This process involved stitching multiple equirectangular, wide-angle shots together to form a single environment. The final, continuous imagery results from hours of detailed work by Narrator's compositors and graphic designers. Much of this part of 360 and VR projects must still be done manually and differently for each production, depending on many factors. The campaign of 360° videos is downloadable and viewable on Oculus and Samsung Vive headsets. aeaf.tv