Golaem 6 Adds New Crowd Control and AI Tools for TDs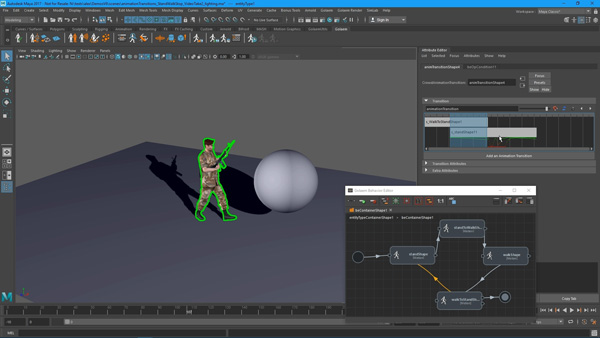 Golaem 6 digital crowd simulation engine has been updated with further options for crowd TDs to customize the way characters perceive and react to their environment. Specific new Artificial Intelligence capabilities now include an Emit/Kill behaviour, plus another new behaviour for Traffic Simulation. The Golaem Layout tool for scene development has more functions.
Characters' perception of one another can be customised very finely so that you can choose which characters or obstacles each one takes into account. For example, soldiers in formation can now detect that the soldiers in front of them are moving forward and start walking to follow and, in contrast, ignore the cavalry soldiers around.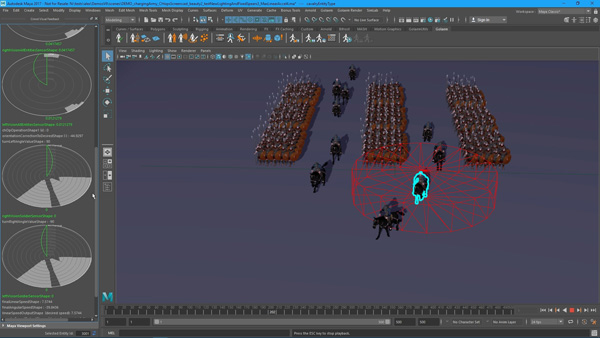 Characters' behaviours can be further customized by using low level building blocks called Channel Operators. Some 100 different channels, such as position, speed, distance to target and so on, can be used to feed a graph of operators resulting in altered character speed and orientation, or controlling the animation.
Using these operators, it is also possible to create custom hide, seek, flank and other behaviours and let characters find their own way into the scene. More realism can be added to scenes by enhancing the character's logic - for example, making characters perform a shoulder motion when crossing another's path.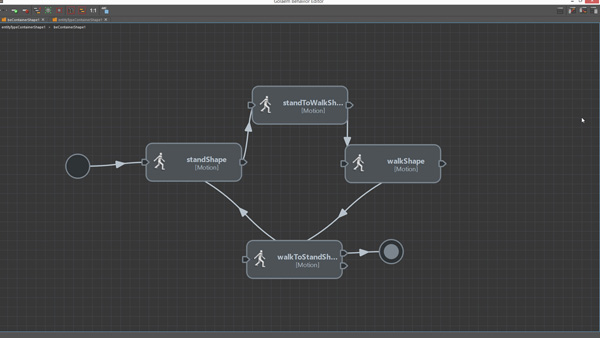 Transitions between motions can now be precisely controlled, for example, by customising the start point and duration of a transition. The Transition Editor displays the compatibility between each motion at a given time to make set-up easier, and has an assistant to automate some decisions. These transitions make it possible to break up your animations into various states - state machines - with control over in-between motion transitions, like walk into walk-to-run into run, for more natural animation quality.
The new Emit / Kill behaviours mean you can summon or dismiss characters whenever necessary. Characters in the form of arrows, cannonballs and others can now be emitted from one of the Golaem Placement tools or relatively to another character. This may be useful for shooting objects, fragmenting munitions or emitting people from exits to buildings. A new Master/Slave mode allows you to make them sticky – such as arrows on a shield, for example – or, for efficiency, to remove characters from a simulation when they are out of view or no longer needed.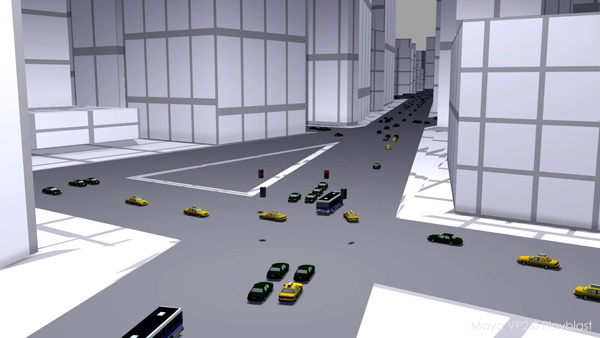 On the assumption that the addition of hundreds of cars driving around always improves city landscape shots, the new Traffic Behaviour enables users to rapidly populate roads. The road network can be drawn using Maya curves, from which Golaem will automatically create lanes and traffic lights. The Traffic Behaviour will automatically put cars on lanes and let them wander about or head for a given target.
The Golaem Layout tool was developed originally to revise scenes - after crowd generation - more efficiently by creating new scenes from existing simulations or to layout scenes simply. It can save time during shot production and make the production workflow simpler. It now allows you to manipulate characters at that stage – move or delete them, offset their animation, change the animation speed, edit props and shaders, and so on.
A Trajectory Edition mode has also been added in order to tweak trajectories manually, or automate avoidance when laying out several characters from scratch. Another new option is snapping an object or character to a Golaem Placement Tool, which makes scattering objects around a scene more convenient.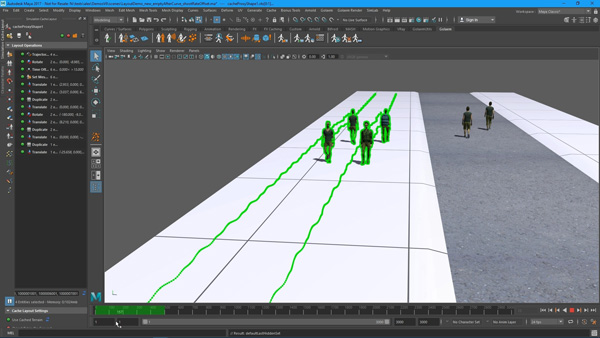 Due to deep integration in Maya and a long list of MEL/Python commands, Golaem can be integrated into a production workflow without a lot of pipeline development. Display capabilities in the viewport support up to 16 shadowing lights and may be customised via the OpenGL Shading Language. A C/C++ development kit, plus a Python coming soon, is supplied as well for building tools based on its simulation cache format.
Golaem notes that by using the Layout tool's options for customising crowd simulation tools combined with site license pricing allows TDs to make Golaem simulations available to a whole studio, including the shot production capabilities described above, without writing extra code to the pipeline.
Golaem has been used recently by Atomic Fiction on 'Pirates of Caribbean', Blur in Halo Wars 2, at Slate VFX for 'Hacksaw Ridge', by Mikros Image on 'Captain Underpants' and at other studios on 'Game of Thrones'. golaem.com