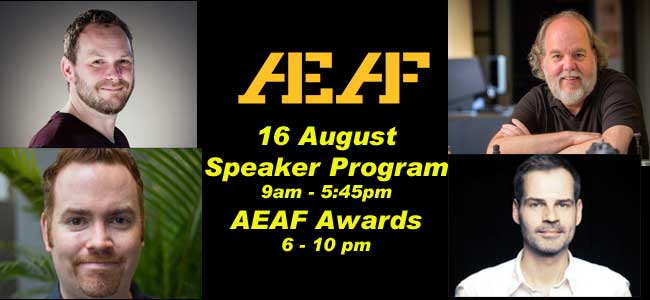 Top Speaker Lineup – The calibre of the speakers at AEAF is awe inspiring. The artists on the schedule are bringing expertise and new ideas from major film and commercial projects in New Zealand, the UK, Singapore, Canada and Australia, all in one place and on one day. Don't miss it.
Networking – The chance at AEAF to meet your peers and former and future colleagues, find out what's happening on the local scene and overseas, and make connections is like no other. The VFX, animation and graphics industries are competitive, so make sure you are on the network.
Discover New Developments – Climb out of your comfort zone, just for one day, and see what you've been missing. The artists in the Speaker Sessions, and those attending, have built their careers on using groundbreaking approaches to produce great work.
Get Social – Not only is attending AEAF a great career move and extremely interesting – it's fun! The Awards Screening and party in the evening is one of the best industry social events all year. The venue at the classic and beautiful Chauvel Cinema - next door to Paddington Town Hall – will make you feel at home and is easy to find.