Axis Studios Joins Creative Forces in Animation and VFX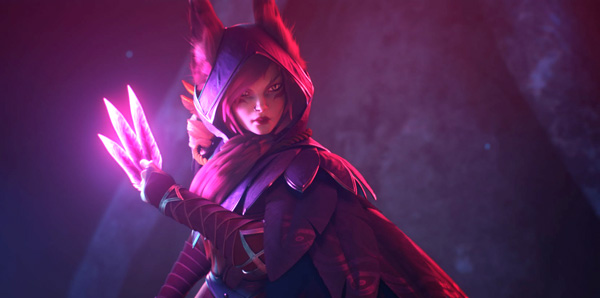 Axis Animation - League of Legends 'Wild Magic'
The animation and VFX collective Axis Group - Axis Animation, Flaunt Productions and axis VFX - has launched Axis Studios, pulling together the company's three branches and locations across the UK. Formation of the new company reflects the growth and physical expansion taking place across Axis. Axis Animation and Flaunt Productions in Glasgow, the home of Axis Studios, and axis VFX in Bristol and London, have expanded their studio size to house a creative force totalling 230 people.
Individually and united, the studios comprise three extremely talented teams. Axis Studios intends to take on a wider range of large-scale, exciting projects at all three locations, and expand its talent and technical capacity to work in more sectors of the entertainment industry. Although each brand still has distinct goals, strategies and talent bases, the companies will now share and collaborate on projects.
Stronger Together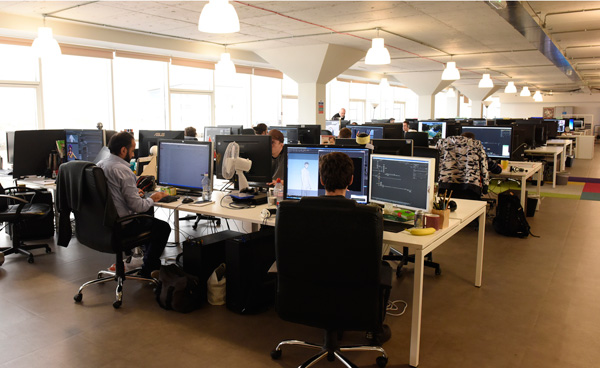 Richard Scott, CEO at Axis Studios remarked that working together as Axis Studios strengthens their ability to work in creatively challenging areas of the entertainment industry. For any project, their directors and producers have access to three companies and locations with fewer limits on resources and workflows.

Alongside the Axis Studios rebrand, all three locations in Glasgow, London and Bristol have expanded their operations to handle the new work coming in. As the mothership of Axis Studios, Axis Glasgow has doubled its physical space in its Skypark HQ to support 180 artists.
Likewise, axis VFX has recently expanded into the South West's major film studio, The Bottle Yard Film Studios, in Bristol. The studio now has capacity for up to 50 people and plans to grow the 2D and 3D teams to deliver VFX work on Axis Animation's upcoming feature film 'Early Man' and several TV dramas. axis VFX in London is also moving to a new central London location, where the team will continue to specialise in pre-production for projects in television, films and video games, supporting all three studios in the group.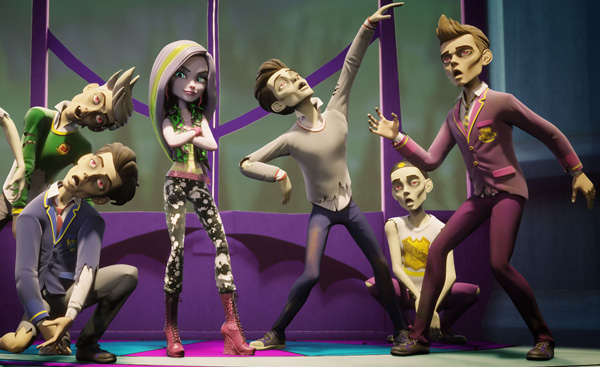 Flaunt Productions - 'Monster High'
Axis Animation in Glasgow is an international team of directors, designers, artists, animators, writers and producers. They are known for hyper-real animated and characters for games cinematics, TV, film, online and theme parks.
Flaunt Productions, also in Glasgow, is a collective of directors, animators, writers and illustrators that pursues the fun side of animation - charming, imaginative characters, and produce work for all screens.
Logistics
Richard Scott talked to Digital Media World about the logistics of making Axis Studios work across three cities. "One advantage we have is that although our locations are dispersed they are all within an hour to a few hours of travel from each other," he said. "We are encouraging people to spend time in the different studio locations discussing project requirements and ideas face-to-face.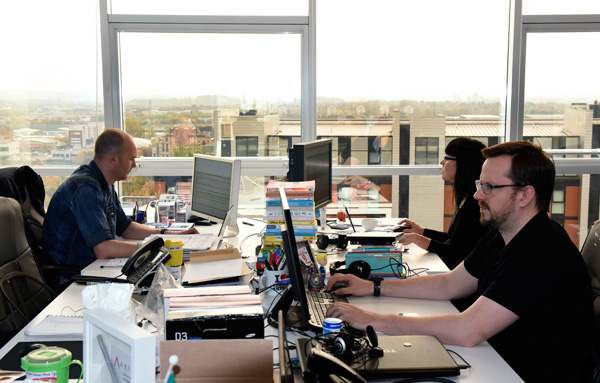 "We also have dedicated data links in place connecting all of the studios and use industry standard tools like Shotgun and video conferencing to communicate and share information, day in day out. Each project has a specific leadership team that might be in one location or split across more than one but they have ultimate responsibility to decide where the best skills are and how best to split up tasks.
Up until now, each company has been able to work within a small company culture in terms of their relations with clients. "Giving our clients access to the people who are doing the work is incredibly important to us. Axis Animation, Flaunt and axisVFX get to work in a very boutique way. Each element of the company – business and production side - is still predominantly run by people with creative backgrounds. I think this is an important part of ensuring that we never lose sight of the fact that what we do is create art, even as our company as a whole grows bigger and more diverse."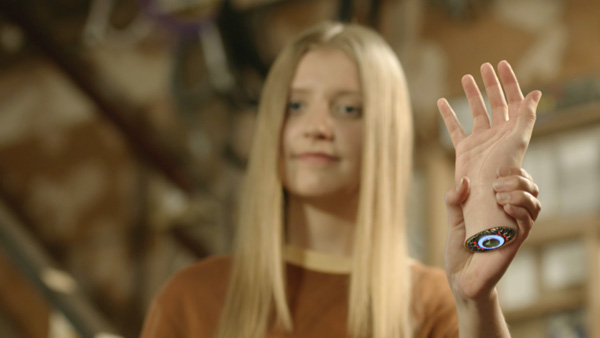 Axis VFX - 'Eve' TV series
'Kiss Me First'
A recent example of a large project the three studios have worked on together is 'Kiss Me First', which is a TV show coming up on Channel 4 and Netflix, produced by Kindle Entrainment and Balloon Entertainment. "This show is predominantly live action but also includes 100% animated sequences and visual effects shots as well," Richard said. "For that reason it makes a great example of how we can pull together all of the skills across the Axis Studios group to respond to a unique, exciting creative opportunity."
"Our involvement in the project originated at the Glasgow studio and we handled all of the initial early stage meetings. We did some proof of concept work in Glasgow before taking the show into full production. Once we were green lit, we started doing the pre-production in London where we have our animation director, Kan Muftic, storyboard team, animatic editor, design and concept team. They interacted closely with our Supervising Producer Paula Bird and CG Supervisor Drew Robertson, based in Glasgow, as pre-production evolved."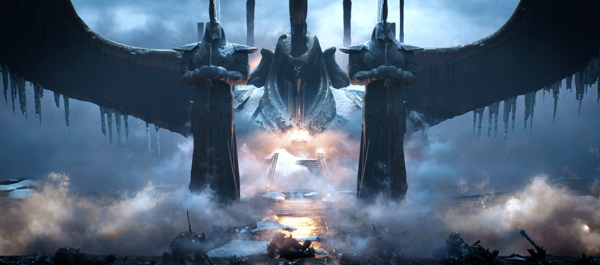 Axis Animation - Dawn of War III
All of the design work then started to move into modelling in Glasgow, where the animatics also evolved through the layout and animation process. Because the live action element of the show was shot by Kindle and Balloon, they had the axisVFX supervisor Howard Jones advise the crew on approaches. The live action plates were turned over to the Bristol studio for the 2D compositing preparation. Meanwhile, assets were look developed and animated in Glasgow and then supplied to Bristol for integration into the live action plates.
Axis Ambitions
As well as working on more and larger projects generally, each company has specific goals regarding the types of projects they will be able to tackle now. Richard said, "For axis VFX, we want to be taking on more character and creature driven visual effects shows, as this really plays to the strengths of the Axis Studios group as a whole.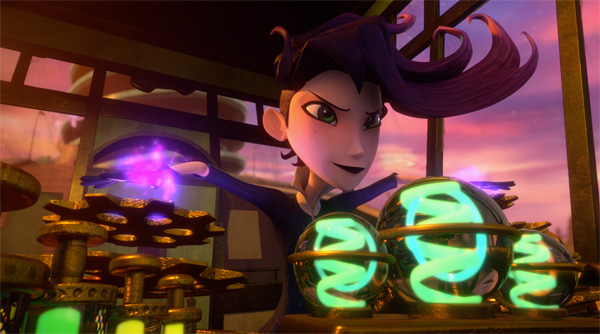 Flaunt Productions - 'Lost in Oz'
"From Flaunt's perspective one of the really exciting areas we are looking at are live action/animation hybrid shows. The Flaunt team can fully utilise the axisVFX capability in seamless live action integration and mix that with their skills with charming, comedy driven animation performances. Axis Animation have predominantly been working on short form productions so we really want to see that team involved in episodic and longer format shows.
The Heads of Department work with Axis' Personnel and Facilities team to explore education and training for artists. This has included specific training courses being accessed on an individual basis all the way to the Studios hosting inspirational talks from people like Neville Kidd the Emmy Award winning DoP, former Disney animator Fraser Maclean, and Dave Burgess, Head of Character Animation at Dreamworks.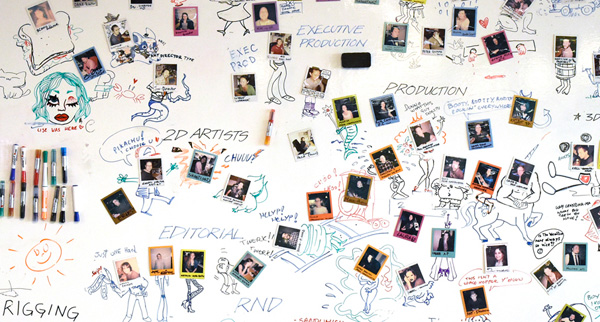 "We've also increased the size of our recruitment team and this has given us the ability to get out into the world more and meet potential new candidates face-to-face. We've been taken part in recruitment panels, portfolio reviews, giving background on the studio and communicating what makes us different and, especially, what makes Glasgow and Bristol different."
www.axisstudiosgroup.com