Adobe CC Enhances Graphics, Analytics & Audio for Video Editors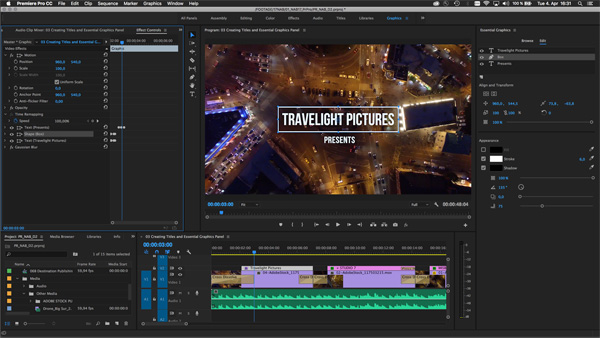 The new Spring 2017 release of Adobe Creative Cloud software contains major updates for working with video for filmmakers and producers. New functionality for graphics and titling, animation, audio and asset sharing includes support for recent video formats such as HDR, VR and 4K. New integrations with Adobe Stock, and ad monetisation and analytics services for developing connected, large-scale video experiences across various screens, are now part of the software as well.

The new capabilities in Creative Cloud's video applications Premiere Pro and After Effects include Motion Graphics Templates that bring After Effects functions to Premiere Pro, which editors can use to add titles, animations and lower thirds to videos. These templates may be customised and shared via Creative Cloud Libraries.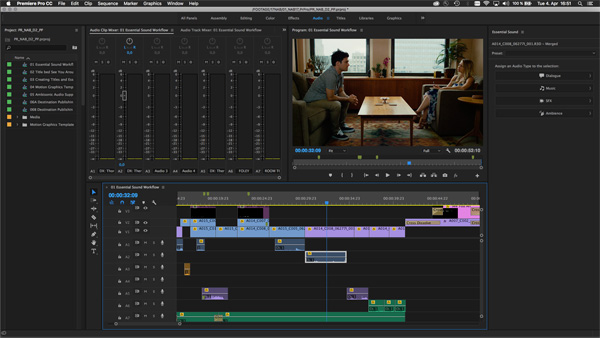 An Essential Sound panel is added to Premiere Pro so that editors can make audio mixes and sound improvements without a dedicated session with an audio engineer. Support for VR in Premiere Pro is expanded through the addition of ambisonic, positionally-aware audio suitable for use on platforms such as YouTube and Facebook.
Camera Shake Deblur in After Effects addresses footage severely affected by motion blur associated with camera shake. The most recent developments in the Character Animator beta include animating multiple puppets created in Adobe Photoshop CC or Illustrator CC, and full body animation with new walk cycles.
Team Projects functionality for teams or enterprise members, still in beta, makes it possible to set up secure, cloud workflows to facilitate collaboration with new support for Dynamic Link and Adobe Media Encoder. Originally designed to pass replacement elements between CC applications without creating extra media and renders, Dynamic Link for Team Projects allows users to iterate between Premiere Pro and After Effects faster on shared projects. Team Projects also is scriptable now for custom enterprise workflows.
Premiere Pro CC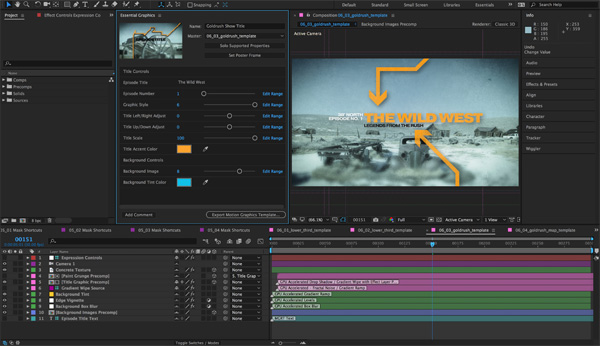 The Premiere Pro CC 2017 release has new workflows for graphics titles and audio, plus greater integration with After Effects and Audition. For example, the new Essential Graphics panel is used to create titles and motion graphics with the same controls and behaviours found in Photoshop and Illustrator. The panel gives access to the Type tool, with which you create a Text layer to place titles and graphics directly on the Program monitor, or click and drag to create a text area.
The panel also has controls to change the font, size and colour of the text. Shape Layers allow the use of Rectangle, Oval and Freeform drawing tools, or the addition of images or video, in Clip Layers to complete the graphic. Because the placement is directly on the Program monitor, you can rearrange and adjust layers and their properties within the Essential Graphics panel and view the changes in real time.
By assigning one of the titles as a master graphic, every iteration of that graphic through your sequence will be linked. Should you alter the master graphic's font, colour or size, that alteration will ripple through all instances created from the master graphic.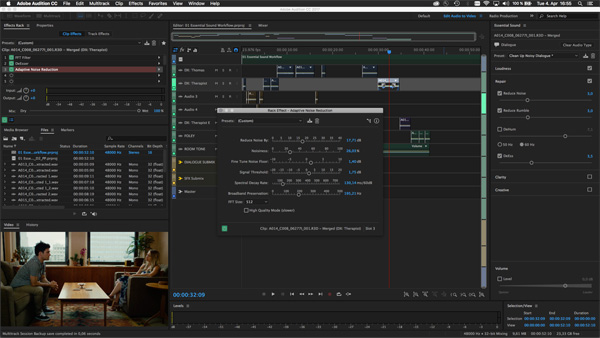 Editors can create and save the new Motion Graphics Templates in Premiere Pro, including Text, Shape and Clip layers. Editors can also change variables such as text, colour, size, layout or mood of compositions created in After Effects - as long as they are saved as Motion Graphics templates - all within Premiere Pro. These templates can be shared via CC Libraries and archived in the Essential Graphics panel for access later on.
Adobe's Essential Sound panel is now available in Premiere Pro as well as Audition, and does not require audio engineering expertise. Users can assign mix types to clips, identifying the role each clip plays in the project such as dialogue, music or sound effects. The panel then exposes effects, sliders and tools appropriate for that type of content. For example, dialogue clips can be analyzed and set to a uniform loudness, have background noise or interference reduced, and add compression and EQ for improved clarity using sliders and options.
Environmental sounds can also be adjusted to increase depth and space. Several new and updated audio effects are available to editors, all of which transfer directly over to Audition with their key-frames without intermediate rendering.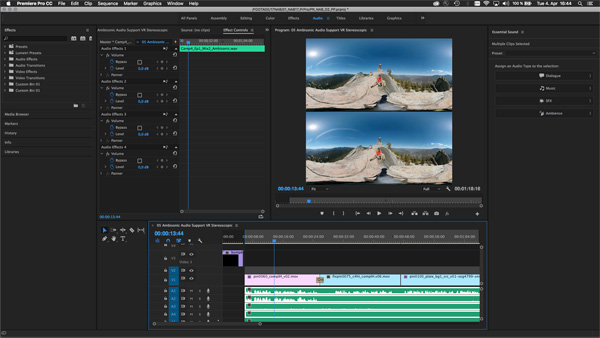 After Effects CC
In After Effects CC, the same Essential Graphics panel is used to build lower-third titles, brand identities or other graphics as Motion Graphics templates for Premiere Pro. However, it allows After Effects artists to keep stylistic control of their motion graphics and save and access frequently used properties when designing and versioning motion graphics compositions.
The artists also define the adjustment properties available to Premiere Pro editors in the Motion Graphics templates they pass over, such as text, colour, opacity and other values. Thus, the Motion Graphics templates control visual consistency in collaborative workflows and can be saved and shared via Creative Cloud Libraries.
After Effects artists can combine the new Camera Shake Deblur with Warp Stabilizer VFX, to overcome camera bumps or motion blur that may remain even after using stabilization tools. The new effect reduces motion blur by analyzing frames on either side of the selected frame to identify apparent sharpness and then uses optical flow methods to apply the sharp frames onto the blurred frames.
Lumetri Scopes are now integrated into After Effects, to make accurate colour adjustments to compositions. As in Premiere Pro, the Lumetri Scopes panel displays resizable Vectorscopes, Histogram, Parade and Waveform video scopes for clip evaluation and colour correction. Up to five scopes can be displayed in the panel with 8-bit, float or HDR settings. You also get native support for higher frame rate footage in your compositions.
After Effects' GPU-accelerated effects now include Fractal Noise, Levels and Fast Box Blur, producing the look of Gaussian Blur and Fast Blur on the GPU. These looks render faster and give immediate feedback. Effects that use layers as an input, such as Set Matte and Displacement Map, can now target the input layer's masks and effects, instead of only the source of the layer. This means that you often won't need to pre-compose layers purely to use them as an effect reference.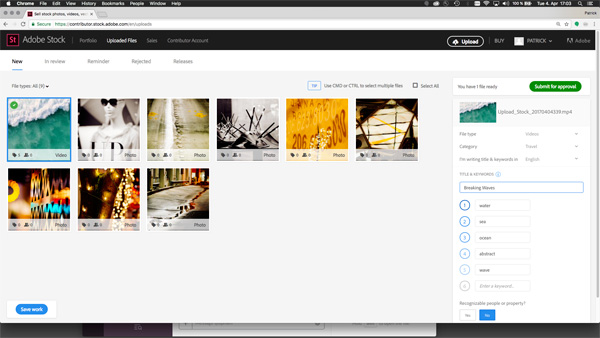 Due to integration into Creative Cloud workflows, users can access millions of Adobe Stock video assets, including 4K and HD, and search and scrub through video directly in the application. In this release, editors who want to sell their work can contribute to Adobe Stock through the workflow called Destination Publish now added inside Premiere Pro and Adobe Media Encoder to reach more buyers. Adobe's Destination Publishing can already be used to publish to YouTube, Facebook, Twitter and Behance.

Adobe has also formed a partnership with Pond5 that expands the video available through Adobe Stock. Sourced from artists around the world across content themes such as lifestyle, recreation, sports, cinematic and aerial footage, the Pond5 video library is natively integrated into Creative Cloud applications in the same way as the original Stock material. As part of the partnership, Pond5's contributors will also be able to reach Adobe's market of creative buyers.
Adobe Experience Cloud services for developing connected, very large-scale video experiences across various screens, with performance analysis and ad monetisation, are now a part of Creative Cloud as well. Experience Cloud viewer analytics tools affect video delivery, measurement and monetisation across screens. www.adobe.com