Toon Boom Harmony v12 Works with Unity and OFX Plug-ins
2D animation package Toon Boom Harmony, now released in version 12, combines drawing and animation tools with automation and various workflow options. The traditional and digital tools for sketching, drawing and painting are built to apply classic principles of animation to characters and scenes, supported by modern tools that speed up production. It is now compatible with the Unity game engine, integrates 2D and 3D animation styles more easily, including lighting, and supports OpenFX plug-ins to increase its range of special effects. The software can be used to create complete projects in one application.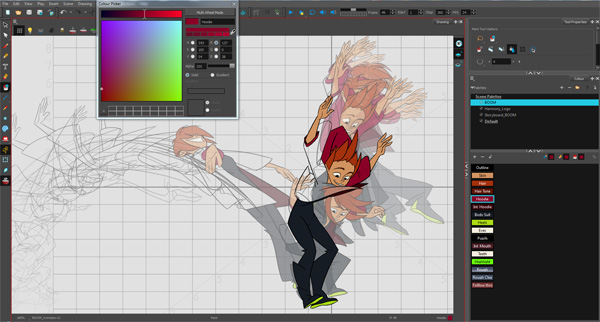 2D and 3D animation styles are integrated now for flexibility. For example, to create an illusion of depth, you can build multiplane vector or bitmap scenes that result in Z-depth environments with occlusion and 3D camera moves with parallax effects. When the position of the camera changes the perspective effect is automatically re-calculated. By building a set room in Harmony, re-building environments for each camera angle is not necessary. You can add one-off 3D effects, and import 3D models either as drawing reference, or to keyframe and combine with 2D animation for eye-catching hybrid productions. These objects can be rendered using Maya as a backgound process.
To develop looks and add detail, Harmony includes special effects. Now, v12 supports OpenFX so that OFX plugins can be accessed to add striking effects to characters and scenes. Harmony also has a customisable particle system built-in, for smoke, fire and weather effects, using objects that you create as sprites. Collada and Alembic format 3D files are supported and will load into Harmony.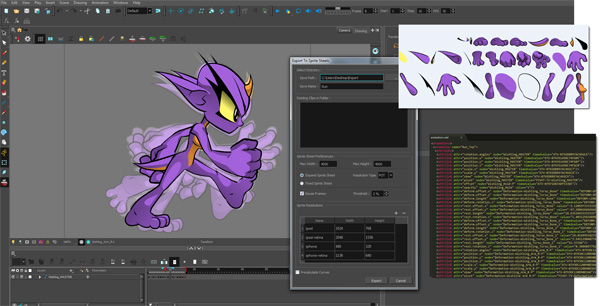 Animated character rigs can be exported to the Unity game engine. Using the Harmony Previewer, introduced in 2015 at GDC, you can visualize characters in the Unity game engine and preview animation - without using any programming. Once inside Unity, your Harmony GameObject can be used quite easily. Animation cycles are transferred via XML, and you can export sprite sheets at multiple resolutions for specific devices. You can choose from different colliders to react to, attach locators to pivot points in the character rig and keep sound synced with the animation.
Harmony v12's deformers support high quality poses and transition animations and the deformer setup is now more straightforward. Bone deformers help rig characters very quickly for simple animatons. The new Game Bone deformers allow quick creation of character rigs designed specifically for compatibility with Unity. Improvements in how Curve deformers influence nearby artwork helps create facial rigs, for example, that allow cheeks to bulge with fine control over how edges of characters appear in profile.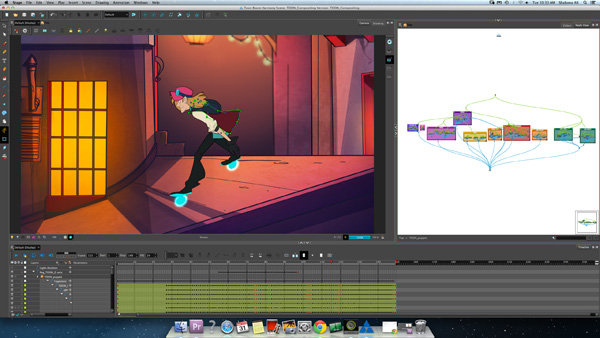 New envelope controls have been added for bending, squashing and producing very organic character movement. Head and body rotations may be animated with a single set a drawings. The deformers also work on bitmap images, allowing a lot of control.
Harmony's many drawing tools allow quite a lot of artistic control over brush roundness and angle. Brushes may be used alone or with the vector drawing tools, and artists can now create customized bitmap brushes as textures for experimental and organic assets and drawing. The new dual brush creates new types of custom brushes by mixing two shapes or textures for different fuzzy or water colour lines. Randomise brushes for organic textured strokes, then save them all as custom brush presets.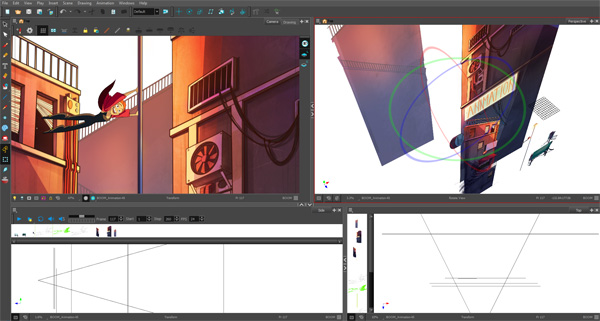 Compositing tools work with the art and animation tools, and are used to create special effects or cut-out character rigs. You choose nodes in Harmony, or use OFX plug-ins, and connect them into node structures for your project. This way, you can touch up your cameras or animation with out re-doing effects. Any objects rendered in Maya can be returned for final compositing in Harmony. Harmony 12's improvements include performance, producing rendering speeds estimated at more than 50 per cent faster, as well as real-time visualization of deformers and special effects.
Harmony 12 adds surface volume and lighting to 2D objects using automatic tones and highlights for characters that are more efficient than drawing the shading by hand frame-by-frame, or building lighting rigs. Once you have shaped the surface with regions, you can choose different coloured light sources, which may be animated, to add subtle highlights and create puffy shapes.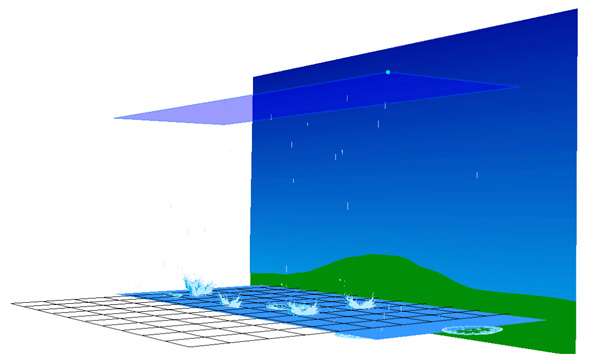 The application is available in three editions, to purchase or through a subscription model. Harmony Advanced is a professional grade software for studios and freelancers who need a full set of paperless and simple cut-out animation tools. Harmony Premium handles more sophisticated cut-out style animation through complex character rigs, organic movement and special effects for all animation styles. Harmony Essentials for enthusiasts has the fundamental Harmony drawing, painting and animation tools for simpler projects.
For studio production teams using the Advance and Premium versions, Harmony Server is a shared central asset and production database deployed in a data centre or in the cloud for production control, creating users and visualizing render queues.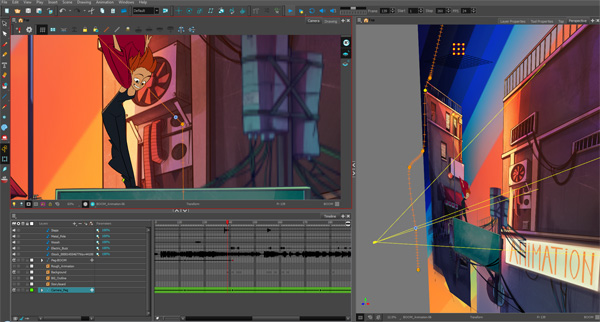 Harmony has been used on productions such as 'The Simpsons', 'SpongeBob Movie: Sponge Out of the Water' and 'The Congress'. Andrew Schoentag, Vice President of Digital and Post Production at Disney Television Animation said, "The improvements in speed for the interactive user controls and render will have a distinct impact on our pipeline. The expansion of supporting third-party plugins is a significant move for the software, and will change the way the industry views Harmony as a compositing tool." www.toonboom.com