AEAF 2018 Gets a Beautifully Animated Start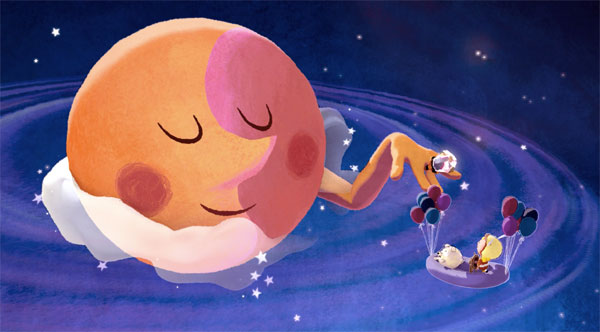 The entries so far at AEAF Awards already cross several categories and are looking beautiful. There's lots of animation from 2D to 3D to stop motion. Check the varied entries described below for some inspiration and fun, and do not forget to enter your facility's best work from the past year. The deadline is 30 May. See the Entry Form here with a full list of categories – entering is simple and free of charge.
In Idents & Stings, Igor Bastidas Studio in New York created created a 10-sec ident titled Ballroom Dancing for Cartoon Network channel, who brought together a group animators to create original animations that would bring diversity to their channel, and serve as a concept for 'The Amazing World Of Gumball'. They proposed the idea of couples moving in and out through a dance, which Igor has created with a surreal look. In the fast-paced short, a swirl of colourful characters morph and transform into each other.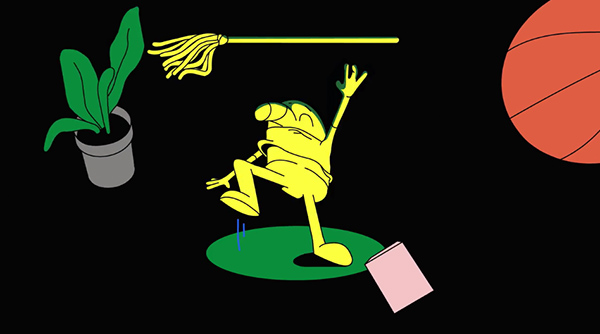 The three spots entered by Cirkus in New Zealand into the Commercials – Animation category show the scope of the imaginations at work in their studio. One is a photoreal 3D fantasy for Perfetti van Melle sweets, out in a sunlit Alpine terrain with highly realistic textures and lights, and the second also fully 3D-modelled, imagines life as one-eyed creatures in a bustling world for Singapore National Security. The third, maybe the nicest, is the 2D/3D watercolour environment of a sick child's dreams as she imagines herself getting better, made for Monash Health Foundation. All of these animations were completed on the facility's staightforward pipeline comprised of Maya, After Effects, Photoshop and the Redshift renderer.
PlusOne and The Outpost animation in Amsterdam joined forces to develop a TV campaign for Select Sector SPDRs, which are a family of exchange-traded funds. The initial 60sec commercial, entered in Commercials - VFX, and its 15sec cutdown introduce the diverse portfolios, with four follow up spots focussing on a specific sector of the S&P 500. The concept centres on the knowledge that 'unfolds' from the SPDRs portfolios, visualised through books and pages that unfold and build landscapes symbolising each sector.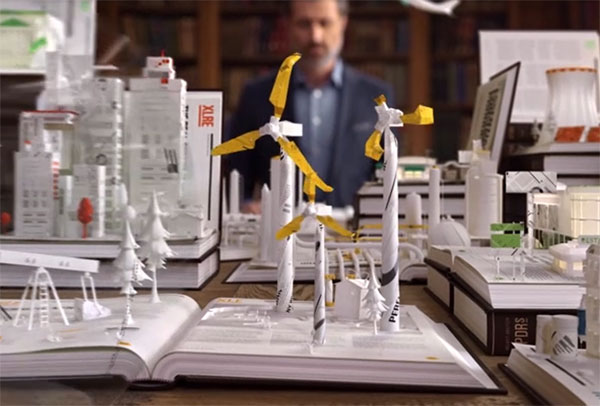 Plus One said, "We wanted to produce inspiring commercials with an aesthetic that stands out in the financial services landscape - a fluent mix of live-action, 3D animation and distinctive graphic design. All commercials with the same magical feel, recognisable as part of the same family. Each commercial has its own colour scheme, which resonates with the fund's colour scheme. It was a pleasure being able to shoot in a beautiful old library, but also challenging. It required working in tight spaces, using a custom rig for some of the aerial shots, building set elements aesthetically identical to the space and leaving no trace of us ever having been there. We also worked against a tight deadline to get everything captured in one day."
The Outpost used Maya, Cinema 4D, Illustrator and After Effects to create an intricate, gracefully animated landscape of delicate paper creations within and between each book as the camera glides through the library scene.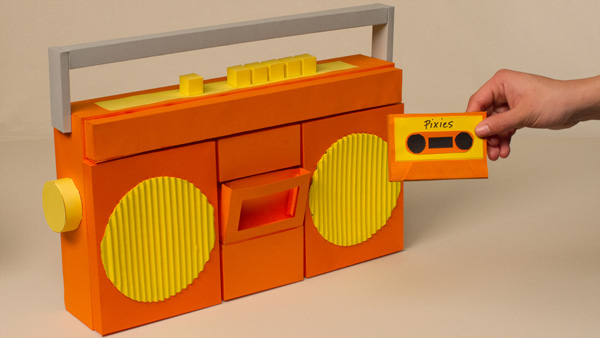 In the Thicket created a Viral online piece encouraging people to expand their horizons with a visit to Sydney Opera House via Etihad. Using supplied audio interviews with the Head of Contemporary Music, the team crafted a compelling, narrative-based stop-motion animated film on an extremely tight budget. "Knowing that the budget challenges meant that we wouldn't be able to create the entire film in-camera, we set up the paper craft world early and built the more complex scenes digitally, such as the shoes walking through the crowd, the nightclub exterior, Etihad plane, Sydney Opera House and the concert scene at the end," said Peter Nizic, Creative Director at In the Thicket. Their film reached a substantial number of views across social media platforms and has been well-received across the design community as well.
Student Laura-Beth Cowley entered her own top-knotch stop-motion project titled 'Boris-Noris' that she completed while at University of the West of England, Bristol. Using Stop Motion Pro, After Effects, Premiere, Audacity and her digital camera, she created a beach scene where a man gathering drift items on the seashore comes across something surprising. Laura said, "Boris-Noris is a short stop-motion comedy about NOT sharing."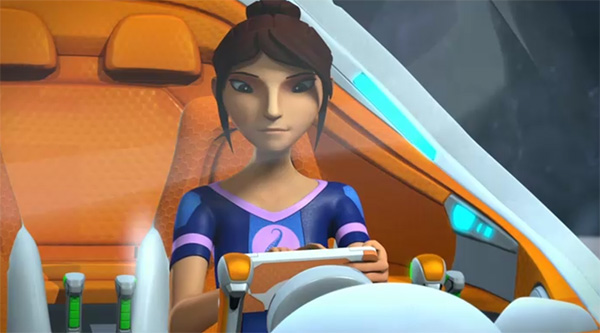 Children's TV Series 'The Deep' has rolled on to its second season, produced by A Stark Production. As well as engaging 3D animation, the team has submitted the episode 'Thunder and Lightning' featuring interesting special effects. Catatumbo Bay is the site of a lightning storm that has been raging for hundreds of years - an amazing natural phenomena – and is now about to gain intensity and become even more dangerous.
As the the adventurers examine the waters under the storm, they're struck by lightning that comes up from below from the seabed itself! With no power, their ship starts sinking fast and theydiscover that the lightning is being generated by a huge electric ray on the seafloor expected to cause destruction on a vast scale. www.aeaf.tv