Danny Rose Creates Worlds for Art and People at AEAF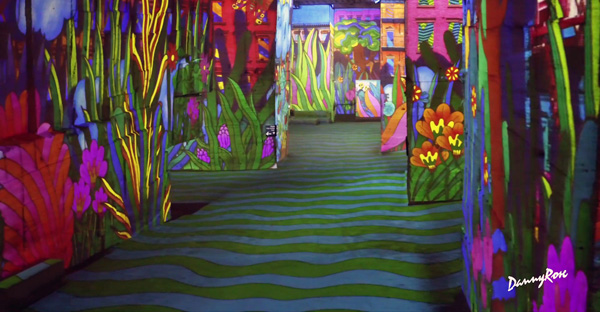 Danny Rose Studio in France entered three immersive installation projects into AEAF. One is on display at Les Carrières de Lumières exhibition space in southern France, where visitors stroll through city streets alive with motion graphics inspired by Flower Power. Two are showing at the Georges Pompidou Centre in Paris, introducing visitors to the metaphysical universe of plasma.
Flower Power - Pop Culture
'Flower Power – Pop Culture' immerses viewers into 1960s graphic expression, and is currently on display at Les Carrières de Lumières exhibition space in southern France. The huge interior, formerly a quarry, is transformed into an imaginary city through which the viewers are invited to stroll and lose themselves as they follow in the imagined footsteps of the idealistic generation that emerged at the end of the '60s and changed the world.
Danny Rose Studio carried out extensive research and design work to produce an overview of the various movements of the decade. Included are the 'Flower Power' style of the hippie movement with its colourful artwork, flowers and slogans, and a graphical tribute to the extraordinary world of Sgt. Pepper and 'Yellow Submarine'. An original portrayal of Pop Art shows viewers the movement's codes using the imagery of mass culture, everyday objects and comic strips, and a concluding part celebrates states of altered perception with Kinetic and Optical Art and psychedelic iconography.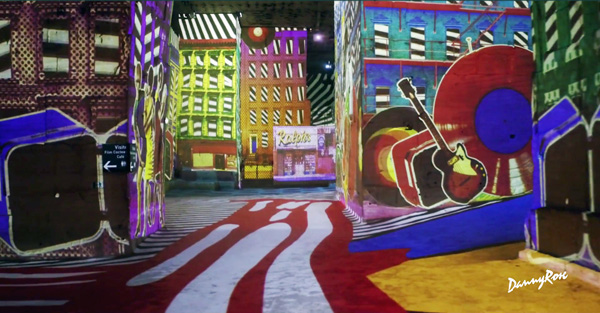 Turning the venue into city streets, colourful, hippy-style motifs ranging from art, fashion and symbols to famous people appear on the walls of the buildings. Giant flowers grow in front of the facades and begin to invade the city accompanied by the music of the era - the Beatles, Jimmy Hendrix, the Rolling Stones, Simon and Garfunkel and the Beach Boys.
This immersive work was created specially for Les Carrières de Lumières, where the more than 7,000sqm of wall space inside the old quarry are available to use as projection surfaces. Danny Rose's artists designed the project and created the motion graphics and CG effects in 3dsMax, Krakatoa particle renderer, Stoke Mx particle simulator, Fusion 9 and After Effects, and then turned the motion graphics into real time multimedia content using TouchDesigner node-based visual programming language for installations.
Created by Sergio Carrubba, Paola Ciucci, Lucia Frigola, Cédric Péri
Visual artists: Lucia Frigola, Cédric Péri, Muriel Brisac
Illustrations: Marie Gosselin, Diego Akel
Soundtrack concept: Sergio Carrubba
Sound editing and sound design: Narayana Minozzi, Giulio Ronconi.
Creative Director: Sergio Carrubba
Produced by Culturespaces
Plasma Experiences – Where Art Meets Science
At the Pompidou Centre in Paris, Danny Rose Studio has built two immersive installations titled 'Inside Plasma' and 'Plasma Reflection'. To design and build their installations, the team worked in collaboration with PLAS@PAR Labex, a department at Sorbonne University focused on plasma physics, resulting in a project in which art meets science - a synaesthetic experience of Plasma, the fourth state of matter.
Their shared goal was to propose a sensory, visual art approach to Plasma. Its changing state can be experienced, from solid to liquid to gas and then, to the fourth state, Plasma itself. The behaviour of its particles and their reactions to electromagnetic fields produce unstable swarms of wildly circulating light, flashes that reverberate beside each other with rhythmic variations that create an intermittent electric landscape, polar lights that become moving, luminous sculptures materialising in space.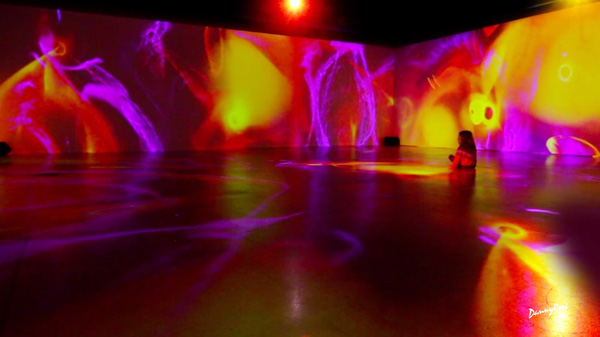 From the infinitely large to the infinitely small, Plasma is the focus of a dreamlike, poetic approach. The luminous sculptures that the Plasma produces move and materialise in space, creating an illusion of volume that constantly alters perception. The relationship of the work to the space and the spectator are its central theme, continuously taking shape as a conversation of light, sound and the perception of space 'Inside Plasma'. The work is made to be lived, felt and experienced. Particular attention was paid to the music of 'Inside Plasma', composed as a suite to accompany the visuals and designed for spatial sound.
'Plasma Reflection' is an interactive, generative artwork that makes it possible for visitors to see themselves reflected in Plasma, the fourth state of matter. It is conceived as a distorting mirror that transforms the matter of those it reflects into Plasma.
Simulation of fluids in real time makes it possible for participating spectators to interact directly by moving their bodies. Silhouettes diffuse in the space and are subjected to turbulences generated by the magnetic field. When the spectators stand in front of 'Plasma Reflection , they see themselves reflected in Plasma. They make the colours vary as they move closer or farther away.
When you move your hands, you generate kinetic and magnetic forces that move the Plasma and provoke turbulences. Plasma is unstable. Brusque movements create disturbances and the reconnection of the magnetic field. 'Plasma Reflection' lives with the people who interact with it. Mutation is constant. Aspects change depending on the position of the movements reflected in it.
Designed by Danny Rose Studio: Sergio Carrubba, Paola Ciucci, Cédric Péri, Lucia Frigola
Visual artist, animator: Cédric Péri
Original soundscape by Emanuele De Raymondi
Soundscape design and development by Jacopo Carreras
Scientific coordination Sorbonne University: Andrea Ciardi
'Inside Plasma' and 'Plasma Reflection' are realised in collaboration with PLAS@PAR Labex, Sorbonne University's cluster of excellence focused on Plasma Physics, in partnership with Centre Pompidou Paris. www.aeaf.tv