Gentleman Scholar Animates the 2018 World Cup with Style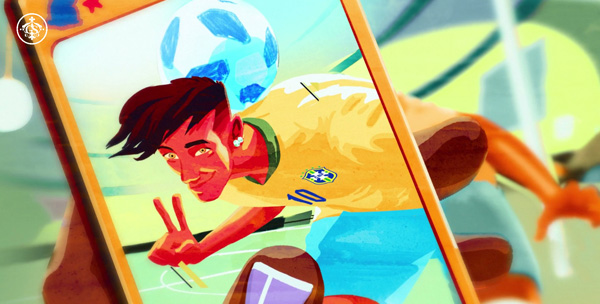 In honour of the 2018 World Cup, Gentleman Scholar created an animated tribute that celebrates some of the star players and their nations. Using the ball to transition viewers from scene to scene, their team of designers, animators and art directors wanted to play off the diverse nature of the tournament by cycling through different animation styles and techniques to tell an engaging, universal story.
Gentleman Scholar's 2018 World Cup tribute is an AEAF Awards Finalist in the Studio Promo / Competition category. View here.
Considering their inspiration for this passion project, they decided to dedicate the piece not just to the event itself, but also to the unifying nature of football generally. Their concept was "A perfect reminder that we are one world brought together to witness the spectacle of first-class soccer playing."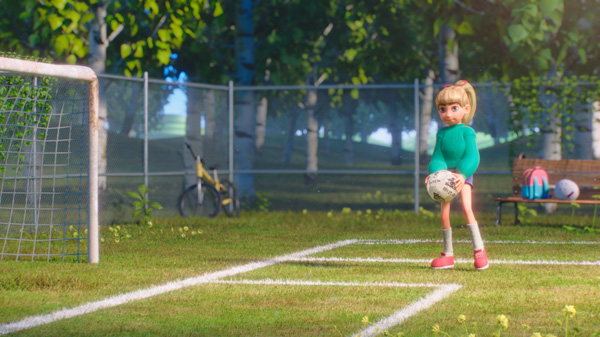 Digital Media World talked to company director and partner Will Johnson about the project. In the early days leading up to the event, all of the artists had a conversation about the game and creating something inclusive that reflected both a love for the sport, and the diversely talented artists they have under Gentleman Scholar's roof at their Los Angeles and New York City offices. "We wrote a simple construct – here's a few of the famous players, here's the countries, here's all of our skills. Everyone quickly grabbed their favourite moment, favourite player, favourite style and the designs started flying," he said.
The Styles Inspire the Story
"In a couple of days we had the construct of a story, primarily crafted out of the designs themselves. It's familiar to have story drive a style, but for this project, the team of designers created a story simply by putting pen to paper. Designs were exploding into our inboxes and soon we had a boardomatic of amazing styles. From that point onwards, the question was simple - how do we want to animate this thing?"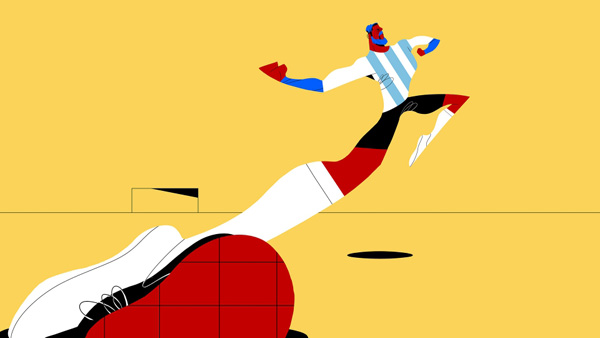 Instead of having one animator, or small group of animators, devote themselves to each character, the project remained a team effort throughout and across both studios LA to New York, meanwhile passing ideas and thoughts from every direction.
Most, if not all of the performances were based on real football players' moves, taking some liberties, of course. "That was partly to embellish our style and partly to add flair and charisma to Paul Pogba's fantastical hairstyles," Will joked. "A few of us grew up playing football and have continued to follow every facet of it across the globe. To us, the game reflects our own artistic abilities. They allow us to express ourselves the same way the players do - we just happen to do it at a desk or sitting down."
Looks, Materials and Composition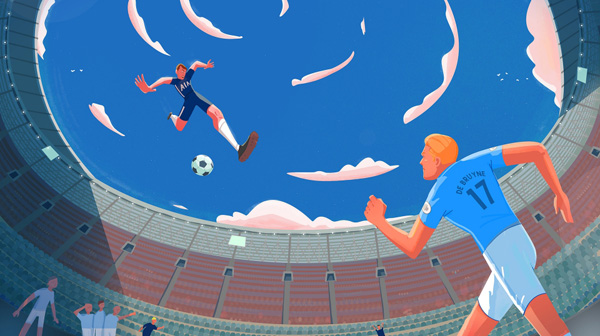 As an animation and motion graphics studio, Gentleman Scholar's projects make more or less constant use of Adobe software, but this one was a little special owing to range of styles, very often calling for Maya, Cinema 4D and Nuke. A special, intensely colourful painted look, for example, was created by one of the senior designers Cam Floyd and inspired by the footballer Neymar, known for his entertaining moves. [See image at top of article.]
Will said, "Cam has a true eye for detail, and Kenny Kerut in animation brought the character to life. It was a combination of some very expressive gestural painting with knowing when to animate just the right things. The result is a graphic illustration style that pops and dances with composition and colours, something we hope Neymar would be happy to embrace."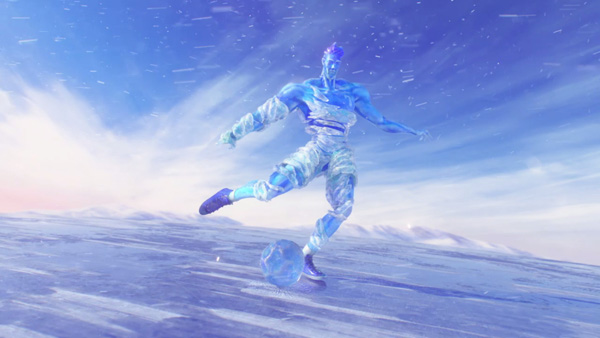 The energetic 'ice man' in one of the longer sections was inspired by frozen lakes in Russia. "The shot captures an exaggeratedly-proportioned Ronaldo and a few of his signature moves in a vast open space," said Art Director Chris Finn. "We used characteristics of the frozen environment to determine Ronaldo's own build, embedding him into the world.
"The ice texture was created using a mix of traditional texture painted stripes and a refractive ice shader. The mix of these two techniques combine to create a stylised icy material that we could art direct. The use of illustrative strokes also carried into the background environment creating a dynamic sense of depth and motion."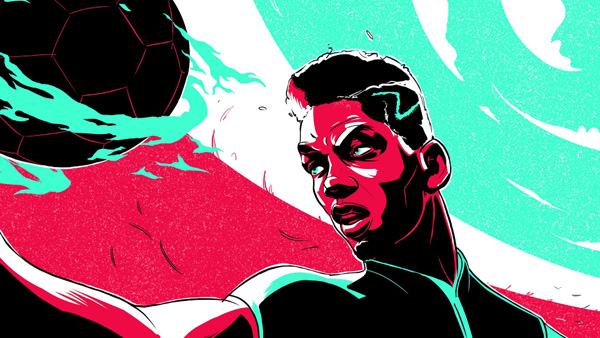 No Favourites
According to Will none of the animations stood out in particular for the team during production. What was most memorable for them was the process. "It was exciting to see how quickly everyone jumped on board and communicated as a team to make something that lived and breathed the game," Will said.
"It felt like a cohesive thought, although it was sprinkled with one or another person's own favourite style along the way. We had expected to end up with a piece that had a couple of amazingly designed moments that rose above the rest, but instead felt very proud to find we had created an animated showcase of the best of Gentleman Scholar's team." www.gentlemanscholar.com