Faceware's Shepherd Syncs Facial and Body Motion Capture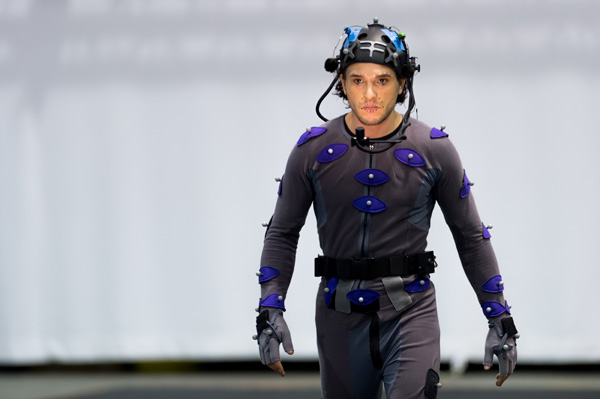 Faceware Technologies will soon release Shepherd motion capture sync software that automates Faceware's ProHD headcam recording functions and integrates with body motion capture systems, like Vicon and Optitrack, to synchronise facial and body mocap recordings on PCs and Windows tablets.
In a typical motion capture recording session, operators work with one software package for body mocap, and another for facial mocap. Shepherd syncs a studio's face and body mocap pipelines to make the capture process less complex and more efficient, and automates certain tasks to ease the workload.
Because facial motion capture operators can start and stop facial recording through the body system, sessions are simpler and easier to control, and manually tracking the take numbers, file names and recording times becomes unnecessary. Directors and operators can spend more time on the actors' performances.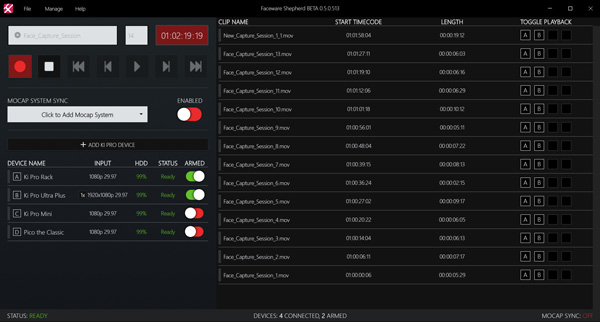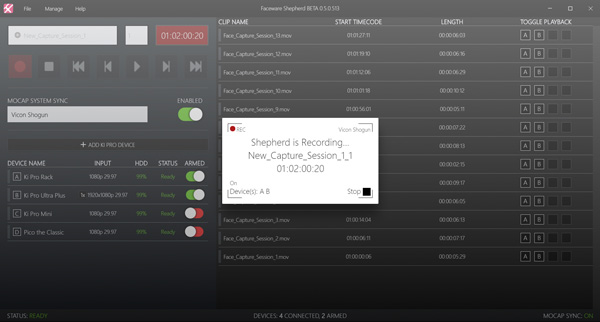 Shepherd gives capture operators the ability to control recording and playback of multiple AJA Ki Pro video recording devices as well. For post-session production, it also has tools for transferring clips from a series of Ki Pros simultaneously, and exporting detailed lists of recorded clips for review, editorial or to be fed directly into an existing Faceware Batch Pipeline.
Faceware users can create batch pipelines that automate repetitive manual steps. AnalyzerBatch, for example, is a command line tool that allows you to set up batch scripts for most of the functionality in Faceware Analyzer, which tracks facial movement from video. Such scripts are useful when setting up a facial pipeline, and there is also a library of batch commands artists can use to create automated pipelines.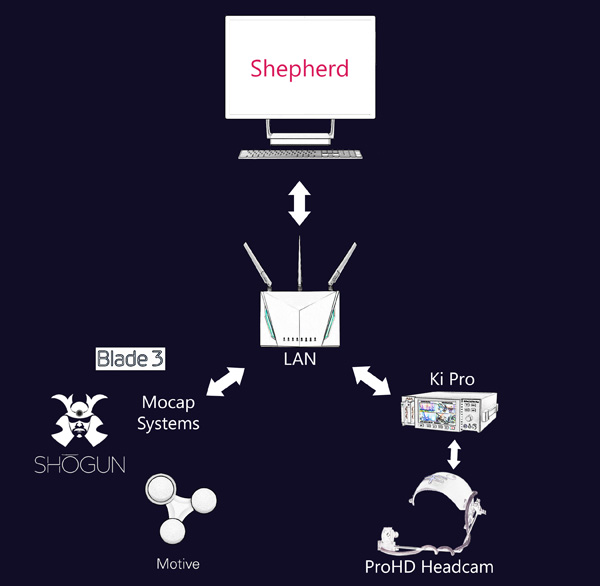 Shepherd currently connects to Vicon and Optitrack mocap systems, making it possible to output facial motion capture recordings that are in sync with body motion capture recordings. Integrations with other systems will follow. The software will be available via a Closed Beta with selected partners starting in October 2018. A wider Open Beta period will start in November 2018 with a public release scheduled for early 2019. www.facewaretech.com