Toon Boom Harmony 16 Tunes Up Pipeline Integration and Efficiency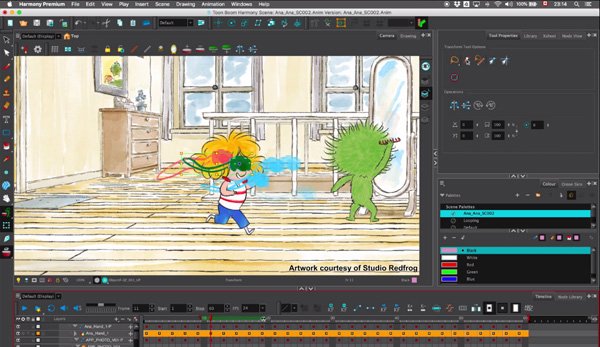 Toon Boom's animation software Harmony has now reached version 16, with updates supporting 2D cut-out and traditional paperless animation styles that studio and freelance artists need for production in TV, film, advertising and games. As well as animators, Harmony 16 includes tools for compositors, riggers and background artists.
Onion Skinning
Harmony's Onion Skin functionality has been updated to help animators work faster, consolidating all associated tools into one window in the Onion Skin view. Onion skinning makes sequential frames translucent and projects them on top of each other to show several at once - instead of along the timeline - and understand how to create or change an image based on the previous image in the sequence.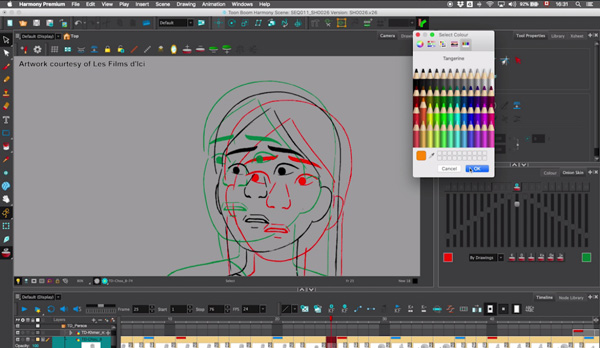 New built-in sliders give more control over opacity levels, and the new Animate Onion Skin Range tool speeds up manual edits to props and characters over multiple frames. Animators only need to define the frames via the Onion Skin view and make the required modifications once. They can also use Apply to Onion Skin Range to take changes made to a selected drawing with the Paint and Select tools, and quickly modify the same selection across multiple frames.
Activating Advanced Onion Skin gives finer control over the animation to help an animator stay on model. Artists can then select which drawings or frames to see, before and after, and which are not essential and can be skipped over.
Master Controller Set-up Wizards
Master Controller nodes in Harmony generate custom on-screen manipulators that can be programmed to affect elements in a scene. Created and configured entirely through Harmony's scripting interface, they are powerful and save time but have been challenging for riggers and artists to adopt. Usability improvements made to the Master Controllers include Set-up Wizards that allow you to create them without scripting. Furthermore, any master controllers applied to a character are automatically displayed in the scene view, removing the need to search for them visually in the Node View.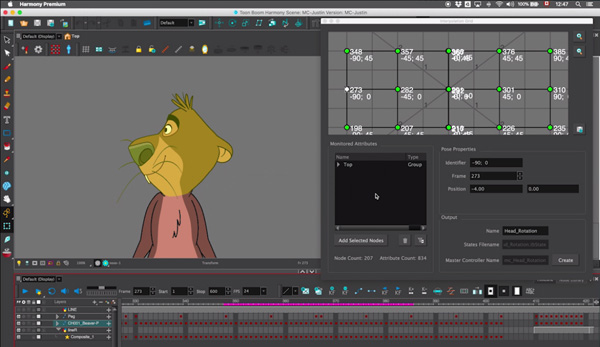 New tools and functions have been added to help make animations more creative. For example, the Shake Node simulates a natural looking camera shake and Export to GIF transforms scenes into animated GIFs. New Transform Loop and Tile options can transform or tile a background into an infinite looping pan instead of having to copy and paste keyframes. Also, 2D-to-3D integration is improved to limit the need to depend on third party 3D software to render 3D models into 2D for use in Harmony.
Drawing Substitutions and Deformers
Animators using cut-out rigs sometimes use a number of drawing substitutions, so that they can quickly swap one drawing for another during the animation phase. The new Drawing Substitutions View automatically displays all drawings for a selected layer as thumbnails. From there, animators can view all available substitutions, zoom in or out and view them in a new window to resize or display more thumbnails.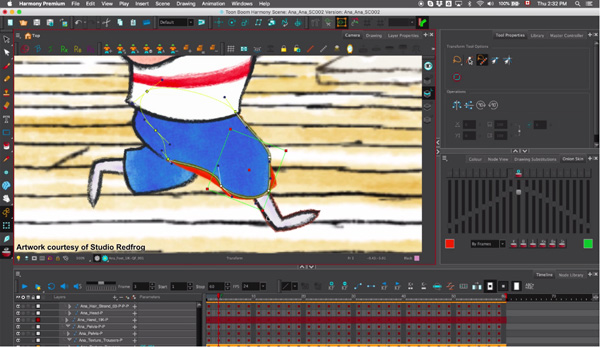 Animators can now modify deformers in a single move as well, by selecting multiple points on a Curve or Envelope deformer to modify its shape, and then nudging the points to precisely position them.
Regarding performance, Harmony 16 can now isolate props that have been modified without having to re-render an entire scene, increasing efficiency and speed. For customers using the Harmony Server, scenes can now be accessed from a local cache, which reduces latency. This update may especially interest small studios without a large network infrastructure.
Harmony 16 is available now. www.toonboom.com