Per-Anders Edwards to Receive Sci-Tech Award for Cinema 4D's MoGraph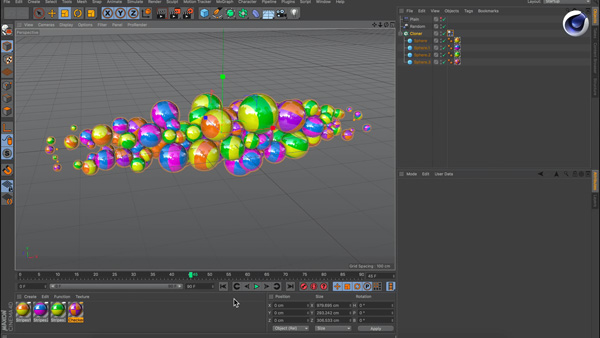 Cinems 4D's MoGraph tools.
Per-Anders Edwards will be honoured this year with an Academy of Motion Picture Arts and Sciences Scientific and Technical Achievement Academy Award. A computer graphics specialist, he is currently software architect and lead developer and designer at MAXON for the motion graphics workflow in Cinema 4D, the company's professional 3D software application.
The Academy is honouring Per-Anders with the Sci-Tech Award for his contribution to the initial design and development of Cinema 4D's MoGraph toolset.
MoGraph was originally designed as a fast, non-destructive workflow for motion designers who create animated 3D graphics such as those used in broadcast and feature film title sequences and in fictional user interfaces that characters in movies interact with. MAXON introduced the MoGraph procedural modelling and animation module in Cinema 4D in 2006.
As the idea of graphic design changed rapidly from static 2D designs to 3-dimensional objects moving through 3D space, MoGraph's 3D animation and modelling capabilities were developed to give artists tools that make it easier to create animated logos and abstract effects, and put imagery in motion. From concepts and into production, VFX artists and animators find that it helps them maintain the speed, originality and flexibility they need to compete for work on bigger budget commercials, TV programming and movies.
'Blade Runner 2049', winner of the 2018 Best Visual Effects Oscar, and several of this year's Oscar Visual Effects nominees - 'The Avengers: Infinity War', 'Ready Player One' and 'Black Panther', nominated for Best Picture - are some of the films that have used the MoGraph workflow.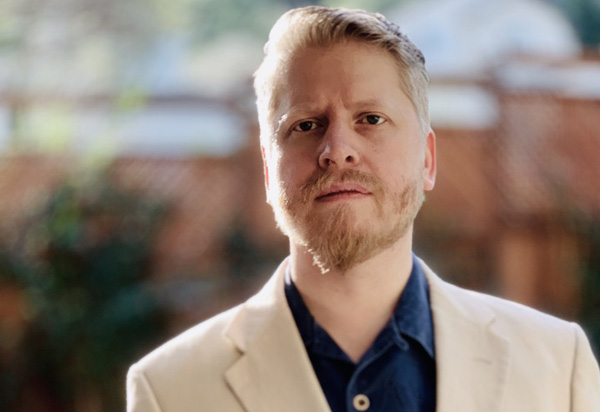 Per-Anders Edwards
Per-Anders Edwards shared some details of, and motivation behind, the initial development of Cinema 4D's MoGraph tools with Digital Media World. He said, "The software landscape was very different at that time. Far more task specific tools were out there, including quite a few dedicated applications and even hardware to do titling, for instance. Then there were tools that were appropriated for the task, such as presentation software that we tried using to create title cards and very simple animations, and then bring this work into an editing suite.
"You might even attempt to build titling and motion graphics in the editor or compositor itself, with many layers of complex masking and plugin effects. Finally, there were fully fledged 3D tools of which Cinema 4D was one. These already had very good capabilities but often their workflows were geared more towards character work and FX rather than the tasks that a motion graphics artist would be required to do."
Excessive manual work was, of course, one of the main drivers for dedicated tools for motion graphics artists. But the randomness of submitting control to, for example, dynamics systems was also a problem when artists wanted to direct and control large numbers of objects precisely, ensuring they would look good on every frame. Pipeline design and working between applications were further issues – even just the basic freedom to respond quickly and creatively to client changes.
"Bringing graphical designs to life takes mastery of many different areas of CG," Pers-Anders said. "Typically the artists control everything visible in a scene from lighting and textures through models, rigs, fx, renders and compositing post effects. Those things are, after all, what make the design and the artists are primarily designers. Everything is more likely to be handled by a single designer than by a traditional pipeline of specialists.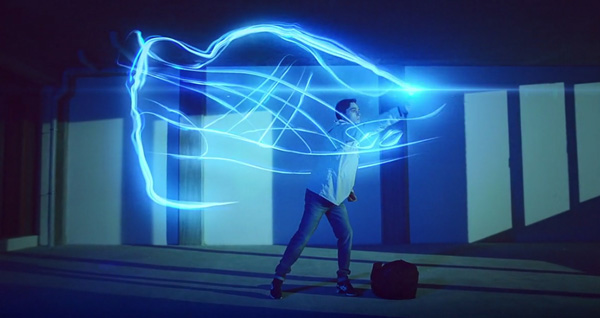 dazzleship.com Nyte Lyte
"Every single element may be animated in some way to achieve the desired effect. The result may not only require fiendishly complex setups and rigs, but also densely packed timelines with lots of interdependencies."
Noting that while Cinema 4D already had a well-optimised workflow for generalists, MoGraph simplified the basics of the job – tasks like creating transitions, for example. It brought control and ease of use to procedural animations for text and large groups of objects that otherwise would require time consuming rigs.
"As well as their workflows, you also got actual performance in the viewport for these tasks," he remarked. "But a core theme running through all of these tools is that, by utilising more procedural workflows, you relieve a lot of the pain in the timeline. You can make scenes that are easier to adjust to meet a client's request. Perhaps MoGraph's real breakthrough was in making certain forms of rigging so much easier - to the point that not everyone even realised they were now riggers!" www.maxon.net