AEAF Shows Off Beautiful Work for TV, Film, Digital – and Beyond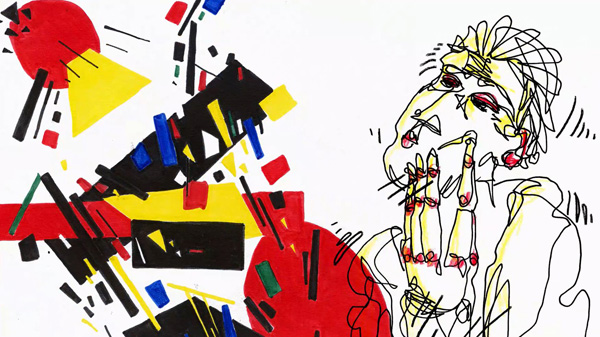 Some terrific new entries have rolled into AEAF Awards over the last few weeks. Read about a few of them below and have a look in the online viewing section of the website. Get inspired to enter your own projects! Time is marching on toward the official deadline and we would love to include your work. See the Entry Form here.
As Feature Films are among the entries now, please note two changes to the Feature Films categories for AEAF 2020. First, films released directly to audiences on video or to OTT/VOD channels are eligible and will be judged on the same terms as those released to theatres. Second, as announced earlier, isolated sequences and standalone effects, characters, environments etc for feature films will be judged in a separate category – in short, they will not be judged alongside entries from studios handling large shot counts and multiple sequences in a film.
You will be able to find almost all of the following in AEAF's online festival – see the links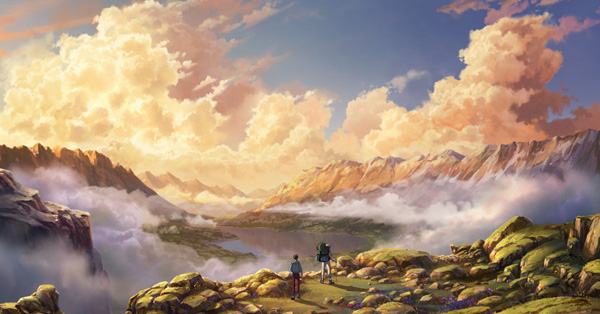 Two animated commercials from Psyop show how creative their team can be with 2D/3D looks. For Travel Oregon, they used an illustrative style to evoke feelings of joy, wonder and discovery that travellers experience. They pulled together a team from around the world and developed a look borrowing from Disney and Japanese animation to create a distinctive new commercial for their client in a way that wouldn't have been possible with live photography.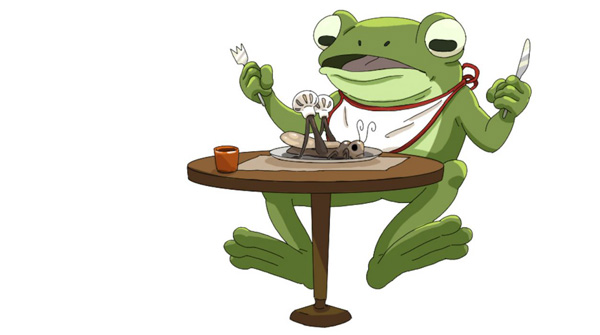 Following the development process of a feature film, they focused on the story, characters and the surprising colours. They also used shifts in scale to draw the camera into or out of the action, combined tranquil moments with fast bursts of action and sweeping camera moves – all of which build up the drama of a journey in a short film. As this is the second spot in a series, they were able to go straight to production and had time to create some great mythical creatures – a rocky turtle island that controls sunrise, a tree that feeds bees, cloud giants and others.
For a TV commercial Psyop produced with Golden Wolf for Crown Royal Apple Whiskey, artists created still frames that were inspired by imagery ranging from '80's disco illustrations to classic paintings to Escher. These frames were put together frame by frame, creating a stop motion-like video that supports stylish live-action shots.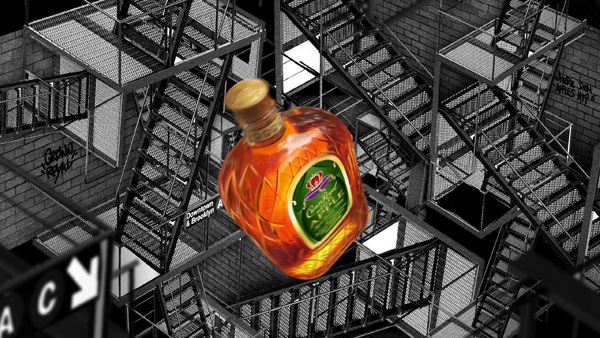 (Above and below: Jonas Devacht, illustrator)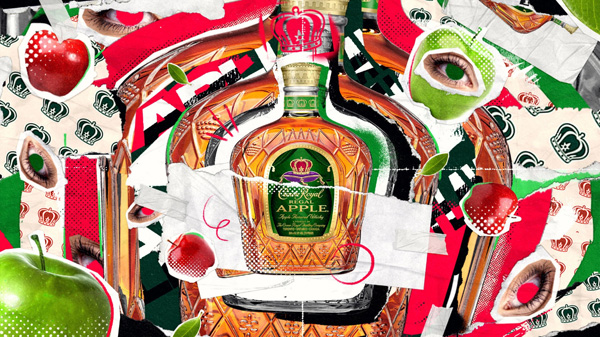 Traffik and Chaos Theory developed an exciting product demo in the Augmented Reality category called Samsung Galaxy ExplorAR for Samsung's new Galaxy Note 10+. Combining their expertise in augmented reality, they turned the product launch into an interactive, experiential activation, attracting lots of attention.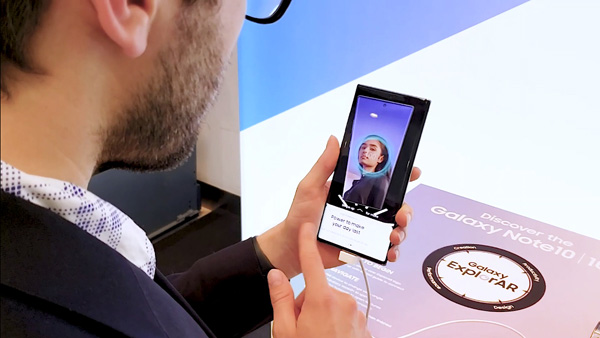 The ExplorAR experience is tactile and intuitive, letting customers of any skill level explore the features and specs of the new Galaxy Note 10+ at their own pace. Participants used AR to navigate the app, using the new S-pen, taps and swipes, helping to show the ease of use and versatility of the Note10. They used natural gestures for control, familiar Samsung UI elements and animated content to demonstrate new device in a format that anyone could understand. Hundreds of shoppers were immersed in the AR demo, heightening product awareness during launch.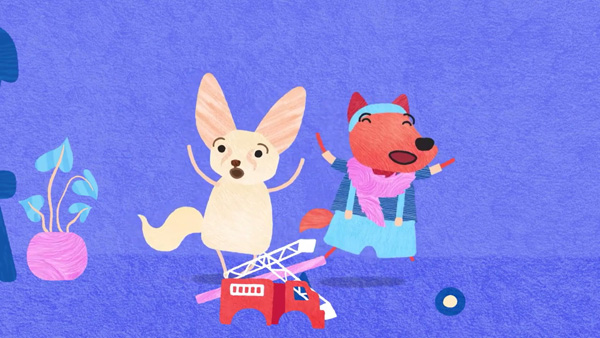 Paper Moose created Alphabet Street, in the TV Series - Children category, a lively animation series in 2 to 3 minute segments that teach kids Good Morning habits from A to Z, starting with Adam the Armadillo and continuing to Zali the Zebra. The voice actors were a group of 26 young school children, taking on the personas of the creatures. As well as the alphabet, they learned that they needed to understand how each creature moved, what it liked to do and so on in order to give a good performance. The interesting textures and paper cutout-style animations were created in Adobe After Effects with Premiere Pro.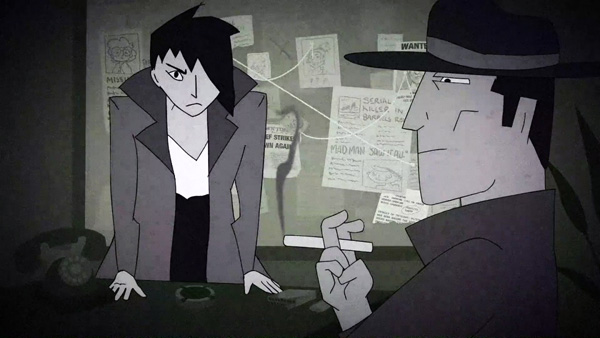 'Malediction and Murder' was created by a team of Students from AIT who call themselves the Onion Farm. A small town stares death in the face, as two detectives are tasked with tracking down a murderous identity thief, leaving a trail of bodies in its wake. This 2D animation gives a filme noir treatment to a classic murder mystery, complete with extreme camera angles and a black-and-white colour palette, creaated in ToonBoom Harmony and After Effects.
Michelle Brand, a Student at the Royal College of Art in London, entered her film 'Any Instant Whatever'. We see a man in a room, in a film, where nothing is as solid as we believe. The film explores the perception of time, bodies and objects, and people's inability to comprehend the full motion of things. Everything around us, including our bodies and our 'self' is constantly moving, changing and transforming, but we can only comprehend time by dividing it up into static differences, and only make the before and after visible. The complete flow of transitions remains incomprehensible to us.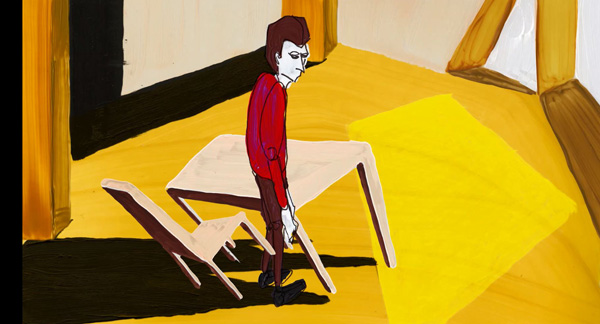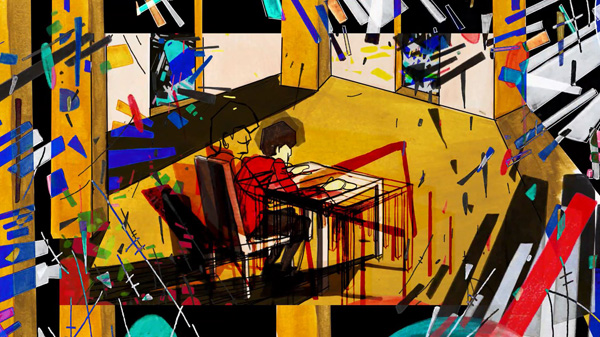 Michelle's short was created using different materials at different moments in time of the film. At the beginning, everything is very still, dry and solid - paint on paper. When things begin to move, transform and deconstruct, it becomes more fluid and wet - paint on cell. Sometimes the content mirrors film's process, with the layout of sheets (4 frames per sheet) becoming the content of the film. A strict, underlying structure helped to figure out when and how much to deconsruct the film – either through the image, through its material, or through time, and many variables existed at once.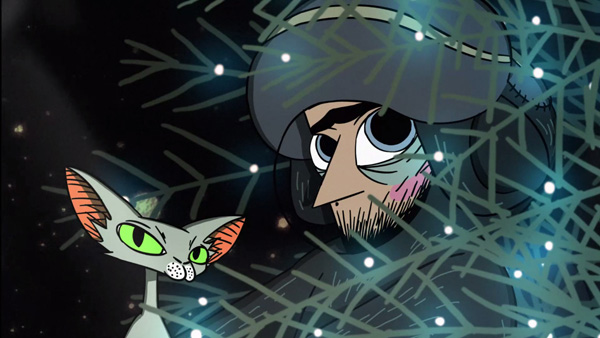 Animation Director Diana Monova has created an animated Music Video as the intro for Adam Van Russell's album 'Summer / Autumn Compiled 17' by Belgian-American artist Adam Van Russell. Made with ToonBoom, After Effects and Premiere Pro, we see an astronaut traveller and his cat share a solitary ride home through space, meeting the artist on the way.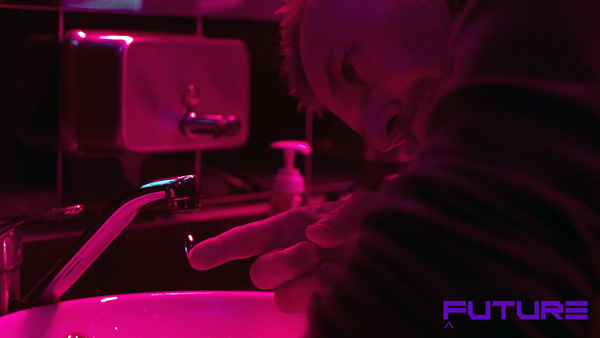 Future Associate created effects for TV Series thriller 'Glitch' season 3. A police officer is called to the local cemetery in the middle of the night after seven people have risen from the dead, perfectly healthy but with no memory of their identities. All of them are determined to discover who they are and what has happened. To achieve the diverse fire and smoke, disintegration and creature effects for this supernatural story, and create set extensions and matte paintings, the Future Associate team used Maya, Houdini and Nuke with PFTrack, plus Davinci Resolve and Cinema 4D.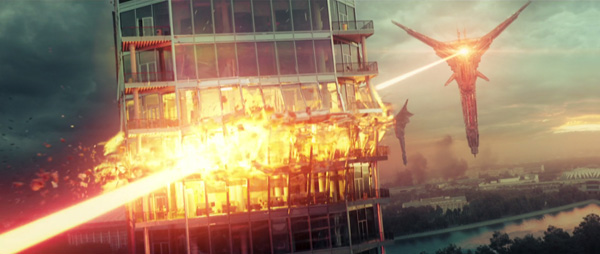 Although this project didn't come from a client, that doesn't mean the artists at Revolution in Moscow didn't develop and follow an explicit project brief for their Studio Promo called 'Aliens'."We were crystal clear on the end result we wanted, right from the start," said art director Timur Abdulov. "Our goal was to create a memorable, tongue-in-cheek commercial, which isn't the type of project an up-and-coming production studio is usually offered." Since this was a passion project that was also meant to enrich their portfolio, they went all out and created awesome alien creatures in full 3D photoreal environments, their ships wreaking havoc above live action crowds running through city streets, complete with destruction, explosions and clouds of smoke. The pipeline here was based on 3D Max and Nuke with Houdini and V-Ray.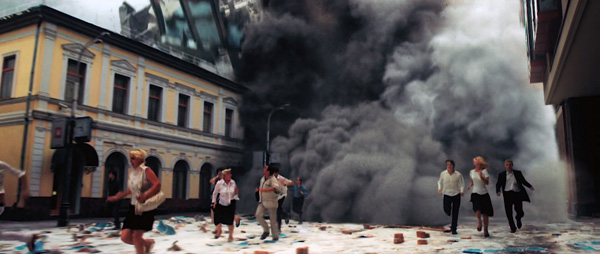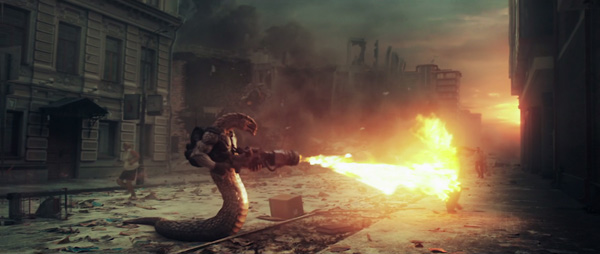 MPC Film have entered Feature Film VFX projects 'Underwater' and 'The Lion King', described below, and also 'Godzilla – King of the Monsters' and '1917' – more about these last two will follow in the next article.
Working as lead vendor, MPC Film's VFX Supervisor Axel Bonami led teams in Montreal, London and Bangalore, completed more than 400 shots for 'Underwater'. Based on a dry-for-wet shoot, the artists created the whole journey from the submerged research base along the pipe connecting to the Kepler Station – down to the ocean floor, through miles of underwater desert, cold dark landscapes and to the final act at the main Roebuck station. MPC built all underwater assets outside the station.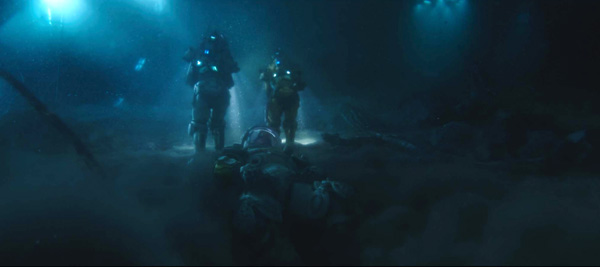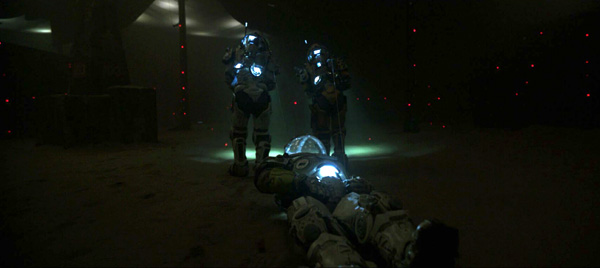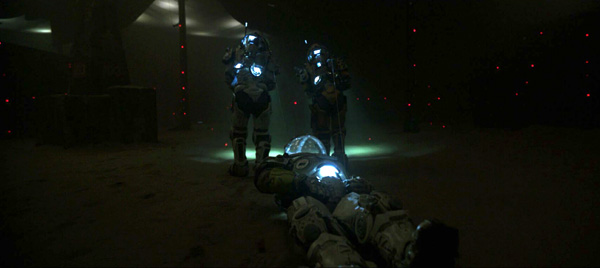 As the shoot took place on dry land, the team needed to make every frame appear as if it were shot underwater. To evoke a murky, underwater environment on set for the cast and crew, black screens were used instead of green. The actors wore underwater suits without visors and interacted with practical props and sets. The environments outside the Roebuck station are fully digital, and CG visors were inserted later. MPC built a CG elevator, drills, escape pods, cranes, platforms and cables for the station exterior.
Because of the dimly lit set, the team used LED tracking markers and illuminated ping pong balls on set for tracing and adjustments, creating the look of the CG water with enormous attention to detail. Photorealistic bubbles, debris, silt and algae were added to give the feeling of extreme depth and claustrophobia. MPC's R&D team also upgraded their particle shading because of the time on screen, and amount needed to shape the underwater shots.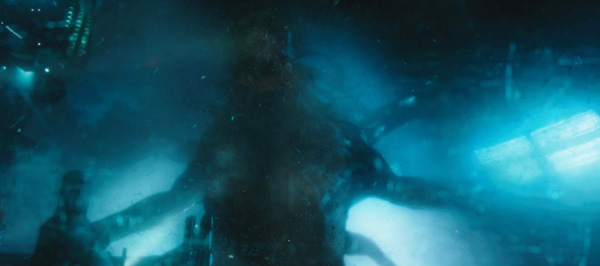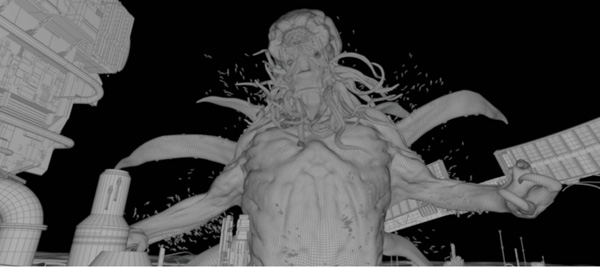 The Character Lab created the Behemoth, a 700m deep-sea monster, plus thousands of other creatures including the Clinger that hunts the humans – ghostly biped with pale, translucent skin. The designs were based on concept art, using sea life and deep-water creatures as reference for realistic skin and detail.
The most complex challenge came when a cargo lift crashes to the ocean floor, collapsing a maintenance tube. This scene required incorporating the CG underwater environment during the collapse and fiery elements of the damaged tube. Large scale photorealistic water effects combined with an atmosphere of underwater claustrophobia and a monster covered in parasites proved a multilayered challenge for MPC.
For 'The Lion King', the team that had worked on The Jungle Book, including Production VFX Supervisor Rob Legato and Animation Supervisor Andy Jones, rejoined to bring the characters from another Disney film back to the screen. This time the director wanted to create a connection to the story using documentary-style realism to accurately represent Africa. The team went to Kenya to scout locations and capture data before starting virtual production and moving through production and final VFX and animation.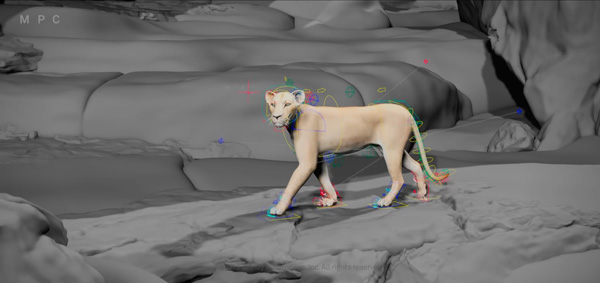 "The main goal was to capture the look of the natural environment so that the audience believes they are in Africa," said MPC's Audrey Ferrara, DFX Supervisor. To do this MPC's artists worked with the DP Caleb Deschanel and the production designer James Chinlund while in Kenya.
Charged with producing all VFX and Animation, the MPC team delivered 1,490 shots and all 2D and 3D renders. 1,250 artists worked across studios in Los Angeles, London and Bangalore. Their job was to create a true translation of how the animals look in real life to the screen, making animals act and talk without breaking the reality.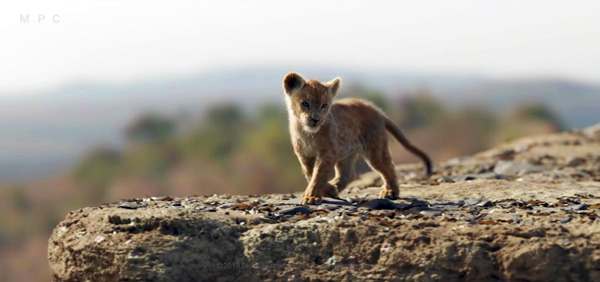 MPC Film's VFX Supervisor Adam Valdez said, "After our initial trips to Africa, we carried out virtual production and the final Animation and VFX together. The technical approaches and methods enabled us to capture the creative choices we made on the virtual set – and carry them through to the end.
"MPC helped build the tools for virtual production using a game-engine to emulate live-action film production in a VR space, as a way to involve the director in a project that is completely digitally rendered. Every environment is made digitally by the artists, and every character is keyframed. The tools were being refined constantly, and now MPC has a suite of tools that are available to other filmmakers based on the innovations that we made on The Lion King."