PDI/DreamWorks Animation Review System Earns Sci & Tech Award
Richard Chuang, a distinguished member of the Cogswell College Board of Directors, a pioneer of digital animation and co-inventor of one of the first digital animation pipelines, has received his second Academy Award for his design work of the PDI/DreamWorks Animation Media Review System on 13 February 2016.
Unlike other Academy Awards, achievements receiving Scientific and Technical Awards do not need have been developed and introduced during 2015. Rather, the achievements must demonstrate a proven record of contributing significant value to the process of making motion pictures.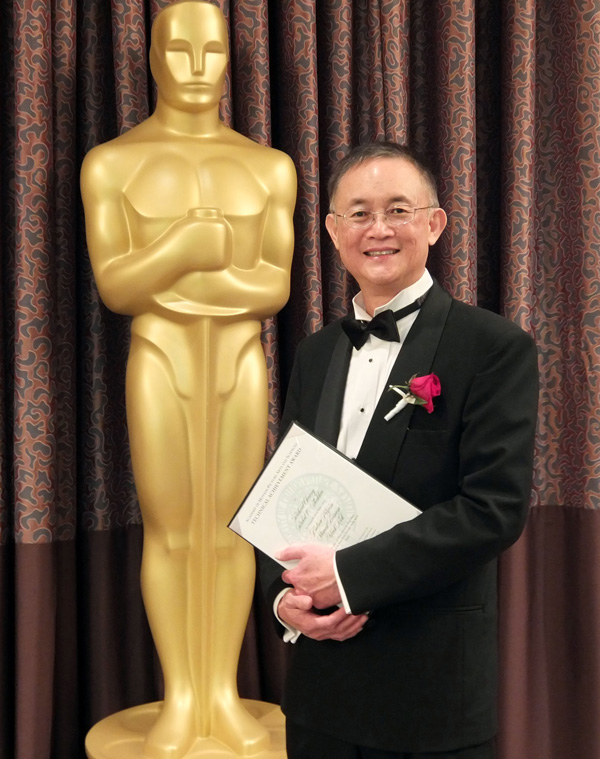 Richard Chuang and Rahul Thakkar each received a 2016 Technical Achievement Award for their design of the DreamWorks Animation Media Review System. Andrew Pilgrim, Stewart Birnam and Mark Kirk will also receive Technical Achievement Awards for the review workflows and playback functions of system.
Review System Development
Richard said, "I created the first sound-synced colour playback review system at PDI in 1992. That system allowed anyone with a computer in the studio to see all the shots from a show cut together with an edit list from their desktop without the use of an editing system or software, or support from an editor. We used the system for commercials, CG TV shows, feature animations and visual effects projects.
"It was a great help for each animator to see their work in context of the whole story. Rahul joined PDI in 1996 and picked up the main development work under my guidance. In 1999 I added the first real-time distributed review system, through which artists at multiple locations can do synchronized review along with real-time annotation and drawing. I used it on projects spreading from Asia to Europe. It was one of the first real-time video collaboration systems in the industry.
"Stewart Birnam along with Mark Kirk migrated the system to support full HD and 3D real-time support in the theatre. Andrew Pilgrim is the current developer and has been evolving the system into its current state since I left DreamWorks Animation in 2008."
Pacific Data Images Co-Founder
Richard became a distinguished member of the Cogswell College Board of Directors in 2008. He was a co-founder of Pacific Data Images, which was later acquired by DreamWorks Animation.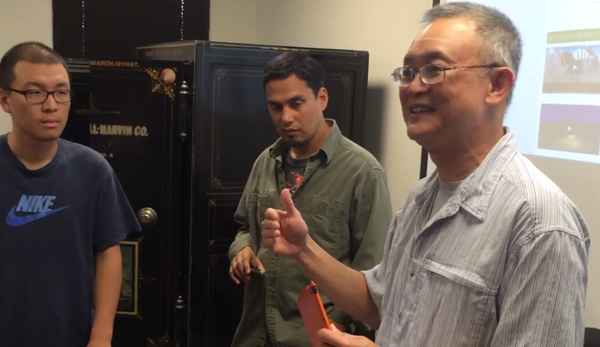 A 1979 graduate of the UC Davis College of Engineering, Richard began working at Pacific Data Images in 1981 where he served as a Visual Effects Supervisor on 16 Hollywood motion pictures, and as a director on commercials. He also won an Emmy Award for Graphics Design. Later, as an executive at DreamWorks Animation, he led the effort in setting up DWA productions around the world. PDI's early successes include a 3D animated Pillsbury Doughboy, which became the first established corporate trademark to be transferred to 3D CG.
Pacific Data was later acquired by DreamWorks' film studio, leading to collaborations on the 'Shrek' film series and many other animated and live-action films. Richard's technical innovations led him to win, in 1998, a shared Technical Achievement Academy Award for his contribution to DreamWorks' digital animation pipeline, his first of two awards from AMPAS.
Richard left DreamWorks in 2008, determined to re-shape the way that animators work with each other. He then became the founder and CEO of Cloudpic, which carries out services to teams creating, managing and building content ranging from projects viewed on mobile devices, to feature films for cinema. The Cloudpic team has worked with animation, games, visual effects and digital content companies, on original content production, content studio and business development and digital media systems.
Richard Chuang on Video
During July 2015, Richard Chuang shared his insights and opinions about several innovations in 3D graphics applications, programs and systems while visiting students at Cogswell College, which can be seen here.
Also, in March 2015, Richard spoke at an Innovators Day reception at the College of Engineering at University of California at Davis. Richard spoke on the topic 'Media and Technology – 35 years of changes', shown here.
www.cogswell.edu