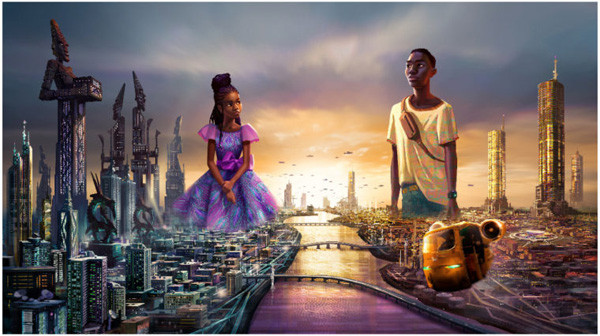 Cinesite has been awarded animation work for the animated series Iwájú. This marks the first time the feature animation and VFX studio has worked with Walt Disney Animation Studios on animated content. The upcoming animated series, produced by Walt Disney Animation Studios in collaboration with African entertainment company Kugali, is set to premiere in 2023 on Disney+.
Iwájú, a name that loosely translates to 'the future' in the Yoruba language, is set in Lagos and will explore themes of inequality, innocence and challenging the status quo. Ziki Nelson, Hamid Ibrahim and Tolu Olowofoyeku, established the company Kugali to tell "stories inspired by African culture using comic books, art and augmented reality". Director and Kugali founder Ziki Nelson said, "This show will combine Disney's magic and animation expertise with Kugali's fire and storytelling authenticity."
Cinesite's London and Montreal teams will be working with Disney Animation and Kugali leadership. The series is directed by Ziki Nelson with the Disney Animation team, led by Producer Christina Chen and VFX Supervisor Marlon West under Disney Animation's CCO Jennifer Lee. Cinesite's production team is led by Producer Joel MacDonald and VFX Supervisor Ellen Poon.
Commenting on the collaboration with Walt Disney Animation Studios, Cinesite Chief of Animation Eamonn Butler said, "There's a lot to be excited about when it comes to Iwájú. For one, it's an entirely new, original story inventively set in a futuristic Lagos, Nigeria. Second, to work with the best in animation with Walt Disney Animation Studios and fresh, new voices with the exciting storytellers of Kugali is truly a first-of-its-kind not just for Cinesite, but for all of us. The Cinesite teams have worked hard to continually raise the quality bar, and working with Disney Animation is testament to everyone's efforts. We're looking forward to showcasing our crew's innovation and creativity to Disney!"
Cinesite has previously worked with Walt Disney Studios on live action features such as 'Mary Poppins Returns' and 'Pirates of the Caribbean: On Stranger Tides'.
Pre-production is underway at Cinesite, with talent recruited by Cinesite Montreal to begin work on the series. During the course of the production, it is expected that over 200 artists, technicians and support staff will be employed to work on the series.
Iwájú is the latest animation project to start production at Cinesite and joins 'The Addams Family' sequel from MGM, Aniventure's 'Blazing Samurai', an animated comedy based on Mel Brooks' classic film 'Blazing Saddles', alongside Aniventure's 'Hitpig' From cartoonist and author Berkeley Breathed, which are all in production. www.cinesite.com