Adobe Animate CC Upgrades Creativity, Publishing & CC Integrations
Adobe Flash Professional CC is now Adobe Animate CC. The 2015.1 release of Animate CC adds several new tools, such as a global library for all the art and paint brushes that an artist uses in his or her Animate projects. Animate is also now integrated with Creative Cloud Libraries and Adobe Stock. It allows stage rotation and resizing, and scaling content according to stage size. Animate video can be exported to multiple resolutions, and when using onion skinning in Animate CC, it is now easier to keep track of frames as you work.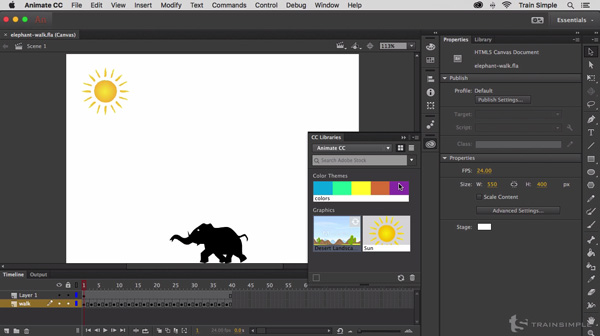 Animate CC now comes integrated with CC Libraries, similar to Photoshop, Illustrator and mobile apps like Adobe Capture CC, and can be used to keep track of design assets. Creative Cloud Libraries make your assets available to you anywhere. When you create images, colours, colour themes, brushes or shapes in, they become accessible across other desktop and mobile applications. The design assets saved in Libraries are automatically synced, and can be shared with anyone with a Creative Cloud account. As a creative team works between the Adobe desktop and mobile apps, shared library assets are always updated. The Libraries asset types supported in Animate are colours and colour themes, brushes, graphics and vector brushes.
Animate CC is also integrated with Adobe Stock, a service that opens access to 40 million curated, royalty-free images, illustrations and vector graphics for use in projects. Users can purchase Adobe Stock as single images or purchase a multi-image subscription to use more regularly in Animate CC documents. Different subscription packages are available.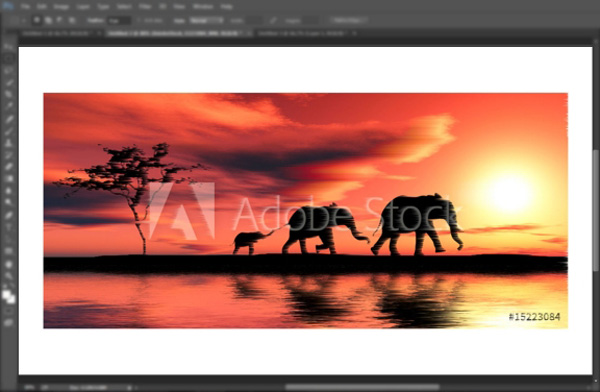 Animate CC now supports custom templates for the wrapper HTML file during the publishing of HTML5 Canvas projects, and you can attach a template to your publish profile. As well as using the default template, you can also import a custom html template file, or export the current template to an external file. It is also possible to export Animate content in ActionScript, WebGL or HTML5 Canvas to OAM (.oam) animated widget files, which can be placed in Dreamweaver, Muse and InDesign.
Animate CC now has a Link option to allow artists to increase the stage dimensions proportionately. By default, the height and width properties of the stage are unlinked, but if linking is enabled, as you modify the values of either height or width properties, the value of the other property is changed proportionately. However, if the Scale Content option is selected, the stage dimensions are automatically linked and disabled. This is because content scaling is only valid if stage dimensions are modified proportionately.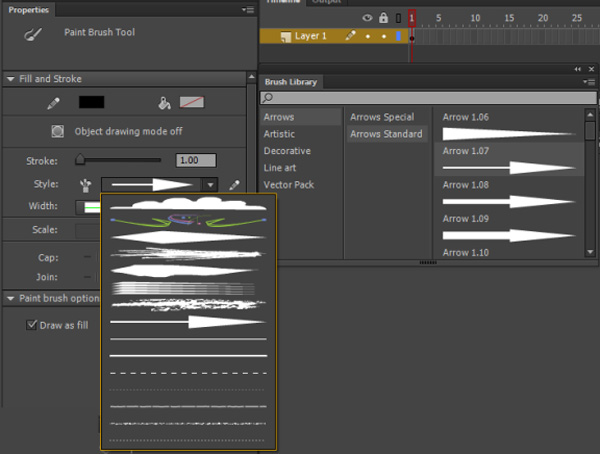 The new Rotation tool in Animate CC rotates the Stage view temporarily to help draw and paint at a particular angle, without permanently rotating the actual objects on stage as the Free Transform tool does. You can rotate the Stage, regardless of which tool you have currently selected, by holding down the Shift and Space keys together, and then dragging your mouse to rotate the view.
You can now export normal and HD quality videos from your Animate document to several different resolutions by configuring a render size in the Video Export dialog box. While setting the video resolution, Animate CC maintains the aspect ratio according to the Stage dimensions.
Onion skinning is a tool used to modify the present state of the animation based on a preview window extending briefly into the past and also into the future frames of that animation. Starting from this release, colour coding helps you distinguish between the past, present and future frames while using onion skinning, instead of using layer colours for the outlines.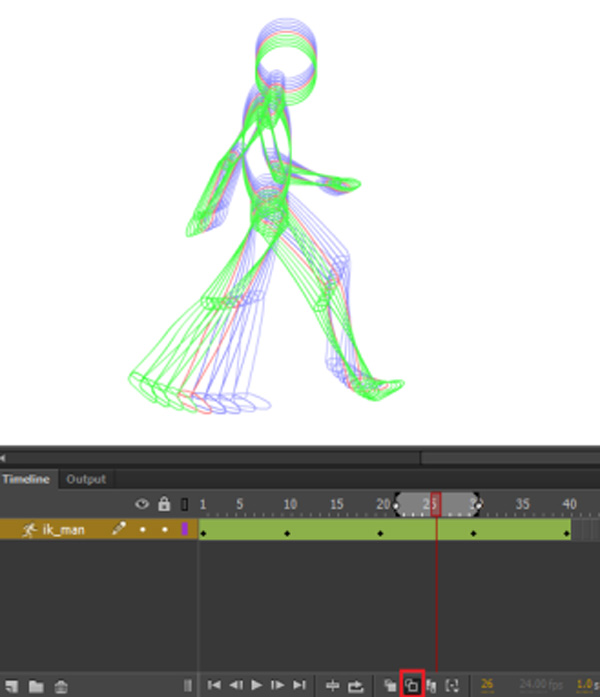 In the new interface, Blue is used for past frames, Red for the present and Green is used for future frames. This gives you onion skin frames before active frame appearing in blue, and frames after active frame appearing in green. Also, onion skin frames away from active frame appear with progressively decreasing transparency.
The new Paint Brush tool brings the ability to use Art Brushes, as they are used in Adobe Illustrator, within Animate CC - drawing stylized brush strokes by applying the selected Art Brush's pattern along the drawn path. Paint Brush tool is based on strokes and is different from the existing Brush tool, which hasn't been changed. You can apply brush strokes to existing paths, or use the Paintbrush tool to draw a path and apply a brush stroke at the same time.
There are a large number of Art Brush and Edit Brush options affecting colour, strokes and styles. A set of Art Brush presets are available by default for use directly within an Animate project, and Animate CC now comes integrated with a global library for Art Brushes that you add to as you use different brushes. For example, clicking on a brush in CC Library adds it to both the global Brush Library panel and the current document. www.adobe.com/products/animate.html