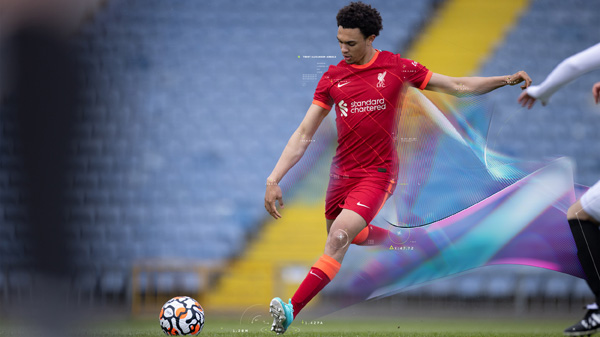 Electronic Arts marketing campaigns are recognised and anticipated among gamers and fans for their graphic in-game video scenes and screenshots. The most recent of those campaigns is the new Hazard Zone trailer for the debut of Battlefield 2042.
The team behind the work is the Electronic Arts Marcom Game Capture Division. The members are passionate gamers themselves, very specific kinds of creators from backgrounds in photography and cinematography, with skills ranging from graphic design, compositing and editing to coding.
Beyond the Battlefield Hazard Zone trailer, other recent work from this team includes trailers for the NHL 22 reveal, FIFA 22 HyperMotion and Madden Land. The Game Capture artists are responsible for marketing assets for FIFA, Madden, Star Wars: Battlefront and many other franchises, as well as in-game assets for all EA Game and Sports titles.
The artists typically work alongside EA's Cinematics artists, who create the scripted scenes in between gameplay sequences. They all collaborate to make sure the two different worlds of in-game capture and cinematics are integrated and feel familiar to viewers. Nothing that fans see happens by accident. For EA Sports titles, Game Capture Artists watch real sports events for inspiration, and may try to replicate real world plays in the video game world.
Authenticity
They play the game and build out cameras to show the highlights, perfecting them through evocative, carefully designed angles, framing and compositing, playing a role similar to a sports photographer or cinematographer. However, as much as drama, their goal is authenticity, achieved through a thorough knowledge of the leagues' histories, current news and trends. The team works with existing assets and manipulates the game to achieve ideal conditions for marketing content.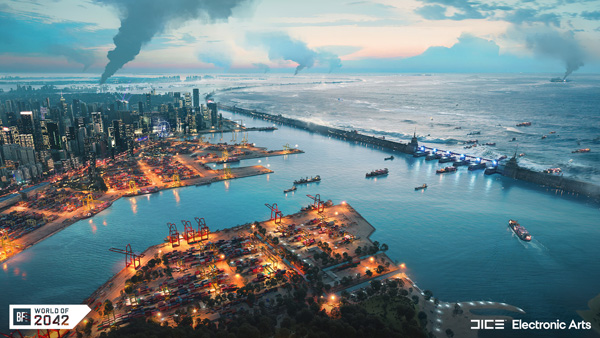 EA's Game Capture Lead is Jeff Aho. "Our group is full of sports fans that watch the NFL, NHL and FIFA all the time on their own," he said. "When they see Ronaldo pull off a crazy bicycle in a real life game it usually sparks some inspiration in them, and they'll go back into work the next day to capture a shot that matches what they've seen. We try to get as close to the real world as possible to emphasise the authenticity in our games."
Tools of the Trade
Game Capture Artist Simon McAuliffe, one of EA's who creates promotional screenshots for games, talked about his day to day operations. "I mainly work with a 'pro' version of our in-game replay camera along with proprietary software that is linked to our FIFA game and gives us control of saved replay files – that is, anything that can be achieved in a gameplay scenario," he said. "It's essentially a camera tool that allows us to manoeuvre a drone style camera and leaves us free to choose lens focal length, exposure, depth of field and various settings needed to achieve quality marketing stills. Static renders of gameplay – players, stadium backgrounds, action moments – are exported separately, and then composited together in Photoshop.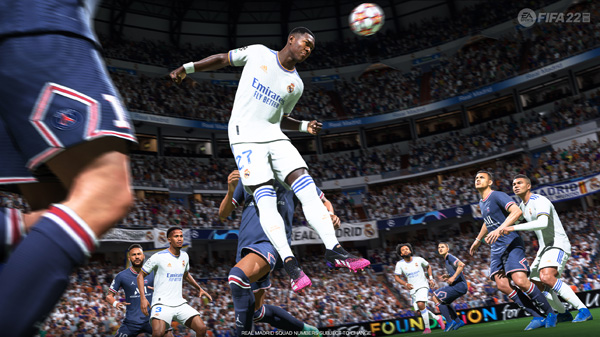 "We spend a lot of time making sure the content is up to standard and hides any imperfections, and sometimes apply a level of polish using Adobe Lightroom or Photoshop to improve vibrance and lighting and bring up the finer details."
These methods achieve much faster results than going back to the game engine, Frostbite, for animations, lighting and texturing, which require dedicated skills. EA's marketing partners often need very fast turnarounds, and being able to use predetermined lighting, matching the game as it comes straight off the shelf, is a great advantage. The artists can give an accurate depiction of what our players will see while playing the game.
Living with Limitations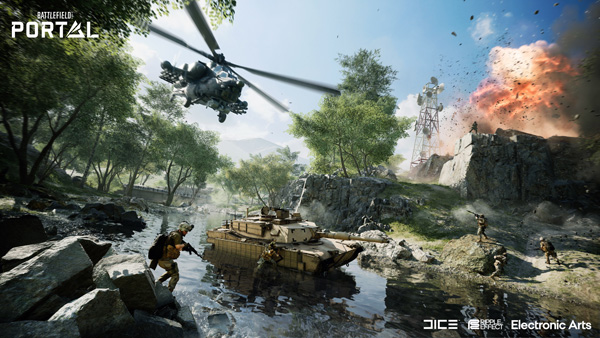 Limiting themselves to what is achievable or already exists in-game has led to some interesting workarounds. "At times, the team needs to find options and go back to the drawing board. We have ways to improve lighting and animations depending on what environment is used. Controlling time of day, weather conditions and where the gameplay action is performed and recorded, on the pitch or on the ground, is a huge part of what we do," Simon said.
Although it's crucial to consider these limitations at the beginning of the process, separating the player avatars from the background, and being skilled at working with layers in Photoshop means we can modify locations by switching out the background after the fact.
Building out the cameras, changing angle or re-framing shots can potentially require a lot of work if the new angle needs parts of the environment that are not built yet. In fact, they often need to wait for artwork and assets to be implemented into the game, while development teams have their work approved and integrated in the builds.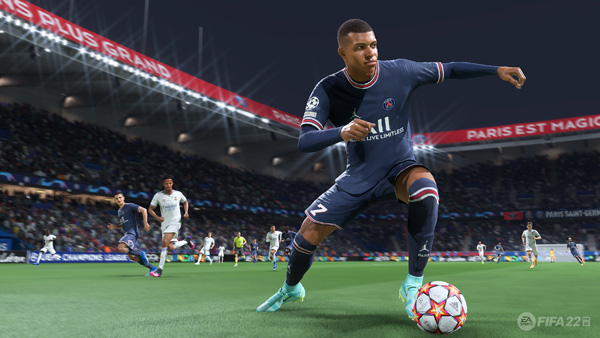 Strategies
Instead, by working primarily in stills, they have developed various strategies to avoid waiting until we have everything firing in one build of the game. Simon said, "We can composite logos, and kit details like jersey numbers or players' boots, from another build and stitch them together in post. All the minor details like ad boards, fan flags and banners and crowd emotes, often overlooked as a given, are actually essential, and we spend many hours making sure they are present and up to scratch.
"In short, it's extremely rare that a shot will be perfect the first time around for a desired result. Strong compositing and Photoshop skills are a must for our team. We need to able to break a screenshot into numerous layers allowing us to chop and change much of the content in post, even after the action or subject matter has been signed off.
"Nevertheless, our post work can never stray from what it's possible for players to do in game. We collaborate with partners across dev and marketing to properly align the final asset with the game and vision for the beat. Having a strong eye for composition and what works, as well as a love for the game is very helpful in pitching compositions and strong moments for assets."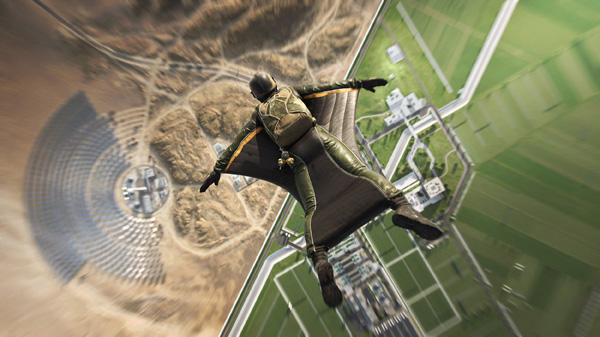 Something Unique
Many of the trailers, like NHL 22 for example, include effects such as speed ramps, fast cuts and camera effects, timing and VFX. The Game Capture artists frequently work with camera artists, video editors and graphic designers, so that by the end it's very much a multiple-team exercise. "It is interesting to see how each member of our team, and any of the other teams, brings something unique to the table, passion being the number one ingredient," said Simon.
"Personally, I had no experience with video games outside of enjoying them as a hobby before my career at EA. I qualified in Visual Communication and Design and always had a creative itch to make art. My love of football marries those two worlds perfectly. The FIFA screenshots I work on are often scrutinised at length, since, unlike video that has the privilege of fast cuts to hide details, they present only a single frame. People like to spend time studying and picking apart a single image.
"In contrast, Sam Goncalves, who works on gameplay clips, played professionally in Brazil. He is extremely gifted at assessing video, due to his understanding of football physics and how football organically happens on a pitch in real life. He can take one look at a clip and decide whether it lives up to the best we can get from the game."
Striking a Balance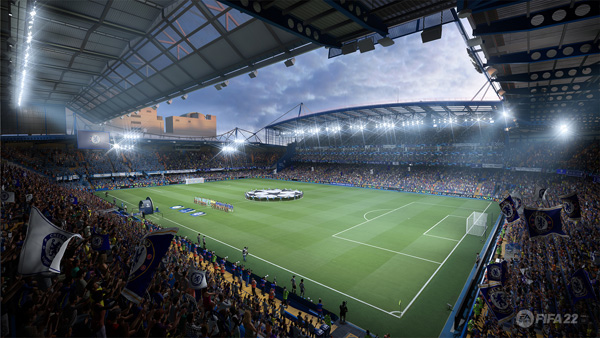 Ultimately, all the team's work must strike a balance between authenticity – how well the video game can be compared to the real world – and how assets are made to come to life. The artists' interest in sports makes finding real world reference for sports games fairly straightforward, but Battlefield 2042 Hazard Zone is more serious.
In such cases, the mindset changes somewhat. "Our goal is to remove players from the real world and immerse them in the game world to see the beauty and detail that goes into creating them," Simon noted. "Our team is packed with fans of EA franchises who grew up playing games like Battlefield, Need for Speed and Star Wars Battlefront. That is a huge part of what goes into ensuring the content we capture is authentic to the franchises."
EA's Game Screenshot team
Within the Division, closely associated with the Game Capture artists, is EA's Game Screenshot team. This group produces marketing screenshots by building and composing scenes in the FrostEd game engine, using the game assets created by the game development team. Their work is similar to Game Capture but their output is static shots instead of trailers and sequences.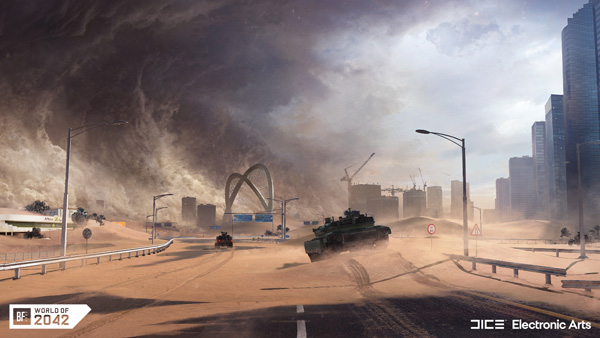 The Screenshot team scouts locations within the game levels and uses character animations from the game and the cinematic trailers to pose the characters, give them weapons and weapon mods, and add VFX like smoke and explosions. "We run the scene in the game engine and pause everything when we've got all our VFX timed nicely, which can take quite a bit of coordination, like conducting an explosion orchestra," said Screenshot Artist Ben Barber.
Using the skills of a location scout, stylist, prop master, cinematographer, director and FX artist, the Screenshot team captures the look and feel of the game. What is important across all of the work is their ability to represent the game using the art that the developers have created, and so they try not to change the look of their scenes very much.
Starting with a Brief
Senior Screenshot Artist Petri Levälahti set out their workflow. "It all starts with the brief," he said. "Marketing people describe what they want to show. It's usually something like 'A big action scene in Map x, showcasing feature y and Soldier z.'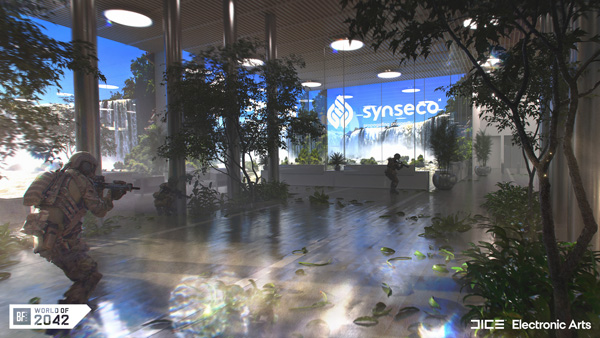 "Then we take it from there. Working in FrostEd, an editor for games built in Frostbite, we fly around the maps looking for locations. Since this usually happens months before release, the maps and basically everything are unfinished, so we have to be extra careful about our angles. Once we find a good spot or two, we start mocking up the shot. We place soldiers, vehicles, set up explosions - we keep iterating until the shot starts to feel good and come alive.
We use in-game soldiers, effects, maps – there are no special assets available for us. Sun is always the main light source, but we might place an extra light to help the shot read better. We can save cameras and soldier positions, and can always come back to the scene later.
We show early versions of each shot to the art director and other people involved - vehicle artists, character artists etc. We check that the art is presentable, and that everything we display is actually available in the game. Then we send the draft to EA legal folks."
A Little Polish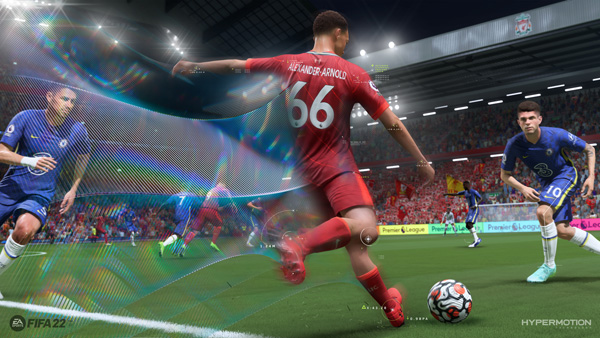 Once they have alignment and get stamps of approval, they move into polish – lots of tweaking and adding a bit of spice to the mix. They make sure the action is clear and easy to read, and that there are no awkward poses, no graphical glitches or no substandard images.
"After everything is approved, we capture the shot in 4K, and do minor post work, for example, blur helicopter rotors, adjust contrast, vignettes – nothing major, as we want to stay true to the game," Petri said. "Once that is done, we do various crops for social media, add logos to the images, and send them off."
Eye for Detail
Petri's team mate Ben Barber said, "It's a very technical job with a lot of problem solving and communication skills required. Nevertheless, composition is fundamental to our work, so a good understanding of photographic and cinematic language is really important, as well as an eye for lighting. When we're location scouting we're always looking for good light!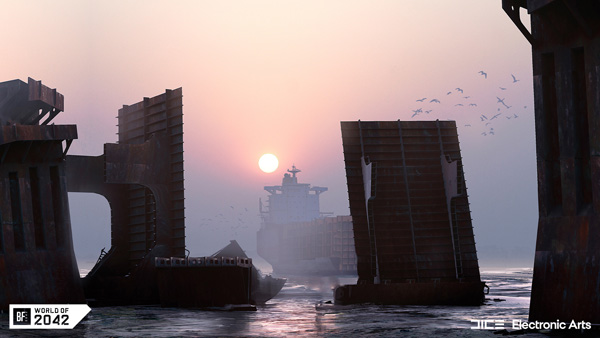 "Though it's a cliché now, an eye for detail is important – screenshots, like photographs, are just a frozen moment in time so we're always looking carefully at every aspect of the frame – does that area of the frame hold up to scrutiny? How does this work as a thumbnail vs fullscreen? Do we have enough colour contrast and light contrast? Is that weapon clipping through the character's shoulder? I've learned so much from Petri about what to look out for.
A certain amount of retouching is also required, where the main aim is simply to add some contrast and vignetting, sometimes we'll do motion blur in post rather than in-engine so we can control it a little more precisely. We have the ability to render all different sorts of passes, like a pass that only shows the specular lighting, or the ambient occlusion, and these can be used to help make the highlight ping some more and deepen the shadow areas." https://www.ea.com/en-gb