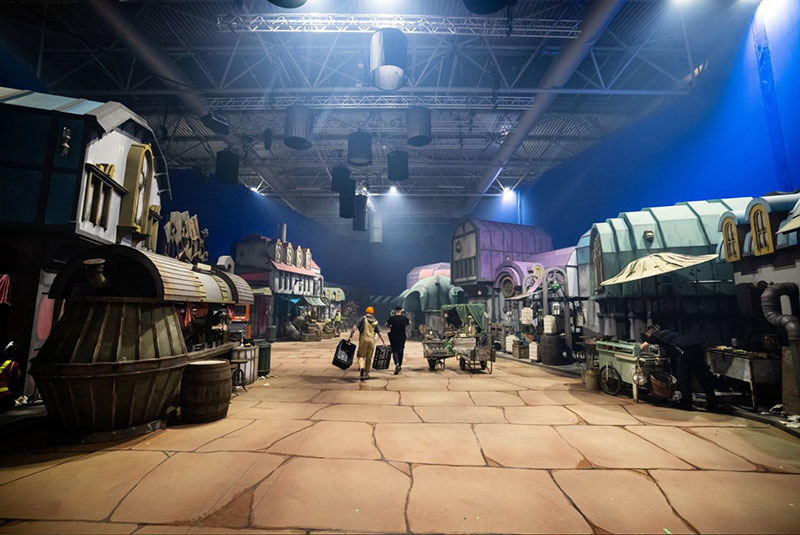 Possible visual campaign company took over the creative direction of a cinematic show open to introduce Riot Games' Worlds 2021, the League of Legends eSports championships. Pulling together a team from several facilities, the project mixes the animated fantasy world of TV series 'Arcane' with performances by well known musicians. The resulting short film blends traditional VFX sequences, live action music videos and stylised, painterly animation in dark, atmospheric environments.
Possible's team managed creative oversight of the production and delivered more than 45 shots within a 10-week timeline, working through a pipeline based on Maxon Cinema 4D and Autodesk's Arnold renderer.
The Worlds 2021 opening ceremony had initially been planned and conceived as a live performance to take place in Shenzhen, China, but pandemic restrictions forced the team to reconsider the format and produce show open as a cinematic short film. The champioships itself took place without an audience from 5 October to 6 November 2021 in Reykjavík, Iceland. Basing their film on Netflix animated series 'Arcane: League of Legends', the artists used the opener to bring show characters, environments and story points together with music video performances by Imagine Dragons, JID, Denzel Curry, Bea Miller and PVRIS.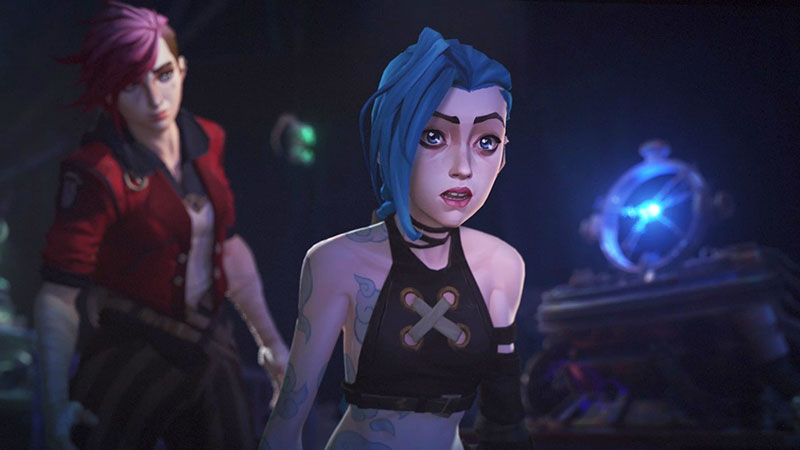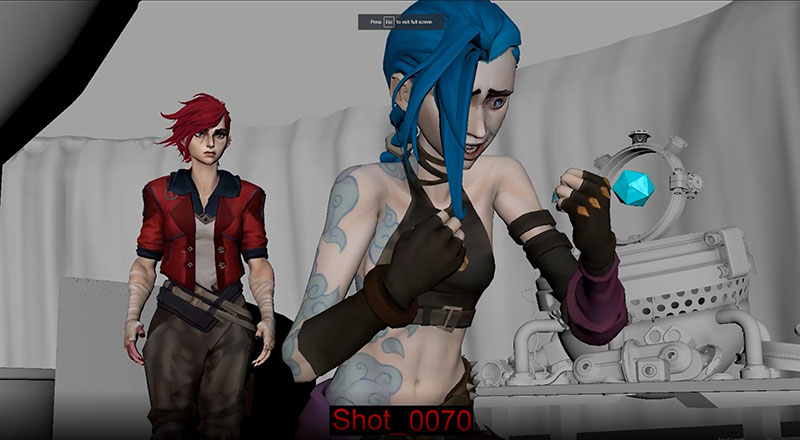 Unified Design
To blend the various elements together, the team established a unifying design principle to omit specularity, which guided the project's overall look. Specularity is the gleam seen on shiny, curved 3D surfaces that comes from reflecting the light source itself. Specular highlights create an illusion of depth, and add to the three dimensional quality of objects by making them stand out, a primary goal of scene lighting.
Therefore, the artists needed a special approach to set design. Creative Director and 3D Supervisor Trevor Kerr said, "Everything is painted diffuse only – so when we started painting sets and handling real world fabrics, we painted in all the highlights by hand. The 3D was treated in the same way, which helped unify the worlds.
"We then established distinct palettes for each of the various environments. For example, we used varying shades of green in developing the look of Zaun, an underworld city bathed in the toxic runoff of Piltover, a greater sister city shining on a hill."
Arnold to Cinema 4D Integration
In particular, Possible's in-house team managed and fully realized 3D environments for two animated sequences. Art Leads Aaron Covrett and Nick Scarcella headed look development. For each environment, they needed to recreate the painterly look from the Arcane series, while figuring out the best method for lighting scenes without using specular information. To build out the 3D space with enough depth and parallax for the cameras, each environment required props that were created by a team of modellers, texturers and lighters who liaised continuously with Aaron and Nick throughout development.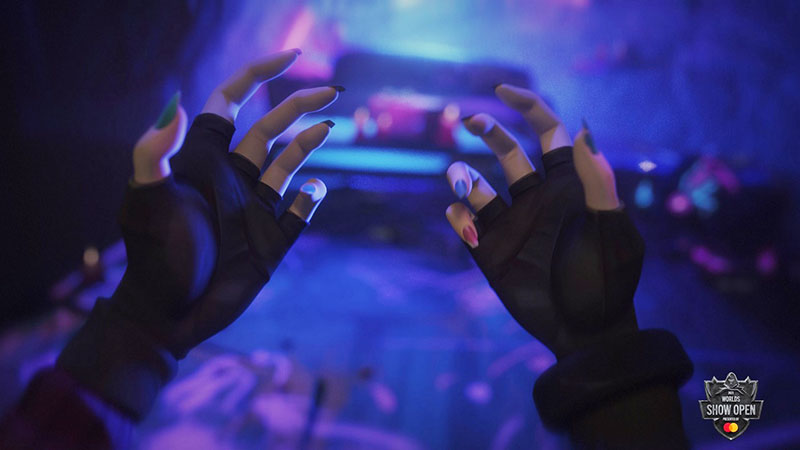 Because the team's artists and lighters worked primarily in Cinema 4D, that software would need to be the central lighting tool. The team used Arnold's C4DtoA plugin to extend the functionality of C4D to accommodate a large scale production. Built to work as a regular part of Cinema 4D, the plugin supports all of Arnold's features, giving users the ability to direct lights, shaders and other render effects.
Its scalability comes from an open architecture that helps integrate Arnold into pipelines and adapt to projects. Tools include an Arnold shading network editor for writing custom shaders, procedurals control, a light manager, adaptive sampling and support for Thinking Particles and Xparticles.
Managing Render Time Geometry
Trevor Kerr said, "We built our pipeline for this job in a week using Arnold as the backbone. Having a tool that allowed us to scale massively, but in a controlled way, was invaluable. Through Arnold's operator networks, we were able to quickly set up a very straightforward, clean working environment where lighters could come in and do their work without needing to touch or adjust any other elements. Bringing the new functionality and work environment to C4D, a tool that our lighters were already familiar with and comfortable using, was really what made this show work for us."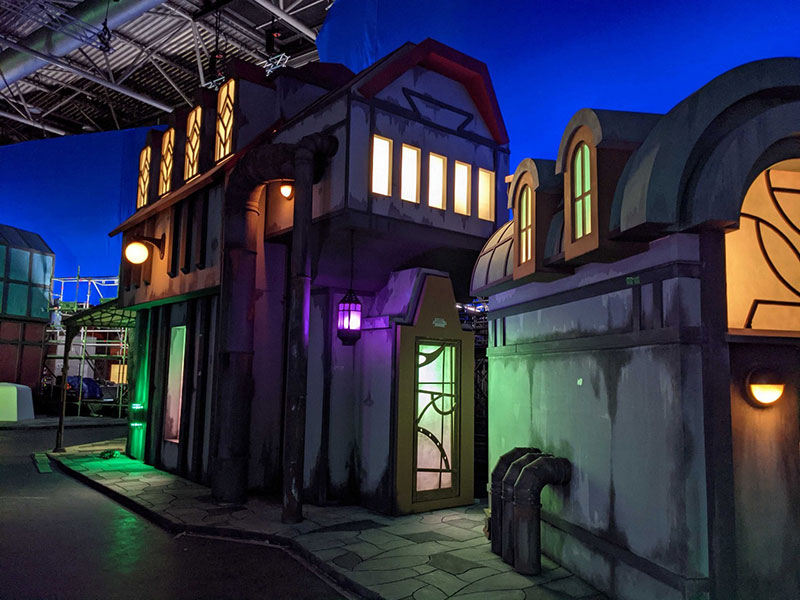 Operators allow users to override any part of an Arnold scene and modify the Arnold set-up at render time – for example, to override parameters such as shaders inside a procedural. Some of the operators include a selection parameter that determines, using a wildcard expression, which nodes the operator can process.
Arnold's capabilities for deferred load rendering of geometry and textures were also critical for the project, giving the artists an interactive experience for lighting. "Each scene didn't really exist until you pressed 'go' on the IPR window or 'render'," said Trevor. "All elements were sourced and brought in through Arnold, either from the operator networks or procedurals. The only components in the scene prior to rendering were the character animations and cameras.
"We rendered the show several times over with different lighting iterations. Because our pipeline centred on render time geometry – like the deferred loading of all components – we were able to create really interactive scenes that enabled us to iterate very quickly and submit several different versions over the course of a day."
Efficiency – Automatic Updates and Character States
Arnold's scene description setup supported the team's use of globally distributed prop and character files. These could be automatically updated in a scene, which was helped tremendously in a remote workflow with artists located across global time zones. Aaron said, "We were very conscious of the dangers of last-minute updates but, because of our timeline, we knew that if the need arose, we could be adjusting character animations up to the day before delivery. We developed our pipeline in a way that would allow us to keep assets updated, without having to dive into 40 different shots to make an adjustment to a single texture."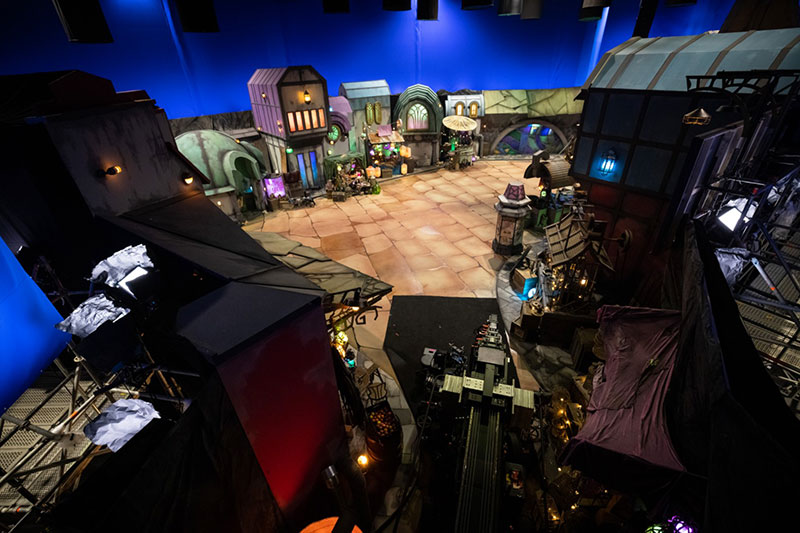 Using Arnold also made it possible for the team to include various character states within a single mesh, rather than using separate character models as alembic files. "Depending on the action of the shot, for example, a character's hair may have two or three different versions, such as up, down or underneath a hood. Through Arnold, we were able to keep all of these variations unified under a single file. At the scene level, the artists could change character traits and versions on the fly without going back to animation. All of that happened through the operator networks, which Arnold was managing in the background," said Nick.
Ahead of delivery, the team planned out the project in Arnold, which showed that it would take four days for final render. Bearing that in mind, they ultimately finished ahead of schedule, delivering one day before the deadline and two days prior to the air date. www.autodesk.com