Toon Boom Storyboard Pro 5 Updates Pre-Production for CG & Live Action
Toon Boom Animation's release of Storyboard Pro 5 software for pre-production and storyboarding includes updates that enable pre-production pipelines for CG, live action and games cinematics. The new version also improves on the application's 3D workflows and its integration with editorial processes.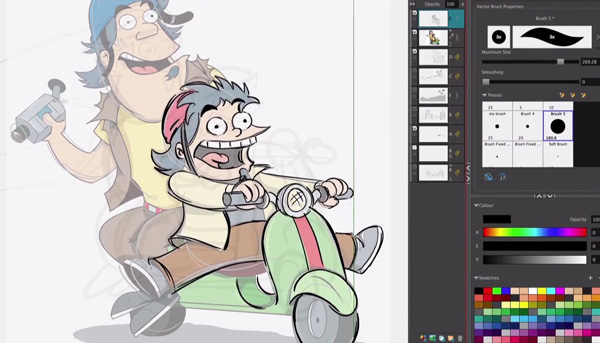 Storyboard Pro 5's new creative tools and technical functions support projects with varied production constraints and helps storyboard artists work with several departments at once.
The 3D workflow updates help integrate 2D and 3D more effectively. The ability to snap 3D models to surfaces, which makes it easier and faster to position and animate 3D models on a 2D plane like a floor or wall, for example, when blocking out shots. The model maintains contact with the surface regardless of any changes. This also works well with 2D animation. To add 2D drawings to 3D scenes, you can also create a drawing layer over a 3D surface that faces the camera and quickly draw artwork over 3D models.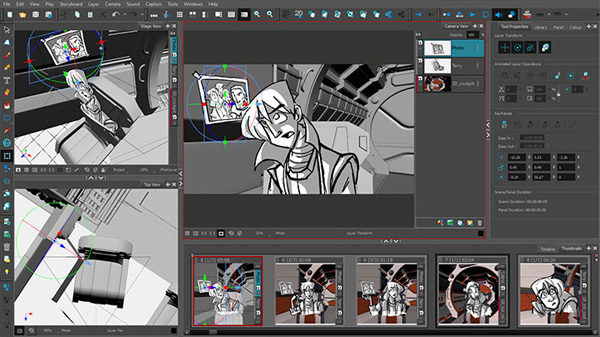 The application's 3D camera has been made more interactive and makes it easier to perform 3D camera tilts, pans, rotations and rolls. As well as FBX and 3DS, users can now import Alembic and Collada CG content into storyboards.
New customisation in the bitmap brushes allows an artist to change the roundness, hardness and angle of tips, and also add randomness to vary the resulting lines. Users can customize the built-in brushes or create their own in Photoshop, Harmony or Storyboard Pro.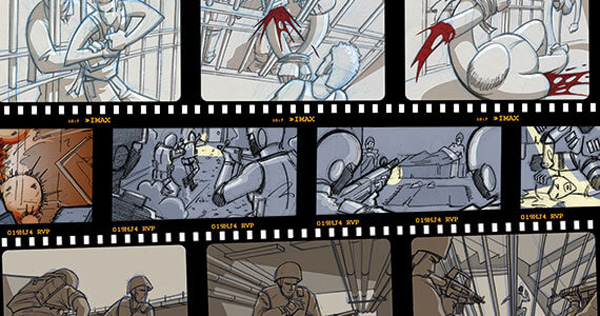 Storyboard Pro's ability to break down artwork into unlimited layers within a storyboard panel now makes it easier to control content and exchange work between artists during creative development stages. Layers may be selected as a group and all moved together. Drawings such as backgrounds that are reused many times by different artists can be shared across multiple panels, but kept as a single drawing file to keep the artwork updated for all artists more easily. When a change is made, the artwork updates everywhere.
Qt application scripting is available to create tools and scripts that automate manual tasks. New tools can also be made to be accessible directly in one button click. Example scripts are available to get you started.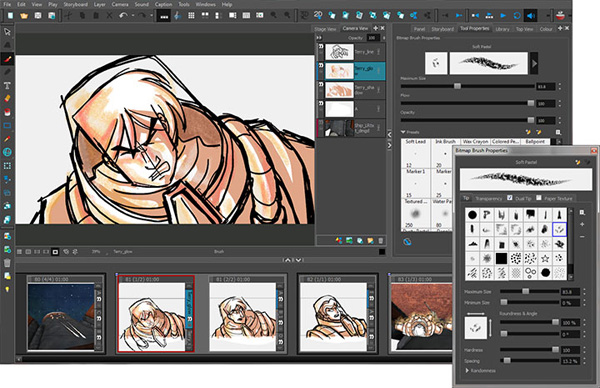 23.976 NDF timecode is now supported in the timeline. Users can work at this frame rate and directly transfer animatics and timelines with panels, sound, transitions and timing from Storyboard Pro to editing software via EDL, AAF and XML. When conforming from an editing software that uses XML, the error handling and report generation are improved to better prevent unknown data from causing a conform to fail, and help troubleshoot.
Storyboard Pro 5 is now available on yearly subscription or perpetual licence. www.toonboom.com