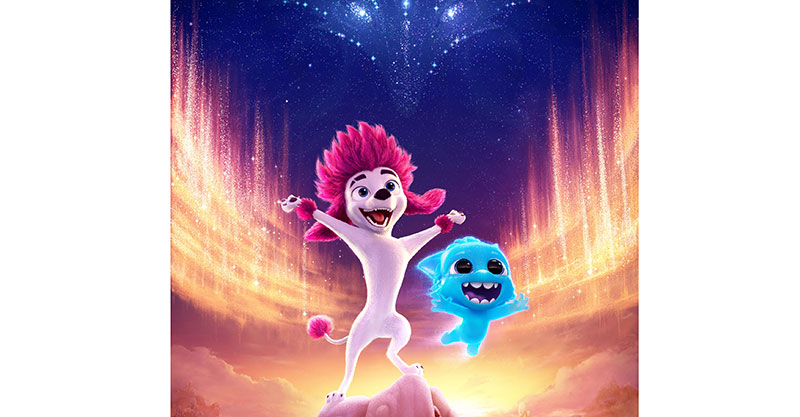 Flying Bark Productions has announced production of '200% Wolf', the sequel to the feature film, 100% Wolf. The film will be distributed across Australia by StudioCanal while Studio 100 Film is managing international sales.
A co-production with Spain's Atlantika Films and Western Australia's Siamese, 200% Wolf is produced with major production funding from Screen Australia, and financed in association with Screenwest and Lotterywest. The Canary Islands' 3Doubles will be joining for animation services on the 85-minute comedy adventure film which will be released in 2024.
200% Wolf has already gained support from the distributors of 100% Wolf including VIVA Kids (North America), Notorious and FilmHouse for the US, Italy and Israel respectively.
"We had tremendous success with the North American release of '100% Wolf' in 2020," said Victor Elizalde, President of VIVA Kids. "We are thrilled to be reuniting with Studio 100 and Flying Bark Productions for the highly anticipated sequel. We know audiences are going to love it!"
'200% Wolf' sees the return of director Alexs Stadermann, writer Fin Edquist, producers Barbara Stephen and Alexia Gates-Foale and co-producer Francesca Hope, with producer Carmen Perez-Marsa Roca and Atlantika Films' Executive Producer Nano Arrieta joining the team.
The sequel will continue the story of Freddy Lupin, a pink were-poodle who needed to prove he still had the heart of a werewolf. The film will focus more on the mysterious and fascinating world of werewolves and the magical moon forces that transform them, introducing exciting new characters and obstacles for Freddy to overcome.
Based on the books 100% Wolf and 100% Hero by Australian author Jayne Lyons, the first film has been successfully sold worldwide, with strong theatrical releases in the UK, France, Russia and Italy despite the 2020 global pandemic. The film also performed extremely well on VOD services with Amazon US and Universal Australia, as well as on Netflix Australia. '100% Wolf' was a Rockie Awards nominee at the 2021 Banff World Media Festival and director Alexs Stadermann was nominated for Best Direction of an animation project at the Australian Director's Guild Awards 2021.
Adding to the success of the film, the ABC ME television spin-off series '100% Wolf – The Legend of the Moonstone' has been on air internationally since 2020, having sold to more than 100 countries. The series won three Telly Awards, an AEAF Gold Award and the Asian Television Award in 2021, among other wins and nominations. A second season is already in pre-production.
Nickelodeon - Untitled Avatar Film
Paramount Animation and Nickelodeon Animation have enlisted Flying Bark Productions to animate their first Untitled Avatar feature film in a newly confirmed partnership with Avatar Studios.
Now recruiting, Flying Bark Productions (Rise of the Teenage Mutant Ninja Turtles, LEGO Monkie Kid, What If…?) is seeking Australian and international artists across several 2D animation and CG departments which will see successful candidates join the team in Sydney Australia in early 2023. Current available positions can be viewed here.
Set to push the style and boundaries of hybrid animation, the first Avatar feature film will couple traditional 2D animation with substantial CG elements. With their impressive slate of well-known 2D and CG projects, Flying Bark Productions has experience in cross-medium animation with their recent Marvel collaboration 'What If… Dr Strange Lost His Heart Instead of His Hands?', earning an Emmy nomination.
The Avatar feature films will be based in the world of Avatar: The Last Airbender and The Legend of Korra which were originally created for Nickelodeon by Bryan Konietzko and Michael DiMartino. The first feature will be directed by Lauren Montgomery, with Bryan Konietzko and Michael DiMartino producing.
"We are excited to be working with one of the premiere and long-standing animation studios in Australia, Flying Bark," said Mark Bakshi, Executive Vice President, Paramount Animation. "Their track record of artistic excellence makes them an ideal creative partner for such an ambitious and high-profile feature film."
"Avatar: The Last Airbender and The Legend of Korra are two of the most memorable animated series of our time and we are simply thrilled to play a part in bringing this new story to life. With a company full of creatives and super fans, the Avatar feature is a dream project for the team at Flying Bark," said Flying Bark Productions' Director of Production, Alexia Gates-Foale. "This really is an exciting time for the Australian animation industry, and we look forward to welcoming new talent to our studio in Sydney as well as further developing our incredible team of artists".
Flying Bark Productions continues to grow its world class animation team across CG, 2D and CG/2D hybrid productions. With 350 employees across all departments, Flying Bark Productions has quickly become a sought-after studio around the world for traditional frame-by-frame and CG animation. www.flyingbark.com.au