Blur Studio took over the world of Skylanders for two :30 spots, creating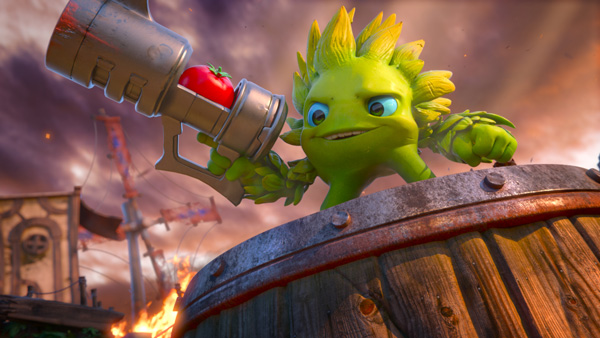 CG sequences that give the game's young audience an entirely new way
to look at the characters and what they can do.
---
Blur Studio Tackles Skylanders Trap Team for Activision's New Campaign
Blur Studiotook over the characters and world ofSkylandersfor two new :30 commercials produced by ad agency72andSunnyfor game developer Activision, titled'Inside the Trap'and'Trapping Kaos'. The spots include CG animated sequences led byBlur's director Jeff Fowler, who helped add visual scope and their distinctive brand of storytelling to the world of Skylanders.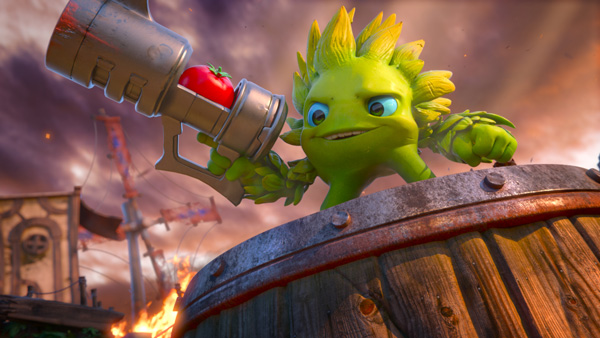 The Skylanders brand is based on the idea of bringing toys to life. For Blur, the task involved introducing some mayhem to the world, where the team built a village and staged a cinematic battle scene between the two characters Gulper and Food Fight. The project's freelance creative directorMichael Brycesaid, "Working with Blur gave us an entirely new way to look at the characters and what they were capable of."
In an interview withDigital Media World, Jeff Fowler explained that he and his team of 30 artists completed CG material for both spots in less than two months, putting effort into increasing the level of visual detail and further developing the characters. At a first look, you might think that Skylanders attracts a younger audience than most games Blur has produced cinematics for previously, and demands a little less realism and a less photoreal finish.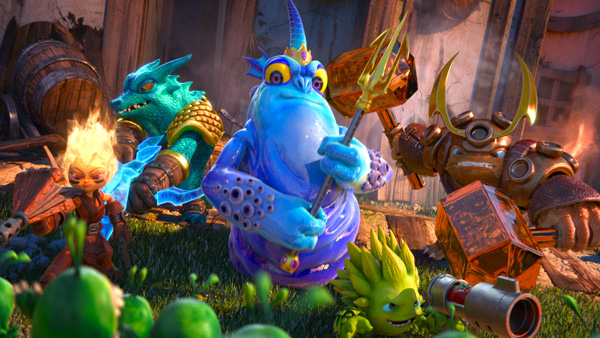 But Jeff pointed out that Blur is capable of handling many different styles, including quite stylized material targeting younger viewers. "For example, we've done three commercial campaigns for Pepperidge Farm'sGoldfish Crackersand are currently in progress on our fourth, so believe it or not, Skylanders does fall within our territory," he said. "Having said that, the agency 72andSunny was very interested in applying our more traditional cinematic skills in camera work, action choreography and so on to bring a little more energy and grit to the Skylanders world. In short, cute characters, big action!"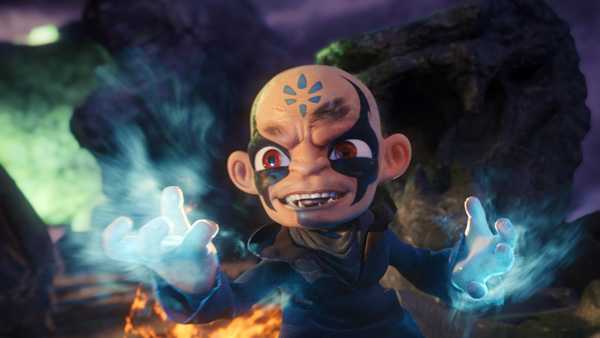 When it came to making sure the commercials remained recognisable and familiar to existing players, they felt one of the trademark aspects of the Skylanders characters are their proportions - very compact and stubby, which adds humour and playfulness to their looks. Consequently, the artists preserved this quality and concentrated on updating materials and texturing, incorporating a much higher level of detail. Jeff said, "We wanted to give them a very lived-in look with leather gloves that are cracked and worn from years of use, heavily battered armour after the epic battles, and so on. That way, we could add a degree of realism while maintaining the core feel of the characters."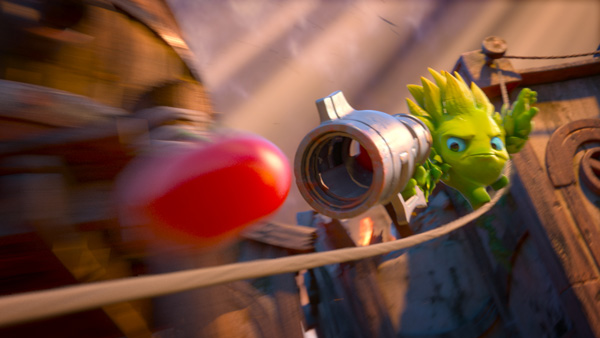 They received in-game models for the majority of the characters, serving as a template for the upgrades they were planning. On the other hand, the environments, layouts and textures were all built from scratch and concepted by Blur's in-house artists. A fun start to this process was spending an afternoon playing levels of a WIP version of the game, and taking some of that inspiration to help design the settings for the two spots.
The approach to performances varied. "'Skylanders: Trap Team' actually introduces a whole new group of Skylanders characters, so we weren't concerned with existing fan familiarity. Kaos was the only alumni of previous games, so we made sure to preserve his charming, rather insane demeanour as faithfully as possible," said Jeff.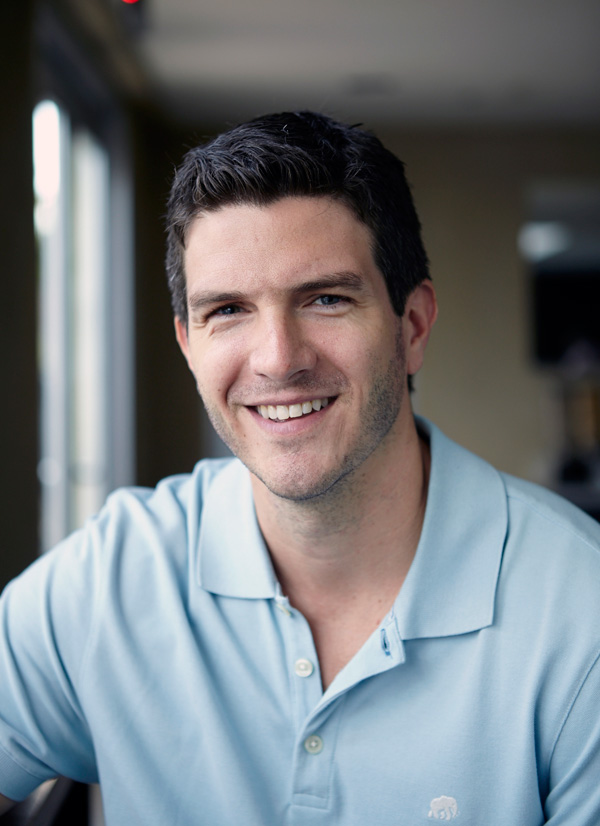 "In fact, the animators had a blast working with all the characters butFood Fightthe gun-wielding artichoke was particularly memorable. Although he literally only has stubs for arms and legs, sometimes the characters that are the most limited and challenging are the most fun to animate. The concept of turning him into a John Woo-style action hero was something the team especially enjoyed." www.blur.com

CREDITS AT BLUR
CG/Animation Director: Jeff Fowler
Creative Director: Tim Miller
CG Supervisor: Chris Bedrosian
Animation Supervisor: Hubert Daniel
FX Supervisor: Brandon Riza
Producer: Laura Pepper
Executive Producer: Al Shier
Layout Supervisor: Aristomenis Tsirbas
Character Modeling Lead: Jesse Sandifer
Rigging Supervisor: Jeremie Passerin
Rigging TD: Tyler Fox
Animation: Ben Cinelli, Isaac Fernandez, Yvain Gnabro, Jason Hendrich, Oliver Parcasio
Hair and Cloth: Justin Callanan, Adam Dorner, Jon Jordan, Mark Lipsmeyer, Luis Lopez, James Marcus, Lennon Montejo, Yury Sakovich, Danny Young
Environment Modeling: Simon Blanc, Eric Durante, Jinho Jang, Ramon Lopez
Lighting and Compositing Lead: Simon Blanc
Pipeline Supervisor: Jeffrey Beeland
Words: Adriene Hurst
Images: Courtesy of Blur Studio