AEAF Awards Attract Top TV Series VFX & Animation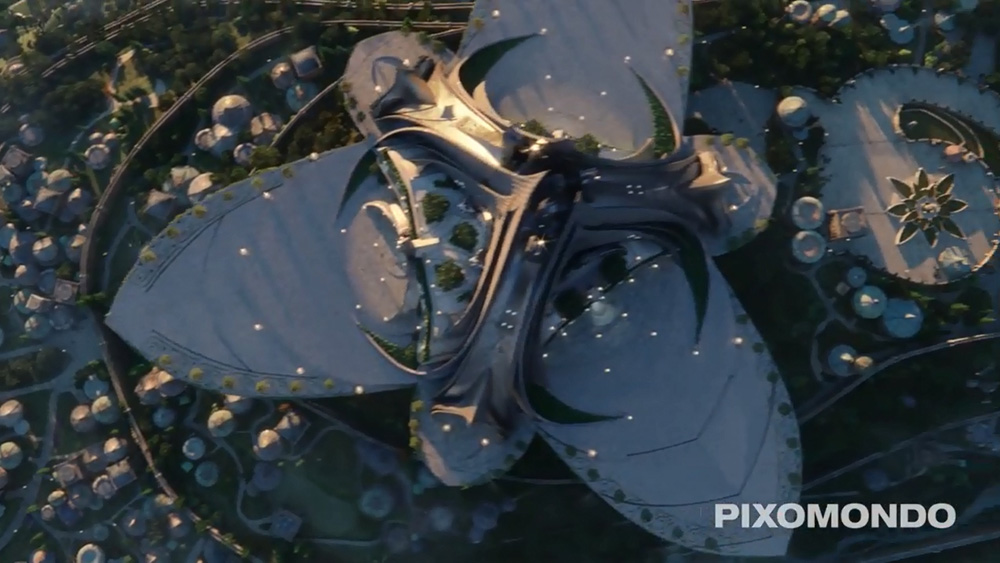 The TV Series category this year is one of the strongest seen so far at the AEAF Awards. Historical and modern drama, kids' animated series and live action sci-fi/fantasy top the list.
AEAF Speaker Lineup & Session times at a glance
16 August
AEAF VR Hub - VR projects for you to experience throughout the event
11am 16 August
PRODUCING LONG FORM ANIMATION
Practical advice on how to get animated features, TV series and other long form projects off the ground and into production.
Stefan Wernik
Co-Director of The Magnificent Itch
themagnificentitch.com.au
12 noon 16 August
VR/360 PRODUCTION
THE PRACTICALITIES OF CREATING VIRTUAL REALITY
Tracey Taylor, Executive Producer
and General Manager The Pulse
experiencethepulse.com
1pm LUNCH BREAK & Networking
2pm 16 August
FROM GEARS OF WAR TO LEGO STAR WARS - DECONSTRUCTING GAME CINEMATICS
Dane Maddams Executive Vice President
& Mick Hammell Head of production
plasticwax.com

3pm 16 August
NEW TECHNIQUES IN MOTION GRAPHICS
Simon Bronson
Motion Designer / Head of Design - Method Studios, Melbourne
simonbronson.com
methodstudios.com.au
4pm 16 August
VR EXPLODED - A VIRTUAL RIDE THROUGH LIQUID, REFLECTIVE BLOCKS AND CRYSTAL SIMULATIONS
Simon Maddison VFX Supervisor Cutting Edge
and CG & VR Lead, Aevar Bjarnason
cuttingedge.com.au
5pm 16 August
PANEL SESSION - with the day's speakers
IS OUR FUTURE REALITY VIRTUAL? - VIRTUAL & AUGMENTED REALITY - IMMERSIVE PRODUCTIONS

5:30pm 16 August
NETWORKING and R&R in the Chauvel bar
17 August
10am 17 August
CINEMA 4D AND AFTER EFFECTS Innovative use of Cinema 4D and
After Effects in creating motion graphics
Tim Clapham
Creative Director
Luxx
luxx.com.au
11am 17 August
TITLE SEQUENCE DESIGN
Scott Geersen
Director and Titles Designer
Substance
sbstnc.co
12 noon 17 August
Colin Renshaw
VFX Supervisor Co-founder Alt.vfx
altvfx.com
1pm LUNCH BREAK & Networking
2pm 17 August
Glenn Melenhorst
VFX Supervisor
Iloura
iloura.com.au
3pm 17 August
Paul Butterworth
Visual Effects Supervisor - Director
Animal Logic
animallogic.com
Paul will share the innovations and creative processes as they evolved on his
most recent projects at Animal Logic
4pm 17 August
To be announced

5pm 17 August
DISRUPTION - The future of VFX
PANEL SESSION with AEAF's speakers about disruptive new ways of creating, distributing and experiencing visual content using: Cloud services - Light Field technology - VR and immersive storytelling and more.
5:30pm 17 August
Drinks Reception & networking
7-8:30pm 17 August
AEAF AWARDS
After Awards drinks and networking
REGISTER TO ATTEND
AEAF Schedule
Speaker Program
11am - 5pm 16 August
10am - 5pm 17 August
5:30pm 16 August
NETWORKING and R&R in the Chauvel bar
AEAF Awards
Drinks Reception 6pm 17 August
AEAF Awards Screening 7:30 - 9pm
After Awards drinks and networking
AEAF VR Hub - VR projects for you to experience throughout the event
Chauvel Cinema 249 Oxford St Paddington 2021
Venue and Registration details
Full two-day Speaker program and AEAF Awards Screening,
Early Bird price with discounts for multiple bookings
1 person $145
2 - $138 per person
3 - $131 per person
4 - $125 per person
5 - $119 per person
plus gst
AEAF Awards Screening ONLY - with discounts for multiple bookings
1- person $32
2 - $30 per person
3 - $38 per person
4 - $27 per person
5 - $25 per person
plus gst
REGISTER TO ATTEND
For enquiries or special requests including group discounts - please call or email us. AEAF Enquiries Tel 02 9332 2822
Chauvel Cinema 249 Oxford St Paddington 2021
As a contrast to BlueBolt's invisible effects on historical dramas described in earlier AEAF news, Pixomondo has entered work created for 'The Shennara Chronicles', for which their team of 30 undertook visual effects set supervision for the whole first season, producing 350 shots over 10 episodes.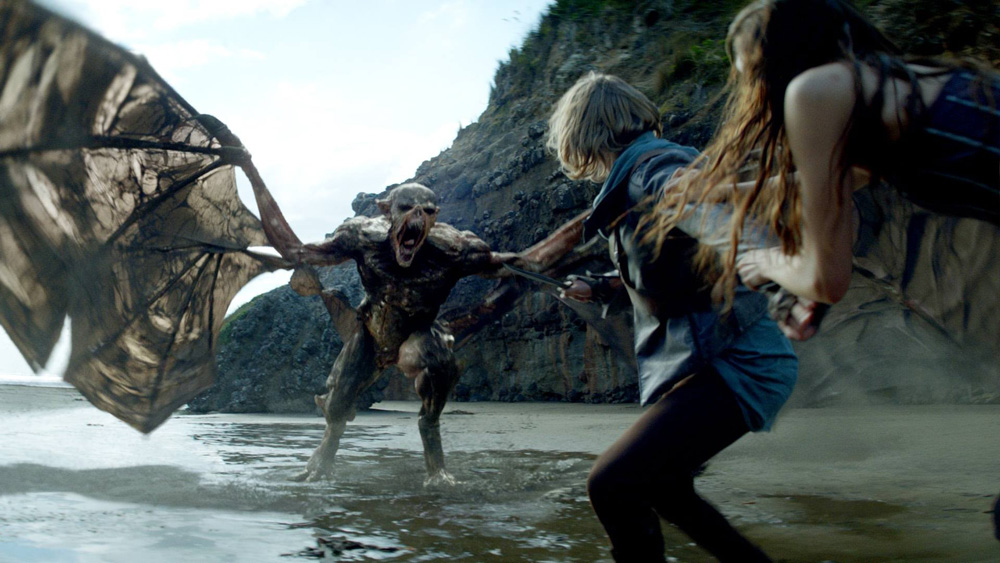 The project included design work for the fantasy creatures and environments and crowds. The creature animation and simulations involve transformations and interacting with live action characters. Simulations include scenes of destruction, eruptions and explosions, sometimes resulting in complex full CG shots.
Screen Scene's VFX work for 'The Frankenstein Chronicles' TV series, about detective John Marlott who investigates mysterious crimes in London in 1827, won the Irish Film & Television Academy award for Best Visual Effects this year. Scenes taking place in the story along the Thames River were actually shot in Northern Ireland and required changing the local woodland landscape into a period Greenwich Thames vista. A 3D camera track, a 2.5D digital matte painting and intense rotoscoping brought the shots to life on screen.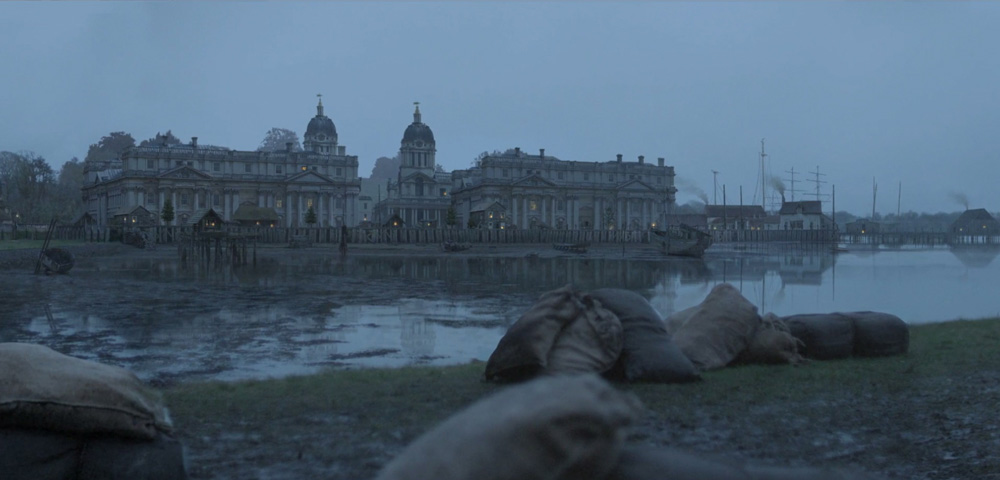 Another big VFX scene was a huge establishing shot of London's teeming Smithfield Market, crowded with CG animals and people and surrounded by the period buildings and streets of central London. This demanded further CG environments, matte paintings, matchmoving the sweeping camera moves and still more roto.
Other establishers were made for settings overlooking the Thames from Lambeth Palace to Westminster Bridge, built in a similar way. Scenes around the Isle of Dogs were shot at a location in Armagh, Northern Ireland that needed extensive cleanup and extending sets with 2.5D DMPs and views from witness cameras.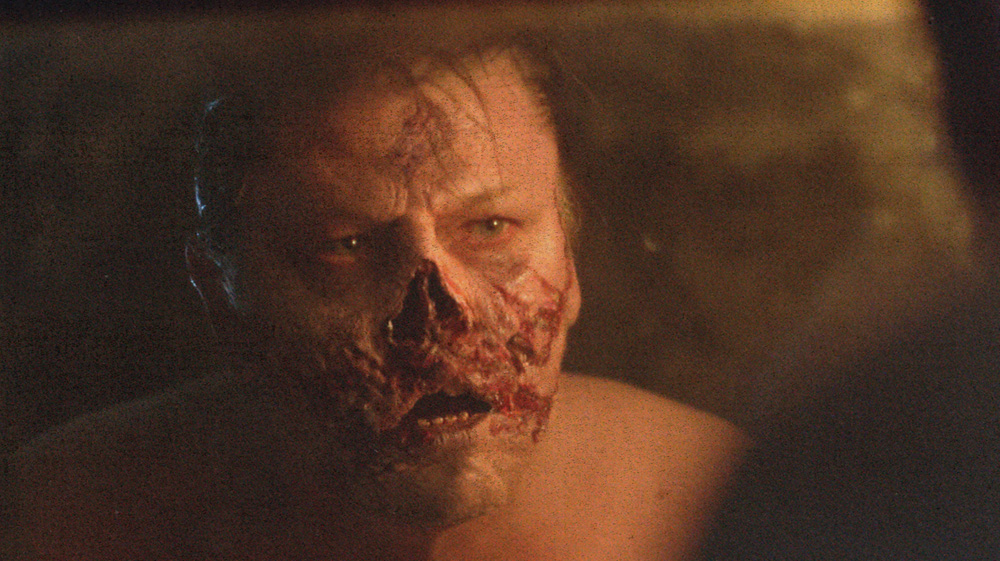 Part of the story concerns Marlott's suffering the early stages of syphilis, which haunts him throughout the series. In a shocking scene when he visits a patient in the final stages of tertiary syphilis he sees his own grim future ahead, experiencing flashbacks and nightmares in which he sees himself near death.
The key VFX challenge for Screen Scene's team was head replacement for the two actors playing Marlott and the patient, whose real heads were photographed, modelled, lit and animated in 3ds Max. Historical references were sourced, showing the extent of advanced Syphilis, and 360° HDR images of the set were captured to light the CG heads. Their software was Photoshop, ZBrush, Syntheyes, 3ds Max, V-Ray and NUKE.

To aid the design process, a mould was cast of each actor's head and the effects of the disease were physically sculpted on them. The VFX team photoscanned these models to begin high resolution modelling, and they also became VFX tools for on-set lighting reference, casting eyelines and a physical reference to look at as work progressed into digital and post production got underway.
Compositing facial and head replacements brings lots of challenges, not least of which is tracking. The decision had been quickly made to keep the actor's real eyes, which helps with realism and recognition but requires a very accurate object track. To assist, various witness cameras were used, and a wide lens camera was mounted to the main unit's Alexa camea. Extra photography of each cast member was taken showing facial muscle movement, which aided rigging, R&D and animation.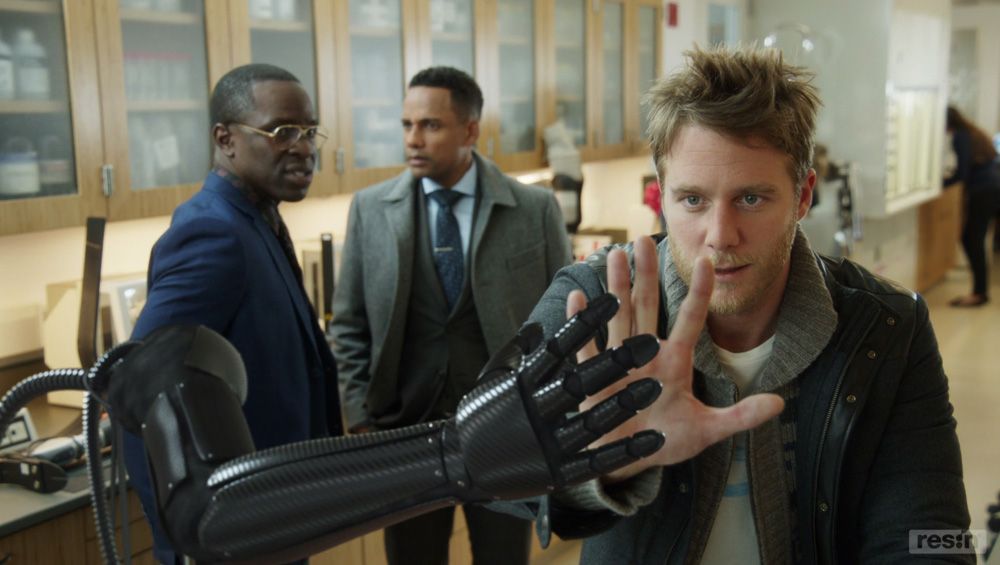 Resin in Adelaide has produced a selection of visual effects work for the CBS Network's TV series 'Limitless'. Resin created a photoreal robotic arm with Maya and NUKE that features throughout one of the episodes, and several stylised motion graphic sequences with After Effects used in two other segments, superimposed over and interacting with the live action.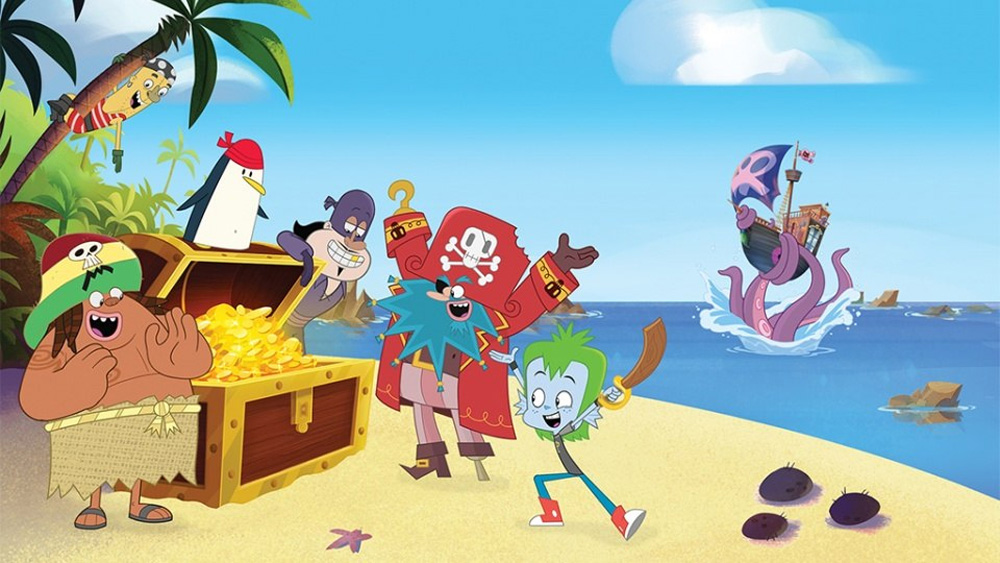 From Sticky Pictures is a new kids' animated TV series called 'Pirate Express' about Newt, the son of Poseidon god of the sea. Twelve year old Newt has accidentally released the troublesome Pirates that his father imprisoned in a bottle 300 years ago. He has now been charged with persuading the Pirates to change their ways.
The show follows his adventures, watching over his menagerie of misfits and keeping them out of mischief. He bravely leads the crew on bizarre voyages - but if the Pirates fall into trouble again, they will be sent back to their ship in a bottle for all eternity. The project was built and animated mainly in Toon Boom Harmony with Maya for 3D effects, and Final Cut Pro and Smoke for editorial.
Another children's series, 'The Deep', comes from Avril Stark Production about rival factions engaging in underwater intrigues to seize control of a stolen treasure. This 3D animation was created entirely in Softimage. www.aeaf.tv