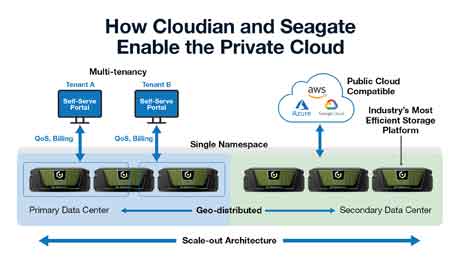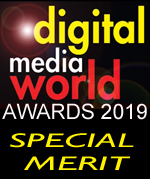 HyperStore Xtreme Powered by Seagate
CATEGORY: IP Post Production - Storage
Cloudian
As consumer demand for new formats such as 4K, 360 degree, and 60 frame video continues to accelerate, the impact on the storage infrastructure required to capture, process, edit, distribute and archive this high resolution media is significant. Post-production houses, visual effects teams, broadcasters and studios understand that traditional solutions are becoming cost-prohibitive and insufficiently scalable to meet the demand. Instead, they are now looking for high-capacity scalable storage that is cost-effective and allows them to start small and seamlessly scale to petabytes, without interruption or downtime.

As the most widely deployed independent provider of object storage systems that feature the industry's most advanced S3 compatibility, Cloudian recently joined forces with Seagate Technology to deliver a new storage solution that enables media organisations to better handle the ever expanding volumes of content, meet demand for anytime, anywhere access and leverage AI/analytics to fully monetise or maximise the value of their data.

Enter Cloudian's HyperStore Xtreme, powered by Seagate …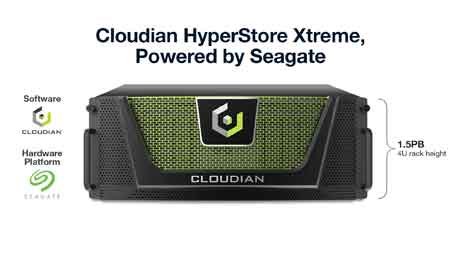 HyperStore Xtreme combines Cloudian's object storage software with Seagate's newest high-density storage systems to offer organisations the scalability and flexibility provided by the largest public cloud suppliers, but from within the broadcaster or production company's own facilities, ensuring they maintain full control of their content.
The solution provides content owners and creators with the ability to store and manage massive video files within a compact footprint. Built on an ultra-dense Seagate server platform, it enables users to store/manage over 55,000 hours of 4K video within just 12U of rack space - this represents a 75% space savings compared to an LTO 8 tape library with the same capacity, which is a notable benefit in an environment such as a broadcast centre where space is at a premium.

HyperStore Xtreme is also significantly faster than tape as well as more cost-efficient when tape management expenditure is factored in. At less than ½ cent per GB per month, it delivers up to 70% savings when compared with either traditional enterprise storage or public cloud storage.
Cloudian's native S3 API implementation also offers the industry's highest level of S3 interoperability, which means organisations deploying HyperStore Xtreme can capitalise on the rapidly growing ecosystem of S3-enabled applications whilst being compatible with public cloud platforms, including AWS, Google, and Microsoft.

Features and benefits include:
• Over 1.5 PB in a 4U height enclosure, providing up to 18 PB of storage in a single data center rack and 83% greater density than competing systems, thereby saving precious space within a facility
• Cost under ½ cent per GB/month, a savings of up to 70% vs. public cloud offerings.
• Increased cost-efficiency as the solution scales, in contrast to traditional storage systems that become costlier per unit of storage as capacity grows. This is ideal as formats expand in size and the list of deliverables increases.
• The ability to scale to an exabyte of capacity without interruption and span multiple locations while presenting all storage as a single pool.
• The industry's most compatible S3 object storage, proven interoperable with the rapidly expanding ecosystem of S3-based applications and cloud solutions.

HyperStore Xtreme is fully certified with all major MAM solutions, so it integrates seamlessly into existing media workflows. Examples include Evertz, Primestream, Evolphin, Viz One, Empress eMAM, Vidispine, and VSNExplorer.