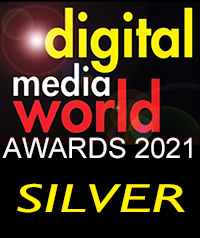 Cinema 4D Release 25
Post Production
Broadcast Graphics

Cinema 4D is an award-winning professional 3D modeling, animation, simulation, and rendering software solution. Used by numerous filmmakers, VFX artists, and motion designers, Cinema 4D is considered the favorite and most accessible animation software. The most recent update includes a new modern skin, user interface enhancements, an expansive preset system, Spline Import options, and Capsules.
This latest release of Cinema 4D has provided significant new functionality to the software that will allow for a frictionless and intuitive design experience for motion and graphic design artists. New updates, such as Spline Import options allow users to easily use Illustrator, PDF, and SVG vector artwork in their 3D scenes. Capsules allow anyone to tap into the power and flexibility of Cinema 4Ds Scene Node system, with plug-in-like features directly in the Classic Object Manager.
Cinema 4D R25's fast, powerful, flexible, and stable toolset makes 3D workflows more accessible and efficient, empowering creativity for design, motion graphics, VFX, AR/MR/VR, game development, and all types of visualization professionals. It provides them with the tools they need to be able to quickly and easily create complex 2D and 3D animations and help optimize their workflows. Cinema 4D has been used to support the creation of complex visuals in numerous notable projects. Most recently this includes the development of several fantasy user interfaces in the MCU's WandaVision series.
3D motion design artist for the show, Robin Haddow, says, "What's great about Cinema 4D is that it's easy to hash out ideas quickly to figure out what works and doesn't work in a given scenario. Additionally, the ease with which it speaks to After Effects is hugely beneficial; I was able to easily pull specific 3D null data to place 2D and 3D assets directly on the timeline, which is important when calling out tracking beacons and location markers. The result is a host of dynamic assets that tie back to the whole Marvel Cinematic Universe."