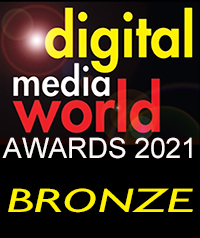 FOR-A - MV-1640IP Multiviewer
Playout
As the need for signal monitoring and quality checking has escalated at all points in the broadcast chain, so the move is away from big, dedicated multiviewers to smaller products which can create highly tailored mosaics at the point they are required. The MV-1640IP is designed with precisely this requirement in mind. The 1U appliance supports up to 32 inputs at up to 4k resolution: 16 on SMPTE ST 2110/ST 2022 streams and 16 with an optional SDI card. The network connection uses an SFP+ port and can support 10 Gb and 25 Gb ethernet. Network ports can be duplicated for SMPTE ST 2022-7 redundancy schemes to make the system.
Stream switching is by NMOS. The multiview output is a free arrangement of any of the inputs, from either IP or SDI, up to a 5 x 5 matrix. Layouts can be defined in advance and selected by the front panel - a web application, or pre-programmed to switch at specific times. The MV-1640IP supports the following two output combinations (up to five outputs): one 12G-SDI output or four 3G/HD-SDI outputs and one HDMI output together with one 12G-SDI output and three 3G-SDI output and one HDMI output. Images are re-sized as appropriate, converting between HD and 4k as required.
Built in signal monitoring detects frozen frames, supporting external control via SNMP. The unit is capable of streaming motion JPEG for monitoring over remote web-enabled devices. While the directly connected screens feature alarms, tallies and audio levels, a Windows application allows a clean streamed output, allowing it to be used for conformance recording or fault trail analysis. A roving engineer could even monitor systems from a tablet or phone. Finally, MV-1640IP units can be cascaded creating larger displays with many more windows, all controlled from a single user interface.
The MV-1640IP multiviewer is the right product at the right time. It incorporates all the functionality required for point multiviewers in a hybrid architecture, allowing monitoring of multiple signals whatever their source, format or resolution. It offers all the flexibility needed to design, select and modify layouts. Layouts can include any combination of image sizes as required by the application, up to 25 windows on a single screen. Because units can be cascaded, very rich displays can be built up, with simple control and minimal latency. In IP environments, it conforms to all the elements of the SMPTE ST2110 standard for video, audio, ancillary data and timing. Availability is high through two independent network connections under the ST2022-7 redundancy scheme. It is compact, affordable, flexible, readily implemented and meets the real needs of today's system architecture in a transitional or hybrid environment.