The winning products entered into Digital Media World Awards 2022 help broadcasters, service providers, producers and many others adapt to the evolving content production and distribution landscape.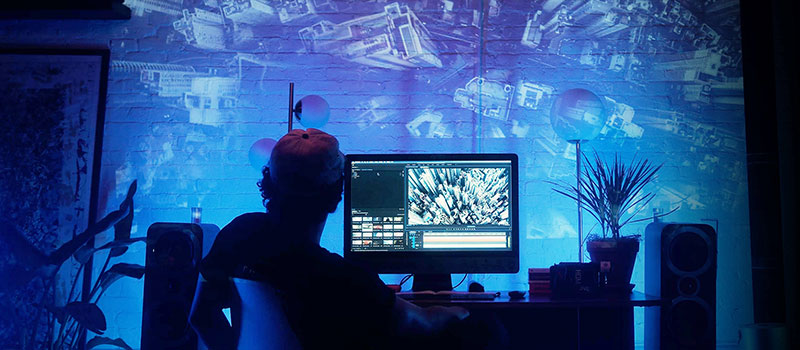 The products entered into the Digital Media World Awards this year are helping broadcasters, service providers, content producers and many other industry players adapt to the evolving content production and distribution landscape in impressive ways including cloud adoption, IP transitioning, AI/ML applications, automation and more. The winners listed below show true innovation and commitment to the industry.
IP Broadcast Solutions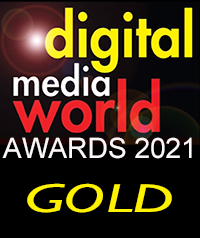 GOLD Lawo - .edge
Lawo .edge provides abundant SDI inputs and outputs in a compact footprint, at 25GbE or 100GbE with full routing capabilities. Users can add hardware and software functionality via software licenses to customise a combination of features, making .edge a drop-in, software-defined replacement for a legacy SDI router. .edge's compact 2RU housing accommodates up to 192 HD-BNC connectors. Large SDI routers can be IP-native, 24RU small, consume only 24x 100Gbps network ports – a third of what other systems need – and still be more powerful, scalable and future-proof. Support for SMPTE ST2110 standards with SMPTE ST 2022-7 redundancy is built in for essence-based handling and ensuring direct protection switching of audio, video and ancillary data streams in local and wide-area network operations.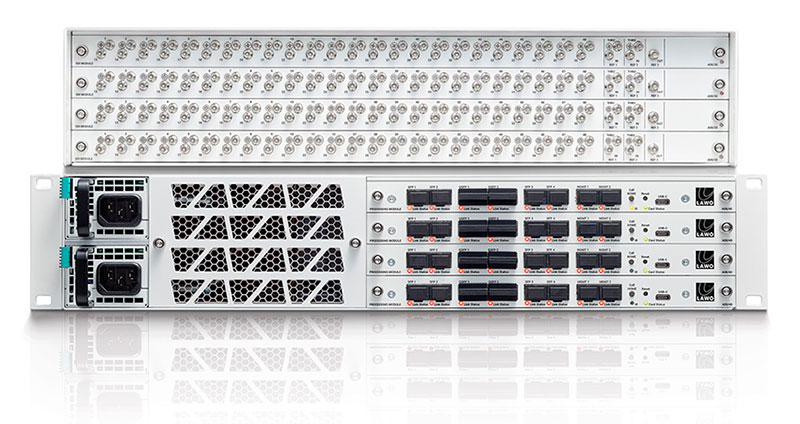 SILVER Cerberus Tech – Livelink
Livelink is a robust IP delivery system that transports live linear and OTT content from point-to-point or multi-point. It combines a protocol-agnostic, multi-cloud compatible infrastructure with low-latency reach. The Livelink platform simplifies IP workflows so users can self-serve content delivery or choose managed content services, supported by a global network of technical partners. Cerberus Tech continuously improves the platform based on technology advances, user feedback and changes to the way operators work.
With Livelink, converting at source using expensive single-use equipment, or via a service provider at a mid-point in the distribution chain, is unnecessary. Its cloud-native frame and format conversion runs on available CPU cycles in cloud compute engines. This reduces dependence on specialist hardware and mitigates the risks associated with global supply chain challenges. Its on-demand pricing structure lowers the cost of conversion to a fraction of traditional installations. The ability to move infrastructure into a stasis mode means companies can reduce costs and work more sustainably, with no wasted resources.
BRONZE Kiloview Electronics - Kiloview Ecosystem
The Kiloview ecosystem makes the most appropriate hardware devices and software applications available to cover IP streams in different protocols, including SRT, RTSP, RTMP, HLS, RTP, TS-UDP, Full NDI, NDI|HX, or basic SDI and HDMI. Kiloview's latest roadmap gives an overview of all Kiloview products – including Kiloview N60, CUBE X1 NDI CORE, LinkDeck Series plus servers and decoders – which are based on the 'Any In, Any Out, Anywhere' concept, dedicated to bringing in any video source and converting it to any source out, anywhere on the network.
SPECIAL MERIT Caton Technology - CatonNet Video Platform (CVP) multipathing
SPECIAL MERIT RIST Forum - RIST Protocol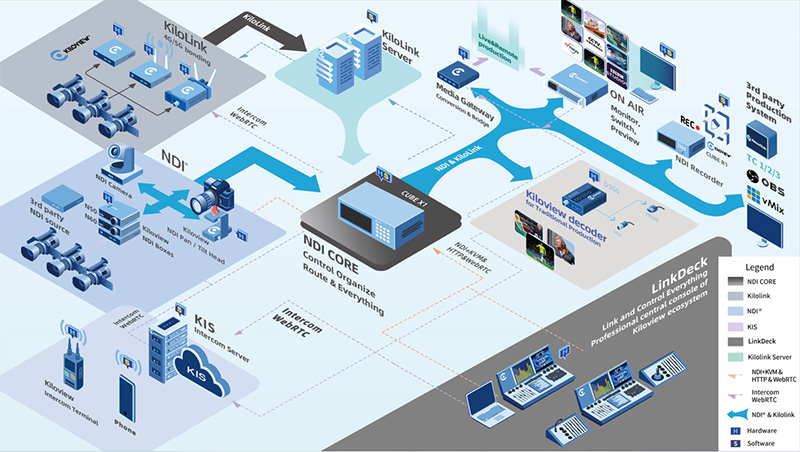 Streaming
GOLD Broadpeak – broadpeak.io
broadpeak.io is an API-based platform that adapts streaming to the context of the situation – content rights, network, device and so on – in real time. It serves as a fast, reliable way for content providers, pay-TV operators and OTT service providers to deliver and monetize streaming experiences.
Supporting applications including dynamic ad insertion, content replacement and virtual channel, the platform is a one-stop-shop for manifest manipulation. To compete with major services like Netflix or Hulu, delivering features quickly is essential. broadpeak.io uses CI/CD pipelines and native public API to help service providers launch new streaming services immediately. broadpeak.io is the first fully hosted cloud service to automatically contextualize the video streaming experience at scale, both per-user and permanently. broadpeak.io is also the first self-serve dynamic ad insertion (DAI) as-a-service that is agnostic to the entire ecosystem, including the packager origin technology, which simplifies the delivery of targeted ads and enables OTT service providers to start monetizing content quickly.
SILVER Harmonic - VOS 360 Cloud SaaS Platform
Harmonic's VOS 360 cloud SaaS platform simplifies all stages of media processing and delivery for video streaming and broadcast services and runs on the three major public clouds. The VOS360 SaaS platform speeds up the creation of linear channels, sports events and streams for direct delivery to consumers or syndication partners. Unifying the media processing chain, VOS360 features media processing functions including ingest, playout, branding, transcoding, statistical multiplexing, encryption, packaging, origin, server-side ad insertion and delivery.
The VOS360 platform is based on a flexible SaaS business model and can be deployed in a geographically distributed configuration. It brings innovation to many streaming applications such as sports events, TV Everywhere, broadcast, ad-supported TV, cloud distribution and channel origination.
Harmonic's VOS360 platform scales in real-time, allowing users to handle viewing peaks in seconds. It also now supports multiview and watch together, with personalised live streaming and HDR10+. The VOS360 platform improves content protection for live sports streaming with new watermarking-as-a-service through partners NAGRA and Viaccess-Orca.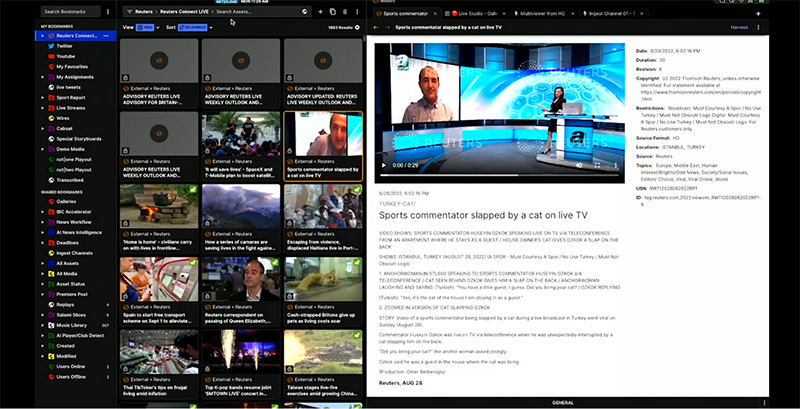 nxtedition Virtual Assets
BRONZE Agile Content - ACD CDN Management & Orchestration
Agile Content recognises the fragmented nature of the video CDN landscape due to new deployment options in the market. As video QoE gains importance, and standards like Open Cache and Mobile Edge impact delivery, standard web caches alone are not able to handle the demands of modern streaming networks. Furthermore, creating a CDN from standard web caches is complex, costly and time-consuming.
As an alternative, many operators are forming partnerships and building networks with major cloud providers, and locating them very close to the network edge. Agile Content considers that, regardless of the business strategy, CDN management and orchestration are key.
Agile Content Delivery (ACD) CDN management and orchestration is cache agnostic and can manage private, cloud and hybrid CDNs as well as optimise them for high-quality video delivery, overcoming the challenges of building custom management solutions. ACD manages the complexity within the CDN (intra CDN), between multiple CDN vendors, and has a streaming CDN router for load balancing and QoE management. It also supports offloading to third-party CDNs to handle peak loads.
SPECIAL MERIT Amazon Web Services (AWS)- Channel Assembly in AWS Elemental MediaTailor
SPECIAL MERIT Colorfront - Streaming Server Mini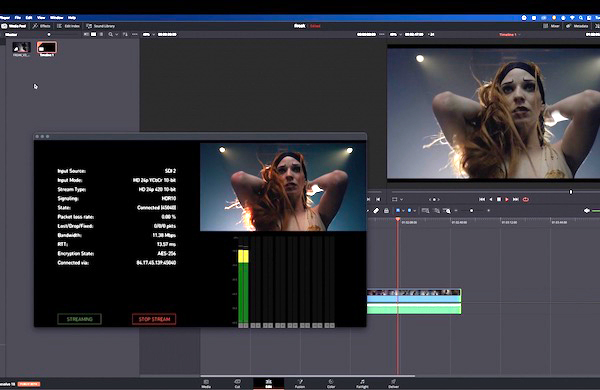 Colorfront Streaming Server Mini
Playout
GOLD nxtedition - Virtual Assets
nxtedition virtual assets removes the complexity from the task of integrating multiple APIs from different vendors, allowing users to search web content, social media, an entire news wire service API, email or legacy archive system from directly inside nxtedition. and requires no complex engineering.
When a nxtedition user selects a domain outside of nxtedition, virtual assets will switch to the third-party API and fetch all the data, content and metadata, displaying it within the user interface. The virtual assets feature behaves like an OS for third-party systems by integrating them deeply into the user experience. The same applies to social media, where Tweets or Facebook comments can be virtually ingested and organised in storyboards or sent to html graphic templates. Entire legacy archives can be searched through their APIs instantly, and relevant clips can be brought in on demand. Email inboxes can also be integrated, harvested, and used for story ideas or content.
SILVER Broadcast Traffic Systems - BTS AVOD
Broadcast Traffic Systems' (BTS) scalable, ad-supported video on demand traffic solution, BTS AVOD, enables media companies to rapidly launch Advertising Video on Demand (AVOD) channels. It simplifies the management of VOD services and allows targeted advertising, enabling broadcasters to maximise monetisation opportunities.
BTS AVOD is a cloud-based application that can be remotely accessed via a web browser. BTS AVOD can take a single VOD asset and create a mini schedule for playout, create breaks within the VOD asset and schedule all associated promotional and branding events. The channel or platform can place advertising into those breaks, which can also be precisely targeted to the viewer to maximise engagement and ROI for advertisers. Break manipulation allows break times to be adjusted for certain demographics, and compliance checking, to ensure that content and ad-timings are correct.
Production
GOLD Codemill - Accurate.Video
Accurate.Video cloud-native tools optimise content preparation by automating media operations, allowing media and entertainment organisations to manage content at scale using metadata visualisation, media QC and validation, audio features, and support for subtitles and closed captions, with annotations and markers.
Its QC and validation workspace moves media content through the supply chain efficiently, and
Codemill's new Just-in-Time (JiT) initiative enables real-time playback of full resolution media, directly from the cloud using a standard web browser, from any location. It supports technically challenging media formats and codecs such as Apple QuickTime ProRes/MOV and MXF, including XDCAM HD and JPEG 2000, directly from Amazon Web Services S3 cloud storage.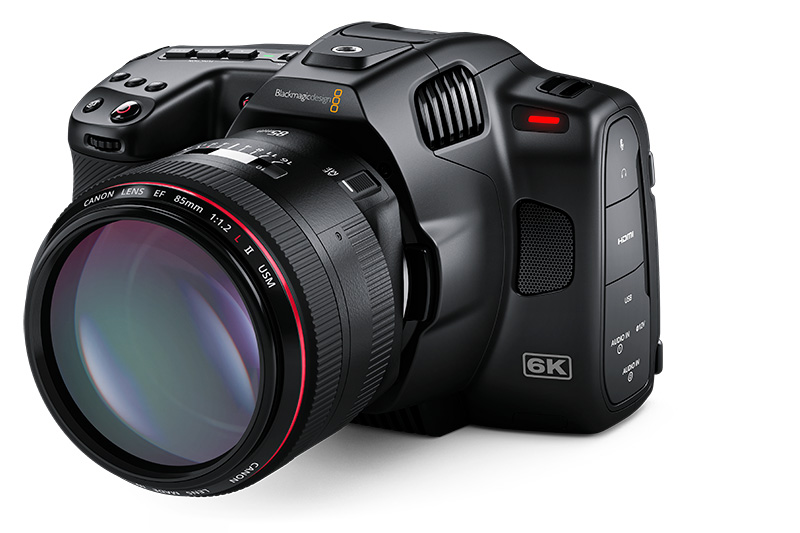 SILVER Blackmagic Design - Pocket Cinema Camera 6K G2
The Blackmagic Pocket Cinema Camera 6K G2 has a cinematic Super 35 HDR image sensor with 13 stops of dynamic range, dual native ISO and EF lens mount in a miniaturized, handheld design. It uses Blackmagic generation 5 colour science and the sensor reduces thermal noise allowing cleaner shadows and higher ISO. The large 5 inch LCD makes it possible to get perfect focus at 4K and 6K resolutions.
The camera has a new dynamic 12-bit gamma curve designed to capture more color data in the highlights and shadows. The colour science also handles some of the complex Blackmagic RAW image processing, preserving dynamic range data from the sensor via metadata which can be used in post production.
BRONZE EVS - MediaHub
EVS Mediahub is a cloud-based platform that maximizes the reach of live events by publishing and distributing non-linear, live and near-live content with rights holders online. Its media functions help to connect with and meet the production requirements of digital and broadcast rights holders by virtualizing the physical infrastructure of an IBC and monetizing content, while preserving the quality, reliability, and usability of onsite deployments.
Service Providers can operate a Mediahub platform on their premises, embedded in their network, or hosted on a private data centre. At the same time, MediaHub ensures that content takers and rights holders become more effective and efficient in their remote production workflows. MediaHub's access restrictions to all assets are configured by the content owners, and direct integration of multiple sources based on AI tagging and metadata generation allows users to find content quickly.
SPECIAL MERIT Cinedeck - Capture2Cloud
SPECIAL MERIT ARRI - ARRI LightNet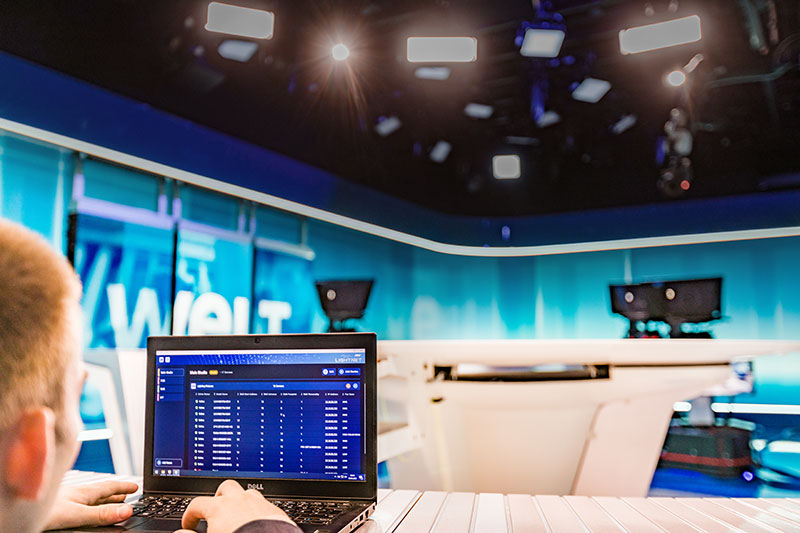 Post Production
GOLD AJA - ColorBox
AJA ColorBox is a portable device with inline algorithmic colour transforms and LUT processing capabilities delivering precise and accurate colour space conversions for live broadcast, live events, on-set production, and post. ColorBox enables a range of HDR and SDR conversions and allows DITs to load, modify and save looks, and create reference images for dailies to ensure colour accuracy across all production stakeholders and vendors.
Designed to support a wide range of look management approaches on-set and in live production environments, ColorBox users also have a built-in RGB colour corrector and ProcAmp, extensive LUT, matrices and image libraries, capture and recall capabilities and ancillary (ANC) metadata management. All of this can be controlled via an integrated web browser-based interface.
SILVER Dalet - Pyramid Cut
Dalet Pyramid Cut helps journalists to produce stories from anywhere for all platforms – digital, social, TV and radio – simultaneously. A browser-based cloud-native multimedia editor, it gives Dalet Galaxy Newsroom users fast, web-based news editing, even with limited bandwidth. Journalists can upload rushes, gather source materials, edit videos and publish remotely from anywhere.
The Dalet Pyramid Cut Media Bin encourages collaboration by allowing content to be accessed by broadcast or digital teams working on the same story. It is cloud-agnostic, and can also run in virtualized environments for mobility to support remote productions. Dalet Pyramid Cut benefits from the Dalet media asset management and orchestration engine running ingest, production, delivery and archive workflows for the wider Dalet unified news operations solution.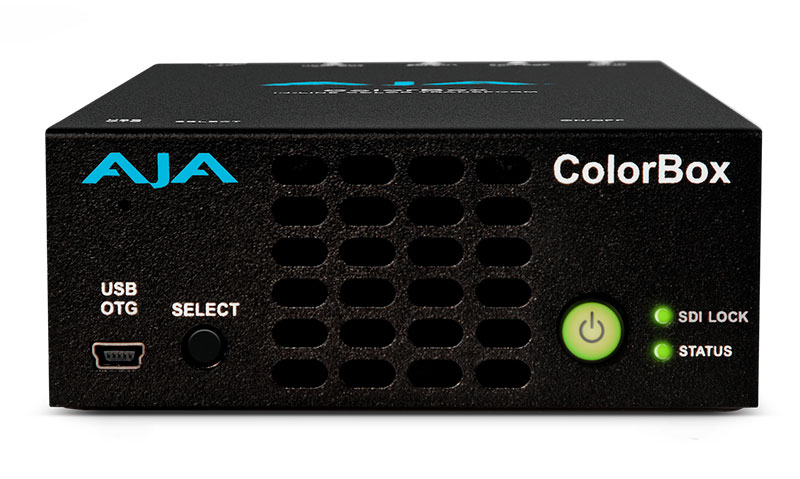 BRONZE Autodesk - Maya Creative
Autodesk Maya Creative makes content creation more accessible by lowering the barrier to entry for artists at smaller facilities. This more affordable and flexible version of Maya is an option that suits teams who want to access professional 3D tools to scale capacity – VFX facilities, for instance, are being hired to create high quality content, quickly, for streaming services aiming to attract subscribers.
Maya Creative features tools for film, television and game development, including Maya's full industry-standard toolset – 3D modelling; UV, lookdev, and texturing; motion graphics; animation rigging and deformation; camera sequencing; rendering and imaging; and data and scene assembly. The Arnold renderer is included to meet the demands of complex, photoreal VFX and animation workflows.
Broadcast Graphics
GOLD Epic Games - Unreal Engine 5
Unreal Engine enables broadcasters and creatives to design interactive content with visual fidelity and flexibility. Unreal Engine 5 introduced a new dynamic global illumination system, a new geometry system, customizable particles and other features supporting applications for augmented reality (AR), motion graphics, video walls and virtual sets.
The Live Link plugin makes UE5 compatible with 3D tracking systems, and support for protocols such as OSC allows control of devices. A built-in compositor facilitates real-time compositing directly in the Unreal Editor, so that real-time VFX can be delivered in camera. Other tools include a green-screen keyer, support for virtual cameras, and post-process effects including colour grading, OpenColorIO, depth-of-field, lens flare and lens distortion and others. The nDisplay system renders real-time content at any resolution, then displays it precisely in sync on physical and/or projected screens.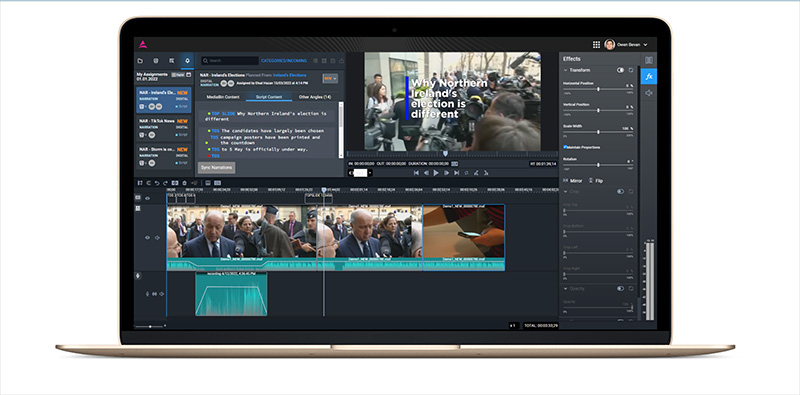 Dalet Pyramid Cut
SILVER Vizrt - Viz Engine 5
Viz Engine 5 introduces Adaptive Graphics, an intelligently automated way to deploy graphics to multiple output formats simultaneously. Adaptive Graphics is a single workflow, multi-platform content delivery system that automatically adjusts resolution, format and layout to support specific display devices so that graphics are optimized for the viewer.
This update means graphic artists can create once and publish multiple times – saving time, reducing errors, and improving production quality. Once templates are set up for the desired outputs, graphics will be readable and adjusted to suit any destination. Adaptive Graphics also result in a better look and unified identity across all platforms, protecting the media provider's brand. Due to Viz Engine 5's integration with Unreal Engine 5, users can blend the two render paths into a single graphics workflow.
Cloud Based Services
GOLD Ateliere Creative Technologies - Ateliere FrameDNA/Deep Analysis Video Deduplication
The need to distribute and stream content to multiple platforms and/or countries results in many versions of content to meet numerous different compliance requirements and language needs; one title could generate hundreds of versions. Content libraries and archives contain significant duplication that stresses storage pools, and makes moving content into flexible cloud-based delivery and distribution workflows too costly. Deep Analysis/FrameDNA automates video deduplication, optimizing storage pools and easing movement of content into the cloud.
Ateliere's FrameDNA AI/ML first fingerprints every frame in the image track of a file upon ingest into Ateliere Connect, and based on structural similarities, identifies the scenes that are different, allowing for comparison. Deep Analysis can then automatically extract the variant clips without having to manually scan through the entire file.
Deep Analysis is IMF generation in the cloud, converting the results of its scan into a base Composition PlayList (CPL) that contains the original material and various supplemental (CPLs) that describe how to combine your original material and deltas together to compose different versions. The deduplication workflow reduces QC costs by limiting content to be validated only to elements that are different, such as subtitles. By storing content in the form of CPLs, users can quickly render the required localised versions on demand, keeping and discarding texted elements based on the content platform's requirements.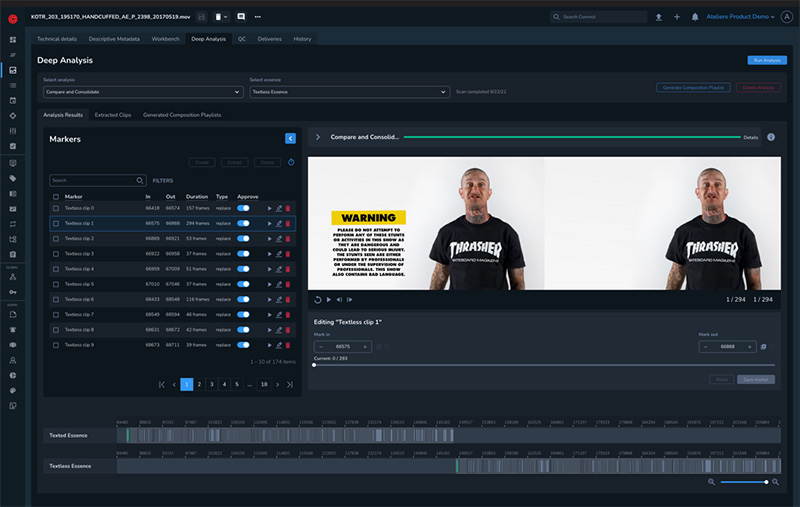 SILVER Cinegy - Channel-in-the-Cloud
The latest version 22.6 of Cinegy Channel-in-the-Cloud, brings together Cinegy Air PRO playout and automation, Cinegy Multiviewer and the Cinegy Capture acquisition and transcode system in a single bundle available on AWS and Microsoft Azure Marketplace.
Cinegy Channel-in-the-Cloud gives broadcasters and organisations a simplified way to instantly get single or multiple channels of SD, HD and/or Ultra HD 4K playout up and running in the cloud. The package delivers automation, playout, branding, master control, analytics and alarms in a single, ready-to-launch cloud instance with hourly pay-as-you-go pricing
Cinegy notes that the cloud is the ideal environment for one-off or short-term channel playout. The speed of cloud deployments allows dedicated broadcast channels for events such as a multi-day sporting event or election coverage to be launched and retired within hours. For a niche broadcaster, using Cinegy Channel-in-the-Cloud for cloud-based operation makes more sense than investing in a physical playout operation or outsourcing the operation to a third-party service provider.
BRONZE Vizrt - Viz Now
Viz Now makes cloud production feasible for more organisations. It has tools non-technical staff can use to create complete pre-configured live productions in the cloud, including 4K switching, broadcast quality graphics, studio automation, replay/slow-motion, dedicated audio mixing, sports analysis and intercom.
Viz Now rapidly automates secure deployments of live production tools in the cloud, saving weeks of IT effort, starting with on-demand live production capacity and secure anywhere-access.
Viz Now automatically deploys the live production tools into customer's own Amazon Web Services (AWS) account, which means they can negotiate their own AWS pricing and maintain complete control over their live production environments.
SPECIAL MERIT Blackmagic Design - DaVinci Resolve 18 and Blackmagic Cloud
SPECIAL MERIT Dalet - Flex for Archives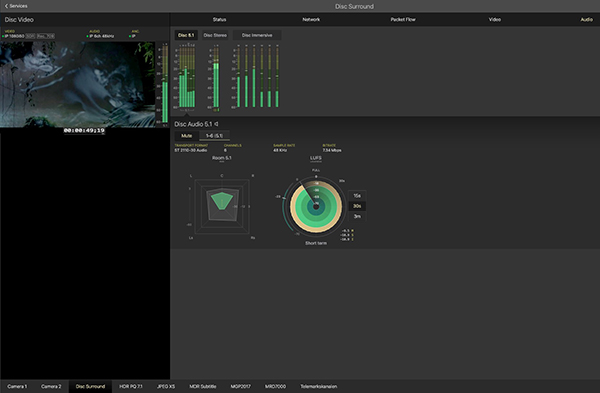 Storage
GOLD Spectra Logic - Vail Distributed Multi-Cloud Data Management
Vail combines cloud storage and on-prem infrastructure into a single name space.
Vail helps orchestrate data across multiple clouds and multiple sites to ensure that data is in the location where it brings the most value and at optimal cost. Customer defined policies automate the placement of data while assigning the retention policies that best serve the organisation.
​
Vail also extends users' data centres into the public cloud by unifying on-prem and cloud storage into a single namespace. Organizations can extract more value from their data by enabling legacy and modern applications to take advantage of cloud services, wherever the data resides. The data is available from one or multiple locations, allowing local and cloud applications to use the same data without impacting performance. Data that is no longer needed in the public cloud is removed. Vail curates copies of your data and, through policy management, transfers the data to the optimal location for as long as needed.
SILVER Alteon.io - Alteon Cloud
Alteon Cloud content management and collaboration system helps individual content creators, companies and clients work together, organize assets and collaborate efficiently. It allows for timestamped comments, flexible cloud storage, NLE integrations including Final Cut Pro and Premiere Pro and secure file sharing, from a single hub that consolidates different tools into one workflow.
Creators upload media to the secure cloud platform, built on IBM Cloud, either through a browser or Alteon's desktop uploader application. All video files are transcoded automatically to make the original or proxy downloadable. Assets can be stored in Active, Nearline or Archive storage, saving money on finished projects, and can be shared.
Creators invite collaborators to review and contribute to projects and leave precisely timestamped comments to communicate and review files. Creatives can open an Alteon panel within their Premiere Pro or Final Cut Pro UI, and when footage is checked back into the cloud, Alteon updates originals and proxy files automatically.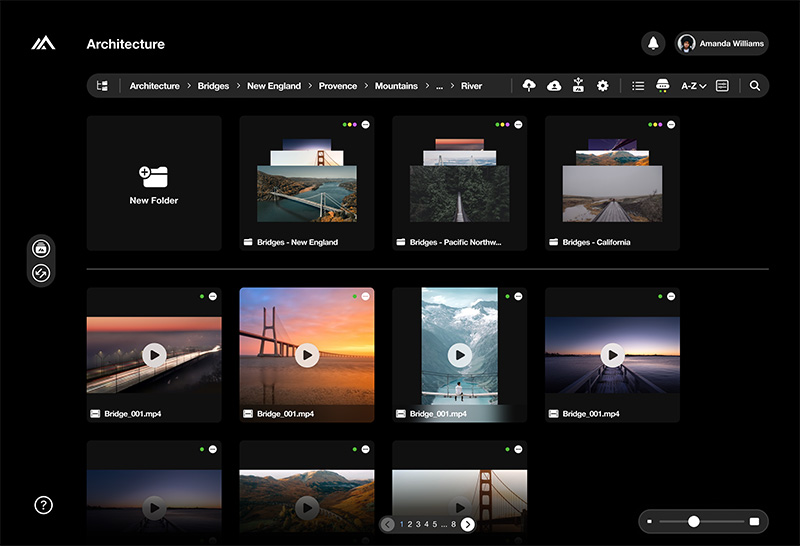 QC QA Monitoring
GOLD Witbe – Witbox+
Witbox+ tests and monitors video services on multiple devices, including OTT boxes, Smart TVs and mobile platforms. Designed specifically for video operations teams, the Witbox+ is highly scalable, compact and simple to set up. Users plug any physical device – set-top box, Smart TV, iPhone, Android, Apple TV, PlayStation 5, or any other OTT device – into the Witbox+ unit to start automatically testing and monitoring any digital service running on it.
The Witbox+ supports 4K video and 5.1 surround sound, as well as Bluetooth and RF4CE control, for up to four different devices simultaneously. The Witbox+ is helping cable and telecommunications companies, broadcasters, video service providers and other players in the video streaming market deliver a better QoE. As well as video service monitoring, the Witbox+ can be used to automate QA testing, work remotely, for QoE benchmarking.
SILVER Triveni Digital - StreamScope XM Monitor
Triveni Digital's ATSC 3.0 StreamScope XM Monitor is a new tool for broadcasters operating in the NEXTGEN TV environment, critical to delivering high quality monitoring, auditing and logging services for NEXTGEN TV, while increasing operational efficiencies for broadcasters. Monitoring ATSC 3.0 streams in real time, StreamScope XM performs real-time analysis of ROUTE, MMTP, and STLTP streams from RF, Ethernet and file inputs at multiple delivery points, long-term monitoring and reporting and real-time monitoring.
Using data integrity capabilities on the Monitor, broadcasters can ensure accurate delivery of broadcast applications and datacasting content, a key revenue generator for broadcasters in the ATSC 3.0 environment. They can also ensure compliance with key industry regulations including closed captioning, audio loudness and the Emergency Alert System.
BRONZE PHABRIX - QxP
The QxP is a new portable waveform monitor in a compact 3U form factor, ideal for on-set and in studio SDR or HDR productions, post, grading, shading or QC, MCR, engineering and R&D environments. Incorporating a 1920x1080 LCD multi-touch display with new user interface plus keypad control and an external HDMI rasterizer output with up to 16 instruments, the QxP addresses existing and emerging production infrastructures. It suits workflows involving HD, UHD, SDR, HDR, SDI and IP, as well as conventional and remote productions.
Uniquely, the UI and stereo monitoring bus are also available as 2110 IP media flows for monitoring via the media network. Operator level IP flow health and PTP monitoring tools are supplied with warnings and alarms. The QxP is one of the first devices of its type for which SDI is an option, serving as an entry point for the modern HD IP broadcast user with the flexibility of firmware for UHD over IP, QC, engineering, HDR, on the same platform to meet the evolving needs of the business and future proof the investment.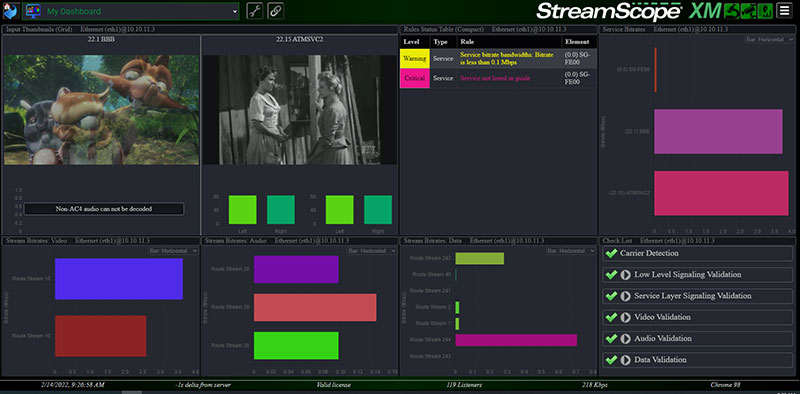 SPECIAL MERIT Matrox Video - Matrox VERO ST 2110 Signal Generator and Diagnostic Appliance
Video Processing
GOLD iSIZE – BitClear
An AI-based video processing technology, BitClear makes degraded videos watchable by removing compression artifacts from user-generated, or heavily compressed content. Video content exposed to multiple transcoding iterations can be revived to the maximum possible quality without affecting the original artistic intent of its creators. The process also allows for video upscaling with as little as 30ms processing latency on GPUs or high-performance CPUs.
While it learns the noise signatures of the various encoding standards, BitClear can process any highly compressed content and produce a higher-quality output. BitClear specifically targets the compression artifacts of typical MPEG or AOMedia encoders, focusing on highly compressed or highly distorted content. Its neural network architecture makes it scalable, up to huge volumes of parallel processing. Its underlying AI principles can be applied to other applications, such as restoration of archive content, that require the separation of image from noise and distortion.
SILVER Haivision - StreamHub
Haivision StreamHub is a versatile broadcast-grade receiver that decodes and distributes live video streams coming from any Haivision/Aviwest mobile transmitter or third-party platform. Designed to meet the requirements of broadcasters deploying video contribution systems over mobile and IP network, StreamHub is a scalable and tailored video system for receiving, managing, and sharing live streams from multiple mobile transmitters via a single interface.
Supporting both H.264 and HEVC with resolutions up to 4K UHD, StreamHub can be deployed on-premise or in the cloud for low latency transcoding and decoding to SDI, NDI, ST-2110, SRT and other IP outputs. Users can send on-air programs to operators in the field, teleprompter information coming from the studio, or live content received from other Haivision/Aviwest transmitters. Any live content received by a StreamHub receiver can be sent to any connected mobile transmitter needing no further equipment.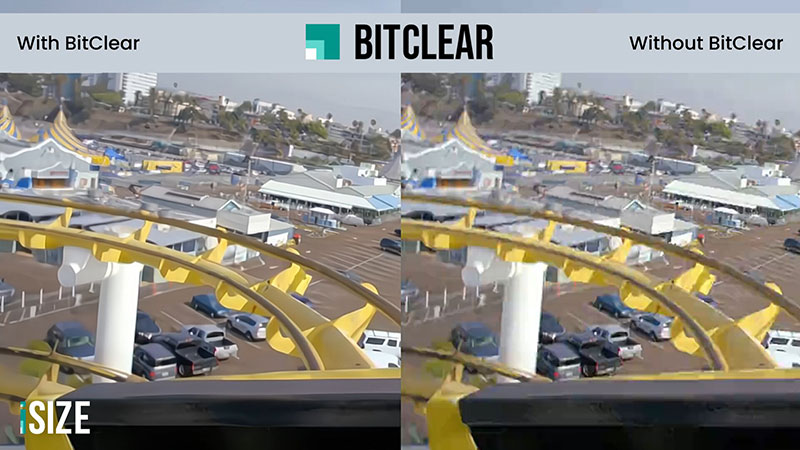 BRONZE Matrox Video - ConvertIP SMPTE ST 2110 Converters
The Matrox ConvertIP Series of standalone SMPTE ST 2110 converters are engineered to display ST 2110-20 and ST 2110-22 sources on HDMI or SDI monitors. Supporting flexible input and output reconfiguration options, ConvertIP supplies up to 25 Gbps of connectivity allowing the delivery of uncompressed 4K video over ST 2110.
With multiple connectivity options, uncompressed and JPEG-XS support, a fanless design and NMOS control, Matrox ConvertIP SMPTE ST 2110 converters are flexible, reliable and support uncompressed and JPEG-XS HD/4K video over 10 GbE and 25 GbE ST 2110 networks. These devices also include PoE+ and PSU power options and host an independent control network port for in-band or out-of-band operations. As part of the 2022 Joint Task Force on Networked Media (JT-NM) testing program, ConvertIP successfully tested for the SMPTE ST 2110-22 and the NMOS/JT-NM TR-1001 specifications, assuring interoperability within multi-vendor ST 2110 ecosystems.
Virtual Production
GOLD Mo-Sys Engineering - bMR (broadcast mixed reality)
Mo-Sys partnered with on-air graphics specialist Erizos Studios to develop bMR (broadcast mixed reality), combining Erizos' expertise in broadcast graphics and MOS based news/sports workflows, with Mo-Sys' innovation in LED virtual studios and precision camera tracking. 
For modern, future proof green screen virtual studios and on-air graphics. Mo-Sys bMR's on-air graphics system has three ways of displaying templated data-fed graphics -- standard 2D keyed graphics, keyed 3D graphics, or 3D 'in-scene' Unreal element graphics. The system conforms to MOS protocol and can be controlled by commonly available newsroom computer systems (NRCS).
Based on web browser technology, bMR uses a fully redundant server/client architecture and is deployed as an on-premise rather than a cloud-based solution. bMR's LED content server can drive any size/shape/pixel pitch LED virtual studio with the base system able to drive an LED studio with up to 8 million pixels. Handling resolutions up to UHD4K, multiple cameras can to be used within an LED volume, where switching between cameras is orchestrated while the LED wall updates correctly. Set extensions with simultaneous augmented reality (AR) are also possible.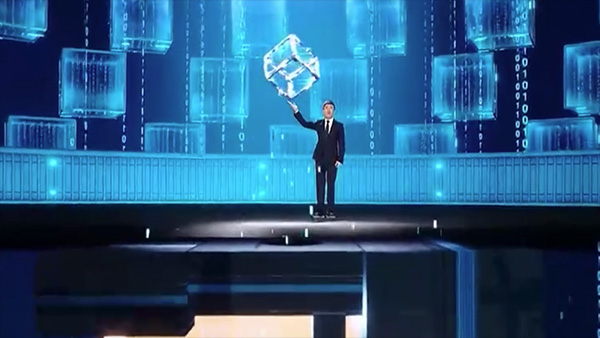 SILVER Pixotope - Graphics XR Edition
Pixotope Graphics XR Edition includes tools to simplify virtual production set-up and operation and optimises hardware usage through multi-input switching in software and multi-wall support.
Multi-input switching ensures that the images on your LED volume and your AR rendering synchronously change perspective when switching between cameras in a single frame without extra hardware. With multi-output support, Pixotope can also drive several large LED volumes from a single server or workstation, and mitigates many common issues such as output synchronisation and sharing assets over multiple machines.
Users can quickly match the colours of ICVFX and those appearing through the LED volume for seamless AR/XR workflows and effects with Pixotope Color Match, especially useful when AR is used alongside XR for set extension or when adding virtual elements to a scene as colour reproduction is affected by both the camera and LED volume. Furthermore, by combining procedural geometry creation tools and tracking technology through the LED mesh import and automatic alignment tools, users have an automated method for converting CAD and geometry representations of LED volumes to virtual LED projection surfaces. These will be further refined using computer vision to ensure perfect registrations for XR and AR set extension.
BRONZE Blackmagic Design – Ultimatte 12
All four models of Blackmagic's new Ultimatte 12 deliver upgraded image processing algorithms and a huge internal colour space. Processing automatically generates internal mattes, processing different parts of the image separately based on the colours in each area. The result is fine edge detail where it's needed most, like on hair, and smoother transitions between colours.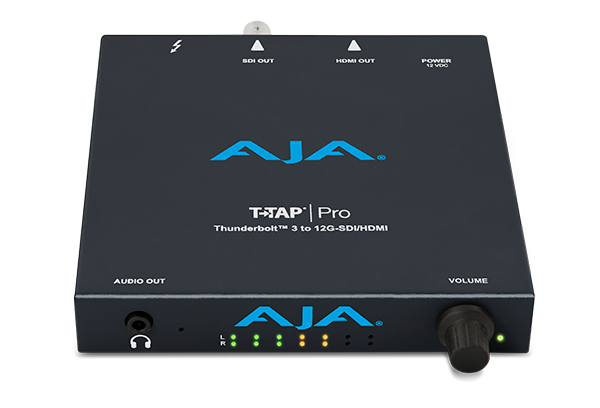 Ultimatte 12 features one touch keying that analyses a scene and automatically sets over 100 parameters for fast, precise keys with minimum effort. The improved flare algorithms in Ultimatte 12 can remove green tinting and spill from anything. To deal with shadows or transparent objects with reflections, Ultimatte 12 automatically samples the colours, creates seamless mattes for walls, floors and other parts of the image, and then applies the necessary corrections.
Virtualisation
GOLD Agile Content - We Box Control
We Box Control gives users the ability to control device networks from anywhere, at any time via a single interface, allowing for instantaneous upgrades to applications in devices of any choice, blocking them from undesired usage and separating devices into batches. Using it, companies can manage, monitor, and secure their devices to ensure maximum performance from their operations.
Customer support teams can access any device remotely, assess the issue, and fix it in an instant. This leads to savings on the operational cost front as well as increases in efficiency and longer lifecycles for devices. We Box Control sits within one managed TV service part of a wider ecosystem through the Agile Content platform, including processing, experience, delivery, AdTech and management. By tapping into that industry knowledge and managing all the deployed hardware from one single place, customers are now able to see what their audiences are experiencing and can act on it, without visiting the deployment site.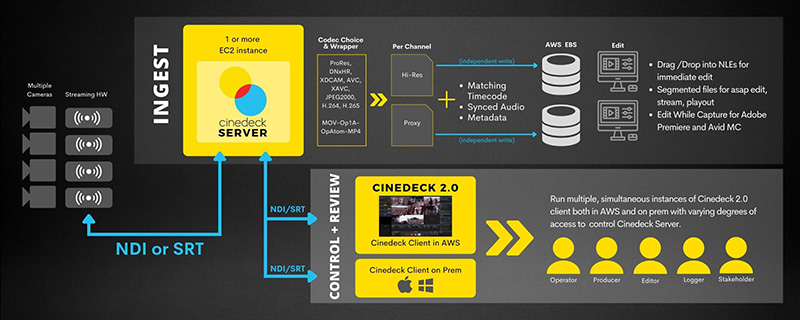 SILVER 7fivefive - Remote Edit Dashboard and Cloud Broadcast Systems Engineering Services
7fivefive's services help automate and streamline operational workflows for media and broadcast, recognising that every media workflow has its own systems, challenges and requirements. By drawing on first-hand knowledge about production, media encoding, Broadcast/IT systems and storage, 7fivefive finds cost-effective, scalable and robust workflows that work for the organisation's specific needs.
Because media and broadcast organisations may rely on many systems and software across multiple teams, ensuring that everything integrates seamlessly is essential to operational efficiency. Aiming for complete service system integration, 7fivefive takes a client-specific approach that helps content creators and service providers to find and implement more efficient ways to deliver video content. 7fivefive's Remote Edit Dashboard allows for consistent, accurate monitoring, with status widgets showing anything from monthly spend, to remote editing workstation status.
BRONZE Cinedeck - CD2
The Cinedeck CD2, a software-only version of its ingest servers, was launched in response to the industry need for greater flexibility over managing elements of broadcast production remotely, specifically ingest. CD2 shares the same features as the full range of Cinedeck Ingest Servers but purely as software, and enables ingest to be managed remotely.
Its customisable RESTful API makes it simple to integrate with other parts of the production and post-production workflow.Cinedeck CD2 makes it quick and easy for broadcasters and content producers to ingest raw footage ready for editing and distribution. Users can ingest using CD2 and distribute live, using Edit While Record and Playout While Record features. For non-live, ingested content can be scheduled using the Cinedeck multi-channel control app. It also enables multi-camera ingest and supports a wide range of input formats and all major input sources such as SRT, NDI, 3G/12G and IP-2110.
Artificial intelligence - Machine Learning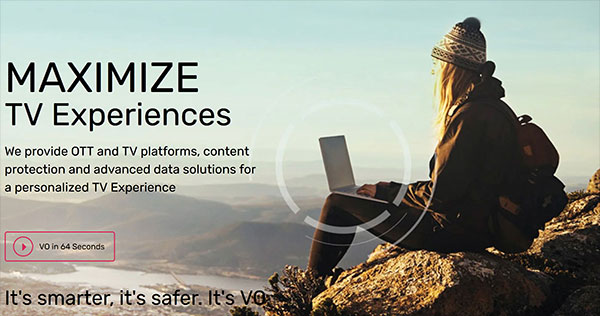 GOLD Quantum - NVIDIA AI and ML Content Enhancement
Integrating AI and ML models into production and content monetization workflows can be highly complex – and even impractical if content needs to be sent to the cloud for every operation. Quantum's AI and ML Content Enhancement Solution. Powered by CatDV asset management and workflow orchestration platform and the Quantum StorNext shared storage and file archive and tiering engines, Quantum has integrated NVIDIA AI/ML SDKs and high-performance NVIDIA GPU systems to deliver a tightly integrated asset management and content enhancement solution.
Within the CatDV UI, users can now initiate or automate ML-powered actions directly within content collaboration workflows to speed labour-intensive tasks such as logging. Customers can automate the creation of clips of interest for human review. All markers created by the solution are fully searchable, bringing users directly to points of interest within assets for further review.
SILVER Viaccess Orca - AI, ML, MLOps Innovations
Viaccess-Orca is helping video service providers adapt to the evolving TV landscape by using artificial intelligence (AI), machine learning (ML), and machine learning operations (MLOps) across its products, including the TV platform Secure Video Player, Targeted TV Advertising and Anti-Piracy Services.
By collecting data from diverse sources throughout the end-to-end video chain, VO gives service providers better visibility into how their video offerings and subscriptions are performing, enables unique insights into viewers' behaviours, and helps identify content usage patterns. Video service providers can improve their quality of service, take better advantage of TV data monetization, and fight piracy more effectively.
Using an unsupervised ML-based automatic estimation algorithm created by VO, service providers can predict the QoE for their services, and enhance the QoE for video streaming through an AI-based bandwidth prediction algorithm that calculates changes in available bandwidth based on environmental factors.