IP BROADCAST

Distribution
Dejero CellSat intelligently combines cellular connectivity from mobile network providers with Ku-band IP satellite connectivity from Intelsat—blending the strengths of both transmission paths into one connection to deliver the bandwidth needed to transmit broadcast-quality video in real time. The CellSat network is fast with low latency, and can be accessed from nearly anywhere.
IBM Aspera Streaming for Video uses commodity Internet to deliver live and near-live HD video, instead of satellite and dedicated fibre. The software is built on Aspera's FASPStream system designed for timely arrival of live video and data even with heavy network round-trip delay and packet loss and can use existing video infrastructure. Its applications include live contribution, primary distribution and remote production of live events.
TVU MediaMind uses a story-centric workflow to produce and deliver live video to better align with the way viewers consume video content today. MediaMind incorporates automation and AI throughout the process - from shooting video to indexing clips to production and sharing of content customized for individual audiences. Its components include contribution automation, real-time content search, Cloud-based production and IP-based distribution.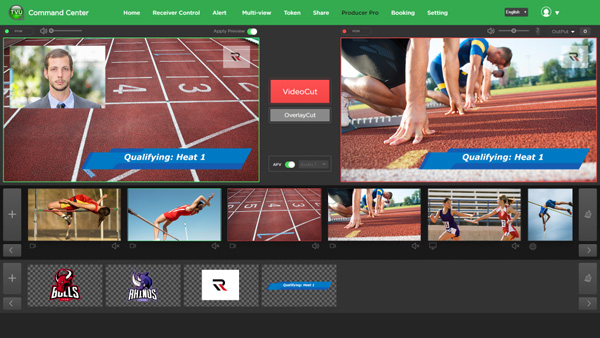 TVU Producer

IP Production
NewTek Connect Spark Pro is a portable IP video encoder that accepts an HDMI 2.0 video signal up to 4K UHD p60 from the connected source camera or device and converts with near-zero latency it to full-bandwidth NDI for use with compatible systems, devices or software on the network.
Primestream IP Ingest Application and Media Framework captures, edits and transcodes web, camera and broadcast sources such as HLS, MPEG Dash RTSP, RTMP, SMPTE 2022 and NDI streams along with traditional SDI feeds, into single or multiple self-contained file formats to integrate that content into a production, management and delivery workflow. This media framework gives users the ability to capture all of the sources they need using a single system, and the same workflow across all source types.
EVS XT-VIA production server has six configurable channels of UHD-4K or more than 12 channels of Full HD 1080p, and supports live HDR operations, making it possible to execute productions in any resolution from the same server. Compatible with SDI environments, XT-VIA has native support for SMPTE 2110 allowing a transition to IP workflows and laying the foundations for future production types.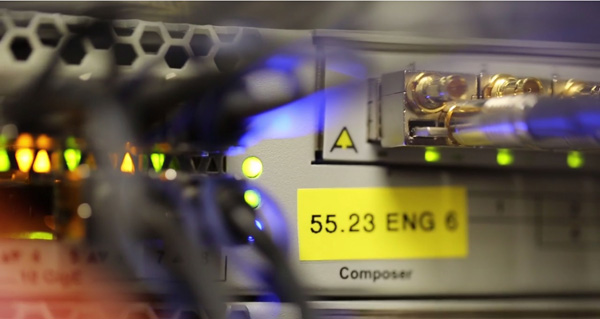 Aperi V-Stack Virtualization Stack
Imagine Communications Selenio Network Processor (SNP) network-based signal processing platform is one of the first all-IP processing systems. It handles uncompressed UHD signals over 100GBE network links based on SMPTE ST 2110. it bridges SDI and IP networks, while meeting UHD requirements in live production. By processing uncompressed UHD signals over IP in conformance with SMPTE ST 2110, users can process video signals to meet all preferences, without requiring a mezzanine compression scheme or relying on proprietary hardware.

Switching, routing, monitoring
Nevion VideoIPath orchestration and software-defined networking control establishes video connections over IP networks and can handle both network and media equipment, as well as the video, audio and data services running through them, in local and wide area networks - that is, LAN/WAN convergence. Typically such functionality can only be achieved by combining multiple management systems.
MediorNet MicroN IP App is an interface that creates a bridge between MediorNet and IP networks.
It supports SMPTE ST 2110/AES67-compliant video and audio as well as SDI and MADI. The MicroN IP App turns the device into a universal tool for all IP-interfacing needs. At the same time, the device can be fully networked with all existing MediorNet products. MicroN IP applications range from a stand-alone SDI-to-IP converter to a fully networked system with numerous, different IP gateways and baseband inputs and outputs.
VIRTUALISATION
Infrastructure
Nevion Virtuoso is a software-defined media node platform that carries out real-time media transport, processing and monitoring in both LANs and WANs. The functionality comes from software called Media Functions, running on optimised Media Servers. The software's recent development adds SMPTE 2110 support (10/20/21/30/31/40) with a new multichannel audio digital interface to and from SMPTE 2110 30/31.

Media Functions as a Service
Bitmovin Encoder is based on Bitmovin's containerised software running inside the user's own infrastructure. Users can then run heavily optimised H.264-based encoding workflows, delivering high quality video and reach to subscribers at a low cost, including those in low bandwidth areas and regardless of device. In contrast to a monolithic API, Bitmovin's container-based architecture allows enough flexibility to deploy modern virtualized encoding servers across many types of environment, from full cloud to hybrid to fully on-premise.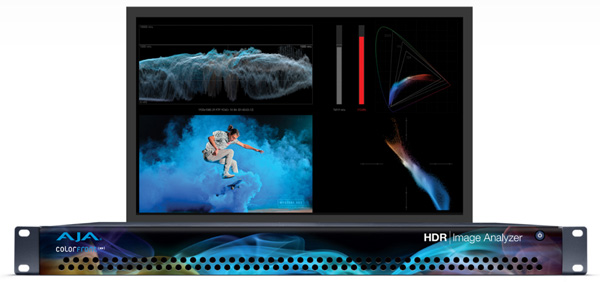 AJA HDR Image Analyzer
Aperi V-Stack (Aperi Virtualization Stack) underpins the Aperi platform. Completely hardware-agnostic, Aperi's software apps use FPGA processing and data centre systems to produce and distribute high quality content faster and at scale. Content owners and broadcasters can spin production functionality up and down on demand through the downloadable apps. The FPGA-nature of V-Stack supports more effective processing compared to systems using CPU or GPU processing, and handles live media functions with more speed and security and lower latency.
Broadpeak nanoCDN multicastABR controls delivery of live TV Everywhere over the network. It scales to millions of TV viewers and unpredictable peaks of traffic, using the same amount of network bandwidth.
Instead of new network equipment, nanoCDNTM multicast ABR uses home network devices such as broadband gateways, cable modems or set-top-boxes, turning them into a part of the CDN. It also works for 4K content delivery and is HTTPS delivery compliant.
CLOUD INFRASTRUCTURE

Delivery
TVU Producer cloud-based software produces multi-camera live video inexpensively with professional production values. Made for broadcasters that cannot justify live coverage of events for small audiences due to the cost of live video production hardware and software, TVU Producer can be accessed from anywhere via an Internet connection and web browser. A simple interface is used to manage video sources, manipulate graphics overlays and take a video stream live. Producer can simultaneously output live video directly to social media and CDN platforms, or to SDI through a TVU receiver decoder.
IBM Aspera On Cloud is a hosted service to quickly and reliably move and share files and data sets of any size and type across a hybrid cloud environment - up to hundreds of times faster than FTP and HTTP. Users can directly access data stored across multiple clouds and on-premises data centres, move files of any size and volume over any distance at maximum speed, regardless of network conditions, and collaborate with internal and external users while controlling access to data.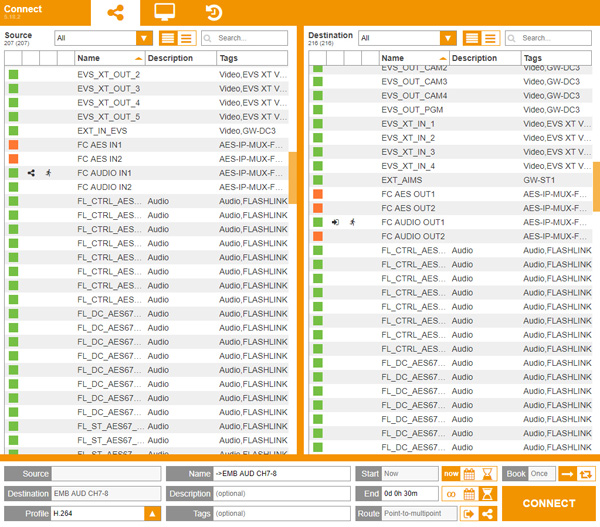 Nevion VideoIPath

Networking
Dejero Gateway establishes mobile connectivity by blending together 3G, 4G, and LTE cellular connections from multiple carriers and transmission paths such as satellite and other wireless networks, to create a virtual network. Algorithms dynamically and intelligently manage the fluctuating bandwidth, packet loss, and latency differences of individual connections to create an optimal path to route IP packets to their destination. Field crews can aggregate enough bandwidth to upload and download large files and access newsroom systems and private networks.
PRODUCTION
Cameras
Sony VENICE has a 36x24mm full-frame image sensor designed for cinematography, and can capture images up to 6048 x 4032. By switching imager modes, VENICE can natively capture in almost any format or aspect ratio, including Super 35, full 18mm-height Super35 Anamorphic and spherical and full-frame 24mm-height Anamorphic and spherical. VENICE has 15+ stops of latitude for HDR images, with low noise for high performance in conditions from bright sunlight to extreme low light. Its colour range can exceed Rec. 2020 colour space, extending wider than DCI-P3, and it uses Sony's S-Log3 gamma encoding. VENICE supports current Super35mm PL mount lenses and has a fast shutter.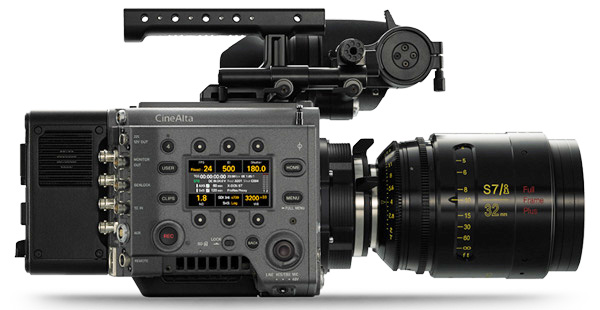 Sony VENICE CineAlta camera
Sony HXC-FB80 is a customisable entry point to 4K production. It has three 2/3-inch CMOS sensors with F13 sensitivity at 1080/50i and signal-to-noise ratio of -60 dB – very good for low light locations. When used with the HXCU-FB80 Camera Control Unit, it captures 4K resolution for Ultra HD content, and enables HD HDR production with support for HLG. It also outputs 3G-SDI signals including 1080/50p and 59.94p, supporting 1080/23.92PsF on top of 25PsF and 29.97PsF. The HXC-FB80 is matched to Sony's RCP-1000/1500 remote control panels, and to HZC-RCP5 software for a live 5-camera system. Like the higher-end HDC-series system cameras, it has extra functionality like paint control and is compatible with Sony OLED viewfinders. A new optical low pass filter option reduces moiré patterning caused by LED video walls.
Grass Valley LDX 86/86N cameras and Densité - Native HDR acquisition workflow. Grass Valley created a native HDR workflow with SDR signals. Derived by HQ down-mapping, their LDX 86/86N Series cameras support all HDR standards natively with up to 15 stops of dynamic range. The GV-eLicense upgrade path also makes Extended Dynamic Range (XDR) – HDR with up to 15 F-stops or >800% of regular cameras – operation available for 50/59.94 Hz formats supporting ITU-R BT.2020. To preserve quality, any modification to the HDR Opto-Electrical Transfer Functions (OETF) can be done inside the camera, processing the signal with up to 34-bit precision. The Densité 3 UHD-3901-UC, a dual-channel quad link 3G/3G/HD-SDI upconverter delivering HDR to SDR down-mapping, generates uncompromised SDR images at the end of the workflow.

DAM
Editshare Flow Media Asset Management (MAM) is a software-defined system that manages millions of assets across multiple tiers of storage. Teams located across the globe use Flow to collaborate. Increasing its scalability, it can be installed on most hardware and supports non-EditShare storage environments including Avid NEXIS, StorageDNA and Amazon S3. Flow scans and indexes storage devices, and displays a unified view of all content - online, nearline, offline (tape) or cloud. For production and post environments, Flow manages the content and directly integrates with NLEs and creative applications, and can automate entire workflows.
Silver Trak Digital Media Room is a B2B, platform agnostic digital asset management tool, giving production companies, post-production houses, distribution companies and television stations affordable, redundant storage and online access to all of Silver Trak Digital's services. This includes drag and drop uploading of files via Aspera, accessible cloud storage, centralised and segregated searching, and streaming directly from the cloud to devices.

Monitoring
AJA HDR Image Analyzer was developed in partnership with Colorfront, and serves as a waveform, histogram, vectorscope and Nit-level HDR monitoring system for analysis of 4K/UltraHD/2K/HD, HDR and WCG content for broadcast and OTT production, post, QC and mastering. It takes in 4K sources across 4x 3G-SDI inputs and loops the video out over four 3G-SDI spigots, allowing analysis at any point in the workflow. It has a wide range of analysis tools, plus automatic error logging with timecode stamping, for PQ and HLG for 4K/UHD workflows, and many other image analysis functions.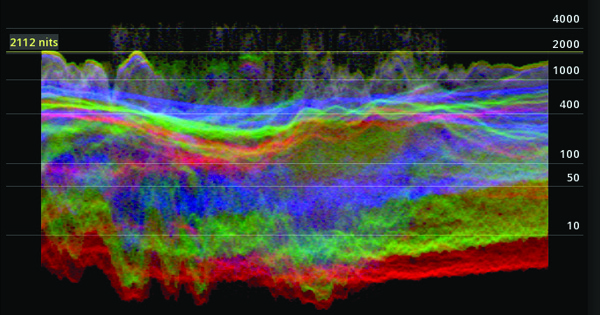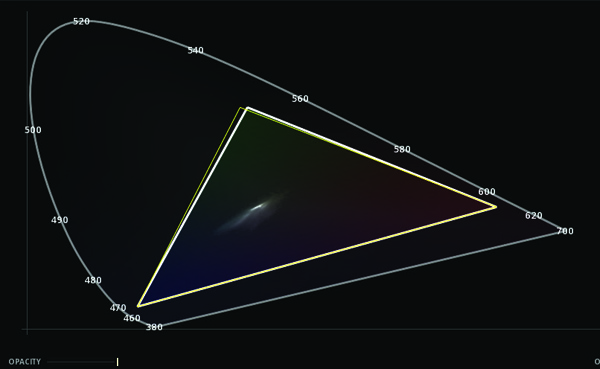 Marquise Technologies ICE

Video Processing
Dejero EnGo is a compact, mobile transmitter that encodes and transmits video over multiple IP networks, preserving quality with extreme low latency and overcoming challenging network conditions. It can be camera- or vehicle-mounted or used in a backpack for newsgathering, sports and live broadcasting from remote locations and while in motion. It uses H.265/HEVC compression and blends up to eight network connections including 3G/4G/LTE, Wi-Fi, Ethernet and portable satellite. It encodes and transmits frame rates up to 1080p 50/60 at 20 Mb/s, and intelligently adjusts encoding to transition from low- to high-motion content without artefacting.
AJA FS-HDR is a 1RU universal converter/frame synchroniser that meet the HDR and Wide Colour Gamut (WCG) requirements of broadcast, OTT, production, post and live event environments where real-time, low latency processing and colour fidelity is needed for 4K/UltraHD and 2K/HD workflows. Developed with Colorfront and powered by Colorfront Engine, FS-HDR processes a single channel of 4K/UltraHD/2K/HD in real time, including simultaneous output of 4K/UltraHD and 2K/HD, with HDR or SDR transforms on each of up to four channels of 2K/HD simultaneously.
Storage
Spectra Logic BlackPearl Converged Storage System is an infinitely scalable, multi-tenant object storage platform that controls on-premises and cloud storage solutions by managing disk, tape and cloud tiers on a single namespace. Directly integrated with regular MAM applications and certified software, it is entirely independent of 3rd-party applications, incurring predictable costs as organisations grow. BlackPearl applies intelligence and allows content sharing across applications, workflows and business units, and its open, standard-based nature helps eliminate storage silos and disparate systems.
POST PRODUCTION
Editing, Finishing, Colour
Marquise Technologies MIST has functionality for the creation of any type of master or file package from all types and resolutions of source media. From RAW data to final deliverables, MIST handles dailies management, multiple-format transcoding, editing and conform, colour grading and colour management, image enhancement and conversion. MIST has workflows for digital cinema and IMF mastering, and HDR monitoring and mastering including Dolby Vision support. It can play, master, transcode, convert and control all file formats currently requested by broadcasters and OTT providers.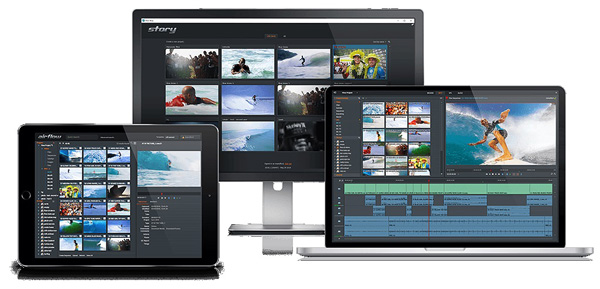 EditShare Flow MAM
AJA KONA 5 is a fast, 8-lane PCIe 3.0 video and audio I/O card supporting 12G-SDI I/O and HDMI 2.0 video monitoring connections designed for workstations or Thunderbolt 3-connected chassis. KONA 5 handles single-cable 4K/UltraHD HFR, deep colour and HDR workflows with creative applications on macOS, Windows and Linux. For Developers using the AJA SDK, KONA 5 includes SDI/HDMI embedded audio, multi-channel 4K I/O and 8K 60p capture or playout. and compatibility with Premiere Pro, FPC X, Media Composer, Telestream Wirecast and AJA Control Room.
QC/QA
Interra BATON WINNOW. Because manual classification of content for traditional video and streaming services can be time-consuming and expensive, Interra Systems created BATON WINNOW software to help classify audio-visual material into semantic concepts. It uses AI and machine learning, the TensorFlow framework and Interra's computer vision algorithms to automatically label and categorise linear and on-demand content, supporting compliance with local or specific regulations.
Marquise Technologies ICE (Image Control Engine) performs dedicated QC of master files before and after content exchange with a full set of image, audio, data and metadata monitoring tools. It can be used in mixed workflows due to its support for native RAW camera files, DCP or uncompressed formats like DPX, OpenEXR and others. ICE's Player supports all IMF package types and has an editing timeline, giving the user much greater scope to manipulate content. Audio is embedded in the player's SDI signal, allowing frame accurate playback and control over synchronicity.
EditShare QScan Automated Quality Control (AQC) systems unobtrusively check the integrity of media files at user-definable points in a production workflow. Powered by the Quales AQC engine, it manages and carries out comprehensive video and audio analysis, and determines compliance for file-based content delivery to any standard. Built-in templates for common standards speed up the testing process.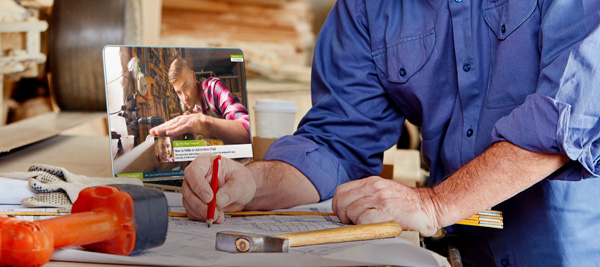 Singular.live cloud-based broadcast graphics
Workflow Storage
EditShare XStream EFS is a storage system tailored for media and production environments. It sets up a single namespace to manage multiple storage volumes and uses a distributed file system and hardware redundancy for data protection. HDD-based EFS servers combine with the EFS SSD server to create versatile storage clusters with configurable media spaces.the XStream system integrates with the Flow production MAM system for file-ingest, scanning, logging, cataloguing and media searching. Extremely scalable, automatically redistributing data with no downtime, it has collaboration tools using the intelligent SwiftRead system protocol to manage data access contention.
Spectra Logic Stack Tape Library supports M & E archiving by helping to offload expensive primary storage tiers and preserving content long-term. It is an affordable means of moving content into a highly scalable storage architecture that is simply installed, expanded and managed. Scalable up to 560 tape slots and 42 tape drives, the fully expanded Spectra Stack can store more than 6.7PB uncompressed. One of the few object storage tape systems, the combination of Spectra Stack and Spectra's BlackPearl Converged Storage (see above) results in intelligent content management through the full lifecycle, maintaining data integrity.
BROADCAST GRAPHICS
Motion Graphics
Singular.live web based platform creates interactive, live graphics packages that can be played out from a web browser. Users can make their content look better, and appear more engaging and more immersive for audiences. On 2 November 2018 their first live interactive project was launched with Red Bull Media for their Rampage coverage. Through an integration with Red Bull's Bitmovin player, interactive graphics enabled live polling. Graphics were rendered client-side, on the viewer's device, enabling them to vote directly via the graphics over the video.
MAXON Cinema 4D has a fast workflow for developing animated logos and 3D motion graphics. With Cinema 4D MoGraph tools, motion graphics artists can create flying logos and abstract effects, clone objects and extrude text. All functions are interactive and non-destructive. Attributes can be animated per parameter or keyframed automatically, and complex procedural animations can be built without keyframing. Cinema 4D is closely integrated with Adobe Photoshop and Illustrator, and artists can use the output pipeline to generate motion graphics for compositing in After Effects or Apple Motion, or develop graphics for real-time playback via Vizrt or Ventuz. C4D projects imported directly into VizArtist or Ventuz Designer utilize a live link that modifies the Cinema 4D source scene while displaying the results through the real-time graphics system.
Automation
NewTek LiveGraphics makes it possible to create real-time motion graphics without a proprietary hardware graphics engine. NewTek LiveGraphics makes content authored in Adobe Photoshop CC and Adobe After Effects CC available for live output from TriCaster TC1 and NewTek IP Series live production systems with replaceable text and images that can be driven by live data and web content.