IP BROADCAST SOLUTIONS
Distribution
GOLD Telstra Global Media Network – Internet Delivery
Telstra's GMN connects 2,500 endpoints around the world in a single hybrid network using a combination of Telstra-owned infrastructure and partner networks, delivering a reliable, low-latency video contribution and distribution managed service on a consumption-based business model.
SILVER PHABRIX QxL
PHABRIX QxL is a flexible, compact 25GbE UHD rasterizer meeting the requirements of 10GbE/25GbE IP workflows for professional broadcast. It supports IP media as standard and is one of the first devices of its type in which SDI is an option, not part of the core, making it better value for HD IP broadcast ops users today.
BRONZE Pebble Oceans
Oceans helps broadcasters and media companies transition towards IP-based systems, including the cloud with agile, reactive tools for the changing environment. It also supports new developments with iterative, modular approaches at all scales, from single channel to multi-channel, multi-site, geo-dispersed operations
SPECIAL MERIT SES IP Switch
SES IP Switch is a hybrid cloud/on-premises service platform for routing and delivery of low-latency, secure, reliable video streams for broadcast contribution, production and distribution. Through it's web-based UI, staff and broadcast affiliates can schedule, manage and distribute global live feeds on existing IRDs.
Remote Production
GOLD Dalet Galaxy xCloud
Dalet Galaxy xCloud is a full, managed SaaS version of the Dalet Galaxy five platform using the cloud to facilitate remote news and content production workflows. Highly scalable, it runs on secure AWS infrastructure, connecting to users' on-premises systems and supporting workflows for remote editing teams.
SILVER Panasonic KAIROS IP/IT Centric Live Video Processing Platform
KAIROS IT/IP live video production platform comprises a core processor, control panel and software GUI with modern IP/IT architecture. Proprietary software is executed on the GPU, improving quality and productivity within the live video production, streaming and remote production services of broadcasters.
BRONZE Matrox Monarch EDGE 4K/Multi-HD REMI Encoder/Decoder
Combined with the Monarch EDGE decoder, the EDGE encoding device preserves quality at the lowest latency, securely transporting video feeds from an event to a central production facility. The compact, low-power encoder/decoder pair makes producing live, multi-camera events more affordable by keeping talent in-house.
SPECIAL MERIT Broadcast Pix StreamingPix
StreamingPix focusses on ease of use and deployment. A complete live production and streaming system, StreamingPix comes with a remotely controlled RoboPix PTZ camera, a Lenovo server, SDI, HDMI, IP and NDI inputs and an IP switch. It is an affordable way to make streaming content more exciting than flat teleconferencing systems.
Switching, routing, monitoring
GOLD Imagine Communications Selenio Network Processor with Multiviewer Personality
The Selenio Network Processor (SNP) 1RU appliance has four independent processors and software functionality including a configurable production multiviewer, and can switch between roles. SNPs bridge between SDI and IP, convert between HD and UHD, and SDR and HDR, as well as perform video processing and synchronisation.
SILVER Triveni Digital StreamScope Combo Analyzer
Broadcasters moving to ATSC 3.0 need to quickly evaluate the quality of both ATSC 1.0 and ATSC 3.0 transmissions. The StreamScope Combo Analyzer supports both standards, allowing broadcasters to compare streams and detect, isolate, and resolve issues to ensure high service quality at all times.
BRONZE Black Box Emerald PE
Emerald PE IP-based KVM extenders enable extension and matrix switching of precise HD DVI video (up to 1920 x 1200 at 60Hz), transparent USB 2.0 and bidirectional analogue audio — over a dedicated or existing IP network, or the internet, between any number of users and computers, servers or virtual machines.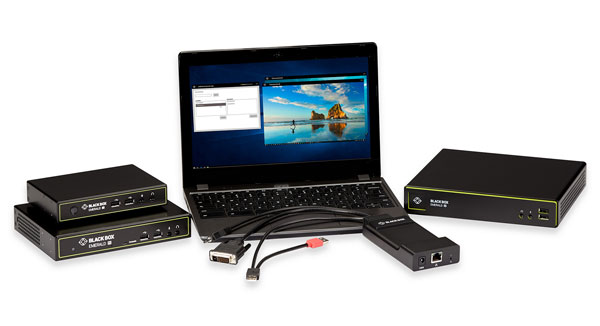 SPECIAL MERIT – Matrox Extio 3 IP KVM Extenders
Through centralising hardware, Matrox KVM extenders help to optimise resources, facilitate collaborative workflows, and eliminate distractions from noise, heat emissions and cramped workspaces. Working with standard COTS network switches, Extio 3 is a scalable and cost-effective IP KVM matrix solution over LAN or private WAN.
VIRTUALISATION
Media Functions as a Service
GOLD Grass Valley Agile Media Processing Platform (GV AMPP)
GV AMPP is a SaaS platform purpose-built for the cloud, using the power of elastic compute. AMPP overcomes reliance on hardware-based media systems. Using just a browser, this modular platform brings flexibility to launch and close applications as needed – only paying for what you use – and specific workflow functions run on demand, built from a wide range of microservices.
SILVER Dalet AmberFin Cloud Transcoder Service
The Cloud Transcoder is a SaaS-based media processing service for robust transcoding, media packaging and distribution with extreme scalability. Dalet's Service includes all features from AmberFin's on-premises version, giving access to image scaling, standards conversions, IMF creation, HDR conversions and other tasks.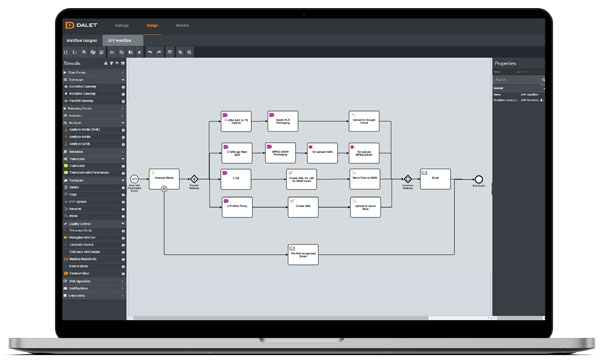 BRONZE MediaKind Aquila Streaming
Cloud-native Aquila Streaming ensures efficient broadcast-quality processing of assets for all screens, at anytime, anywhere, and is now offered as-a-service on Google Cloud. Users can scale quickly, launching channels and adapting to changing consumer demands – without compromise on latency for live events.
Delivery
GOLD Signiant Jet
Signiant's cloud-native SaaS Jet automates high-speed global transfers of large media files, allowing companies to work together and exchange content securely. Two companies with Jet can organise transfer jobs, but still maintain complete control of their own storage and their own networks.
Processing
GOLD IBM Aspera Orchestrator 4.0
IBM Aspera Orchestrator 4.0 automates data processing in on-premises or hybrid cloud environments. With performance, ease of use and predictability for media workflows, Orchestrator helps enterprises manage and automate file transfers and processing, from transfer automation, to highly complex workflow orchestrations.
STREAMING
OTT/IPTV Systems
GOLD AJA BRIDGE LIVE
Designed with partners Comprimato, BRIDGE LIVE is built for critical streaming applications with 12G-SDI video encoding/decoding, simultaneous encoding/decoding in HD, stream-based transcoding, flexible I/O, comprehensive metadata support and closed caption support, within a compact 1RU form factor.
SILVER Broadpeak S4Streaming
Broadpeak's S4Streaming gives video service providers more control over streaming quality and bandwidth use. Using server-side techniques, S4Streaming assesses and selects the appropriate quality for streaming, enabling higher bit rates for on-demand content, and decreasing quality changes when network conditions vary.
BRONZE Harmonic VOS 360 Live Streaming Platform
The VOS 360 Platform for live and linear video streaming delivers real-time scaling and high video quality from source to screen. Running on the public cloud, VOS360 handles all stages of media processing and delivery – live and file-based transcoding, packaging and origin, and dynamic real-time CDN selection.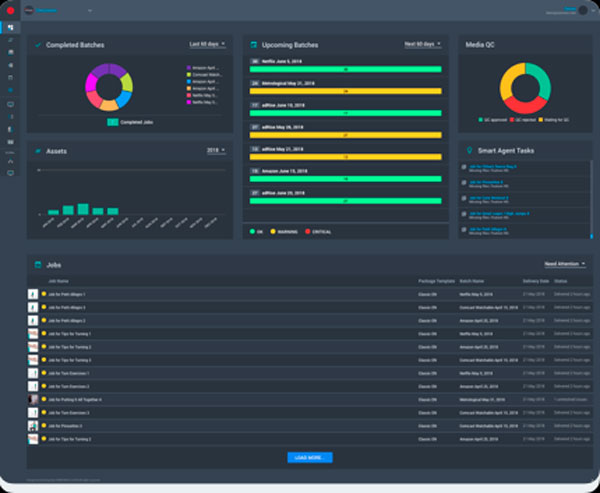 SPECIAL MERIT OWNZONES Deep Analysis
Deep Analysis is an AI-driven tool within OWNZONES' Connect supply chain platform that scans content and understand its layout and formatting, accelerating the typically long, manual processes of content conformance and localization editing. It automatically highlights specific types of scenes or elements on a timeline view.
Compression
GOLD intoPix TICO-XS 8K IP-Cores
intoPIX's small, lightweight, low power 8K IP-cores are designed for FPGA and ASIC (application-specific integrated circuit). They support the UHDTV-2 format up to 60 or 120fps. Visually lossless video quality is maintained even at a compression ratio of 16:1 with only 32 lines of delay end-to-end and no memory use.
CDN Solutions
GOLD Edgeware StreamPilot
StreamPilot, Edgeware's cloud-based multi-CDN control platform with new automation capabilities, allows content providers to fully control OTT TV delivery in multi-CDN environments, independent of the delivering CDN. Streaming providers can proactively modify the delivery of any segment from the CDNs to client devices.
SILVER Edgeware Cloud-based Elastic CDN
Edgeware's cloud-based elastic HTTP CDN helps online TV providers compete to capture OTT TV growth and optimize video on 5G, and deliver TV services with a high QoE. Predictive load balancing distributes the load between the streaming servers and helps to manage live OTT events that put pressure on TV CDN systems.
PRODUCTION
Cameras
GOLD Canon EOS C300 Mark III
The C300 Mark III has a new Super 35mm 4K CMOS Dual Gain Output sensor compatible with the camera's Dual Pixel AF, and capable of over 16-stops of dynamic range. It records up to 120fps in 4K Cinema RAW Light or XF-AVC. It suits documentaries, dramas, corporate videos and commercials.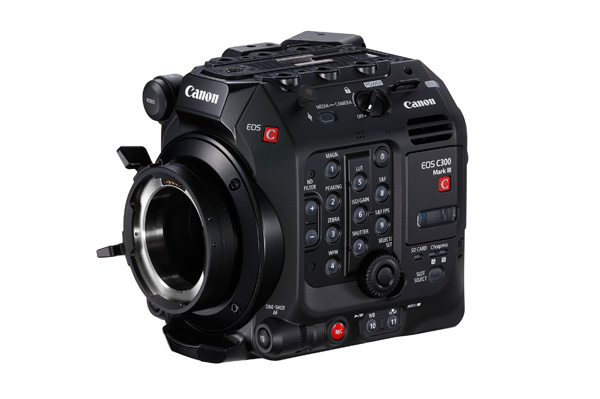 SILVER Blackmagic Design URSA Mini Pro 12K
The URSA Mini Pro 12K digital film camera has a 12K Super 35 image sensor, 14 stops of dynamic range and high frame rate shooting at up to 60 fps in 12K at 80 megapixels per frame. It supports new Blackmagic Generation 5 Color Science and higher Blackmagic RAW performance with a native ISO of 800.
BRONZE Panasonic AW-UE100K/W 4K Integrated PTZ Camera
The AW-UE100W/K 4K Integrated Camera is one of the first 4K/60p ProPTZ cameras to support Full Bandwidth NDI, NDI/HX, SRT and FreeD. The 4K sensor and 24x optic zoom is combined with 4K/50p and 1080/50p video out via the 12G-SDI. 3G-SDI and HDMI outputs as well as via streaming formats.
SPECIAL MERIT CGI Media Solutions Viura
Viura handles intelligent camera control in radio studios for editors and presenters. Advantages for radio studios include automatic operations with no additional studio staff required, event-controlled camera changes, such as by microphone input level or fader starts, and automatic background recording.
Video Processing
GOLD Matrox M264 S4 H.264 Hardware Codec Card
With the capability to support up to four channels of 4K XAVC or 4K AVC-Ultra encoding/decoding on a single-slot card, the Matrox M264 S4 enables OEMs to design multi-channel 4K UHD and HDR production servers on a PC-based platform for real-time broadcast production ingest, replay, and archiving server solutions.
SILVER MediaKind CE1 Contribution Encoder
The CE1 media contribution encoder is now part of MediaKind's Cygnus Contribution, which supports low latency live contribution links via satellite or IP, with ingest into public clouds. The CE1 enhances IP interoperability and security over networks, and supports standards such as SMPTE ST 2110, SRT and BISS-CA.
BRONZE AJA OG-ROI-SDI
AJA's OG-ROI-SDI openGear scan converter enables conversion of 3G-SDI input and Region of Interest selection to 3G-SDI and HDMI mirrored outputs. OG-ROI-SDI features audio functionality, image scaling, aspect and frame rate conversion, and image rotation including frame sync functionality.
SPECIAL MERIT Kiloview Video encoders/decoders
Kiloview N30 for NDI supports up to 12G-SDI video input on the encoder and output on the decoder with ultra-low latency at less than 100ms. It is compact enough to put in a pocket, and features a 12G-SDI loop for monitoring while NDI streaming, a built-in tally system and can be powered over Ethernet (PoE).
Digital Asset Management
GOLD Spectra Logic StorCycle
StorCycle is new storage lifecycle management software that brings visibility and insight to better manage storage volumes through intelligent tiering and data migration, while maintaining direct, consistent access to migrated assets and enhancing search capabilities with the use of metadata tags.
SILVER IPV Curator Arrival
Curator media asset management system is designed with remote capabilities, intelligent search and automated metadata logging to help teams access footage and edit new content faster without being tied to a central studio, and maximise ROI on existing assets.
POST PRODUCTION
Editing, Finishing, Colour
GOLD Blackmagic Design DaVinci Resolve 17
DaVinci Resolve 17 is a major release with improved HDR grading tools, primary colour controls, Fairlight audio engine and support for 2,000 real time audio tracks. Updates for editors include a redesigned inspector, new bin sorting and metadata clip views. Fusion compositions can now be saved as templates for editors.
Storage
GOLD Quantum StorNext 7
The new version of Quantum's parallel file system introduces File System Pools to automate data placement on NVMe and HDD storage for high-throughput, low-latency workloads. Implementing high speed NVMe in a StorNext environment, StorNext accelerates throughput for streaming workloads for fast ingest of large data sets and improved processing, editing and analysis of video.
SILVER Infortrend GS 3000/4000 Gen 2 Series
High availability enterprise NAS/SAN storage with hybrid cloud, EonStor GS 3000 series storage integrates NAS, SAN and Cloud Gateway into one system. It now supports Intel's CPU platform and reaches speeds of up to 8,000MB/s read and 4,000MB/s write, making it suitable for contemporary datacentre workloads.
BRONZE EditShare EFSv Seamless Proxy Editing
EFSv optimises the use of object and block storage in the cloud, saving on cloud storage and workstations costs. As well as economical object storage for high-res files, EFSv supplies scalable high-performance block storage for low-latency access to proxy files and renders, and tells NLEs the location of all versions.
SPECIAL MERIT GB Labs Unify Hub
Independent and compatible with all brands of storage, Unify Hub simplifies the management of multiple users to/from multiple cloud services by using the current infrastructure, as well as future plans. Unify Hub aligns local user permissions with cloud accounts and connects on-premise workspaces to cloud services.
QC/QA
GOLD Interra BATON LipSync Automatic Audio-Video Sync Detection
Interra Systems' BATON® LipSync is a powerful audio-video synchronization tool for lip sync detection and verification. Leveraging image processing and machine learning, BATON LipSync automatically detects audio-video sync errors in media content, helping broadcasters and service providers deliver a superior quality of experience (QoE) and eliminate what can be a common and annoying problem for viewers.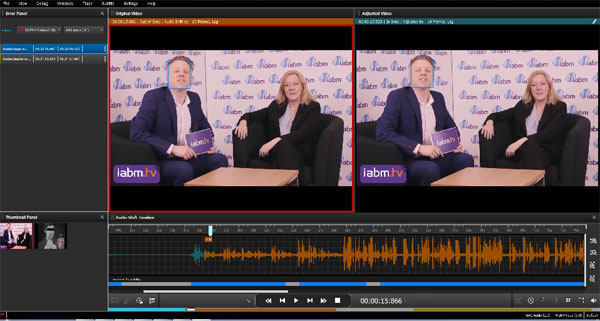 SILVER Interra BATON Captions
BATON Captions, new in Interra's automated QC platform BATON, simplifies captioning and improves workflow efficiency using ML and automatic speech recognition. Broadcast and media companies can ensure that content delivered at multiple quality levels within OTT streams, maintains the caption quality.
BRONZE Digital Nirvana MediaServicesIQ
MediaServicesIQ is a portal to a variety of AI and ML services that help create content faster. But AI and ML tools need to be accessible and easy to apply to gain acceptance. Digital Nirvana created a set of core AI capabilities, available in an easily accessed layer for newsrooms, live sports and entertainment.
BROADCAST GRAPHICS
Virtual Sets
GOLD disguise xR
Combining disguise's 3D visualisation software and robust hardware, the xR server workflow integrates camera tracking and real-time content engines to extend small studio spaces into immersive visual experiences using AR and MR. Orchestrating camera tracking and real-time content played off LED panels, disguise xR delivers a virtual environment that is visible both on screen and on set.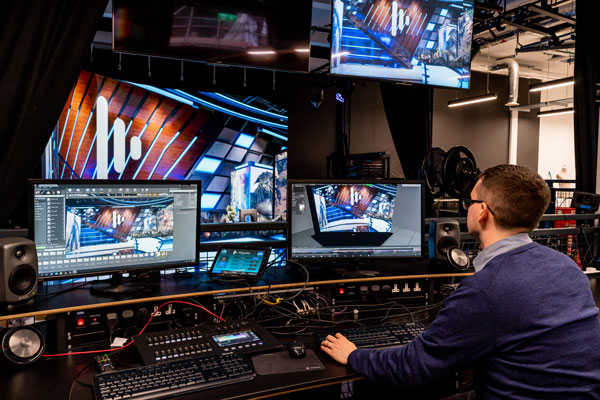 SILVER Mo-Sys StarTracker PTZ
The new StarTracker PTZ is an add-on for the Mo-Sys StarTracker, made for Panasonic UE150 4K PTZ cameras. The device enables positional camera tracking, adding and merging XYZ positional tracking data to the camera's PTZ+focus tracking data, enabling full 3D 6-axes camera movement in a virtual studio.
BRONZE Big Picture Live xr Multicam Broadcast
Big Picture team and Fox Sports Australia used a Disguise xR workflow for NRL's Dally M Awards. The project used Notch virtual set design software and three Stype Redspy tracked cameras operating through disguise media servers, programmed via grandMA with tally triggers signalling camera and perspective changes on a high resolution LED wall.
Automation
GOLD Pixel Power StreamMaster PRIME
The StreamMaster PRIME turnkey appliance – proprietary software on a customised COTS server with SDI I/O – has features for channel branding, master control switching and/or thematic channel playout. It can be deployed as a replacement to legacy equipment while allowing the broadcaster to retain existing automation and discrete playout infrastructure.
SILVER CGI Media Solutions StudioDirector 2.0
OpenMedia StudioDirector extends MOS integration out to studio automation software, handling tasks from the running order. Journalists and directors select studio layouts for their stories from a predefined list of models containing all mandatory graphics, video clips, camera and other directives, plus essential MOS commands for running studio automation.
Motion Graphics
GOLD Chyron Hego PRIME 3.7
PRIME 3.7 now supports flexible, efficient logic-based templates and camera tracking data, extending PRIME's real-time graphics workflow to AR design and playout, allowing broadcasters to use immersive, data-driven 3D graphics for news, sports and entertainment, in 4K or HDR.
SILVER Looking Glass Factory Looking Glass 8K
Powered by light field technology, the Looking Glass 8K holographic display, delivering 33.2 million pixels, operates on software and optical principles that don't require head-tracking or headsets, suiting companies that want to view or interact with 3D content in areas from engineering to entertainment.