SBS Handles Interactive Hi-res Video with Panasonic HD LED Display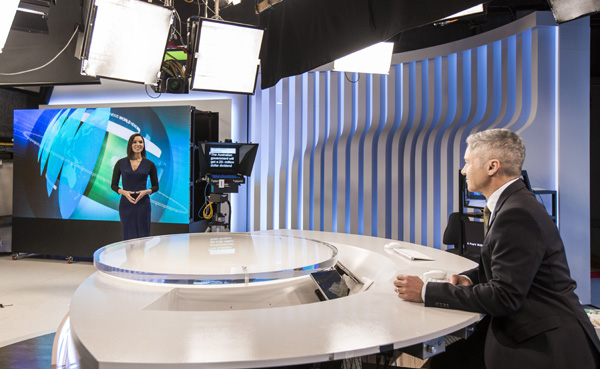 SBS delivers their SBS World News broadcast from the network's Sydney news production studio. As well as the breaking news reports, digital content on SBS ranges from sports, maps and weather, to finance and property news. The studio upgraded to HD some time ago but until very recently was still using an older 3m x 3m interactive news screen wall that has now been replaced with a large format Panasonic 1920 x 1080 resolution LED screen.
The screen measures 2.8m x 1.6m, has a 1.4mm pixel pitch to support fine detail and supplies up to 800 nits of brightness, which can be adjusted to suit different broadcast requirements. Having a screen of these specifications means SBS can integrate interactive motion graphics and high resolution images into their programming during broadcasts, matching their HD fit-out. It is also the first of Panasonic's full-HD LED displays to be installed in Australia.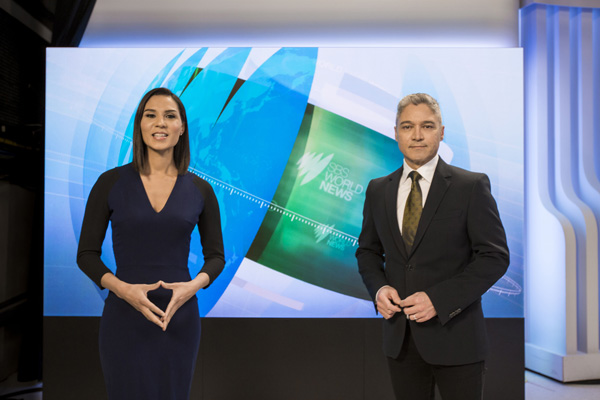 The new screen has been in operation for a few weeks and is used in most of the network's news and current affairs programming including two weekday editions of SBS World News. The finance presenter delivers most of his reports standing in front of the large screen. The screen is seen during the Monday night football wrap-up 'The World Game', and is also being used for social media interaction for the National Indigenous Television channel, NITV.
Panasonic and SBS managed the installation and maintenance agreement together, starting with a consultation, and then reviewed and tested potential set-ups inside the studio. Due to the display's very flat footprint, they completed the final installation as a free-standing structure suitable for the studio where space is limited.
The screen can be reconfigured later on as required. As well as looking impressive, all components can be serviced from the front, and because it is comprised of smaller LED modules, individual sections can be replaced in a few seconds - while the screen is still operating. Instead of installing customised brackets, the modules are attached to the front of a magnetic frame. pro-av.panasonic.net