Panasonic Builds Support for AVC Ultra-LongG for Avid, Media over IP & 4K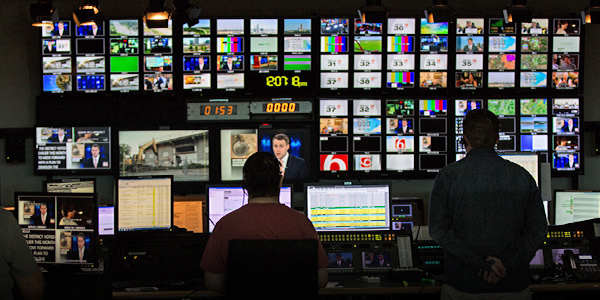 Panasonic and Avid have developed a production-to-post workflow for Avid's software that supports the Panasonic AVC Ultra-LongG video format. It means producers and broadcasters can use Panasonic's efficient compression system while using Avid workflows similar to those they have already designed to suit their facilities.
News organisations and broadcasters generally choose to shoot in AVC Ultra-LongG because it records high quality media with half the bit rate and storage. Broadcasters can carry out file transfers in half the time, running twice as many streams in the same network environment. This is due to the Avid's ability to splice AVC Ultra-LongG streams, which allows changes to be made to existing sequences without requiring a full re-encode upon playout or consolidation.
MediaCentral Platform
In short, production teams that work on the Avid MediaCentral Platform can now access the same compression system efficiently within a fast, closely integrated workflow, and safely replace old camera inventory without risking interruption to their usual operations. The workflow encompasses integration with several systems across the Avid MediaCentral Platform. In July the new 4.7 version of Panasonic's P2 Plugin was released, improving performance when teams use it in combination with Media Composer 8.6. It allows native media and metadata access for P2, DVCPRO HD and AVC-Intra.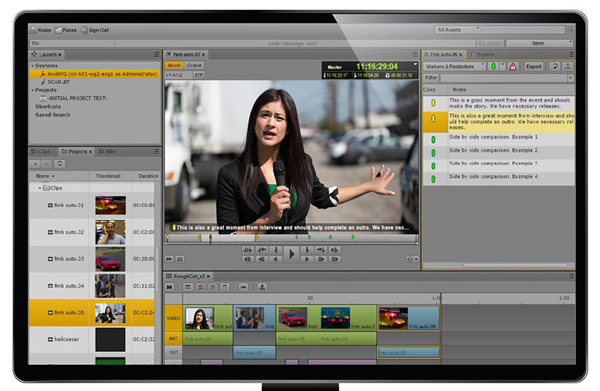 Avid's new version of Interplay 3.6 adds transcoding functionality between AVC-LongG and a number of other formats, and the AirSpeed 5500 video server also has Panasonic's LSI Codec, increasing compatibility and reducing quality degradation.
Media over IP Networks
The announcement about AVC Ultra-LongG for Avid came at IBC 2016, along with a look at Panasonic's recent development of an MoIP gateway for 4K and HD. It can deliver HD media over IP networks in close to real time, enough for direct video switching of live video, which was shown as part of the Joint Interop Demonstration that demonstrated a SMPTE ST2110 (TR-03) and AMWA IS-04 (NMOS) implementation. Panasonic is joining efforts to help develop a common set of standards for effective MoIP broadcasting.


NMOS, Networked Media Open Specifications, is a group of related specifications available to suppliers and end users, at no cost, to support the development of products and services which work within an open industry framework. Wherever possible, the specifications are being developed using Internet standards or Internet-compatible techniques. They are complementary to and co-exist with industry specifications such as TR-03 and AES67. Using related specs like these mean a broadcaster can use conventional protocols, and count on the ability of regular, off-the-shelf devices within a workflow to discover each other without manual set-ups, and behave predictably.
AK-UB300 box camera – 4K, H.264 Streaming, B4 Mount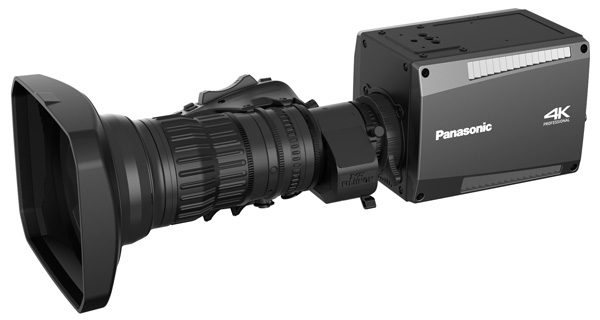 New details of the multi-purpose 4K AK-UB300 box camera, due for availability from November 2016, were shown at IBC as well. The AK-UB300's camerawork and image quality is suitable for sports, remote studios, weather information, live events and similar professional applications, including aerial shoots. A HD cropping tool allows an HD image to be cropped from the 4K picture while controlling the HD cropping area with Panasonic remote controllers.
It can achieve 4K image quality even when shooting content produced within a low budget in a small-scale studio. The camera has a low-light noise reduction function that uses a high sensitivity mode, a new haze reduction function to support weather reporting, and a 4K output board.
Streaming video output will be available in up to four simultaneous H.264 streams, at varied data rates. Video resolutions of up to 1080/50p are available at rates of up to 24Mbps. For IP live remote monitoring and control, up to 10 cameras can be viewed and controlled simultaneously from a web browser.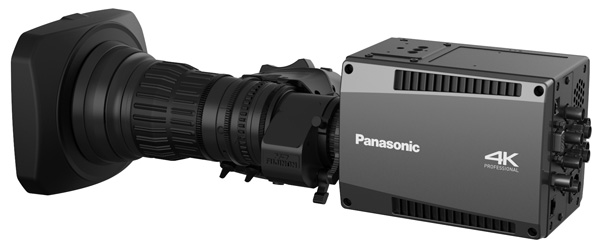 The UB300 incorporates a 2x digital extender zoom, four-position neutral density filter and focus assist. The B4 mount allows you to use existing 2/3-type lenses. Beyond HD output, the camera has a simultaneous 4x3G-SDI output board as standard. Panasonic are working on a post-release development that will allow swapping with other optional 4K outputs, such as optical fibre.
4K Capture Support - AU-XPD3 Reader
Supporting 4K capture is a collaboration between Panasonic and Intel on a new expressP2 card reader, the AU-XPD3 planned for release around the first quarter of 2017. When used with Thunderbolt 3 connectivity, which can reach 40Gbps data transfer, Panasonic expects the reader to achieve a data transfer speed of up to 10 Gbps, resulting in high speed workflows.

The AU-XPD3 is made to support high-definition data transfer and editing, including 4K, for broadcast workflows coming up in the future, such as those involving Panasonic's recent B Series ExpressP2 cards that were specifically designed to accommodate high-quality, HFR recording of 4K/120fps and HD/240fps.
Panasonic notes a desire within the production industry to transition to 4K, but also reluctance due to data size that can slow down the workflow. The company believes that through their own compression systems, Thunderbolt 3 connectivity and the AU-XPD3 card reader, answers to these challenges can be found. business.panasonic.co.uk