RaceTech Makes a Photo Finish with TSL TallyMan UI Automation

RaceTech, a UK technical and broadcast service provider to the horse racing industry, delivers complex systems to customers in a pressured, time sensitive environment. Their projects begin with cameras, PA and audio systems, and continue through broadcast services and photo finish equipment to archiving and digital libraries.
The company recently undertook the integration of a new HD broadcast truck, aiming to apply a modern approach to its system design, but maintain a familiar interface for existing users, mirroring the functionality of the existing fleet.
Flexible Automation
RaceTech's systems integrator WTS worked with TSL on an interface to a range of equipment from different manufacturers to allow both WTS and the client to choose the most suitable third party equipment for each application. They configured customisable user interfaces for each position in the truck based on TSL's TallyMan controller, automating the more complex multi-step operations into simpler button-press controls.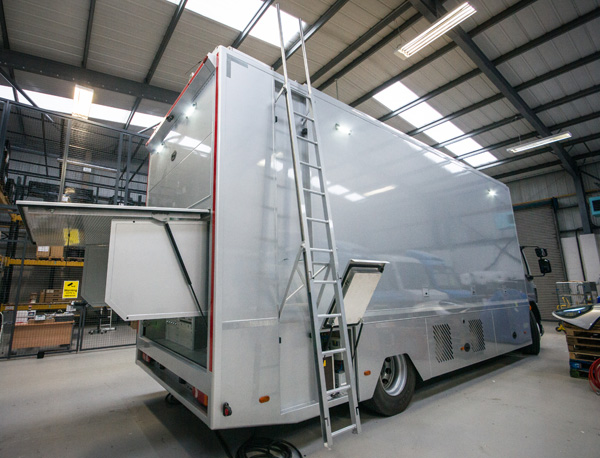 The result has simplified operations and maintenance, still allowing flexibility, and means users can transfer between all trucks in fleet while still being able to take advantage of the automated operations in the new truck. The overall effect has been to let the client's operators focus on compelling race broadcast production instead of having to think constantly about the underlying systems. Given that RaceTech's truck outfit is composed of high-specification Ross Video, SAM, TSL audio, Sony and Ikegami equipment, this result had to be a priority.
Inside TallyMan
The main purpose of the TallyMan hardware controller is to map and group signals across equipment from different manufacturers so that you can choose the devices and software that work for your application, while still operating all components through a single, custom user interface.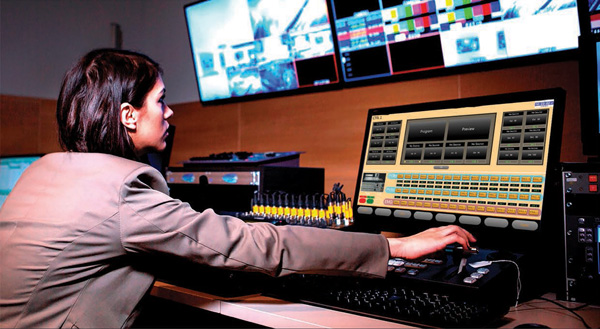 TallyMan's control extends to audio consoles, robotic cameras and video servers. The panel can serve as the UI to an automation system, or used to create a custom UI – either a straightforward touchscreen or panel of buttons. Your system configurations can be saved and recalled with single buttons, and minor adjustments to these subsequently made live.
If you need to make global name changes from a certain device within your system, Tallyman will distribute the names system-wide. Patching-in of extra equipment still only requires an understanding of the one Tallyman UI.
The unit is supplied with isolated relays to handle the specific weight, space, power and grounding challenges of different broadcast environments. Forums and similar events with multiple contributors, for instance, typically require specialist operators to handle video, audio and control functions. But TallyMan can combine all these roles within the one UI that a non-specialist could use to identify and control each speaker, the robotic cam presets, microphone channels and automated routing functions so that he or she works faster, reduces errors and produces more reliable content.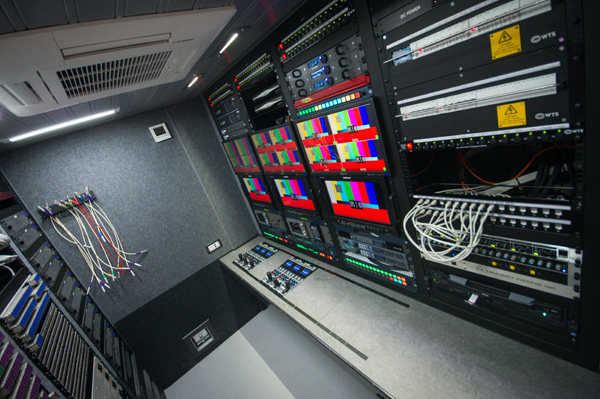 To save space in applications like OB trucks, the GPi trigger inputs and outputs are built into the back of the unit. Connectivity to system components can be established through either serial or Ethernet connections. TallyMan software is supplied with the controller. But because it has to be under constant development to work with new protocols and functions as broadcasting markets continue to change, users have access to regularly released, free software updates.
Mirroring Functionality
Mark Johnson, Head of Engineering at RaceTech, emphasised to TSL and WTS that replicating the operational look, feel and functionality of the existing HD fleet was to be a primary factor in the project.

One key departure from RaceTech's other trucks was that they had decided to use a different manufacturers' router but found the control panel functionality of the new router wasn't close enough to what they wanted. "TSL's control panels were the closest fit to our existing brand so their technical team and WTS developed this, with the rest of our requirements, into their panel functionality," Mark said.
The resulting implementation uses TallyMan to deliver signal flow management that includes grouped signal routing, with breakaway to add flexibility. Automatic audio-follow-video across devices by different manufacturers, to correct separation of audio and video signals, from a single control surface has made it possible to select the equipment that most closely matches RaceTech's requirements.
Beyond TallyMan's recognised tally and router control, the TSL and WTS teams worked on some new function design, including the ability to add re-assignable joystick and camera assignment to the controls. www.tslproducts.com
Images: Courtesy of TSL Products, Chris Williams and WTS