Nevion Sublime X2 Hybrid Routers Gain UHD/4K Support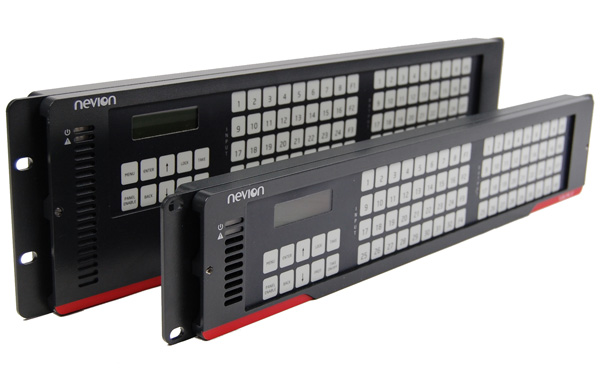 Nevion Sublime X2 family of hybrid compact routers can now process and route quad-stream UHD/4K as well as SD, HD and 3G signals. The routers' processing capabilities include audio embedding, clean-switching and line synchronized quad-stream alignment.

Nevion's Sublime X2 is a group of compact, hybrid baseband/IP video and audio routers with a redundant cross-point switching structure, a redundant controller and a multi-core signal processor. Available now in 32x32 and 64x64 sizes, the Sublime X2 run at a level of functionality usually only seen on much larger modular routers, and works well in applications where size will really make a difference. Redundancy switches create a standby signal path that is shared among one or several identical paths. The Redundancy Switches can be used to automatically route around failed amplifiers, optical components, receivers, transmission paths and so on.
Furthermore, as broadcasters move to IP in the facilities and the large MCR matrix disappears, Sublime X2 provides makes a cost efficient way to handle signal distribution and routing within remaining baseband departments – helping to extend the baseband investment into the IP world.

This most recent software upgrade for the Sublime X2 is a means to route and process UHD/4K streams, supplied as four synchronized 3G signals, as is generally true of current UHD/4K equipment such as cameras and mixers. The Sublime X2 can handle UHD/4K and 3G/HD/SD simultaneously through sectioning of the ports, allowing virtually any routing configuration – both square, where the number of inputs matches the number the outputs, and non-square. Configurations can be changed as you proceed, without interrupting the unaffected signals.

Developers at Nevion note that the company launched the Sublime X2, among the world's first hybrid compact routers with signal processing capabilities, in 2015. Like much of Nevion's equipment, the Sublime X2 was designed with a large part of its functionality based on software, making it possible to upgrade its capabilities without changing hardware - the addition of UHD/4K support demonstrates the value of this approach in terms of return on investment. www.nevion.com.