US Election Graphics Span Al Jazeera Network with Astucemedia & Vizrt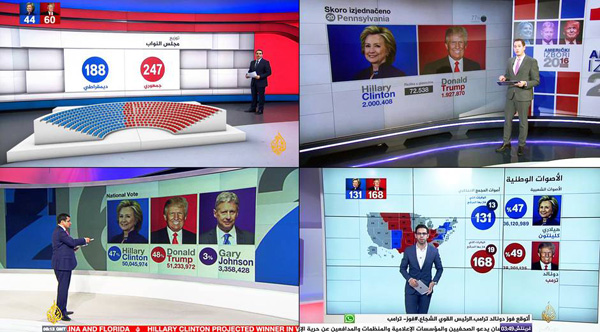 During its live coverage of this year's US Presidential election, Al Jazeera Media Network showed viewers the voting results, constantly updated and visualized using an integrated data analytics and real-time graphics rendering system built from Astucemedia and Vizrt software. The system can be used to take real-time voting data and turn it into descriptive on-screen graphics to give viewers a clearer understanding of election results.
Live programs across the network used the combined system to produce US elections content for Al Jazeera Arabic and Al Jazeera Mubasher displaying in Arabic, Jazeera English displaying the English versions, and Al Jazeera Balkans displaying Serbo-Croatian.
Al Jazeera's decision desk, from which the network's statisticians and pollsters project the outcome, was broadcast from their headquarters in Doha, Qatar. Through the Astucemedia/Vizrt system, custom templates were set up to automatically retrieve the data and display rendered 3D graphics in real-time on the various channels the Al Jazeera Media Network serves. Producers used the interface of Astucemedia's US Election Module, a web app management tool designed for their Data Platform server, to ingest, monitor and manage live results data from the Associated Press (AP).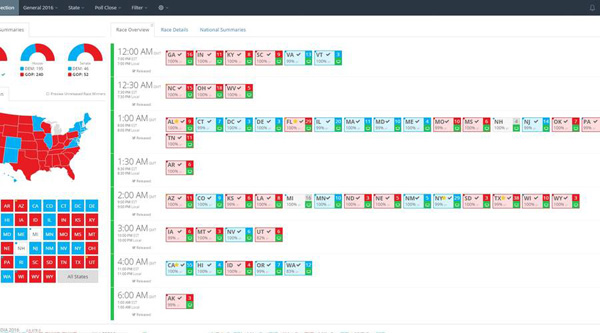 The Astucemedia Data Platform supports the Viz FeedLinker function, which a template editor or producer uses to graphically browse and select data content. Viz FeedLinker uses the Data Platform's ATOM format to display a visual browser for selecting items. The platform also allowed Al Jazeera to analyze the live data to pronounce their own editorial point of view on projections for the state race, and published the same data to Aljazeera's website.
As well as the on-screen graphics and charts, the Astucemedia/Vizrt system also drove Al Jazeera's on-set video walls in their studios and facilitated augmented reality graphics to represent the House and Senate races. The AR graphics were created using the Astucemedia US Election Module and Data Platform for data and Vizrt Viz Virtual Studio software to handle the custom templates, chroma keying and effects inside the studio space.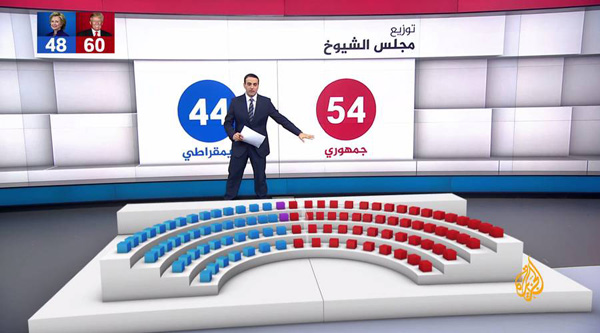 "The Astucemedia plugins run directly inside the Viz Engine. They ease the flow of live data into the graphics in Viz Studio and also for mobile and web, but they also create an enhanced middle-layer between AP and Vizrt," said Alexandre Leclerc, CEO at Astucemedia.
Tracking of the graphics into this space was achieved with CamTrak from Motion Analysis. The exact location of the studio camera needed to be continuously tracked and reported to the virtual software in real time. Some elements could be pre-computed ahead of time, others were measured once the system was running live. CamTrak has tools to measure and pre-compute the studio camera characteristics, and then to track the camera during production. This information is combined and broadcast over a LAN to the virtual studio software. www.vizrt.com